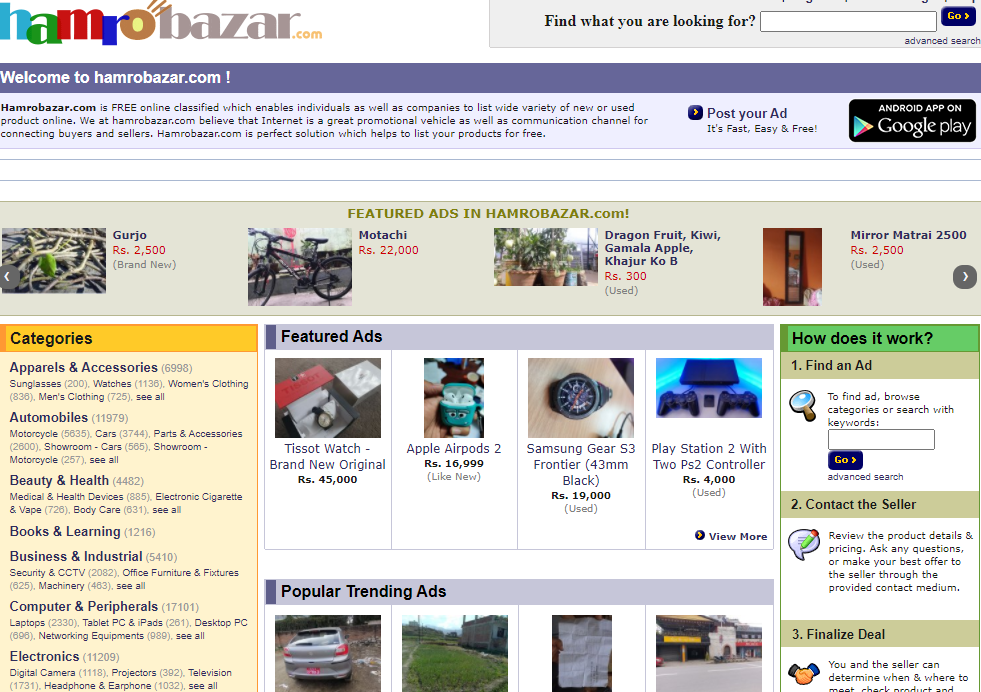 With the proliferation of communication and internet technology, e-commerce sites are mushrooming in Nepal. Among so many such sites, a few have marked their worth in the market and made their own space in the hearts of their consumers/users. One of such e-commerce sites is hamro bazaar which claims itself as a free online classified platform that allows its users (individuals and companies) to list a wide variety of firsthand and secondhand goods for purchase and sale online.
This online business uses the internet as a promotional vehicle, as well as a communication channel, for connecting buyers and sellers.
Now, you must be curious to know how this platform connects potential buyers and potential sellers. Here, we are helping you get your answers regarding how actually hamrobazaar.com works.
This online platform has set procedures for buying and selling new and used items with some ad posting rules and safety tips. Making it easy for you all to understand, buying and selling procedures at hamrobazaar.com are given separately below
1.
Make a purchase
1. First of all, you have to find an ad (advertisement posted by a potential seller) by browsing through your desired category such as electronics, apparels and accessories, books and learning, beauty and health, and many more. You can also find an ad by directly searching with keywords.
2. Then you can click the ad of the product you desire to purchase to see the details of the product and the seller.
3. After reviewing the good's details and price, if you are assured about this product, you can contact the seller via the provided contact details of the seller in the ad. You can ask the seller any queries about the good and price and make your best offer to the seller.
4. When you are fully convinced to purchase that product, you can finalise the deal with the seller and arrange a meeting (when and where to meet to check/inspect the product thoroughly and make the payment). Make sure you arrange the meeting with the seller in public places only for your own safety. You do not need to pay any extra fees or hidden costs.
Note: Carefully read and heed the safety tips that are given on the website of hamrobazaar.com before purchasing any goods. Also, you do not need to fill up sign-up forms here and do not need to be a member to buy any products.
2.
Sell your good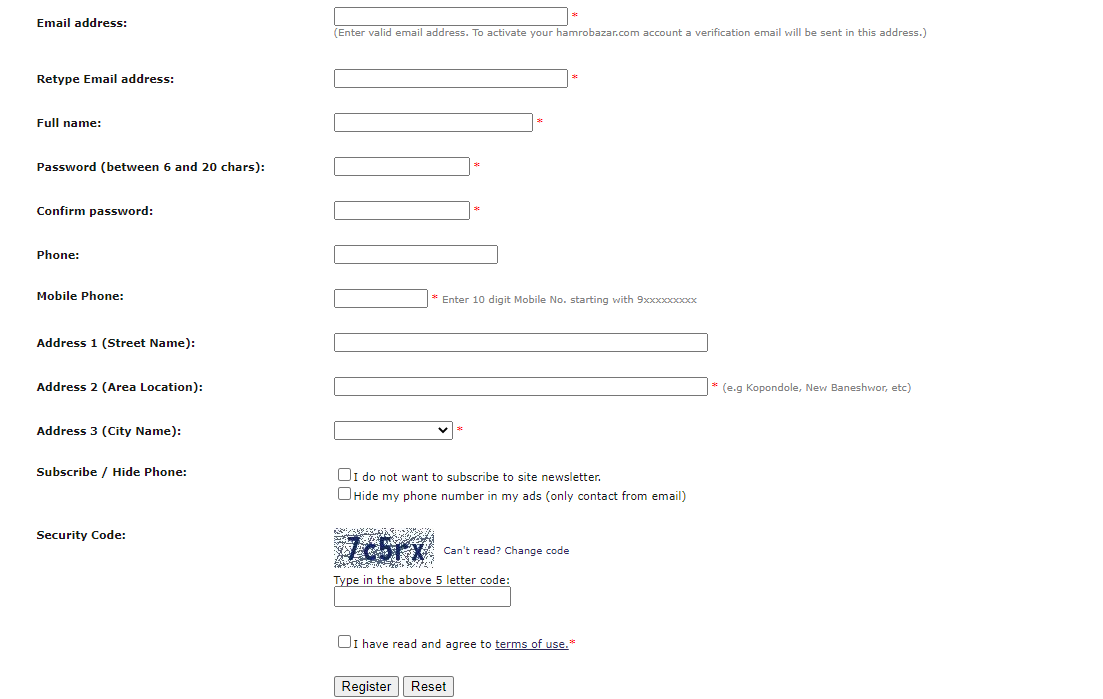 1. First, to sell your product via hamrobazaar.com, you need to register your account online. For this, click the 'Register' tab that is on the top right corner of the Hamrobazaar homepage. Then, a registration form appears and you need to fill a form thoroughly and click 'Register' after you are done.
2. Once you are done with registering your account, you can now post your classifieds (ads) of your used or fresh goods on the website. You can also edit them and delete them.
3. While posting your ad, you should choose an appropriate category. For instance, if you are posting an ad of your secondhand motorcycle, you need to select the 'Automobiles' category.
4. Now, you need to give all the required details of that product and your own contact details. Also, if you have the photo of your product, you can upload it on the website.
5. After you are done with posting your classifieds, you just need to wait for the potential buyer to contact you.
Note: While posting classifieds of your products, you must consider the ad posting rules of hamrobazaar.com.