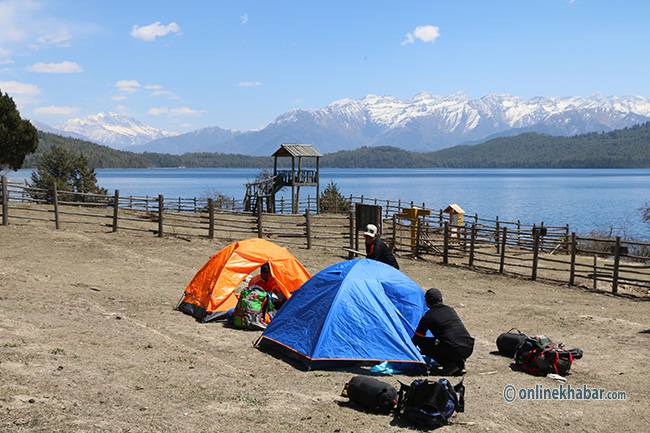 Mugu, March 24
Rara, Nepal's largest lake known for its beauty, is witnessing a surge in the number of domestic and foreign tourists these days. This is because Rara has become more accessible these days with blacktopping of Talcha Airport's runway and plans afoot for upgradation works of the Nagma-Gamgadhi road.
Earlier, tourists were few and far between. These days, however, 20 to 40 tourists visit the place daily.
The only hotel based in Rara, Danfe Hotel, is doing brisk business these days, thanks to a surge in the number of guests. The lake and the coast offer different spectacles as per the season.  In the winter, snow covers the coast, while it turns into a bed of flowers during the summer. The lake's waters seem to change colours every now and then: They look different in the morning, the afternoon and the evening. A boat ride in the lake is something that the tourists should not miss, if they want to savour the beauty of the lake and the surroundings.
Situated at an altitude of 2,990 metres, the lake is five kilometres long, three kilometres wide and 167 metres deep.
Stakeholders stress the need to construct well-facilitiated hotels, supply electricity and provide internet services for bringing in tourists. There's also a need to blacktop the Nagma-Gamgadhi road and properly manage foottrails that lead to Rara.