Kathmandu, January 5
The Siraha district administration has directed district police to arrest CK Raut, who has been calling for a referendum on disintegration of Madhesh from the country.    
Government officials say Raut's supporters have started orchestrating a 'drama' telling people to choose whether they want to stay within Nepal or establish Madhesh as a separate country.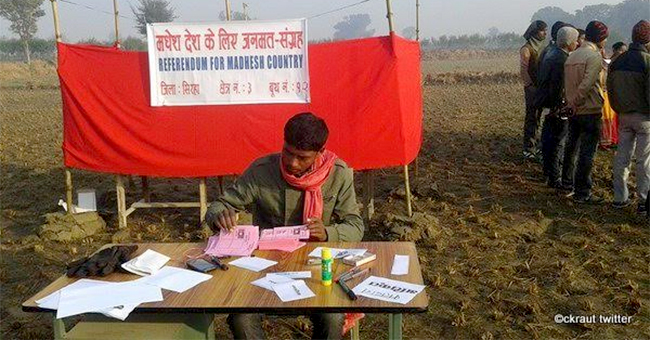 "This is a serious crime against the state. This is an act of treason," Siraha chief district officer Man Bahadur BK told Onlinekhabar. "We will identify such people and take them to the court," he said. 
Dangerous design
Raut plans to make the referendum drama a part of his campaign for disintegration of the Tarai from Nepal and creation of a separate country. He plans to send the footage of this drama to the United Nations and form a parallel government in the plains. 
His plan is to generate awareness in the Madhesh, form an election commission there, make Madheshi parties field their candidatures, form a Madheshi Parliament and a Madhesh government. 
After government and Parliament formation, Raut plans to declare the birth of Madhesh as a separate country. Under the mediation of the United Nations, Raut wants to declare Madhesh as a separate country through a referendum. 
Earlier, government had filed a case against Raut on charge of treason. But the court had released him on bail. 
Educated in the United States, Raut, from Rajbiraj, has been campaigning for Madheshi statehood.