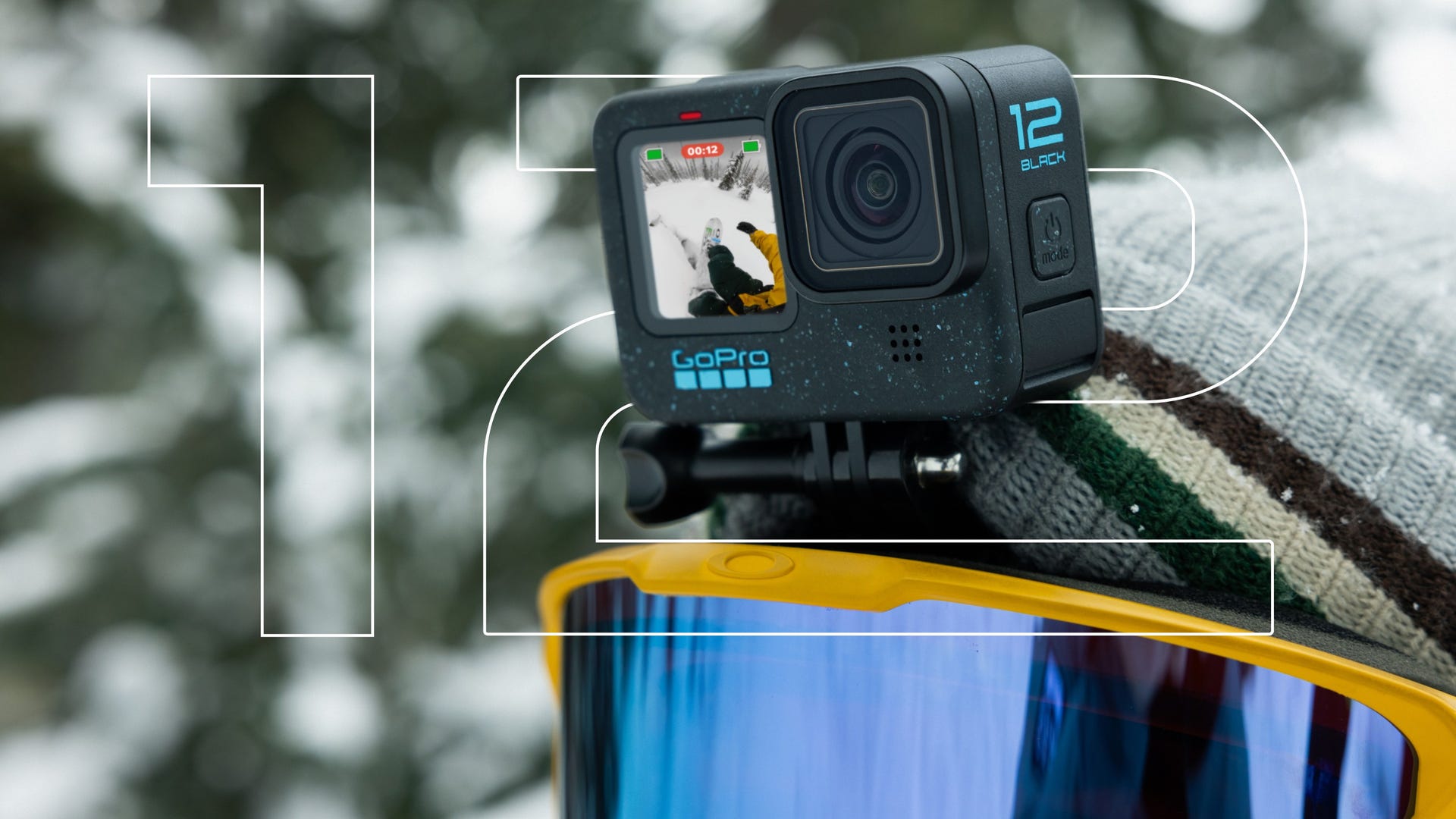 GoPro has unveiled its 12-generation action camera, the GoPro Hero 12 Black. The action camera is the successor of last year's GoPro Hero 11 Black which was launched in September 2022. The Hero 11 Black was packed with features, and it was accompanied by two other cameras: the Hero 11 Mini and the Hero 11 Creator Edition. However, this year, only the GoPro Hero 12 Black has been launched.
The Hero 12 Black maintains a similar design to the Hero 11 Black but comes with a host of added features. One of the most significant upgrades is the impressive 70-minute battery backup, which is double that of the Hero 11 Black. Let us see what the action camera provides.
Specifications of GoPro Hero 12 Black
Dimensions (W x H x D)
71.8mm x 50.8mm x 33.6mm
Weight
154G (camera with mounting fingers + battery)
121G (WITHOUT BATTERY)
Display
2.27-inch touch display
Secondary display
1.4-inch colour display
Waterproof depth rating
33ft without protective housing
196ft with protective housing
Mount
Built-in mount with folding fingers
¼-20 Mount
Operating temperature
-10º C – 35º C
Processor
GP2
Camera sensor
1/1.9-inch CMOS sensor
Lens aperture
F2.5
Resolution
27.6 MP
Focal length
Min = 12mm
Max = 39mm
Media/memory card
Single-slot: microSD
Video format
5.3K (8:7) 30/25/24 fps
5.3K (16:9) 60/50/30/25/24 fps
4K (8:7) 60/50/30/25/24 fps
4K (9:16) 60/50/30/25
4K (16:9) 120/100/60/50/30/25/24 fps
2.7K (4:3) 120/100/60/50 fps
2.7K (16:9) 240/200 fps
1080 (9:16) 60/50/30/25
1080p (16:9) 240/200/120/100/60/50/30/25/24 fps
HDR video
5.3K (16:9) 30/25/24 fps
4K (8:7) 30/25/24 fps
4K (16:9) 60/50/30/25/24 fps
Max Photo Resolution
27.13MP
USB Port
USB-C
Battery
Removable 1720mAh Enduro battery
Wi-Fi
Wifi 802.11 a/b/g/n/ac
Audio
Microphones: 3-mics
Stereo Audio
Advanced Noise Reduction: 3-mic Processing
RAW Audio Capture: WAV Format
3.5 Audio Mic Input: Media Mod (H9B/H10B/H11B)
Pro 3.5mm Mic Adapter
Wireless Audio: Support Airpods and other Bluetooth headsets
Price
Rs 71,500
Design
The GoPro Hero 12 Black does not have that specific design changes. The colour scheme is somewhat unconventional, featuring random blue-coloured elements along with blue-coloured fonts. On the front, there is a 1.4-inch colour display with the main camera sensor. The camera module is a bit bumped with a microphone just below it for capturing detailed audio capture.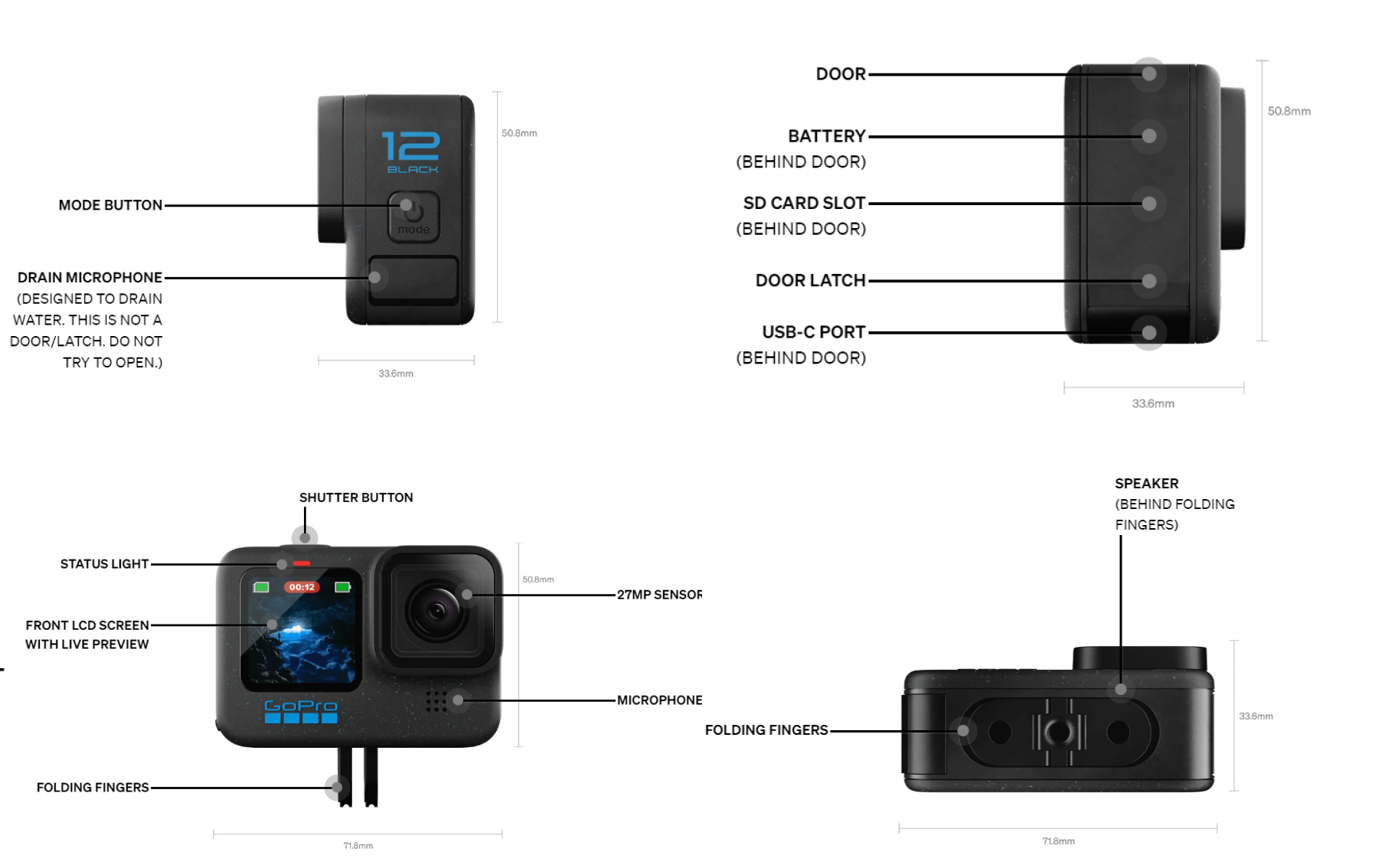 On the back, the GoPro Hero 12 Black has a 2.27-inch touch display. The display is quite responsive with all the information being shown on it. On the right side of the action camera, you can find the battery door. Inside it, you can find the battery, SD card slot and USB-C Port. The left includes a mode button and a drain microphone. The drain microphone should not be opened and is to drain the water. The bottom includes a speaker and folding fingers which help to mount the GoPro using other mounts for various purposes.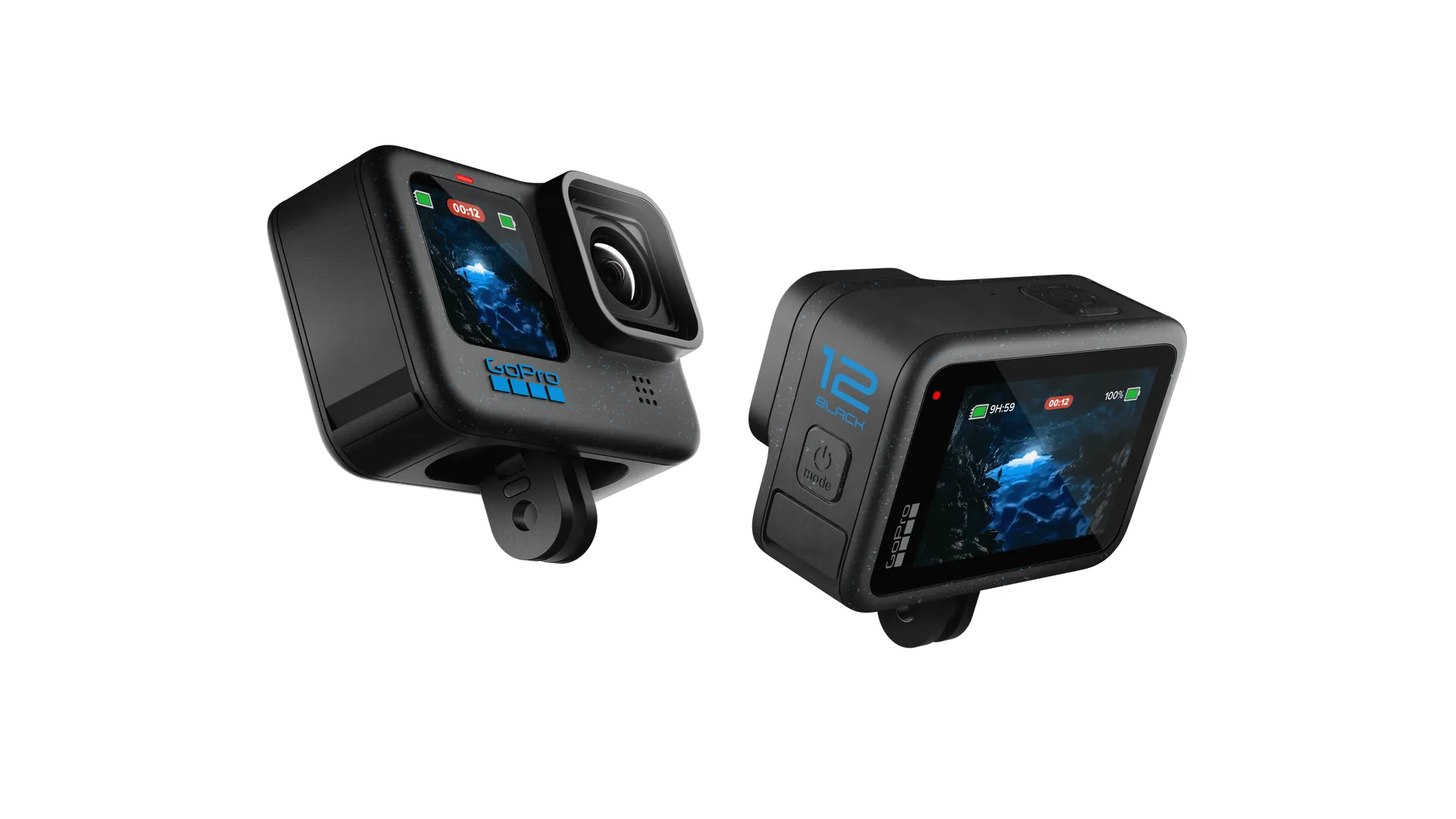 Camera
The GoPro Hero 12 Black is equipped with the same GP2 processor used in the GoPro Hero 11 Black. Its image sensor is a 27.6MP sensor, offering high-resolution photos at 5,599 x 4,927 pixels. It has an aperture of F2.5, a wide 156° field of view in an 8:7 aspect ratio. The lens has a versatile focal length range, going from 12mm for wide shots to 39mm for closer.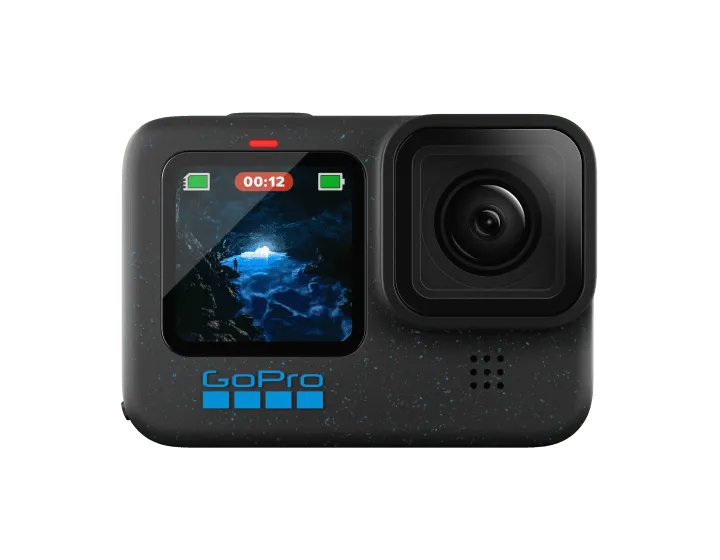 The GoPro Hero 12 Black has more improved video and photo capturing now. It offers various video resolutions and frame rates, such as 5.3K at 30/25/24 fps, 4K at 60/50/30/25/24 fps, and 1,080p at up to 240/200/120/100/60/50/30/25/24 fps. It features the new HyperSmooth 6.0 video stabilisation for smooth footage. The overall stabilisation is quite good and supports multiple aspect ratios, including 16:9, 9:16, 4:3, and 8:7. You can also shoot HDR video in select modes.
It has digital lenses like HyperView, SuperView, Wide, Linear, and Linear + Horizon Lock/Leveling. Using the horizon levelling users can lock or level the horizon in-camera for specific modes. It uses H.265 (HEVC) compression and provides 10-bit colour depth for 4K and higher resolutions, with a maximum video bit rate of 120Mbps. For zooming, Up to 2x is available which is accompanied by slow-motion options, looping video, HindSight, scheduled capture, duration capture, and live streaming capabilities.
The GoPro Hero 12 Black can function as a webcam at up to 1,080p30 and offers timecode synchronization and exposure control. As for photography, it includes modes like Standard Photo, Burst Photo, and Night Photo, with a maximum photo resolution of 27.13MP. The GoPro now allows users to extract high-quality photo frame-grabs from video recordings.
The photo timers and intervals are customisable and burst photo rates range from auto to 3/1 frames per second. You can also adjust Night photo shutter speeds. Time-lapse features are more interesting with features such as TimeWarp video, star trails, light painting, and vehicle light trails, with various aspect ratios, resolutions, intervals, and shutter speeds for time-lapse and night-lapse settings.
Audio and connectivity
The GoPro Hero 12 Black has new and improved audio features to enhance the recording experience. It is equipped with three built-in microphones for capturing stereo audio. It also has advanced noise reduction processing for clear quality.
For external audio input, the camera supports a 3.5mm audio mic input through the media mod accessory or the Pro 3.5mm mic adapter. It allows you to connect an external microphone for professional-grade audio recording. Additionally, the camera offers RAW audio capture in WAV format, giving you the flexibility to fine-tune your audio in post-production.
Now the GoPro Hero 12 Black also has wireless device connectivity available, supporting Airpods and other Bluetooth headsets for wireless audio recording. Using the external wireless audio devices users can record in sync with the GoPro. While post-editing the footage GoPro allows users to choose from either the wireless device audio or the GoPro audio which the external microphone recorded.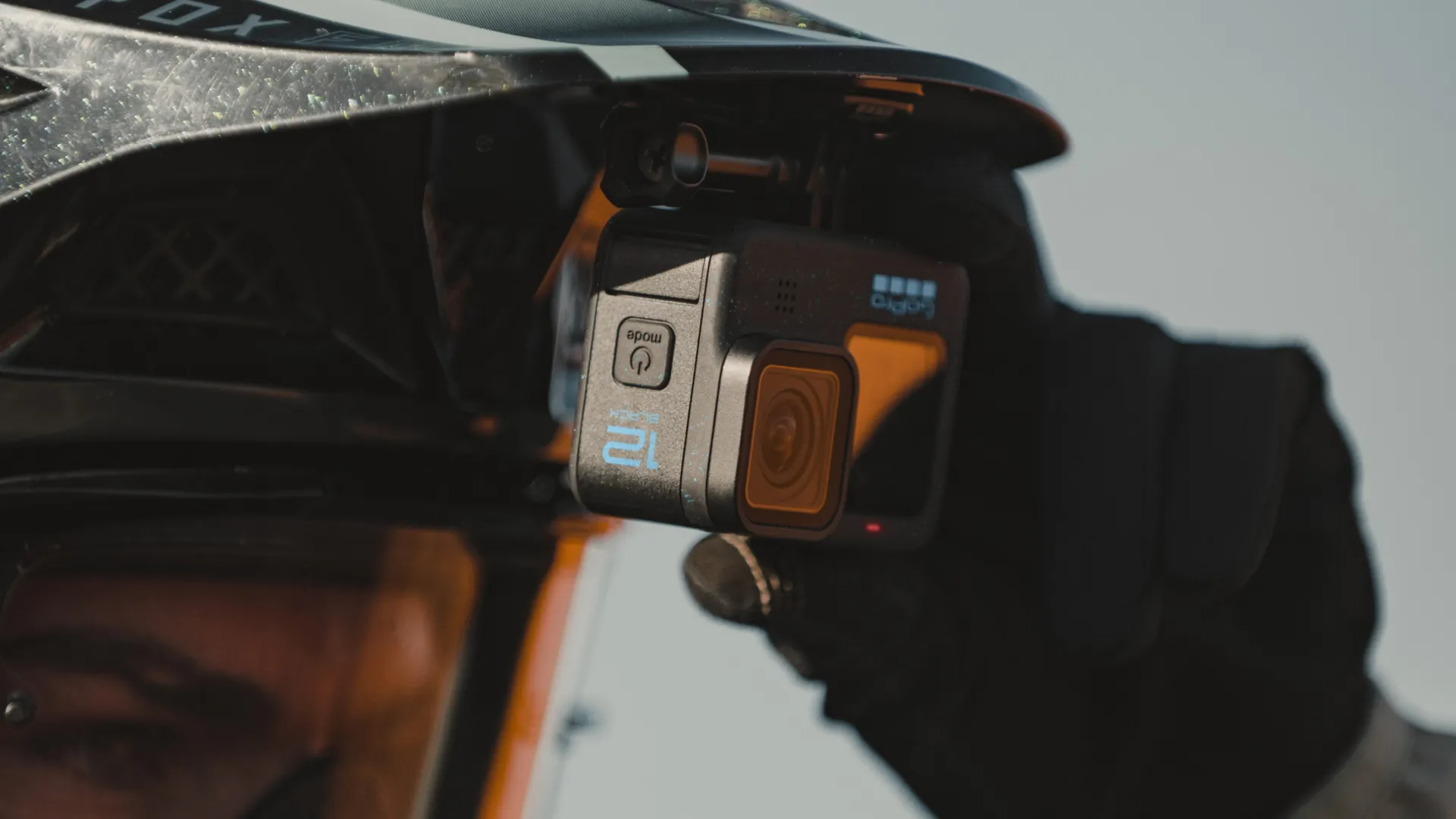 In terms of connectivity, the GoPro Hero 12 Black offers a range of options. It can automatically upload your content to the cloud when you have a GoPro Subscription, providing convenient backup and access to your footage. The camera is equipped with both Wi-Fi and bluetooth capabilities, operating on 2.4GHz and 5GHz Wi-Fi frequencies with support for 802.11 a/b/g/n/ac protocols. It also features bluetooth low energy (BLE) 4.2 for efficient wireless connections.
Battery, accessories and Quik app
The GoPro Hero 12 Black comes with an enduro rechargeable battery. The GoPro can now record twice the time as the Hero 11 Black. The Hero 11 Black could record 35 minutes in the max video resolution but now the Hero 12 Black can record for up to 70 minutes at 5.3K at 30fps and over 130 minutes at 1,080p at 30fps.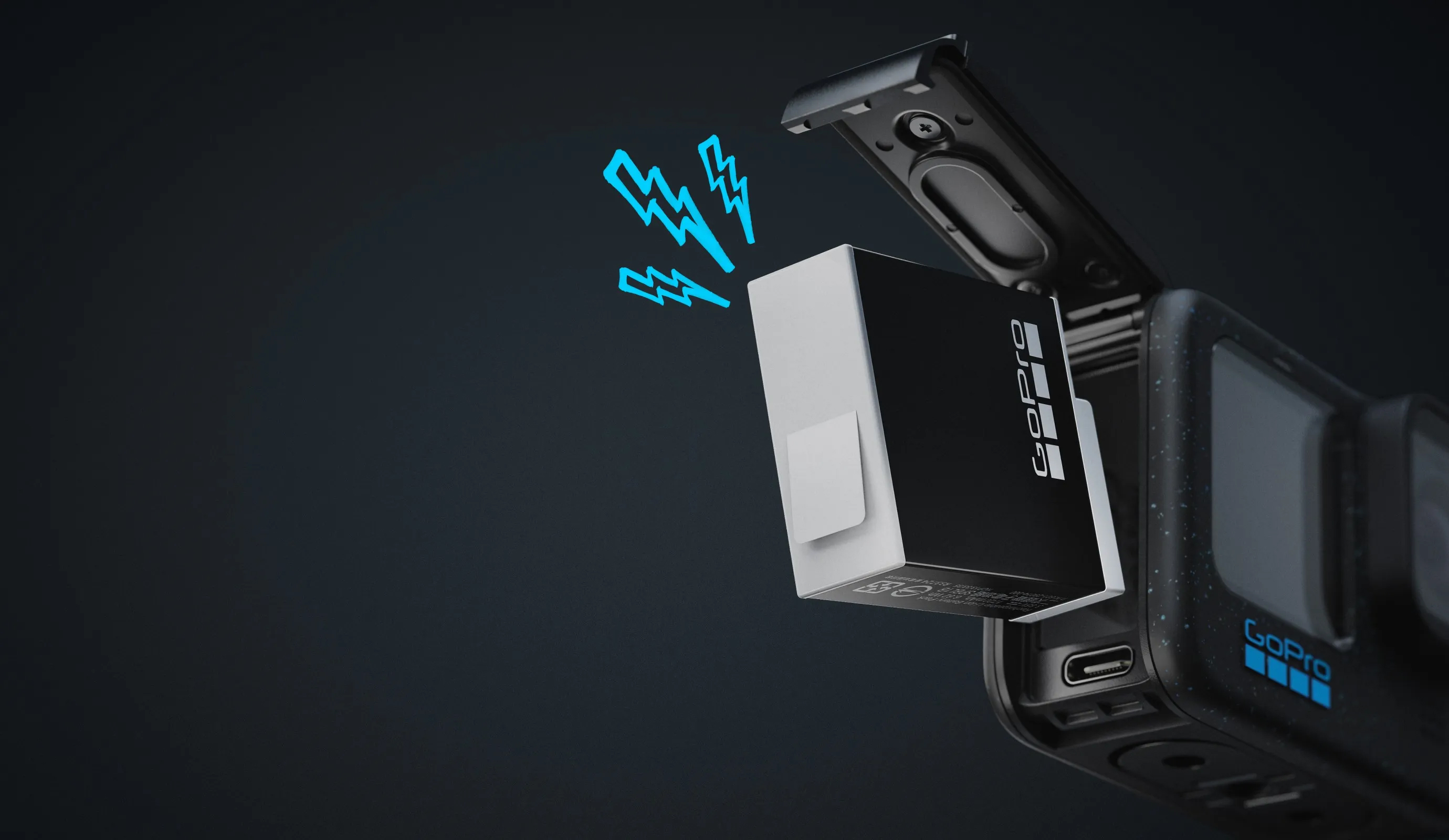 GoPro has also unveiled the new max lens mod 2.0, an accessory lens that allows you to capture ultra-wide angle, 177-degree field of view footage in 4K at 60fps. It also has three field-of-view settings: max wide, max superview, and max hyperview. The max lens mod 2.0 is sold separately and can be really helpful while shooting POV videos.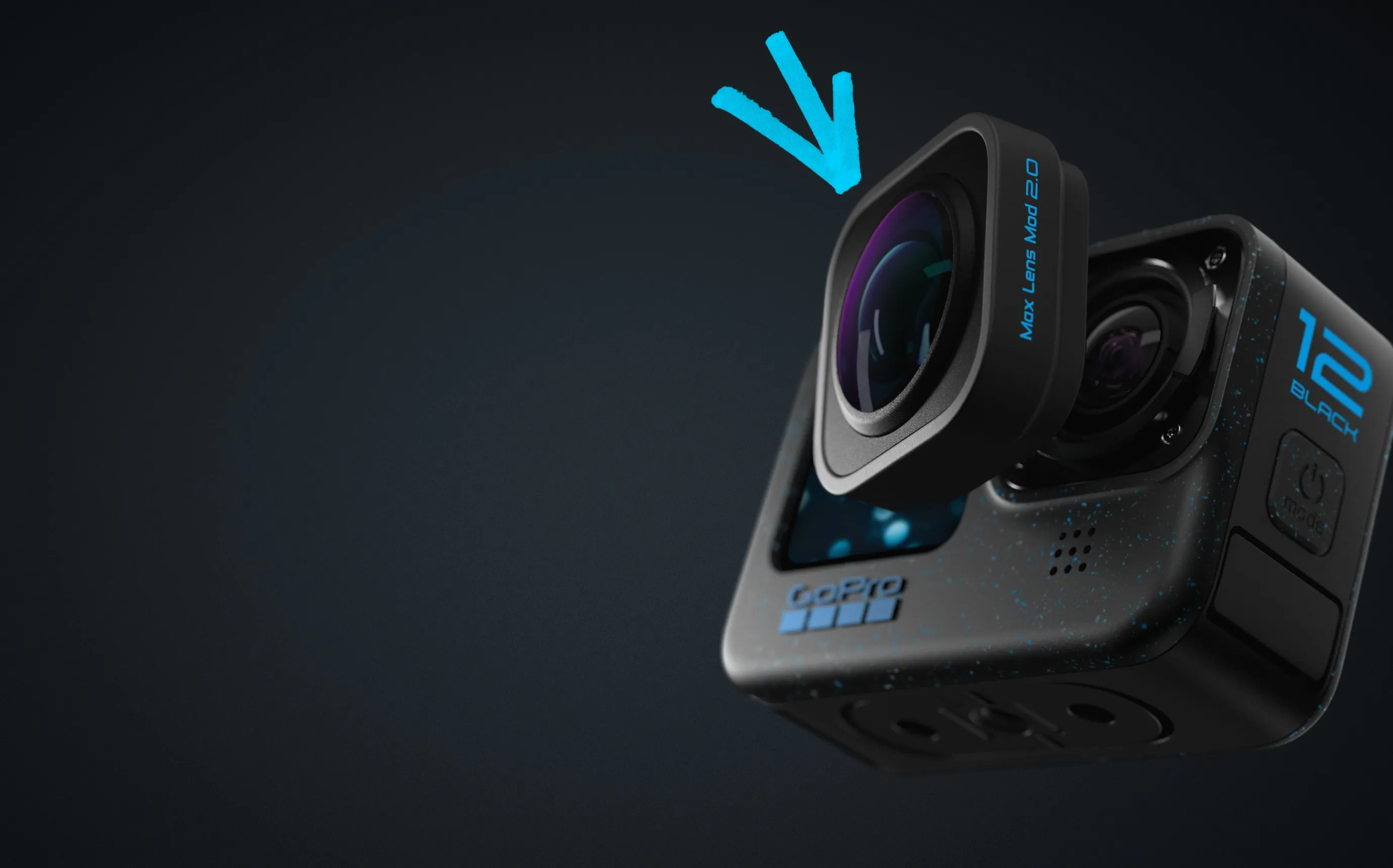 In addition, the GoPro Hero 12 Black also comes with a curved adhesive mount, mounting buckle + thumb screw, and USB-C cable. It is also compatible with about 50 other mounts and mods, such as the media mod, light mod, and display mod.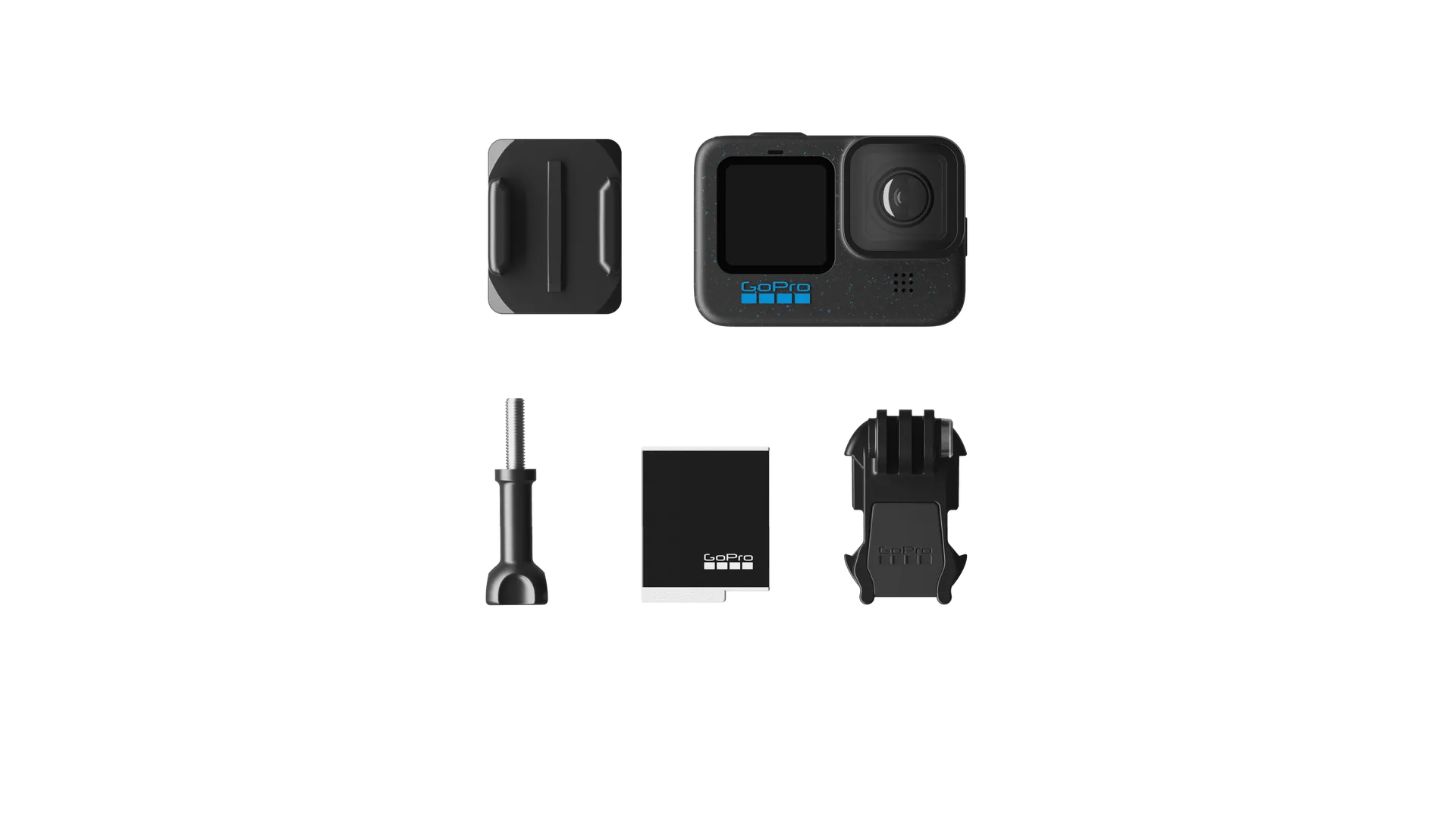 The GoPro Hero 12 Black's footage can be accessed directly using the Quik app. The app has a variety of features, including automatic highlight creation, filters, and music. The app automatically uploads your captured footage to the cloud while your camera charges.
It creates ready-to-share highlight videos for you and allows easy editing with tools like digital lens adjustments, filters, cropping, and more. You also get unlimited cloud backups at full quality, and the app supports auto-upload from your camera, smartphone, or the web, making content management and sharing a breeze.
The GoPro Hero 12 Black price in Nepal is Rs 71,500.