Kathmandu, March 2
The crew and passengers on board the Goma Air plane with call sign 9N-AKZ had a close shave on Wednesday.  At 8.46 am, the plane bound for Lukla from Kathmandu received a bird hit, forcing the pilot to make an emergency landing at the Kathmandu airport.
Managing director of the airlines, Manoj Karki, said all on board the flight are safe. There were nine passengers on board. Karki said: We had kept our flight on hold upon seeing birds on the runway. Later, the airport tower directed us to fly, pointing that the hunter had removed the birds. The plane received a bird-hit as soon as it took off.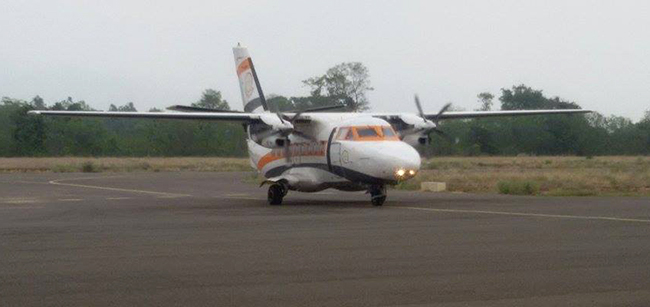 Four birds reportedly remained on the runway even after the airport pressed the hunter into service. The birds reportedly flew from the airport as the plane took off, and one of them hit the plane. The bird-hit has caused damage to the plane's tail wing. Goma Air cancelled the flight after the accident.
Karki said: We have already informed the Civil Aviation Authority of Nepal about the incident. After geting their permission, we will repair the tail wing and fly the plane.
He said: Most probably, the repair work will not be over today. We plan to fly the plane by tomorrow, after the maintenance work.