CIAA filing graft cases against former vice-chancellor of BPKISH Balbhadra Prasad Das and seven others has been featured in most national dailies along with news of monsoon death toll rising to 79. A government team holding talks with Netra Bikram Chand's party has also been featured on a few front pages.
Here's a summary of important, ignored and interesting stories from cover pages of the Kathmandu press.
Important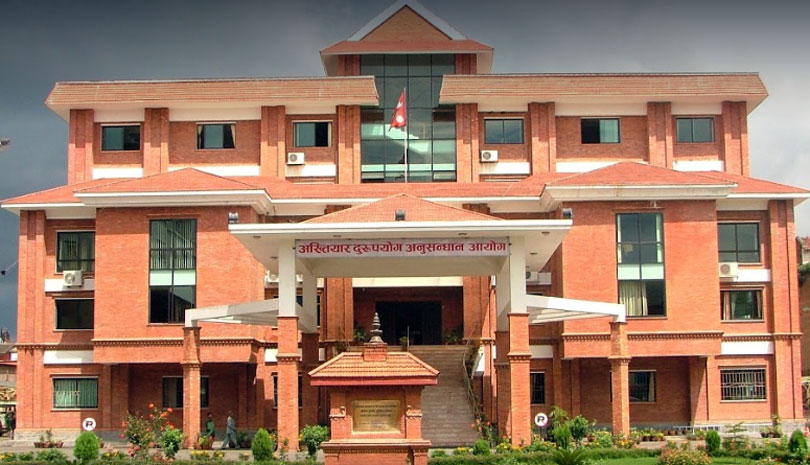 Former vice-chancellor of BPKHIS booked for graft
Nagarik, Annapurna Post, Republica and The Himalayan Times report that the Commission for the Investigation of Abuse of Authority on Monday filed corruption case at the Special Court against former vice-chancellor of BP Koirala Institute of Health Sciences Balbhadra Prasad Das and seven others, including two equipment suppliers. Six of the defenders are former or current employees of BPKIHS. They have been accused of embezzling over Rs 160 million.
Defendants include former director of BPKIHS Arvinda Kumar Sinha, former BPKIHS registrar Nanda Kumar Thapa, BPKIHS Registrar Tul Bahadur Shrestha, BPKIHS Accounts Chief Dinesh Raj Dahal, BPKIHS Deputy Manager Amit Shrivastav, proprietor of Biomed International Pvt Ltd Chetan Agrawal and proprietor of Upkaran Suppliers Surgicame Distributors Umesh Agrawal.
Monsoon havoc: Death toll reaches 79, dozens still missing
The Himalayan Times and Republica report that the number of people killed in floods and landslides since Thursday reached 79 on Monday. Dozens are still missing. The number of injured, according to Nepal Police, is 43 including 23 male and 20 female.
Police said at least 1,446 were rescued over the last couple of days when incessant rains triggered floods and landslides in various parts of the country. The heavy rain has caused disruption in major highways and roads connecting the capital city Kathmandu and other major towns and villages both in Terai and the hills.
Vehicular movement in Terai districts mainly in Province 2 has been badly affected due to floods since the last couple of days.
Fear of disease looms
Annapurna Post reports that fear of communicable disease looms in most parts of Terai as people are sleeping with their cattle and drinking dirty water. Most flood victims who have nowhere else to go are taking refuge in schools and other open spaces along with their cattle. Doctors are fearing that due to dirty water people will catch diseases which will spread quite rapidly as most of them are staying together.
Ignored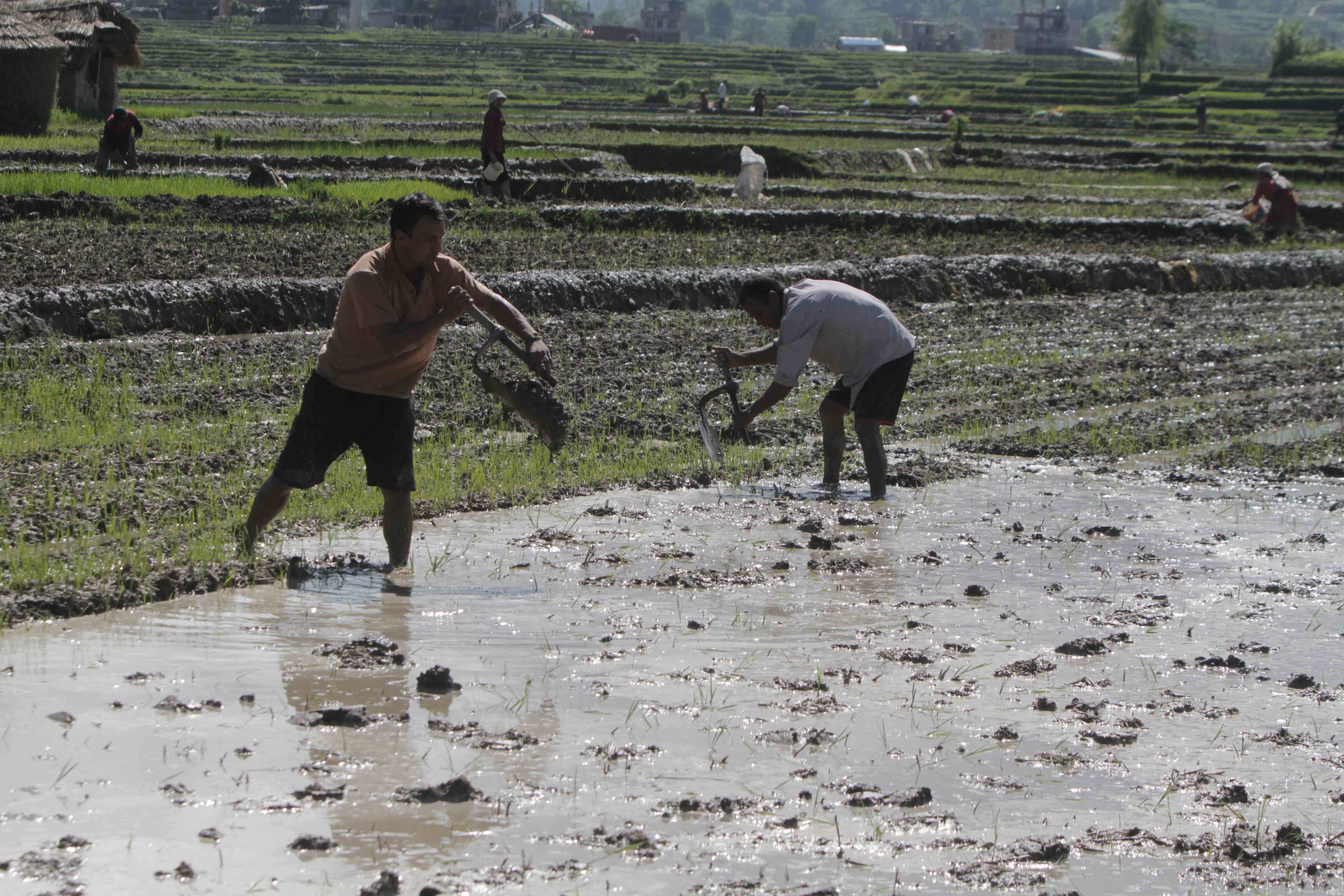 Crops worth Rs 800m damaged in Province 1
Republica reports that the incessant rain during the last couple of days has caused agricultural losses in Province 1 amounting to around Rs 815.47 million, according to a preliminary report prepared by the Ministry of Agriculture and Livestock Development.
The rains have caused floods and landslides across the country. The report includes losses to crops caused by the delayed monsoon in the hill districts of Bhojpur and Khotang in the province.
A total of 2,446 households have incurred losses to crops and livestock. The losses have been caused by landslides, floods and drought during the current fiscal year 2018/19.
Provincial ministers criticise federal government over police mobilisation
The Kathmandu Post reports that the bill on adjustment of police in the provinces, which has been finalised by a parliamentary committee and is expected to be endorsed by the federal parliament soon, has invited criticism from provincial governments.
Provincial ministers have expressed serious concerns over the provisions that allow the federal government to mobilise provincial police chief–Deputy Inspector General. Besides, Senior Superintendent of Police and Superintendent of Police will also be under the federal government until a provincial police official appointed by the provincial government is promoted to the post of Senior Superintendent of Police.
Speaker neutral role questioned by opposition
The Himalayan Times reports that speaker Krishna Bahadur Mahara's ability to play a neutral role in the Parliament has once again been questioned after he rejected a proposal made by opposition parties to convene the meeting of the House of Representatives on Monday.
The two opposition parties — Nepali Congress and Rastriya Janata Party-Nepal — have been obstructing House proceedings since July 9 demanding the formation of a parliamentary committee to investigate the loss of two lives in police firing in Sarlahi. They had requested the speaker to call a House meeting on Monday to discuss ways to support people affected by floods and landslides.
Mahara later cancelled the meeting and adjourned the house meeting till July 25.
Vegetable prices rise in Nepal after monsoon flood
Rajdhani reports that continuous rainfall in the country has affected the vegetable supply in the Valley raising prices of vegetables significantly. Around 350 tonnes of vegetables arrived at the Kalimati market on Friday which was almost 50 per cent below than the normal vegetable supply but these vegetables could not be sold due to damages caused by rainfall. The supply of green vegetables in the Kathmandu Valley has declined sharply since Friday due to rainfalls across the country.
Naya Patrika reports the price of green vegetables has doubled in the past week.
Interesting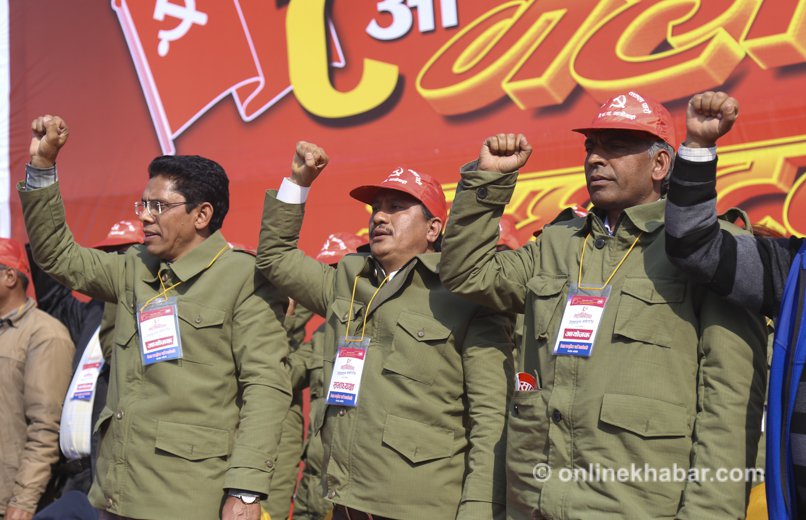 Govt and Chand outfit to hold talks today
Naya Patrika reports that Nepal government is holding talks with Nepal Communist Party led by Netra Bikram Chand 'Biplav' on Tuesday. Even though the talks is said to be held in Nepalgunj, the exact place for talks has not been revealed.
Former Minister and Lawmaker Som Prasad Pandey is leading the team on behalf of the government. The team has already reached Nepalgunj. Prime Minister KP Sharma Oli has directed the team to hold the talks decisively to sort out the issue.
The names of team members representing Biplav outfit have been kept secret at the request of the outfit. Brief talks had been held with Bipalv group on Sunday, too. The government is optimistic that the talks would be successful.
Maduro's son meets Dahal
Nagarik and The Himalayan Times report that a visiting delegation from Venezuela including Nicolas Ernesto Maduro Guerra, son of Venezuelan President Nicolás Maduro, on Monday met Co-chairperson of ruling Nepal Communist Party (NCP) Pushpa Kamal Dahal and lawmakers.
Annapurna Post, however, reports that the government is still unaware why Maduro is in Nepal. The Ministry of Foreign Affairs state that they are assessing why Maduro has come to Nepal and under whose invitation.
5,000 leave Nepal to pursue medical education
Rajdhani reports that in the past seven years over 5000 students have left Nepal to pursue MBBS studies. According to Nepal Medical Council, 565 people left Nepal to pursue MBBS and BDS courses in 2014 and the number significantly increased in 2014 where 1378 student left for medical education. In 2015 a further 1461 left after which the number dropped to 478 in 2016 and 495 in 2017. In 2018 586 students left Nepal to pursue medical education.
---
Published on July 16th, Tuesday, 2019 10:31 AM
---
Download Onlinekhabar App. Android click here & IOS click here . Keep in touch with us on Facebook, Twitter & YouTube.