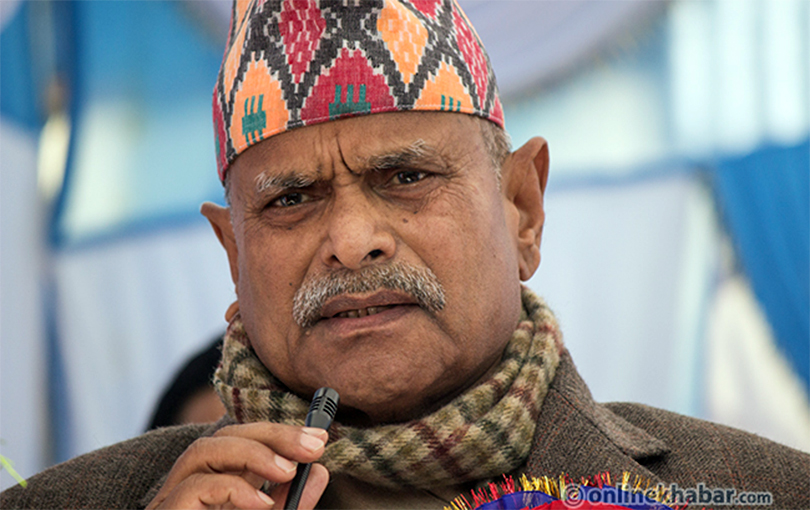 Kathmandu, August 18
Nepal's former President Ram Baran Yadav has warned that the country's southern plain land popularly known as Terai or Madhesh will get into a 'water conflict' within next 10 years if forests in Chure region above it are exploited, leaving the plains high and dry.
Yadav, who was born and spent most of his childhood and youth in Madhesh, says he has been observing depleting level of water availability in the region for years.
"Water crisis can be felt during summer at places nearby the East-West Highway," Yadav says in an interview with Onlinekhabar, "If it continues, there will be a war in Terai for water in next 10 years."
Talking about the severity of devastation caused by recent floods in the region, he says Chure exploitation is the most significant cause.
"Rainfalls would occur earlier as well," he says, "But, the major cause of devastation is not the rainfall, but the destruction of jungles in the Chure region."
"Places without forests do not receive much rainfall. Plain land from Birgunj to Saptari is very dry and there is no downpour," he explains.
"When I was in my early teens, there was no shortage of water. Crops were enough. The Terai was a storehouse of water, crops and fruits. We had to buy nothing as we could cultivate everything in our farm. Our situation was better than that of northern India. We used to export our crops," a nostalgic Yadav remembers.
There used to be rainfalls as long as 10 to 15 days, but the water would get channelised itself because there were forests so that no destruction could occur, he explains, "But now, all forests have been cut down and Chure region is under attack. Therefore, whenever it rains, the floods wash away soft clay and stones downward."
"If you save Chure land, you save forests and water. Life exists only when there is water. Therefore, it is a must to save our land, save our water."