Ram Das returned to Kathmandu from his hometown Rautahat last Monday. Das, a scrap collector, thought he could double his earning this time, and could not stay long in Rautahat.
Despite knowing that now it would be very difficult to visit every alley of the city, shouting for khali sisi and purana kagaj, Das came to Kathmandu along with his friends by hiring a vehicle, defying the lockdown.
After coming here, he felt that the attitude of his house owner towards him had changed a lot. The owner warned him, "If you stay here without doing a coronavirus test, I will call the police and ask them to arrest you." Hearing this, he did feel furious. However, he could not pour his anger to the landlord as he could not afford to face any trouble by inviting disputes with them.
"I'm afraid of getting infected by coronavirus here only," grimaced Das said, sitting at the end of a long queue in the scorching sun, waiting to be tested for Covid-19.
Covering his face with a black cloth mask, he looked annoyed. He also expressed his grief to other people in the queue, saying that he had to come to the (crowded) hospital unnecessarily.
Meanwhile, another person in the same queue shared, "My house owner also threatened me by saying that either I would be beaten by a mob or I should go for a test."
Other people of the same queue spoke that they are humiliated by their respective house owners for being Madhesis.
—
When we reached the Shukraraj Tropical and Infectious Disease Hospital in Teku at around 10 am last Tuesday, there was a long queue of people waiting to be tested for coronavirus. The queue was stretched to the main gate. This long queue made inconvenience even for the nearby shopkeepers.
There, most of the people were from districts of Madhes. Some were fruit and vegetable sellers and some were scrap collectors. Some were daily wage earners and some were masons. Most of those who reached the hospital had entered Kathmandu in the last two or three days.
We met Chandra Shekhar Prasad Chaurasiya of Birgunj there. He had also come to Kathmandu on Monday night and was strictly ordered by his house owner to go to the Teku Hospital for testing coronavirus in the early morning.
He showed his report of a recent PCR test done in Birgunj that proved him negative.  He also informed that he had shown his RDT test report (that resulted negative) that was done just before coming to Kathmandu last Sunday also, to the owner. However, the landlord was not satisfied.
That is why he came to the hospital. After waiting for so long in such a long queue, he reached the fever clinic. There, health workers checked his body temperature. They asked him if he had come in contact with the infected cases. They verbally asked him if there was any problem with his health.
"I stayed at home all the time during the lockdown, but I did not go anywhere. I do not have difficulty in breathing, neither fever nor loss of taste and smell," he responded to the doctor's question.
Then after, the doctor wrote on the report card, "He has no health problems. However, he should stay in the home quarantine for 14 days."
He did not like the recommendation of the doctor to send him to the home quarantine. He also did not like the idea of not conducting any checkups, but depending on his answers.
"Will my landlord accept this paper?" he asked, "But, what's the point of staying in home quarantine?"
—
"Why did you enter Kathmandu defying the ongoing lockdown?"
To our question, Ram Shah of Sarlahi answered, "I came to work here after watching a TV video that said the lockdown ended in Kathmandu."
Munna Sah of Birgunj added, "How long can we stay in our home? We have children; we need to raise them."
"All the food grains stored in the house is now finished; there is no one to grant us some loan," Bhola Sah of Bardiya, who was with Munna, said, "If we don't work now, we will die. So, I came here. Now, we are no longer afraid of coronavirus."
Most of the people who reached Teku Hospital were the same.
They entered the city for employment. They did not look sick. Most of them had no symptoms, no fever, and no breathing problems. They understood that those without symptoms would not be tested.
Even knowing all of these, they were forced to go to the hospital. Santosh Yadav, a permanent resident of Rautahat, currently living in Thimi, said, "Knowing that I would not have a coronavirus test done without any symptoms, I had to come to the hospital."
He added, "We have been constantly hearing on the radio that without having any symptoms like fever or breathing problems, they would not do our coronavirus test. Still, my landlord pressurised me to have coronavirus test done."
All of them present there were afraid of getting infected from the coronavirus from there only. Realising this, they tried to maintain distance while being in the queue. But, how was it possible in such a crowd?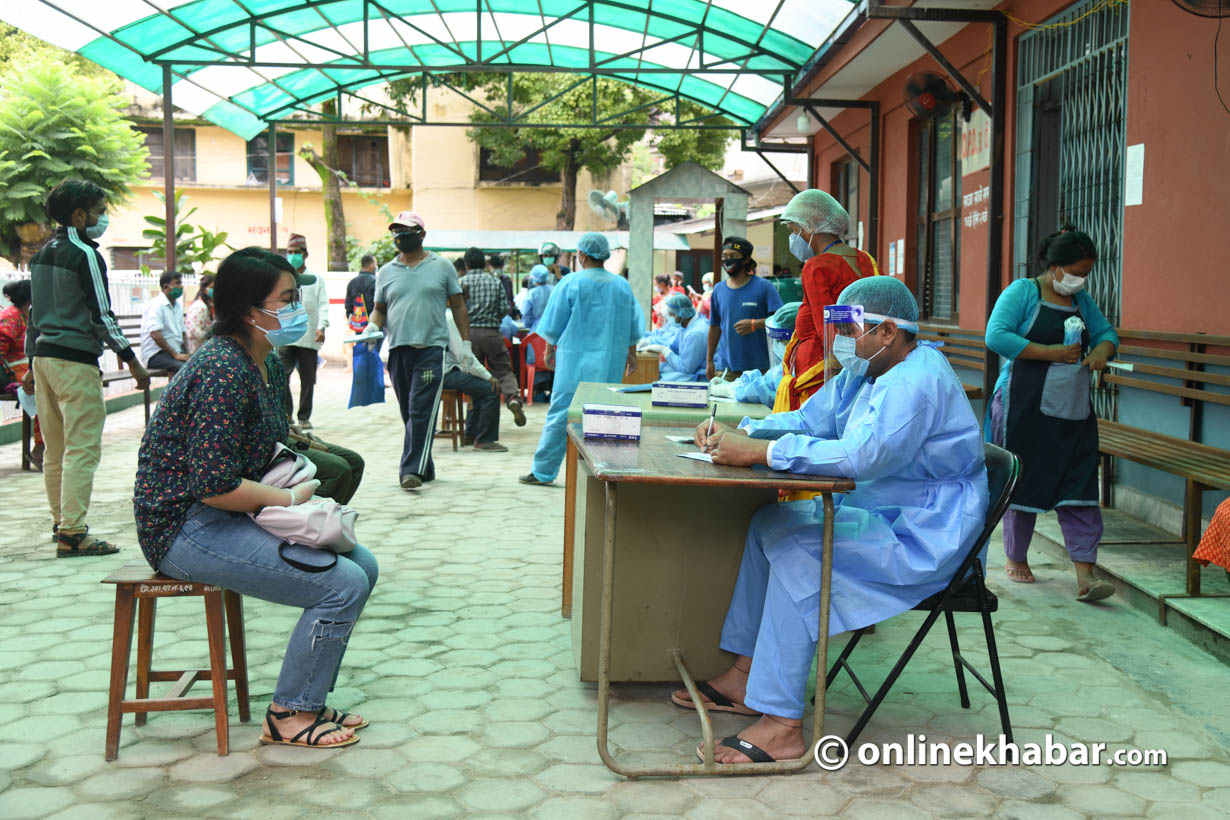 Attempts to organise the queue by the health workers and security personnel also seemed to have failed. Being tired of not being able to manage, they said, "How can one manage a crowd when there are so many people in a small space?"
One had to buy a ticket of Rs 30 to stay in the queue. As there was an 'old way' of giving tickets through a window, people there were pushing each other to get the one. There were three health workers in the hospital premises, measuring temperatures of the people there and asking about their travel history.
After knowing that the person had no fever and no respiratory problems, the doctors would write on the report card, "Stay home quarantine for 14 days." Then, they handed over the report stating there was not any problem.
If any suspicious person was found, they would be sent to the swab collection centre.
"Would the landlord let people enter their room after seeing that reports?"
"What other alternatives are there?" questions Sagar Rajbhandari, the hospital's director, "Neither the protocol nor the limited resources allow us to do coronavirus test of everyone coming here"
According to him, 700 to 900 people have been visiting the hospital every day for the past two weeks. From them, the swabs of only 150 to 250 have been collected on a daily basis. The rest of the people are sent stating there is no problem.
He has complained that the crowd's pressure on the hospital has increased as society has misunderstood this issue. "Whether we are being unable to make them understand or they themselves have not understood this issue," he informs, "People who do not need tests come to the hospital every day. We also cannot do anything; we send them stating there is no problem."
Dr Rajbhandari says that the general report without a test has been the people's licence to enter the houses; this reflects the level of understanding of our society.
Stating that the problem of threatening the person who does not need to be tested by their landlord has increased, he stresses, "Still, public awareness on this issue is much needed. Sending them to the hospital for the same report is a danger for them as well."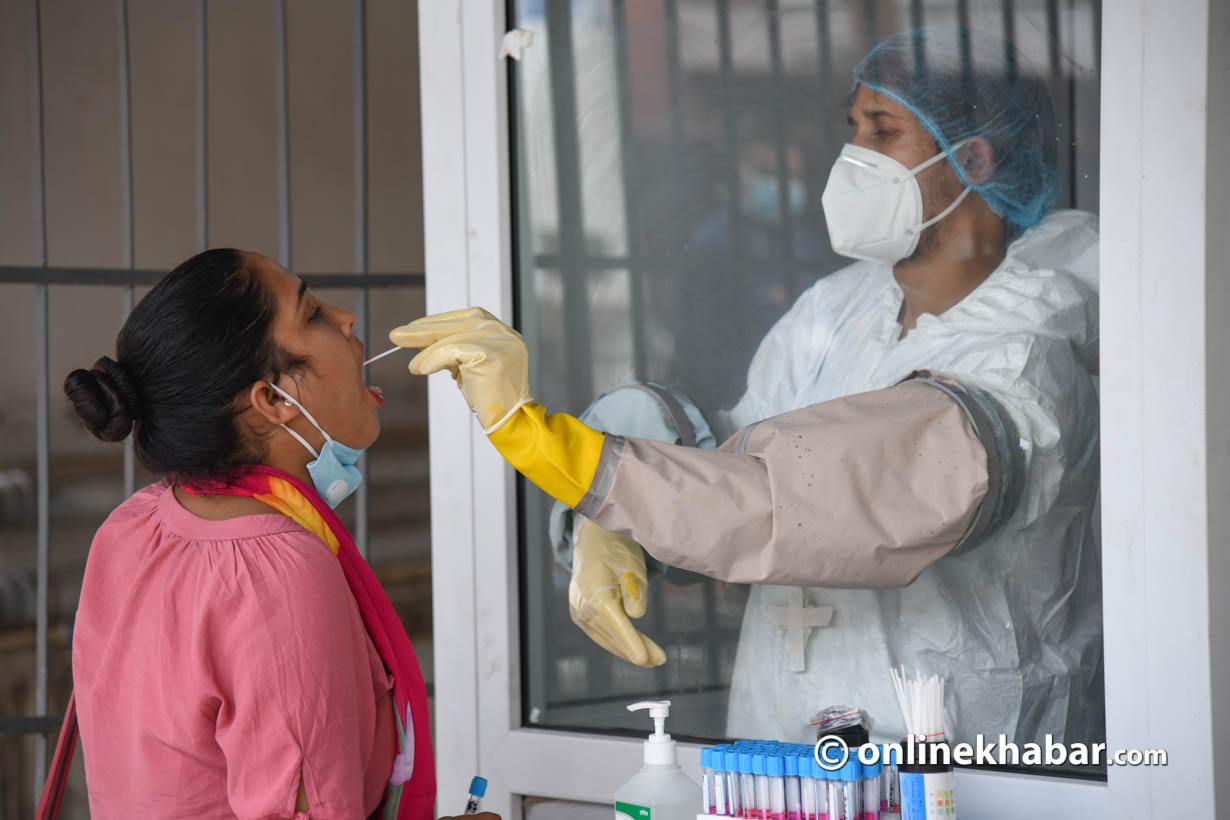 Dr Rajbhandari has concluded that there will be a huge problem if the government does not make any directive regarding the management of people entering into the valley.
He says that there is a risk of infection in the community from the hospital when the common people come to the hospital every day because of the pressure of their house owners. According to him, there is a high risk of infection as the infected people keep coming to the hospital. Because 35 infected people undergoing treatment at Teku Hospital have severe symptoms, if someone who comes for testing has an infection, the risk of transmitting it to others is also high.
---
Published on July 13th, Monday, 2020 10:15 AM
---
Download Onlinekhabar App. Android click here & IOS click here . Keep in touch with us on Facebook, Twitter & YouTube.