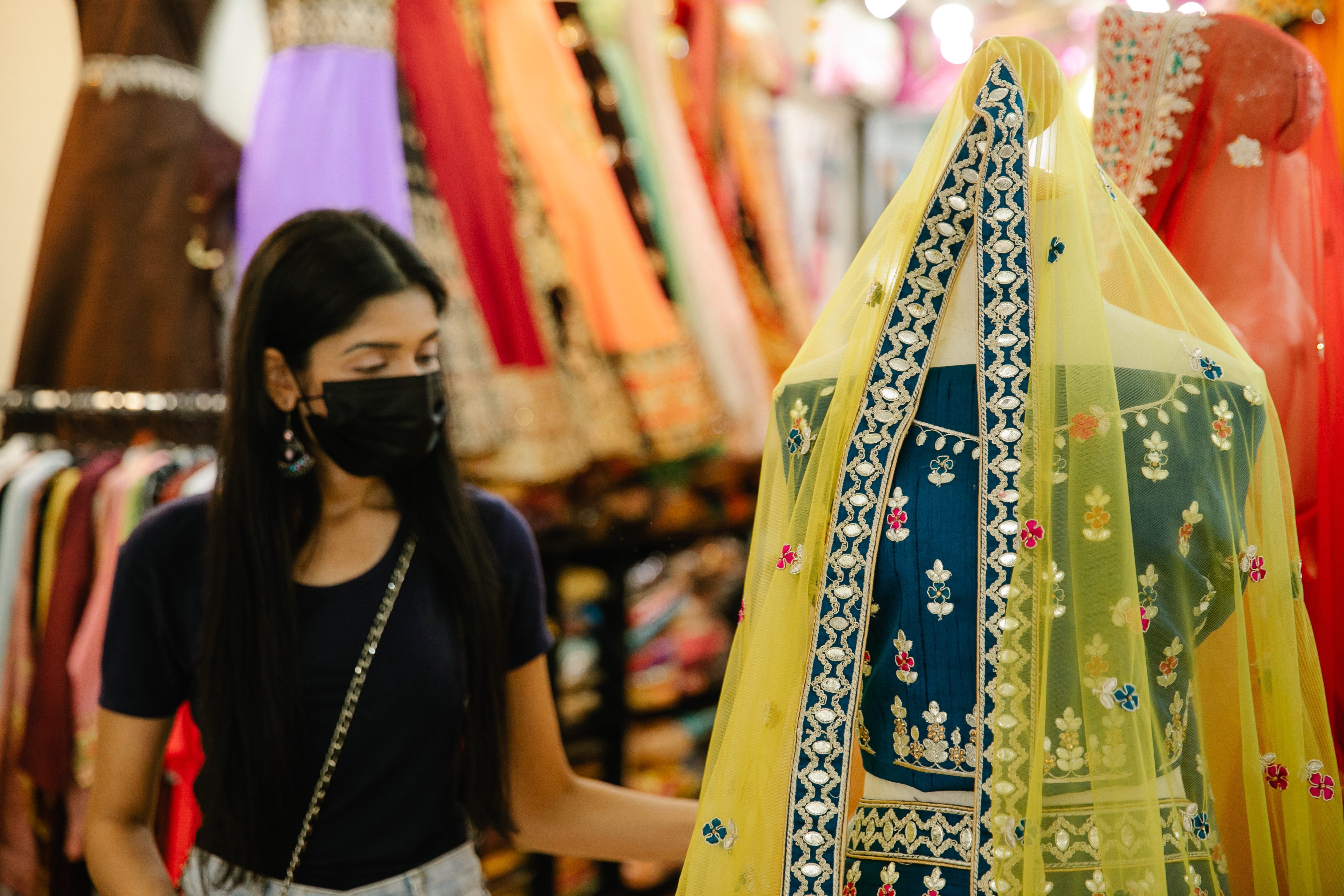 Dashain ushers in a festive atmosphere across the country. The pleasant weather and the palpable excitement in the air are infectious.
For many, Dashain is synonymous with new clothes. Whether it is driven by the sales at bustling markets or a sense of nostalgia, purchasing new attire is deemed essential. From youngsters to adults, there is a shared delight in adorning new outfits during Dashain.
It feels almost customary to don freshly bought clothes, visit relatives, receive tika, and seek blessings. For many, Dashain would feel incomplete without this cherished tradition.
Many Nepali designers have tapped into this trend and started to release their own festive wear for Dashain. These designs, skillfully crafted by industry-leading experts, showcase the latest trends. Ranging from sophisticated and opulent to elegantly understated, these festive wears encapsulate the authentic essence of Nepal.
These designs, crafted by some of the best in the industry, highlight what is trendy. While some are classy and extravagant, some are simple yet beautiful as they carry the true essence of Nepal in them.
Si's classy festive wear
Siwangi Pradhan is a well-known name in Nepal when it comes to fashion and media. She has created a fashion brand that speaks to all men and women. Pradhan has designed couture wear not just for Nepal but also for other parts of the world. Her recent festive collection speaks volumes for the amazing designer that she is.
Dashain is the festival of light, sparkle and joy, and Pradhan has brought the same energy to create her festive wear for Dashain. The green short-sleeved blouse with the long dupatta that has intricate beading is the perfect blend of elegance and art with sparkles down to the end of the dupatta.
The maya blue chiffon saree with its heavily beaded blouse is one of a kind and faultless and was also recently worn by Swastima Khadka.
Pradhan has done a fabulous job of emphasising the colour red in her designs. Be it the two red gharara's with the most fine prints or the long dress with a deep neck and a suitable Nepali fabric. All three of the designs have astounding quality and incorporate luxury and royalty.
Pradhan also opts for simpler yet elegant silhouettes with these designs. The choice of colour and fabric is everything but boring. The dupattas give an oomph to the traditional vibe which makes these an iconic attire for the festivities coming.
Mukta Shrestha's earthy Dashain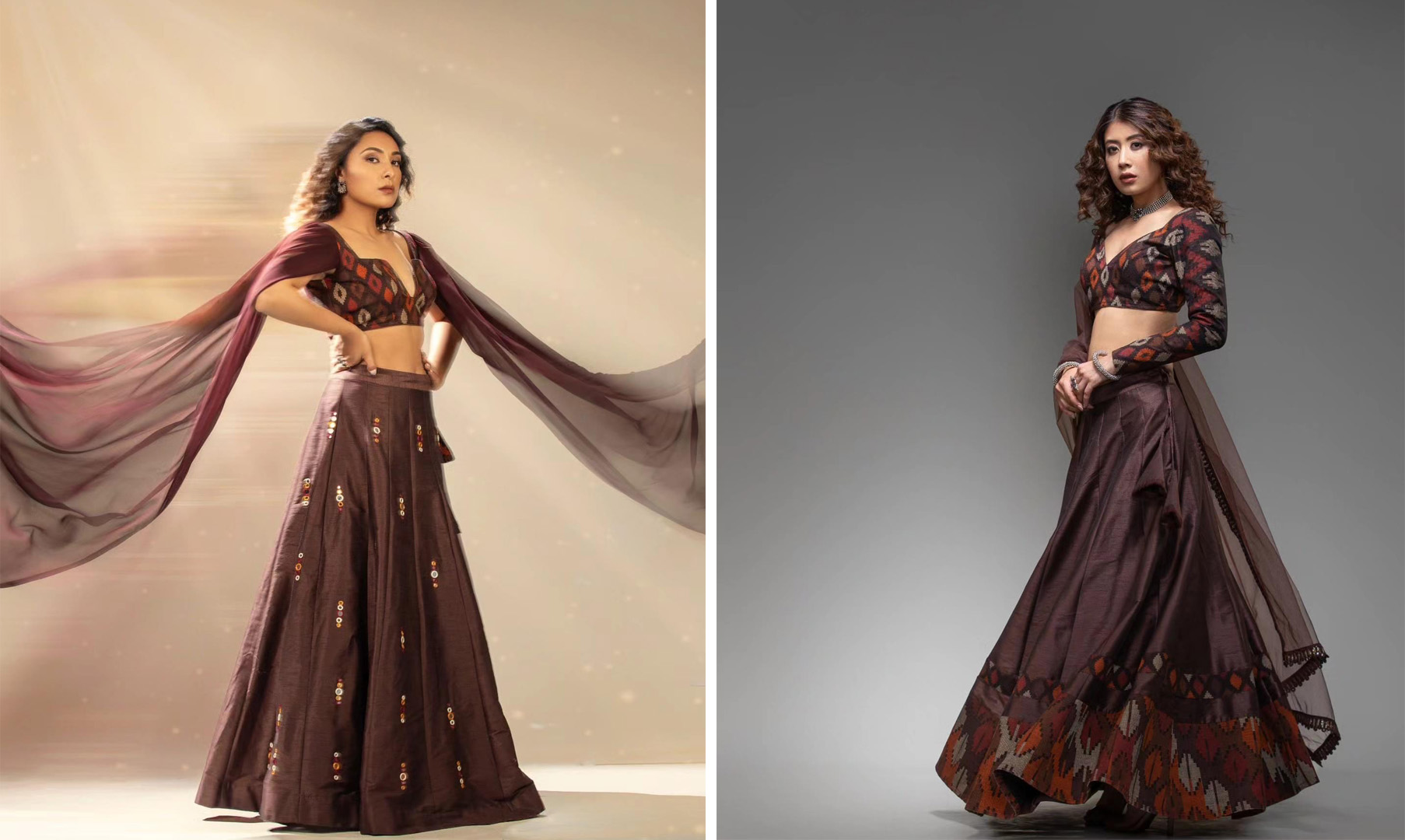 Mukta Shrestha is the founder of Muku Boutique which has earned huge success due to its relatable and familiar fabrics to the Nepali community. Shrestha uses Dhaka fabrics in most of her designs to stay rooted in her individuality.
Buying your festive wear for Dashain or Tihar from Muku Boutique could add an extra touch of magic to this year's festivities.
The lehenga worn by Asmi Shrestha features additional dhaka fabric stitched to the hems, complemented by a net dupatta and a full-sleeved Dhaka blouse, completing the entire attire.
Meanwhile, her daughter, Anushka Shrestha elegantly showcases a chiffon cape that gracefully drapes from her shoulders to her legs, paired with a short-sleeved Dhaka blouse and a long skirt adorned with intricate embroidery. Both designs not only embody Nepali culture through their materials but also through the incorporation of the hickory colour.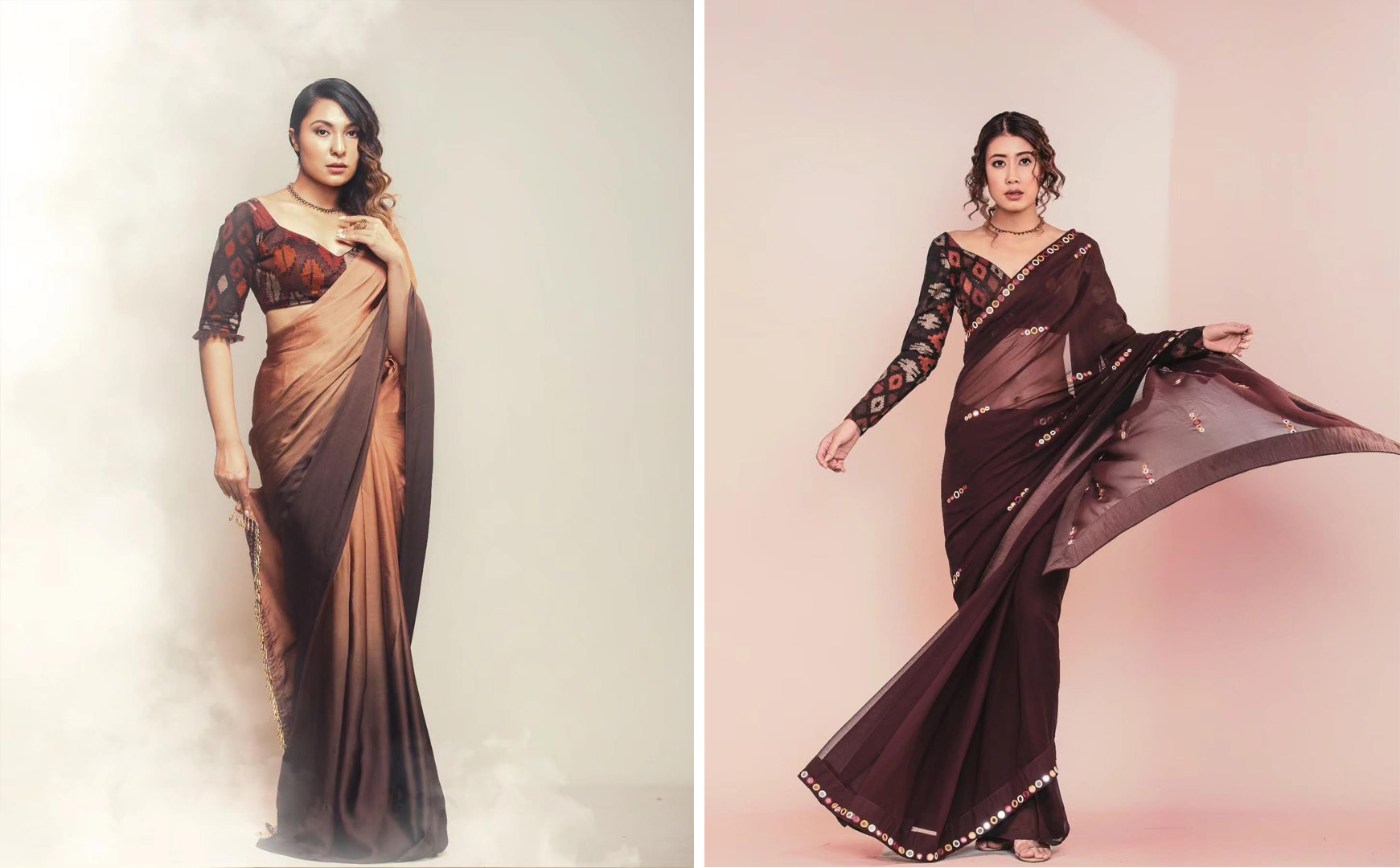 Mukta Shrestha continues the same aesthetic with sarees. Anushka Shrestha dons a mid-sleeved Dhaka blouse paired with a tie-dye-like garment featuring a stunning colour combination of black and brown. Meanwhile, Asmi Shrestha elegantly pulls off a full-sleeved Dhaka blouse, complemented by a beautiful midnight purple-coloured saree adorned with circular embroidery along the hems.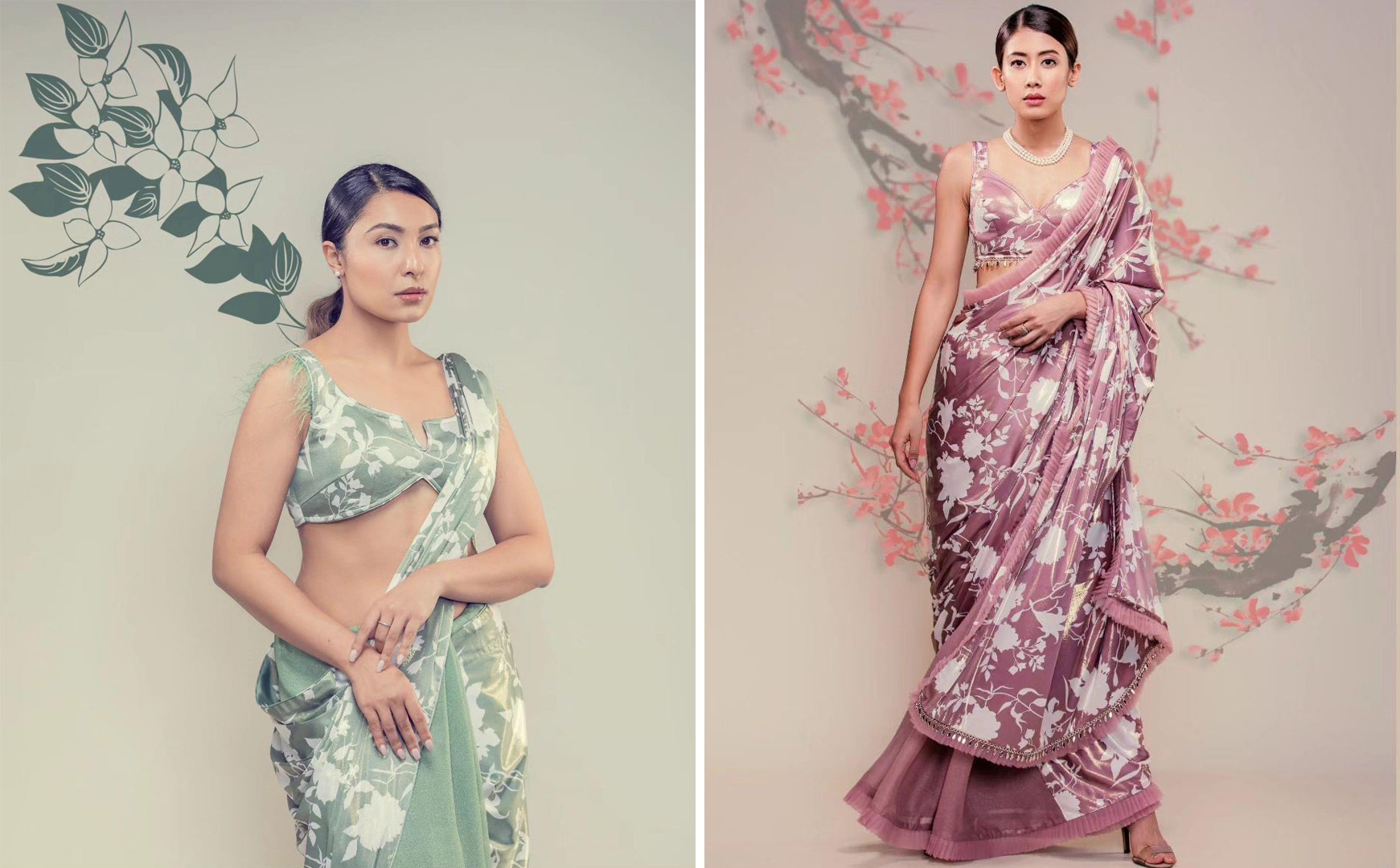 She also creates a floral patterned saree with a flowy draped saree. She uses colours like lilac and pistachio to accentuate her sarees with details like feathers on the side of the blouse worn by Anushka Shrestha and beads down the corset-esque blouse worn by Asmi Shrestha. She also incorporates fringes along the hems of the saree, adding a festive touch to the overall silhouette.
Be a princess with Manish Rai's design
Manish Rai is best known for his glimmer bridal and evening wear. His designs, often adorned by Miss Nepals, exemplify his profound connection and pride in his Nepali heritage.
Though Rai did not initially lean towards the fashion industry, a pivotal moment occurred when he attended a fashion show at Hyatt Regency, Kathmandu. From then on, the trajectory of his career took a transformative turn.
Starting with the quintessential Dashain colour, red, Rai crafts intricately detailed lehengas adorned with exquisite patterns and rhinestones embellishing the entire garment. The blouses feature distinct and contemporary styles, while each dupatta adds a unique touch. The lehengas incorporate princess seams, lending an air of regality and opulence to the design. For those looking to elevate their festive wear this year, this ensemble is the one to consider.
Rai definitely knows his colours and uses them to create an art-like silhouette. Colours like baby pink and rose pink make his designs appealing and soothing. He uses rhinestones and diamante in his designs in both the blouses and the ghagras which makes it stand out from the rest. His flowy dupattas are also one of a kind with heavy beadings and crystals.