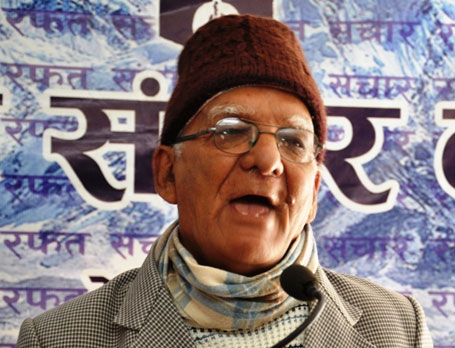 Bhaktapur, January 10
Chitra Bahadur KC, Rastriya Janamorcha chair, warned on Tuesday that Nepal will cease to exist as a country in the event of implementation of federalism.
KC, while speaking at a programme that Rafat Sanchar Club had organised in Bhaktapur, cautioned that political parties have made a mistake by segregating the Hills and the Tarai while carving out provinces.
He claimed that federalism was thrust on Nepal in a bid to make it part of India in the long run. KC accused ruling parties of striving to restructure the state to do India's bidding.
The government has made a mockery of the Constitution by tabling the Constitution Amendment Bill despite opposition parties' protests, he said. Rather than amending the Constitution, focus should be on its implementation, KC said, warning that democracy and republicanism will be a thing of the past otherwise.