The history of Nepali film history is around 65-year long, but it hardly has created 60 good movies to date.
Early Nepali films were based on Indian techniques and stories; they were not made according to Nepali preference for a long period. In my youngster days, I paid attention to actors, actresses and a few dialogues rather than the story. My depth of knowledge in films increased and I became interested in the art of making a film.
Through these years, I have found Nischal Basnet the most influential man behind the changes that the industry should aspire in the future.
My early experiences
In 2010, I went to a cinema hall after school, instead of waiting to watch a movie on the television. To my disappointment, there was not any Nepali film screening at the time, there were only international movies with titles in the native language. For a fact, those were not even films. They were disguised under the titles.
I have a clear memory writing in 2012 that our film industry should be declared to have been in a state of emergency since Indian films were often in the 1 billion clubs while Nepali films were failing with constant flops and bearing losses. With this situation, various film stars went abroad. Filmmakers, non-filmmakers and admirers were all outraged and frustrated with the uncertainty of the future. It was a crisis without a solution.
Then, a film named Loot was abruptly launched in the market. I did not get a chance to watch the film in a cinema hall. I only heard rumours about Loot. I was shocked by observing the viral use of slangs from the film as spoken by my classmates, seniors and juniors. The film was in relative controversy; it was released and removed from cinema halls and surprisingly, it was re-released. The film was a blockbuster.
The game changer
Any hit film would have struggled to gain a business of Rs eight to nine million, but Loot's box-office collection was Rs 30 million. Loot was an elixir that revived the Nepali film industry from its deathbed. What was so different in Loot that rejuvenated the chaotic 65-year-old Industry? Loot was one of the first films to become popular and often talked about in schools, colleges, hospitals, offices, tea shops, and public vehicles. Why?
Loot was a great movie with Nepali taste, perfect for the Nepali soil. The film depicts the frustrations of unemployed youth who wanted to earn and live a life of luxury. The dialogues were colloquial. The extensive use of slangs in the film was well-received by the audience. Previously, formal and heavy terminologies were used.
The construction of character in Loot was simple and not exaggerated. The film portrayed the poor Nepali society with the use of the daily dress-up of common citizens. Nepali characters were not represented in the movies prior to Loot. The audience could relate to the film, as it resembled their lives.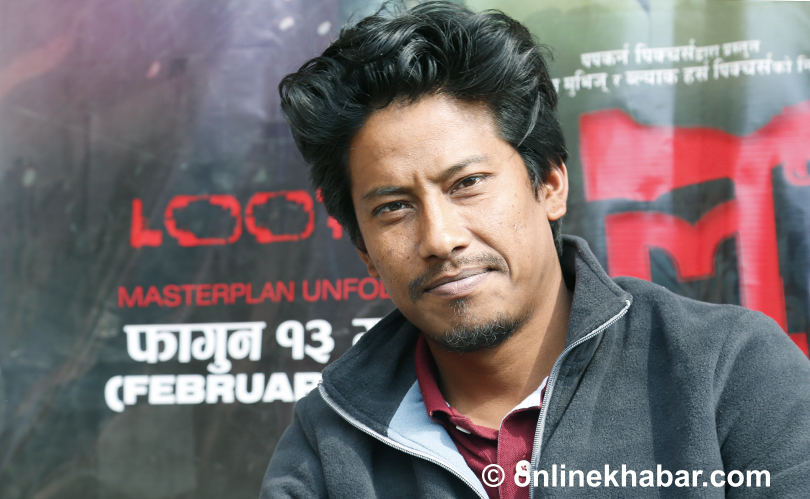 Loot dragged its audience to the cinema hall that sniffed when they heard the name of Nepali movies. Loot is remembered as the movie which brought a new era in the industry. Senior filmmakers realised their mistakes, and aspirers in filmmaking were shown a new vision to follow. The filmmakers started to focus on constructing new films rather than creating chaos and collecting reliefs. The film also redefined cinematography and shattered the very definition of structured acting based on 'Navras'. Theatre artists have successfully experimented with their presence in the films while other crew members established themselves in their genres later.
Currently, Indira Joshi is a popular item singer while Sushma Karki is a famous item dancer. Loot's songs are often the opening item songs at parties. Even aristocrats were drawn to the cinema halls. Many were eager to know the director of the most praised movie in the history of Nepali movies.
The brain behind Loot
The director of Loot was Nischal Basnet. Basnet was a recent graduate of Oscar Film College in Kathmandu, Nepal. For this movie, he had written the story in his college days. To begin with, he wrote the script for a short movie. While doing the treatment, it became a final for the feature.
Later, Basnet established himself as a youth icon. The team members of Loot were excellent movie literates. Basnet showed us; making movies is not a one-man game but a joint effort.
There were many setbacks in the director's life and had entered Oscar Film College. He was in Australia and returned without much success. Now, he is a top-notch director and actor in Nepal. He is also a proficient persona in item dances and songs. He is popularly known as 'Kale Dai' (senior black brother) among youth.
Then, he married actress Swastima Khadka and this couple has been termed 'Rastriya Dai Bhauju' (a respectful way of addressing elder brother and his wife).
Later, he became a producer. At present, Basnet is invited to multiple talk shows and movements. Most of the filmmakers do not respond to such invitations with the fear of being criticised in political and social activities. Basnet attends programms on social issues and demonstrates his support.
In one sentence, Nischal Basnet is the main lead of modern Nepali film history. He possesses the talent to create a true Nepali film. He is the author of modern Nepali film history.10