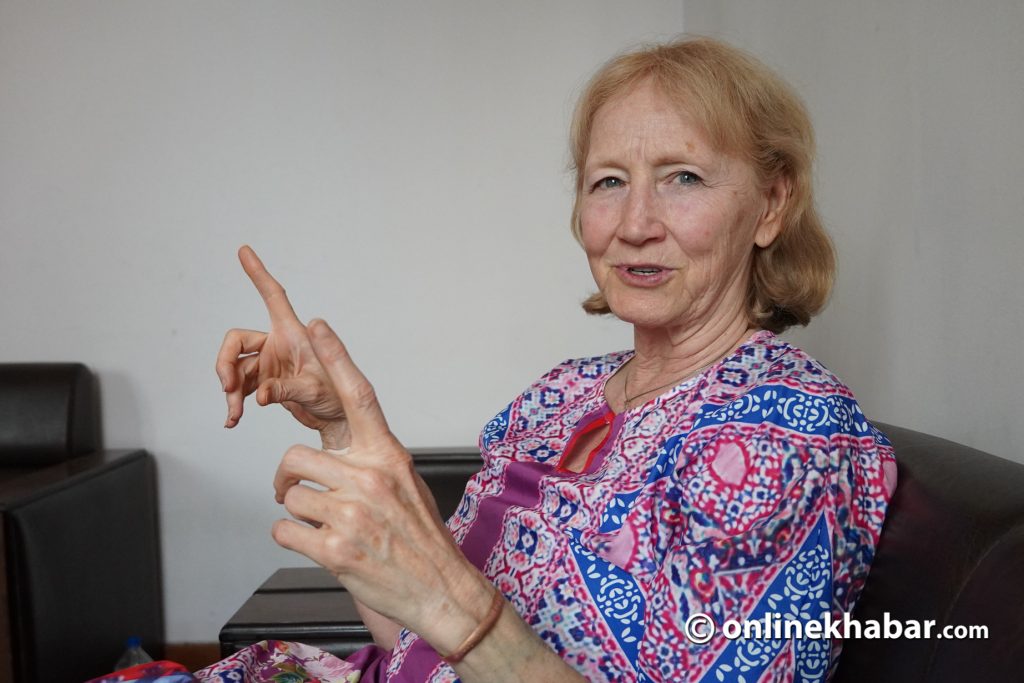 Popular Hollywood actor, director, producer, stunt woman and stage practitioner of Michael Chekhov acting techniques Lisa Dalton is here in Nepal. She has been conducting a 22-day workshop at Nepal Film Campus for the last two weeks. Actors, filmmakers and students, as well as some other stakeholders of Nepali films, have been attending her workshop.
Dalton has worked on over 200 projects including films, short films and commercial advertisements. Some of the blockbuster projects she has worked on are Highlander, Ghostbusters and Deathwish 3.
In this recent conversation with Onlinekhabar, Dalton talks about the possibilities of connecting Nepali actors with Hollywood and taking Nepali films overseas, Michael Chekhov's techniques and others.
Excerpts:
Can you please first inform me about the ongoing workshop?
I came to bring the concept of, and approach to, performance training based on Michael Chekhov's work to Nepal. My aim in doing that is to help spread joy and creativity. So with Chekhov's work, I believe that directors, actors, writers, and designers can create a more powerful impact on the audience.
Chekhov's technique helps in understanding human beings and the way that we function. From those techniques, we can create interesting characters with dynamic and powerful internal and external conflicts. We can present them in a way that is not preachy, but entertaining, because we are for entertainment, right? Similarly, through those techniques, we can entertain, uplift, educate, inspire, and lead the culture to a higher spiritual level. Chekhov's work works together with the nature of the spirit, the body and the mind.
So how has been your experience so far with the students?
I find the students generally very enthusiastic and very willing to try these ideas. They are very different from what most people have been taught even around the world. I find them very exciting. Sometimes, sometimes it's hard for them to understand what I'm saying not just because they don't understand English. They can understand conversational English, but I talk to them about the concepts and those concepts are not part of ordinary conversation.
But once we all watched the movie Wizard of OZ, which depicts the story of human psychology. Since we all watched it, now we can talk about it. We now have a common point of reference. That's been good and interesting for me because they can understand the concept I am teaching.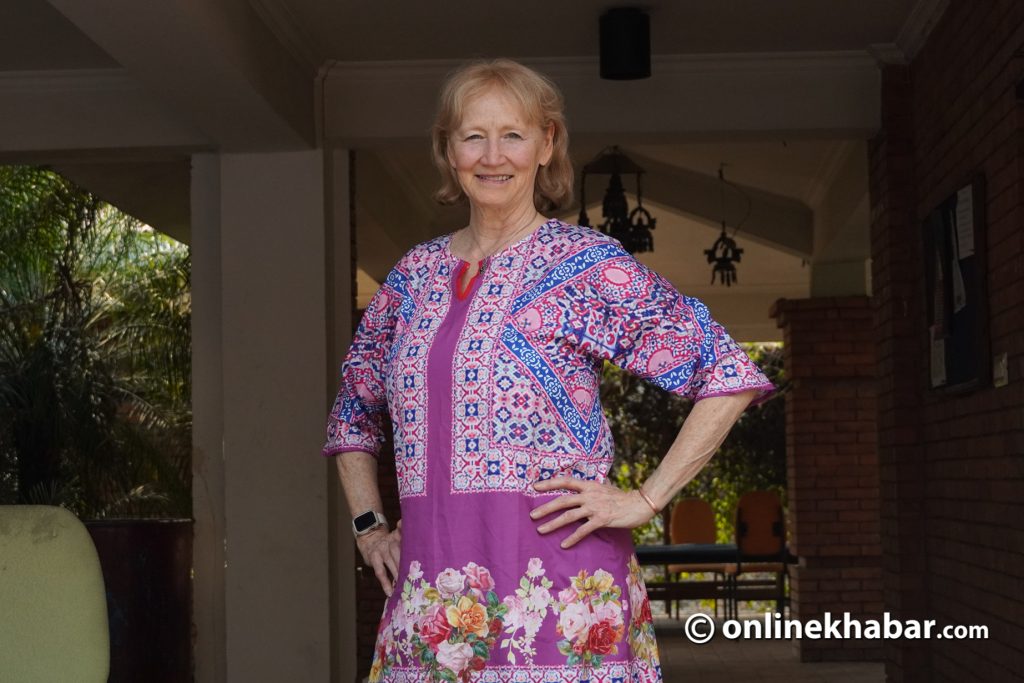 After the conclusion of the class, what kind of result do you expect from the students?
Well, I think we have 13 or 14 teachers in the class. And, they are going to be able to bring these exercises to their classrooms. Many of these teachers teach in two or three or four different schools. And so some of them have 500 students. So there will be a wave of impact on Nepali films from this workshop. At the end of this workshop, we're going to do a work-in-progress performance. So we will share the monologues and we will do it in the form of an ensemble presentation.
So now let's talk about the possibility of connecting Nepali films with Hollywood. Many Nepali artists have a dream of working for or with Hollywood. So do you have any messages or any tips for them?
Become very fluent in English. That's the first thing.
Work as much as you can in any language and in any project of any size. I've done terrible little teeny things for free and I have also done very big projects. All kinds of projects help you in building your skill.
Some of the students that I acted for in their student films became successful directors. Now, they know me and they know my work. They can hire me now and actually pay.
So building your community of relationships by being reliable by doing a really good job can be another good thing to do. Similarly, one should also be very easy to work with. I suggest they should be easy, professional, on time, and prepared. Know your lines, be a good actor and learn how to act well in different styles.
One of the things that have changed in the last three years is Netflix, and now other streaming services are buying foreign films and dubbing them into English. So if you get a good role, speaking in Nepali in a film that has a very good story, work on it. Although people in Hollywood may not initially understand your voice in Nepali films, once it's dubbed into English, they will become familiar with you, which can help establish trust and credibility with Hollywood.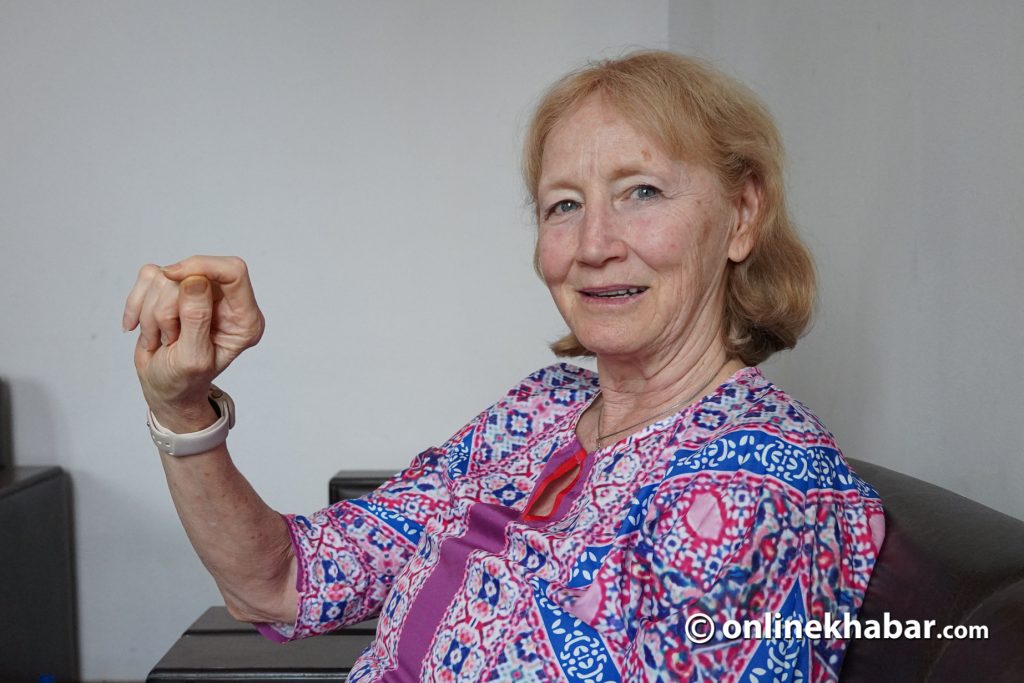 Since Nepal is very diverse in culture and tradition, can makers and actors of Nepali films take inspiration from those things for their works?
Yes, I think Nepali films have very good stories to tell, from a historical drama of the different areas to the contemporary merging of many cultures here in Katmandu. For example, there are different issues that are coming up with protests. Filmmakers and actors should look up to those protests.
Similarly, the question of emigration of the young people leaving Nepal, what that does to Nepal and what happens when it can't retain the youth and their educated talent is another issue that filmmakers and actors should think to work on.
Even in America, in the farm communities, all the young people are moving away. The farms are just taken over by machinery, and it's just a community of old people. This kind of emigration is happening everywhere and has affected the whole system, especially the elders who cannot take care of themselves.
So, a good story and the power of a good story will compensate for a lot of production problems faced by Nepali films. You can get away with some mistakes, big mistakes or missing elements.
In the last 10 to 15 years, many countries besides the US and the UK, countries like India, Iran, and others have been doing really well in the film sector. They are going global. But, relatively, Nepali films are still lagging. So what do you think?
I think the insufficient experience and a lack of belief in their own product and budget are some of the key reasons. A film can be promoted or taken to a global audience by sending them to film festivals. But they also need a budget. However, there are some festivals that provide scholarships for film submissions. A lot of research needs to be done to find the festivals that will allow you a scholarship to submit the film.
Another effective way to uplift Nepali films is to create a liaison with someone who is in a publicly recognisable position in the English-speaking world. For example, building a relationship with the New York Film Academy is a way to do that. Doing so can be a very smart move to create relationships.
There's a very large Nepali community in Dallas, and also in Houston. So filmmakers from Nepal can connect Nepali films to those Nepali communities. There they have various film festivals like Dallas Film Festival and Fort Worth Festival.
So if you're a filmmaker, tell a really good story, even if it's not the best technology. You get your friends, your families, your relatives, and your community in Texas, to help you get your film into those film festivals. And that's a way to get started.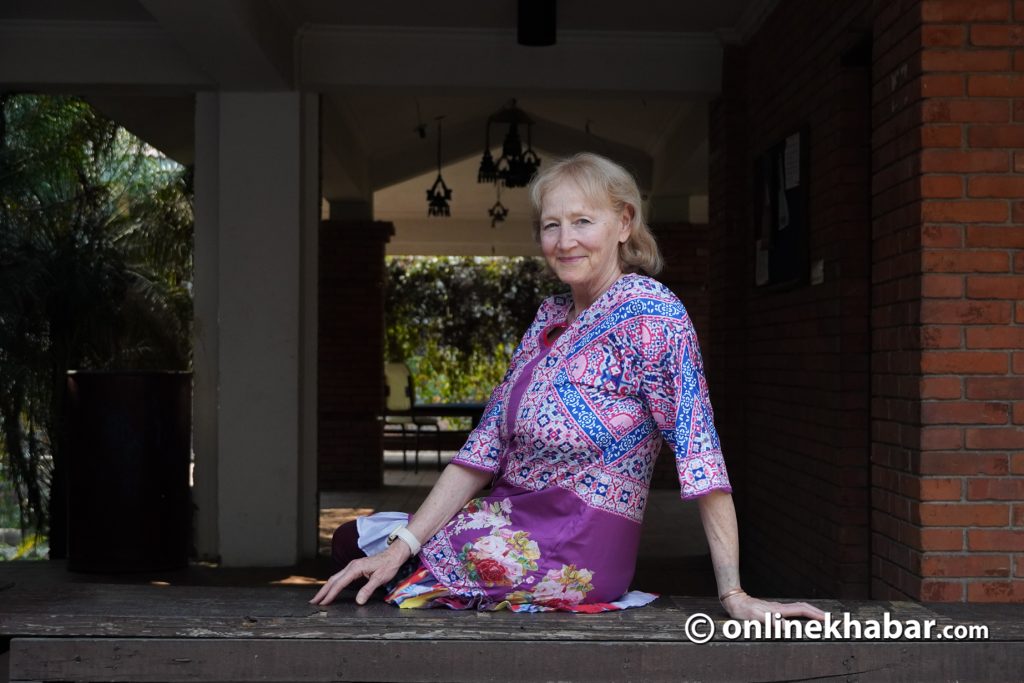 What can the government of Nepal do to promote Nepali films, filmmakers and actors at the international level?
Firstly, the government's cultural affairs department should create a promotional video with clips of local performances so that anyone can see how powerful Nepali films and arts in general are. Then, they should have a web page showing the awards that are awarded for different performances, but, mostly, film clips of actors that depict powerful acting.
Finally, can you please tell us what makes a person a good actor and director?
Loving to act, strong self-discipline, concentration, imagination and the skills to be able to become the character and then take the character off make a person a good actor.
To become a good director, one should understand the story and serve the story. The director needs to be able to be very clear on exactly what the story is, and how the dynamics are going to be in the structure.