On October 21, a group of cadres of the CK Raut-led Janamat Party beat up Rajesh Kushwaha, an engineer associated with the Federal Water Supply and Sewerage Management Project in Janakpurdham. The group beat Kushwaha, alleging him of corruption.
Everyone condemned the incident, but it shed light on how the public was growing frustrated with engineers who were at one point in time treated with a lot of respect. Experts say these incidents will continue to happen if the engineering community does not learn from its mistake as the community has been defamed in the past few years.
Sources of the bad light
Former secretary Kishor Thapa says people do not see engineers in the same manner as they did a decade ago. He says they need to promote good governance and work in a transparent manner, both of which has not happened in Nepal for years as corruption has taken the front seat.
"It's not just engineers. Respectable professions like doctors, teachers, professors and journalists are not seen in the same manner as they were before. People working in these fields have forgotten their professional ethics, which has led to this," says Thapa. "When your primary interest is to serve people that you are close with, things will only get worse in the future."
Thapa says that due to a few bad people, the entire engineering community is seen in a bad light which is affecting the work of upcoming engineers in the country. The anti-corruption constitutional watchdog, the Commission for the Investigation of Abuse of Authority (CIAA), has caught scores of civil engineers taking bribes.
In the past too, there have been cases of engineers being involved in corruption cases, but the number has gone up significantly. Data suggest that non-technical staff were the ones involved in corruption cases in the past, but now, the number is the same for technical staff too.
They have been overcharging for their service from contractors, user groups or people in general for their services, say, experts.
Engineers have also been approving incomplete work, misusing mobilisation funds, rigging contracts, and passing work that is not up to the standards, in recent times that has irked a lot of people. What is worse is work that has been completed has been left in limbo as these engineers do not hand out completion certificates so that they can demand bribes or a substantial commission.
Another thing that is plaguing Nepal is the lack of quality checks of projects. These things are not talked about much in Nepal, say a lot of experts. Locals naturally praise development works done in their cities or villages, but they do not know most of these workers are of below standards. Even when the work is below par, officials have been asking for bribes.
Thapa says that as engineering is purely a technical profession, people expect engineers to be ethical.
"For the betterment of our society, engineers need to be ethical. But, they have been anything but and that is affecting the country and society," says Thapa. "They're slow; they carry out below-par work and try to con the beneficiaries, which is wrong in so many aspects. No wonder engineers aren't treated with the same amount of respect."
Triratna Manandhar, the president of the Nepal Engineering Association, also thinks the same. But, he says everyone is not the same, but people have been blaming the whole community.
"It's more to do with a person's nature than their profession. There are over 50 areas in engineering and each has its own responsibility. If people do what they are supposed to do and be honest, these problems will not arise. Nor will anyone question the integrity of engineers," says Manandhar.
Cases galore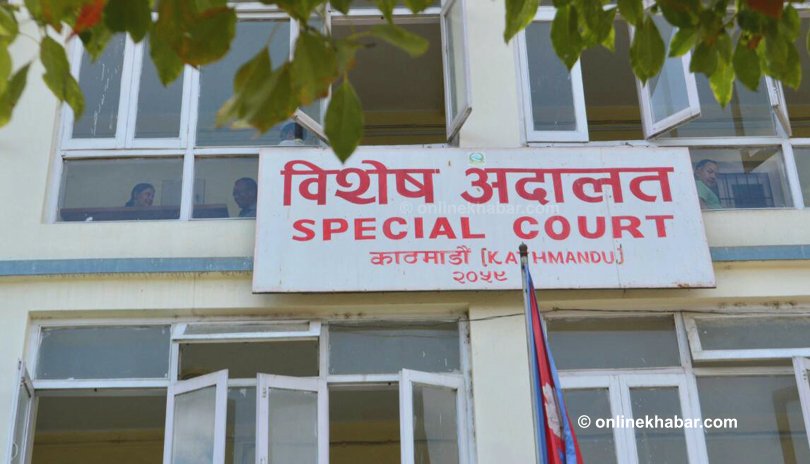 In the first three months (mid-July to mid-October) of the current fiscal year, there have been nearly a dozen cases related to engineers' involvement in corruption. The CIAA found some after a sting operation while people reported some cases that paint a very bad picture.
On October 5, a sub-engineer at the Water Resources and Irrigation Development Division Office in Basundhara of Kathmandu, Dipendra Kumar KC, was caught, taking a bribe of Rs 200,000. According to the CIAA, KC was caught asking for a bribe from service seekers before he issued a certificate of completion of a project he was overseeing. Investigations are further underway.
In August, sub-engineer Rajan Paswan of the National Reconstruction Authority was accused of asking for a bribe of Rs 30,000 from people who were waiting to receive the last instalment of the government grant for earthquake survivors. The case is currently sub-judice at the Special Court.
Such cases are increasing in number every year where engineers have been accused of taking bribes or involved in corruption. According to a CIAA report, in the fiscal year 2017/18, out of the 154 cases registered at the Special Court, 97 were related to bribery and 13 of those involved a total of 18 engineers, sub-engineers and assistant sub-engineers.
In 2018/19, cases were filed against 22 engineers and the following year in 2019/20, the number of engineers booked for bribery and corruption was 44.
Collusion between technicians and accountants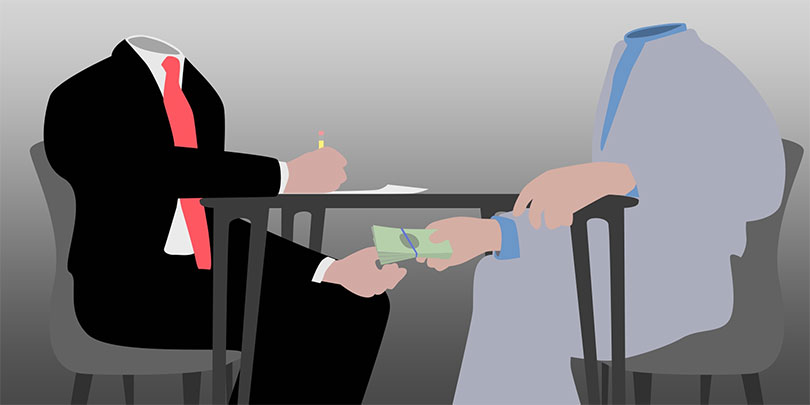 The CIAA over the past year has been investigating how engineers are getting involved in bribery cases. The first finding they came up with was about how people working in other areas of government and its offices were using engineers and other people from the technical field to ask for bribes.
On April 7, sub-engineer Netra Prasad Lamichhane was caught taking a bribe of Rs 50,000 from service seekers who wanted a signature so that they could get their mobilisation fund for a project they were carrying out.
Upon investigation, it was found out that Bagmati Provincial Tourism Development Project's accounts officer Devi Prasad Gautam was also involved in this.
A similar case was found in Dhading's Gangajamuna rural municipality. Engineer Puja Karki asked for a bribe before she submitted the technical assessment report. She was caught by the CIAA after she took a bribe of Rs 95,000. And, as the commission investigated the case further, it found that the rural municipality's accounts officer, Arjun Prasad Sapkota, was also involved. A case is being heard at the Special Court currently.
Senior engineers also involved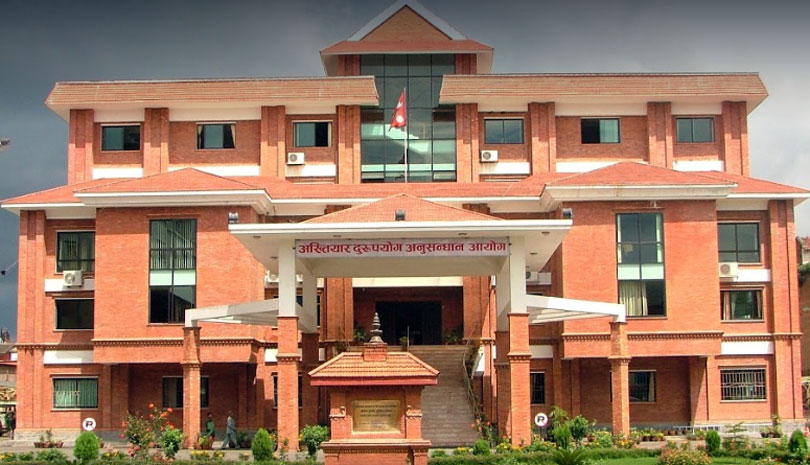 People often say it is only the junior engineers who are involved in corruption. But, that is not the case. Engineers working in Sambhunath municipality of Saptari submitted a fake bill and received the deposit.
Upon finding out, a case was registered at the Special Court on December 6, 2020, against District Technical Office's engineer Bikas Kumar Shrestha, Saptari District Sports Development Committee president Dhirendra Verma and administrative officer Mahendra Prasad Yadav, and the president of the user group that was meant to build the football field Buddhi Lal Yadav.
CIAA spokesperson Narayan Prasad Rimal says development works at the local and provincial levels have led to a rise in corruption cases.
"The complaints we get are mostly to do with development works, where engineers and others related to the technical field have been involved in bribes or other cases of corruption," says Rimal.
While Rimal agrees that corruption is on the rise due to the lack of proper monitoring in many offices, it also happens due to people's mentality of taking bribes.
"People have to act better because this hinders development," says Rimal.
Concerns over tainted images
Some experts say engineers get involved in corruption because the government does not pay them enough. They say that development work has intensified over the course of the past decade, the government has hired engineers, but only a few are paid well.
Nepal Engineering Association's deputy general secretary Kapil Acharya says if the government pays engineers more than it currently does, these things would not happen as engineers would believe in good governance.
"There will always be a few bad apples, but things would not be as what they are," says Aryal, expressing his concerns over the tainted image of engineers in society.
"People just want to have a job that pays them well and gives them satisfaction. They also want recognition and want to earn as much as their peers do," says Acharya. "When they don't earn the money that their friends or peers make, it makes them greedy."
For want of enough money, he says some engineers have come to a point where they do not care about how they make money, dragging themselves to corruption.
"They don't care if it's through illegal means. And, when society praises them for doing so, it raises their confidence," says Acharya.
Acharya says the government should work at making favourable working environments for engineers so that they will not have to give up on their professional ethics and get involved in illegal activities.
"The entire country is corrupt and that's rubbed off on technical professions like engineering. We have to stop it if we want to develop as a nation," he adds.
But, former secretary Kishor Thapa believes that a lot of these engineers are mobilised by politicians themselves.
"Political leaders are using engineers to do illegal work and earn profit out of them. Yes, engineers are getting caught, but if you dive deep, you'll find they have worked after being pressured by a political leader," says Thapa.