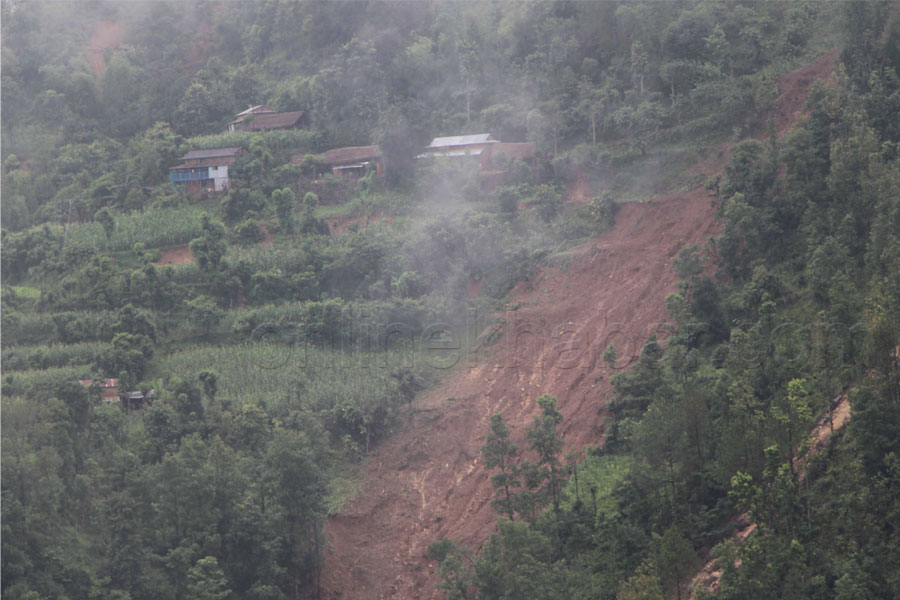 Kathmandu, August 3
The Sindhupalchok District Police Office says the death toll of a landslide in Melamchi-11 of the district has reached eight as all eight people who were missing since 2 am today have been found dead.
The victims include seven Nepalis and one Indian.
One person has been injured in the incident and he has been sent to the National Trauma Centre of Kathmandu for further treatment, informs DSP Madhav Kaphle.
(Updated at 1:25 pm)
—
(Updated) Melamchi landslide: Five bodies recovered, three still missing
Kathmandu, August 3
The Sindhupalchok District Police Office says five among the eight missing workers have been found dead buried by the landslide.
Two of them have been identified as Pradeep Chaurasiya and Rajesh Chaudhary, informs DSP Madhav Kaphle.
Three other people are still missing.
(Updated)
—
Eight missing in Sindhupalchok landslide
Kathmandu, August 3
Eight persons have gone missing in Melamchi of Sindhupalchok in central Nepal in the wee hours of Monday.
Nine workers deployed in constructing a covered hall in Melamchi municipality-11 were buried in the landslide at around 2 am today. However, police rescued one person alive at around 6. Though the police had launched the rescue mission at around 3, it took them three hours to rescue one.
SP Prajwal Maharjan, the chief of the District Police Office, says the rescued worker is an Indian national and has been sent to a local primary health centre for treatment.
Personnel of Nepal Police, Nepal Army, and Armed Police Force have continued the search for the eight others.
Meanwhile, 20 persons who disappeared in floods in Bhotekoshi, Bulkute, and Thado rivers of the district last month have not been found yet.