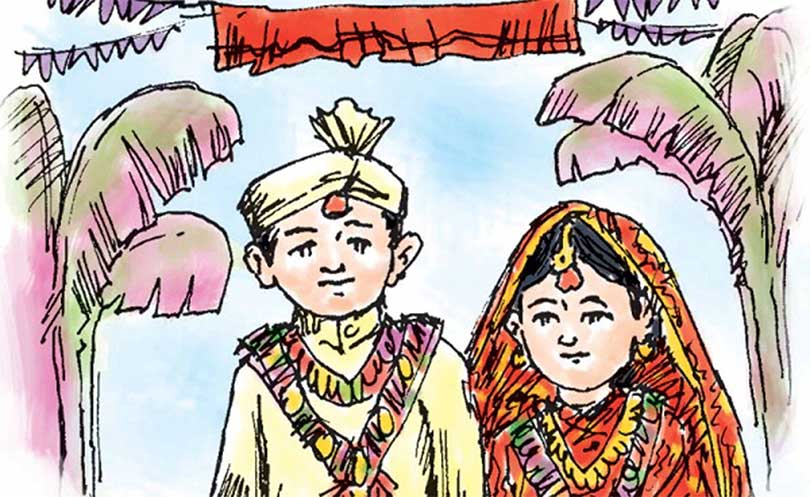 A teenager, active in anti-child marriage campaigns until a few years ago, eloped. As a member of the National Youth Network, he was making efforts to make sure that he was there advocating child marriage and education. But, the network was shocked when it came to know after a few days, via TikTok, that he married a girl when both were underage.
The network's president Bijaya Raj Joshi explains, "He was in a relationship. When the family found out, they feared that their relationship could be misconstrued as one with premarital sex by the small village community. Fearing the judgement, the parents suggested they could elope and they did it."
Nepal criminalised child marriage in 1963, yet, these social evils are still prevalent in some corners of the country. Nearly 60 years later, today, stakeholders say that early and child marriages have changed their nature. They have now been a result of educated and aware teenagers choosing to get married early or just eloping rather than uneducated or low-income families forcing their children to get married as previously seen.
Given that such a trend is being reported across Nepal, stakeholders say that there is a need for the government to be more active and vigilant in its pursuit to control the problem.
The paradigm shift
Shishir Sapkota, a young activist working against child marriage, says, previously, people used to get married as per the customs in front of a mandap and it was socially and even legally accepted. Nowadays, the youth are just eloping and living together. That makes the problem more complicated.
Nepal is the second Asian country with a high number of early and child marriage cases, and 60 per cent of girls and 10 per cent of boys are still being a part of this social sin, say the stakeholders. These problems are more prevalent outside Kathmandu, with certain pockets of communities facing this problem more than others.
"Early marriages were a part of our communities for a long. Citing traditions, good deeds, and less dowry majorly girl children have been married off," says Sapkota, National Youth Network's central member, adding, many children today are choosing to elope and stay in a live-in setup. "It means it's harder to identify and control."
Joshi says such a trend is not a result of the lack of information about the rules and regulations or the impact of child marriage among the youth.
Another reason is teenage romance and the factors related to it, says Sapkota. "Either online or face-to-face, they get into the relationship and they want to elope. On the other hand, some parents push their children to elope [as mentioned earlier]."
Causes of the odd choice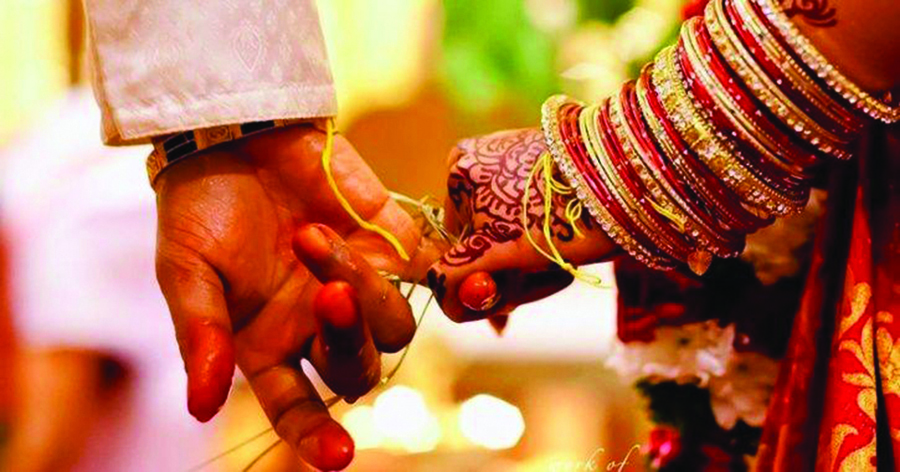 In the yesteryear, economic burdens, dowry issues, customs, and traditions would cause child marriage. However, it is the children who are choosing to get married these days. But, in such cases too, there might be some genuine causes, explains Girls Not Brides Nepal coordinator Nirijana Bhatta. "It may be the case that they are not getting the love, care, attention, and most of all security in the family. It is the core of all the problems as they are seeking that outside their families."
She also blames the Nepali culture has also promoted elopement as many communities have the practice of it in the names of rodhi and jhamre etc.
Apart from this, other underlying problems are also contributing to the problem. Sapkota says, "There is still confusion regarding what is child marriage. There is also a lack of legal updates among people regarding the consent of parents for child marriage."
It means there is a lack of information among people regarding the legalities. "People know that it is a social evil and an illegal act. But people do not realise that legally, not just getting married early or forcing someone into such marriage is a crime but attending such a function too. Yet, we see even political and local leaders attending these events."
Regardless, the stakeholders understand that information alone will not solve it. Activists have also faced problems while dealing with security personnel and struggled to get them to report a case or act on it. "Though not our responsibility, we have taken some cases to the police. But, in some cases, they do not prosecute the couple given their family or political connections. In a case, the police handed over the children to their parents and the next day the child just ran away from home anyways," shares Joshi.
On paper, Nepal has anti-child marriage policies, but their implementation is problematic. Sapkota says, "There are many local units, including Panauti, where I am from that have been declared child-friendly and have the budget and policies too, but it is not the same in practice, on the ground."
The data dearth
Behind that, Joshi suggests, is the lack of data to support the policy updates as well as implementation, budget allocation and youth mobilisation. "We have been working nationwide for the past year or so only. There are no concrete data with us, but the same is true for the government too as they have not conducted any research on their part."
Bhatta seconds Joshi's claim but adds, "There is a study our organisation did back in 2014 where we found that there were more forced marriages happening. There was another study in 2018 and the latest one is in 2021. But, the government side has not done any cohesive or conclusive study of the problem, in detail."
According to her, the 2014 study recommendations were turned into policies but never implemented because the government structure changed post-federalisation. "We needed more study to fit the new structure, but that has not been possible," she adds.
Realising that, Girls Not Bride and Restless Development conducted a joint survey in Nepal this year including 1,037 respondents of 10-30 years of age, from all seven provinces of Nepal. The results were made public recently.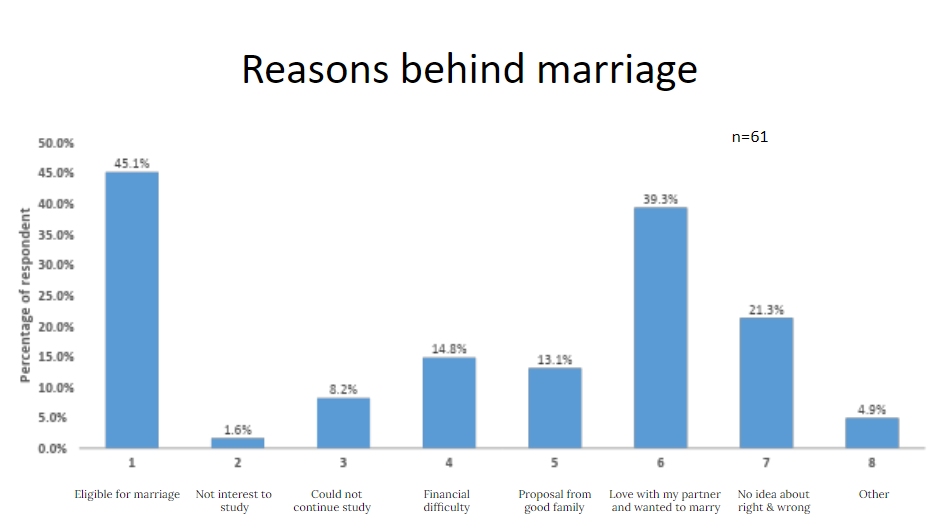 Of the total survey sample, 6.28 per cent [65] of the respondents were married [including two divorced], among which, 33.84 per cent [22] had child marriage and early marriage. Among them, 4.6 per cent [3] had elopement cases. Out of the married respondents, 48 per cent of females and 27 per cent of the married male respondents were below 20 years of age, indicating that early child marriage is still more prevalent for girls.
Dissecting the report results, the survey also showed that more than 47 per cent of the early/child marriages of the girl respondents were done with their consent with the social context of poor financial conditions, lack of access to education, and family or peer pressure as pushing factors. Similarly, 53.5 per cent of the married respondents said they got married willingly in similar social contexts.
Their survey also shows that there have been attempts by the government to curb the problem with awareness campaigns, budget allocation, and formulating laws along with mobilisation of youth networks and meetings or discussions with the group.
The next step
Based on the survey and the discussion among the representatives of youth clubs/networks, they presented an 11-point charter committing more vigilance on their part to end child marriage. Some 30 young people from the network across Nepal got together to draft the charter.
Highlighting the lack of study and research on the issue, they also have underlined the need for periodical surveys on child marriage and early marriage for effective implementation of plans, policies, and programmes with needful revisions.
The group stressed that the government should continue to make the public aware of child marriage, the effects of child marriage and the need for education as well as capacity building of the stakeholders.
Last but not least, they want the process of registering complaints regarding child marriage and early child marriage to become easier. Joshi also says that if the authorities can prosecute a few cases and strictly implement the policies and penalise them, then that will make an example, discouraging others.
But, before anything, Bhatta says the government at all levels should be more stable. If that is assured, she hopes that local bodies can dissect the problem more closely and customise the plans to rectify it, in coordination with the institutions working actively in this sector.