How long have you been carrying the phone that you are using? And, do you want to change them? We bet most of you do because your phone must be outdated!
Every week, new technological advancements are being introduced. People are running after the newest models of technology, whether it is a smartphone or utensils. But, when a new model comes into the market, they are throwing away the old gadgets or just storing them in the corner of the house. it means e-waste in Kathmandu is increasing and much of it is reaching our landfills.
When it comes to electronic waste or e-waste in Kathmandu, awareness regarding the consumption and disposal of it is yet to spread wide. There are many informal waste pickers and scrapyards that have been operating inside the valley too, but efforts made in the recycling of e-waste in Kathmandu have been minimal.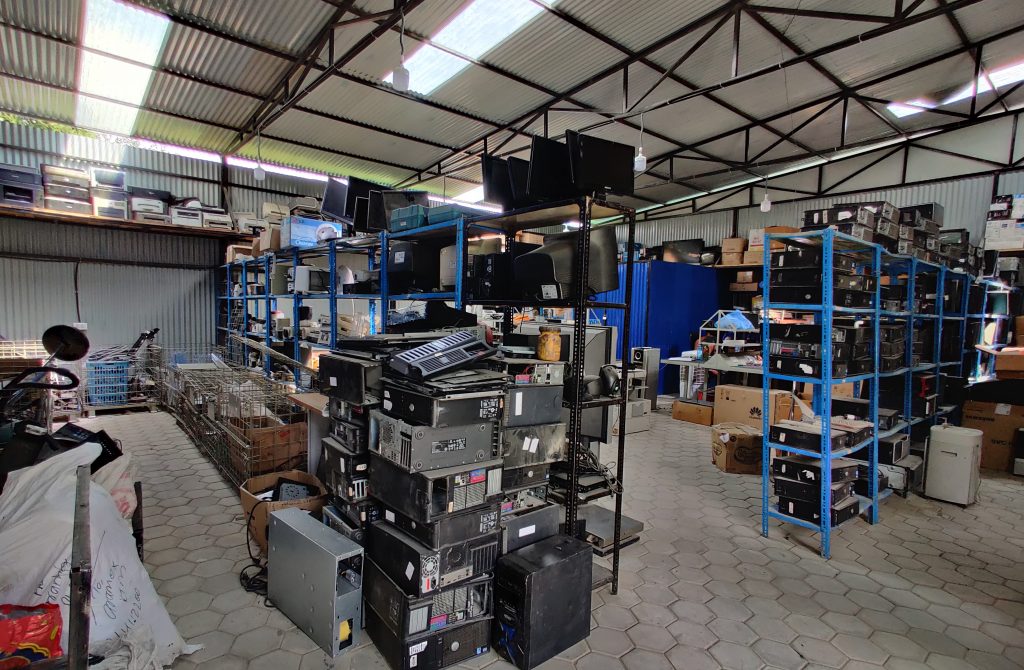 With a limited portion of e-waste being segregated, Kathmandu needs stakeholders that work in the sector of e-waste and make efforts to regulate and institutionalise the whole process. For now, Doko Recyclers, which is operating in Kathmandu valley is attempting the same.
In the e-waste business
Doko Recyclers was conceptualised in 2016 and came into the market a year later, intending to improve and channelise waste management activities. It primarily worked with dry, recyclables in the beginning despite having an interest in the growing amount of e-waste in Kathmandu.
In 2017, it started a factory in Sanothimi, Bhaktapur, where waste from the clients is collected and then segregated for recycling purposes. At the same time, it started working on e-waste in Kathmandu although on a small scale. Today, it has expanded its clientele and started collecting more e-waste.
Only this year, it started the second section of its factory in Sanothimi, and this section is dedicated to e-waste in Kathmandu.
"We have two MRFs (material recovery factories) here—one for dry waste and another for e-waste. There are two teams to collect, clean (if needed) and segregate all the items into separate sections. They go through some 400-500 kg of waste. The segregated items are packaged to respective factories that deal with recyclables including paper, plastic and metals," explains Bhuwan Chalise, research intern at Doko Recyclers.
Chalise, who works in the e-waste section, says, "In the e-waste section, the collected materials are first segregated into different sub-sections. We refurbish any materials we can repair, and then sell them. Those that cannot be repaired are dismantled into their smallest of components and then they are sold to the respective factories or stakeholders."
According to him, most of the e-waste in Kathmandu includes computers, printers, keyboards, multiplugs, televisions, old telephones, washing machines and coffee machines. "Interestingly, we have not received many smartphones although they are an increasing e-waste product and we got some antique CRT television and dial phone sets," he adds.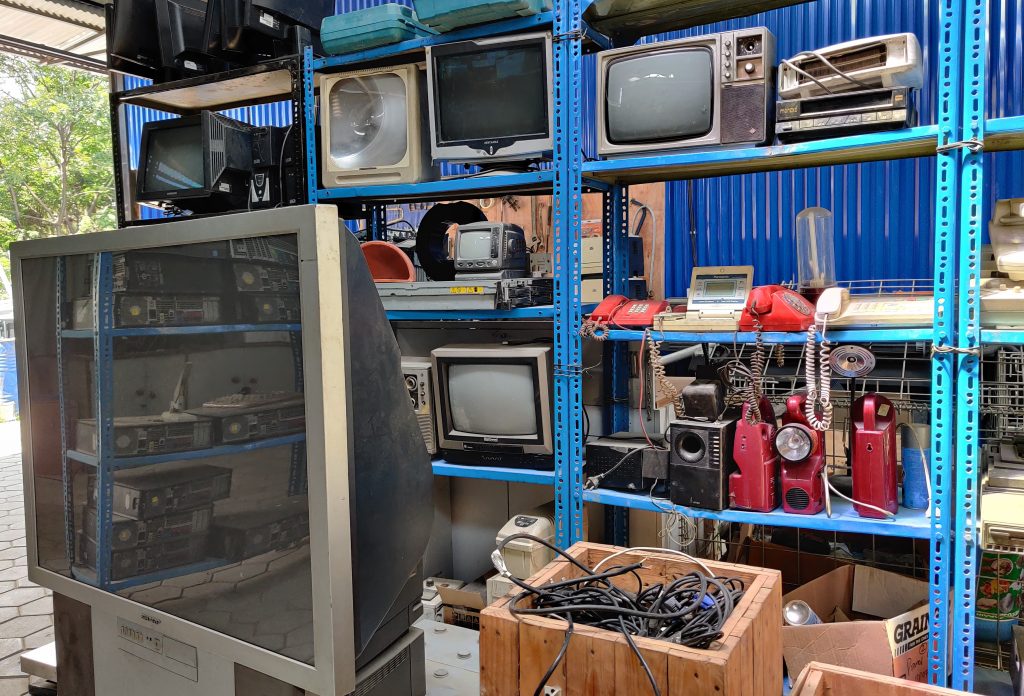 Though the factory started only this year, it had collected e-waste in Kathmandu since the beginning. According to Dipak Aryal, the growth manager at Doko Recyclers, "From our clients based in the Kathmandu valley, we have received 10,028 kg of e-waste. It mainly comes from our clientele in the IT sector, banking and NGOs."
In over five years of operation, the company has more than 120 regular annual corporate clients where household clients reach up to 2,000. "Post-pandemic, the amount of waste does seem to increase. But, there is no accurate data in terms of Nepal."
Not enough awareness
Waste segregation and management are hot topics today. But, Doko Recyclers is one of the few stakeholders that started talking about the need for waste segregation and management and worked in the sector, even when the sector was frowned upon.
Since the start, Aryal says Doko Recyclers had many companies as their clients, but with the growing awareness and the recent prioritisation of the Kathmandu metropolitan city in waste management and segregation, the number of households is increasing.
The awareness seems to be increasing in terms of waste segregation too. However, it is not perfect and is not applicable in terms of e-waste in Kathmandu.
Aryal adds, "When we get a client, we give them the waste segregation training and even the compost bins so that they can manage waste on their own and increase the value of their waste. But for us, logistically, training the corporate houses is more accessible whereas the number of household clients is big and scattered so we cannot reach all. Many who reach out to us do so knowing our work and being aware of the need for waste segregation. But, it does not always translate into the waste we collect."
Chalise explains, "The waste we get is mixed dry waste. We rarely get kitchen waste because we train them at some level. However, we still get used, unrecyclable plastic items like diapers and paper; plastics are not segregated either."
Talking about another trend they see in the e-waste in Kathmandu they collect, he adds, "We get multiplugs and many electric jugs that are used for the minimum of time and then thrown out. We have a team here that does the repairs and then they are good as new."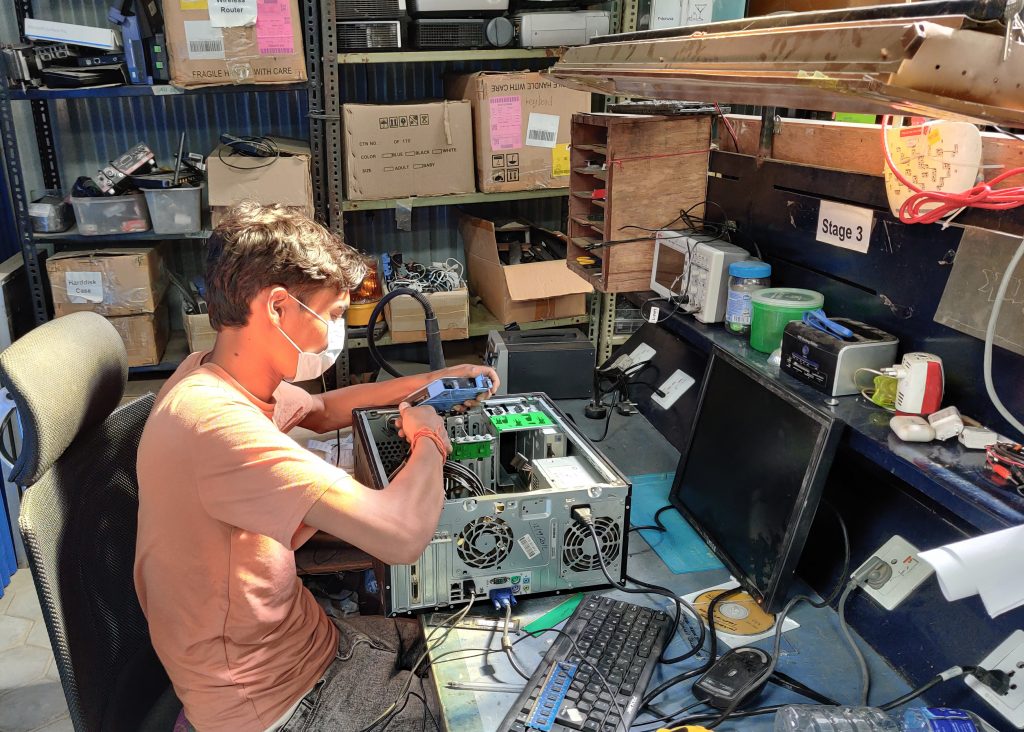 If people, from their end, take responsibility for waste segregation, the company claims that some 80 to 90 per cent of the waste produced today and 30 to 40 per cent of the dry waste can be saved from going to landfills. "The out-of-sight, out-of-mind attitude of the many households is not helping anyone, and definitely not regarding the growing e-waste in Kathmandu. It has been a constant concern," says Aryal.
He further says, "Nepal is still a consumption economy. We do not produce any electronics here, yet we are importing everything and then we are haphazardly throwing it away too. So, we need to be conscious on that part and import less as well."
Beyond the company
For the same reason, Doko Recyclers has started a new initiative to train the school students and teach them to do some minimal electrical tweaks that they can do in their house and save much of the e-waste in Kathmandu from being dumped.
"With the already growing and unmanaged waste problem in Kathmandu, it is time for the Kathmandu residents to at least make efforts to decrease their e-waste. And we wanted to teach the students so that with minimal effort, we can at least decrease the amount of e-waste being dumped. Less e-waste in Kathmandu means less use of resources to manage that," Chalise says.
Another aspect of recycling is upcycling. "From the collected waste, we salvage all useful materials in their whole or smallest form, then refurbish them to sell in the market or upcycle and sell it through our sister company, Tatwa," informs Chalise. On top of that, it collaborates with some clients who buy the segregated waste in bulk.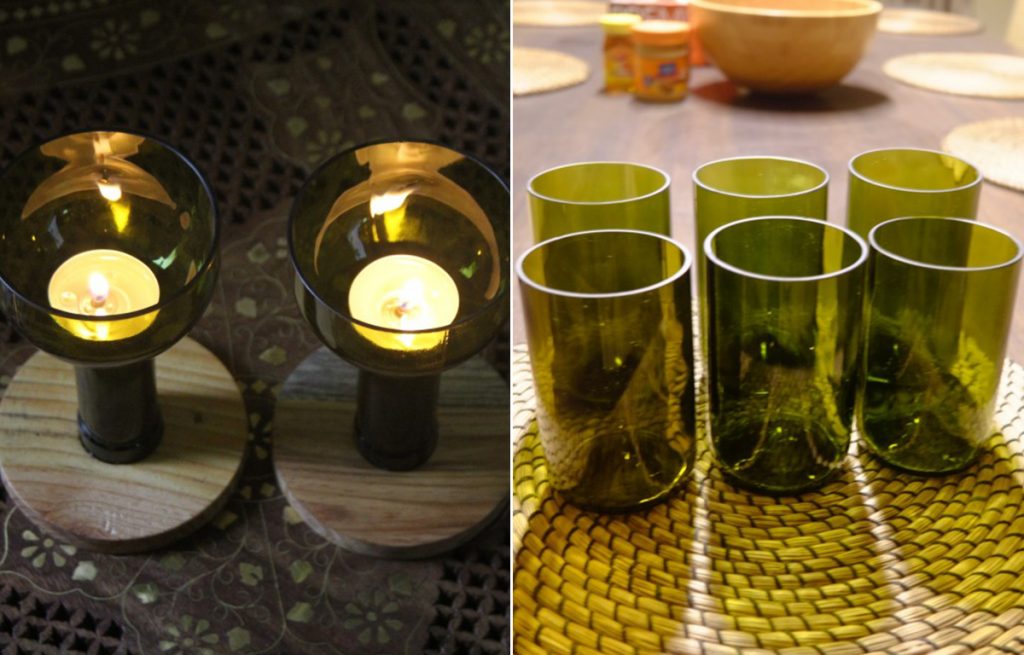 There are only a handful of organisations working in the field of waste management. Nevertheless, the companies are scattered and working separately. They are yet to cooperate with any startup on a regular or under one ecosystem. "But, we are hopeful that things will change," says Aryal.
Manifesting the same, Doko Recyclers is trying to be instrumental in the policy-making process of the country too. "Since the policy foundation is not that strong, we are trying to advocate more policy-based dialogues. We recently had talks with the Ministry of Forests and Environment to make the guidelines that have more clarity about waste segregation, including e-waste in Kathmandu."
"We hope to talk further about the transboundary waste cycle aspects of the ecosystem so that the e-waste in Kathmandu can be managed more systematically and formally," hopes Aryal.