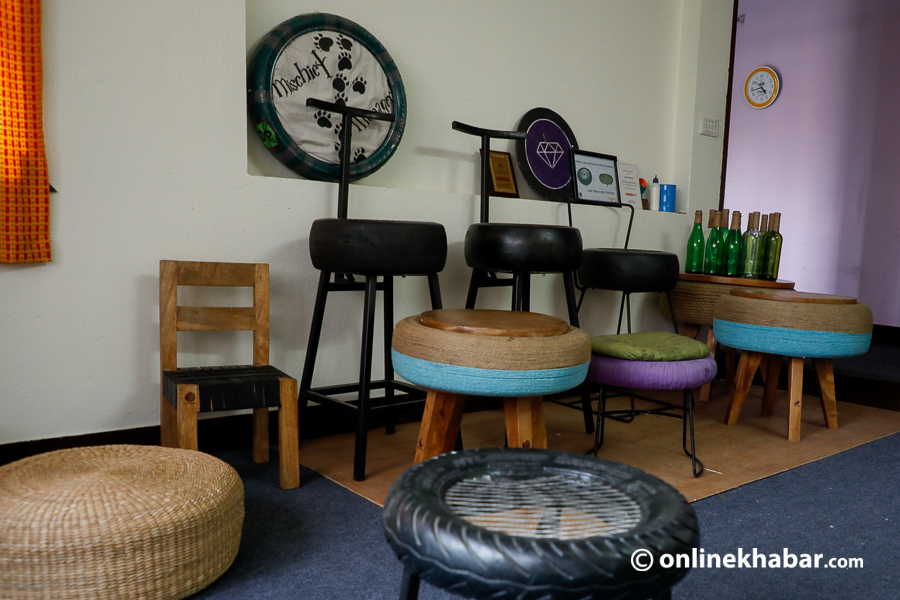 While the traditional formula of cutting down on the amount of waste has been restricted to 3 'R's (reduce, reuse and recycle), Tyre Treasures, a two-year-old startup company run by two young women, goes one step ahead and exemplifies what 'upcycling' means in the Kathmandu context.
Tyre Treasures is a company that produces indoor and outdoor furniture out of abandoned and thrown away tyres–of two-wheelers, four-wheelers, heavy vehicles and even aeroplanes. Out of the trash, the company has provided a unique set of furniture items to the customers who want value for money in the products they use.
Why tyres?
When Ojaswi Baidya and Loonibha Manandhar competed in a green entrepreneurship competition three years ago, the two had different ideas in their minds. Baidya was planning to lobby for the better management of street animals whereas Tuladhar had a proposal on recycling tiles. But when they worked in a team for 10 days, they developed a completely new idea, making furniture and decor items from the tyres.
"There were many people already working about reducing and managing plastic and paper wastes. Then we searched for other options which were parts of our landfill and found tyres to be the most suitable ones," Baidya remembers, "Our subsequent research validated the idea because the number of vehicles was increasing in Kathmandu Valley every year."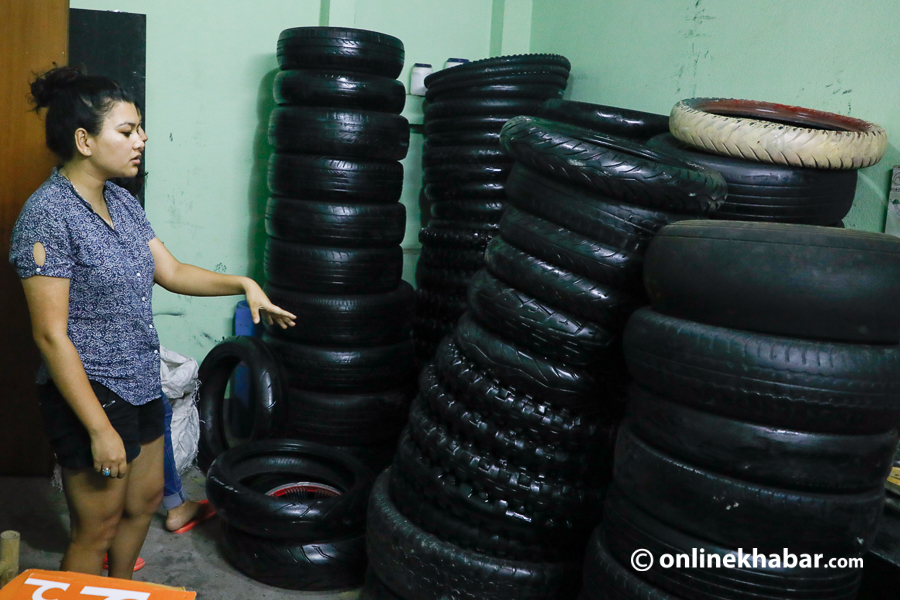 Later, they found that the tyres which were not thrown away on riverbanks or at the landfill sites would be taken to brick kilns to use as fuels. They also learned that the smoke produced while burning it was very harmful to the environment. Because reusing and recycling tyres would be technically difficult; upcycling would be the best option to cut down on the number of tyres that go waste, they concluded.
The two–actually they were four in the research phase–concluded that they needed to upcycle tyres, but could not think of methods to do so and the end products. They took the help of the internet to look for the options and found that tyres would be upcycled as gardening tools and furniture in many places of the world.
In the meantime, they also consulted their friends, relatives and acquaintances about the market response to their idea. "Household users tried to console us by just saying 'okay, we might support you', but some restaurateurs showed really positive gestures to us," Baidya says, adding they also received enabling comments from the people they would meet at various entrepreneurship events that time.
Products
When the company began its operation in September 2017, the first two products developed were a pet bed and a circular table.
Interestingly, these two products were not primarily developed for the sale; they were their first workshop samples. "But, one of the customers made the order when we posted them online," Baidya says.
On the basis of customers' feedback, the company is gradually changing and upgrading their products. The company has developed three 'base' products, and the rest are the customised variants of these three bases.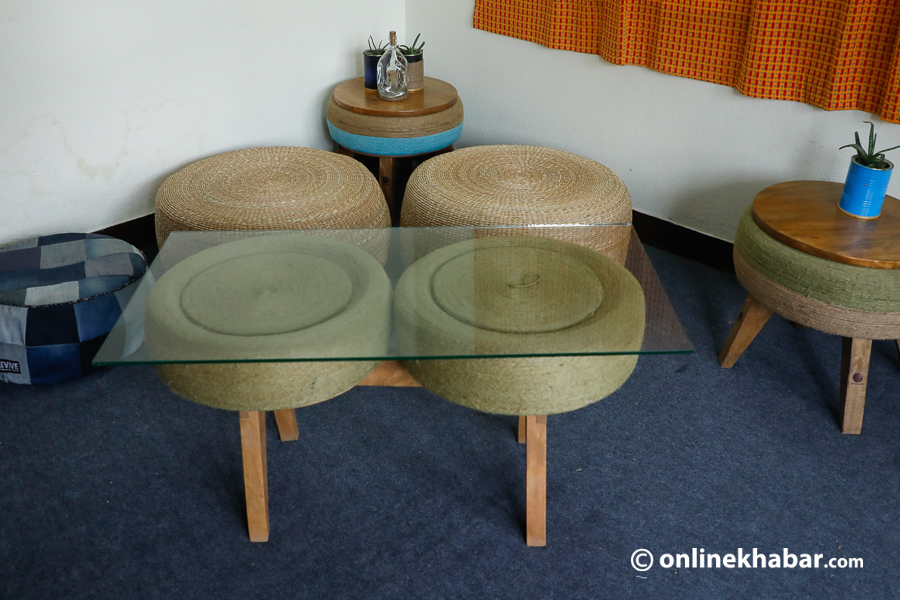 The base products have been named 'Dhukuti', a small circular table with a hollow space into it so as to keep various goods inside; 'SarJayanti', a set of low-level cylindrical stools (mudas) and a table; and outdoor stools. SarJayanti was named after two women workers who made the first of such stools by wrapping tyres with dried plants of a Terai grass weaved into a pattern.
The cheapest of their products, a muda wrapped in textile patches, costs Rs 1,800 whereas the costliest, a decorated table for SarJayanti mudas, is worth Rs 13,500.
However, these are not the limits as the company prefers customisation, according to Baidya. They are thinking of hiring a professional furniture designer to design their products. So far, the two co-founders and other staff of the company design the products themselves based on the demands of the customers.
The core team consists of five women; the two co-founders who also work as chief executive officer and chief operating offer, a business development executive and two production associates.
Other around 30 people are outsourced for wood and metal works of their products.
Investment and income
As a prize from the 2016 green innovation challenge, the team of Bidya and Manandhar had won Rs 150,000. Baidya says they spent it in research and initiative setup.
"Then, we two invested around Rs 300,000 in total from our personal savings to run the business. There are many fixed costs involved including the rent for office and workshop."
As the company is quite close to the second anniversary, Baidya says Tyre Treasures has almost reached the breakeven. It means they are looking forward to earning profits now.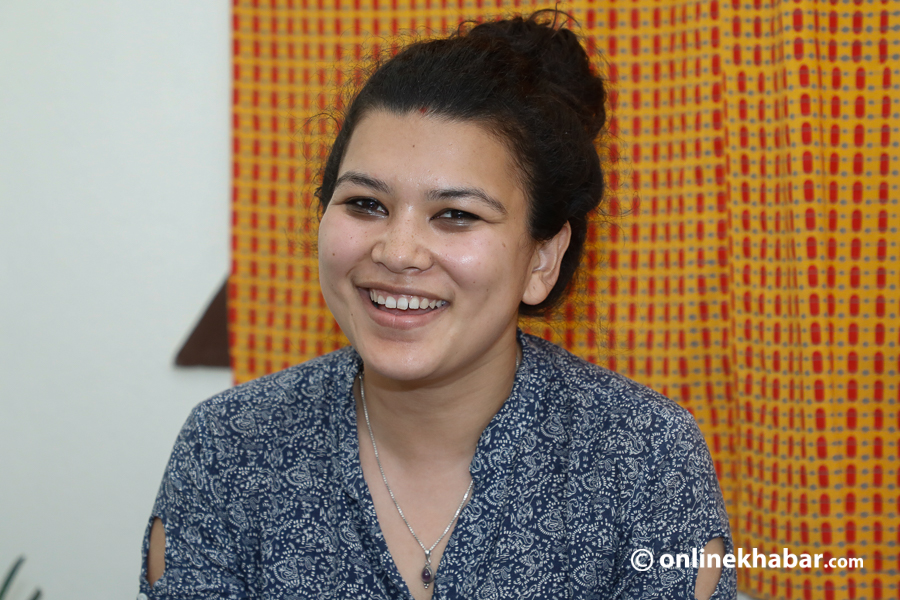 "In the past, we didn't set specific target since it was very new in the market. But with time and experiences, we are devising strategies to attract more customers," Baidya says, "We have understood where our customers are, and how we reach them out."
It means the team is happy with the progress made so far and is thinking of an expansion, both in terms of the range of products and scope of the market.
For that, the company will target the existing market of plastic furniture and persuade people to switch to tyre products due to their environmental value.
"Though our products are more expensive than plastic chairs and tables, they are more durable and environmentally friendly because you don't need to throw them into the surrounding soon," Baidya says, hoping environmentally sensitive customers will prefer tyres to plastics.
The company was restricted to Kathmandu Valley until a few months ago, but it recently sold its products to customers in Pokhara and Hetaunda through Daraz, one of the biggest online shopping platforms of the country. "We will soon reach other major cities including Dharan," she informs.
On the other hand, a 'committed' costumer of the company took a 'Dhukuti' table to his house in the United States recently. The company, however, has not taken any initiative to go to the overseas market.
"In the past two years, upcycling has already become a trending word in the market and new brands are coming up," Baidya says, "It more important than the profit we earned."