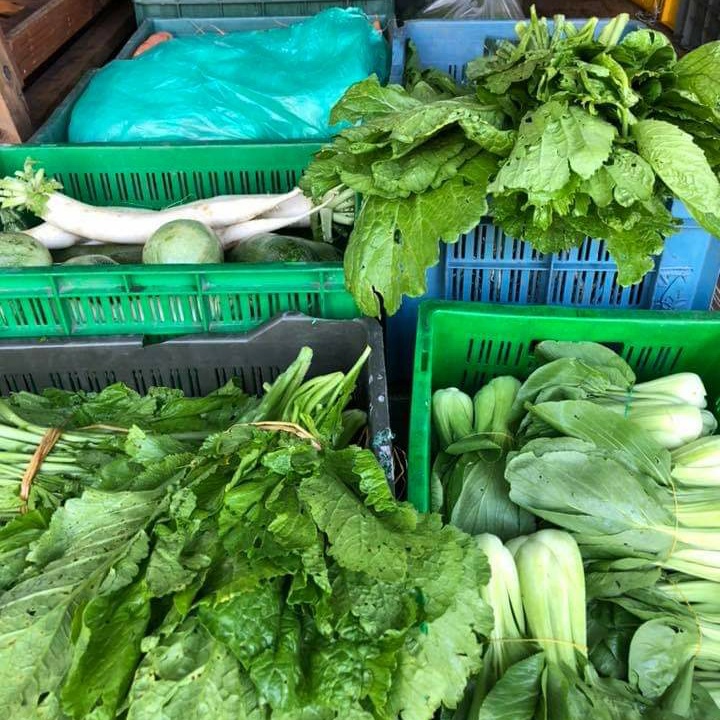 People across the world and in Nepal are praising and clapping the security personnel and health workers, who are working at the frontline to control and combat the outbreak of novel coronavirus. Indeed, they deserve such respect and no one should raise any question. However, it is not only the security and health workers who should be appreciated; there are many who are working every day and night to make sure that those locked down into their house get sufficient food on time. In Kathmandu alone, there are many food delivery companies that have not shut services during the lockdown, instead, they got busier to serve the public.
Business for service
"Every day, we leave our house for work. We cater to the people who are unable to buy fruits and vegetables every day due to the lockdown. Like the doctors and police, we are next in line to deal with people," shares Deepak Ratna Tuladhar who is working as a delivery person for KhetiFood, "The family keeps calling us, asking if we are okay. They ask us to stop working if possible, but this is our duty. It's for the noble cause, and we will keep doing so."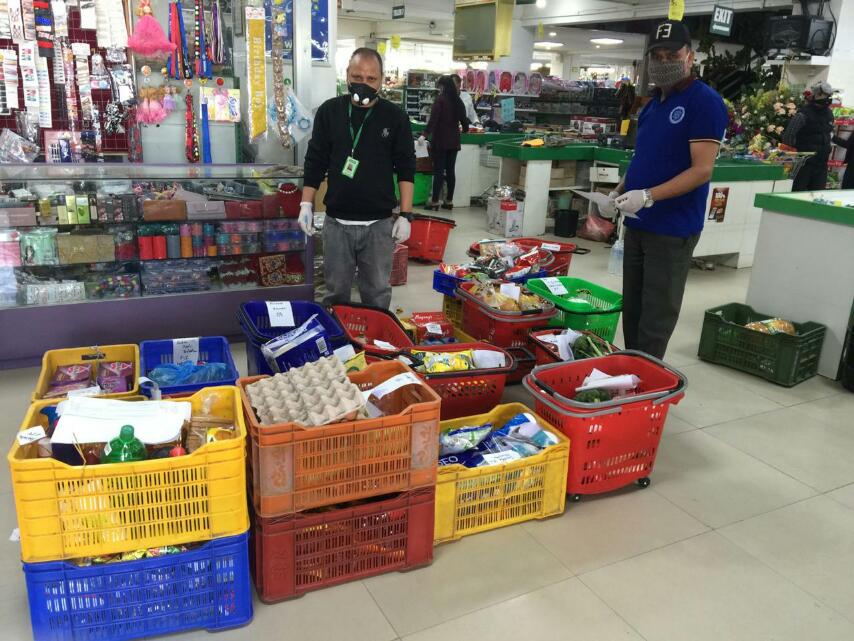 Tuladhar is the operation manager for the company but has been temporarily working as a delivery person too. "The work starts as early as 5:30 am for me, and I work through the day. Only when I reach home, the fear of contracting the virus settles in. Despite that, I still find it an empowering experience as I get the privilege to go out, serve and contribute in my own way."
The government has categorised food as one of the essential services and asked the shops and vendors to operate as normal. On the other hand, it has allocated the areas and time for the markets, requiring people to walk more. Many are confused as to how to manage their daily needs, without crowding the space, without contracting the virus or being held for defying the lockdown. In this situation, those making food deliveries have come to their rescue, bringing their essentials to their doorsteps.
There were a number of food delivery platforms operating even before the lockdown. While some are continuing their work, many have changed their working style a bit to cater to the need of time.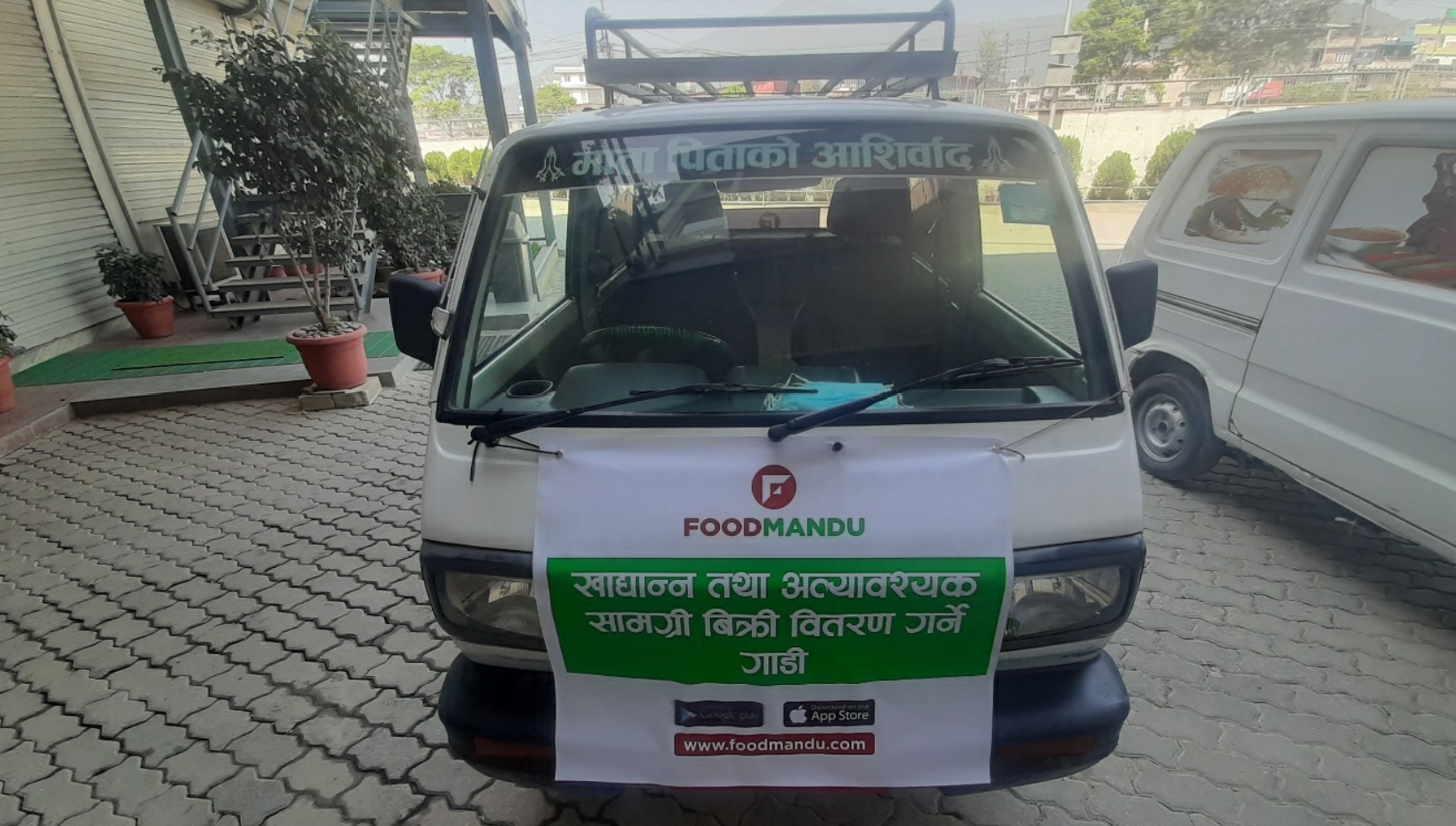 Foodmandu, an online food delivery platform, has introduced its new segment, Foodmandu Fresh, to deliver fresh groceries. The company is partnering with six vendors to collect the fruits and vegetables every morning and deliver them as ordered. Another popular food delivery platform, Bhojdeals, has also changed its module a bit and continued to partner with KK Mart to deliver the essentials. The already available resources, including their websites and apps from where they took the orders, as well as the working modules allowed both the platforms to mobilise quicker and more efficiently, even though the restaurants and cafes they used to partner with are shut down.
Meanwhile, some platforms have changed their operating locations. While employees of Bhojdeals are operating from outlets of KK Mart, KhetiFood, a delivery platform for fruits and vegetables, is operating from a makeshift fulfilment centre inside Patan Industrial Estate after facing some problems in the previous location in Kupondole.
Bhat-Bhateni Supermarket and Salesberry have been delivering their own supplies. So far they have been swamped with delivery requests. Each of the companies receives around 250 delivery requests per day. They say they are ready to continue their service as long as one month though the customers may have to wait for one to two days to get the things delivered.
Other food delivery platforms include Sastodeal, Kirana, Daraz, Nimbus, Durbarmart, Daily Doko, etc.
Ensuring safety during the chaos
Just like the health workers and the security personnel at the frontline, the delivery persons also require the equipment that protects them from contracting the virus. However, unlike the doctors, they do not really require personal protective equipment (PPE) or an N-95 mask, according to the delivery companies. The importance of safety for the delivery is realised by both the delivery personnel and the companies as every employee is given a mask, a pair of gloves and hand sanitiser.
"Safety of our employees as well as the customers is our top priority while making deliveries. We have been practising all the possible safety preventive measures. They are also strictly advised to sanitise their hands every 30 mins and prior to food delivery," shares Shyam Ratna Mali, Head of Brand, Marketing & Sales for Foodmandu, "We have also requested our customers to use hand sanitiser before accepting their orders. Our vans are disinfected periodically."
Bhojdeals also follows the same. The company's CEO and cofounder Niket Agrawal adds, "All staff have been strictly asked to maintain social distancing with the other individuals and take all protective measures as per the WHO guidelines. Temperatures of each team member are checked when they report to duty and after every trip or delivery."
Salesberry's Chief Operation Officer Chet Narayan Poudel says they brief the employees on the situation and counsel them on a daily basis to make sure they follow preventive measures. "Only three branches are handling the orders. However, other branches including the smaller stores are operating as before, with limited working hours, while following all the safety precautions for those who visit the stores physically," he adds.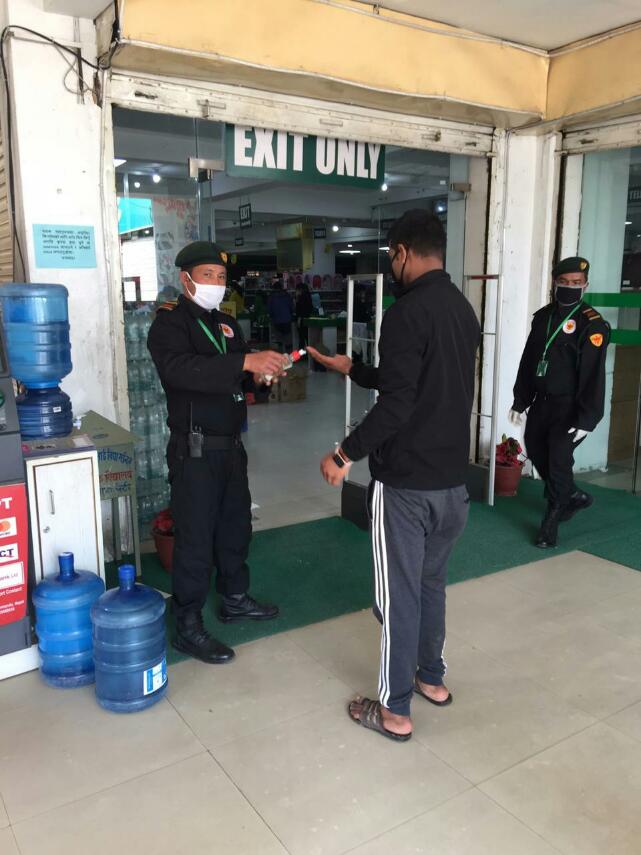 Meanwhile, KhetiFood's cofounder Tulsi Giri says it is not easy to adopt all necessary precautions in the crisis, maintaining his company came with a code of conduct from the very beginning, even before lockdown. He says KhetiFood has taken the security of its workers more seriously and has decided to insure the staff for this period.
All the platforms are also encouraging digital payments during delivery to avoid any physical contact. However, from the experience of the delivery persons so far, they say not everyone has adapted to the cashless transaction via payment gateways like Khalti, FonePay, eSewa, etc. Hence, they receive the cash on delivery, but by maintaining distance. Many find this situation unusually dilemmatic.
"In our Nepali culture, it is a norm that we give and receive anything with both of our hands, which means we are respecting them. Given the circumstances, we have to maintain distance. But, people are not really adept at digital transactions and they insist on cash. Hence, they have put the money on the ground and we have to pick up. To avoid any misunderstanding, we explain it to the customers and many comply. But this still creates a strain on social relationships," shares Deepak Ratna Tuladhar of KhetiFood.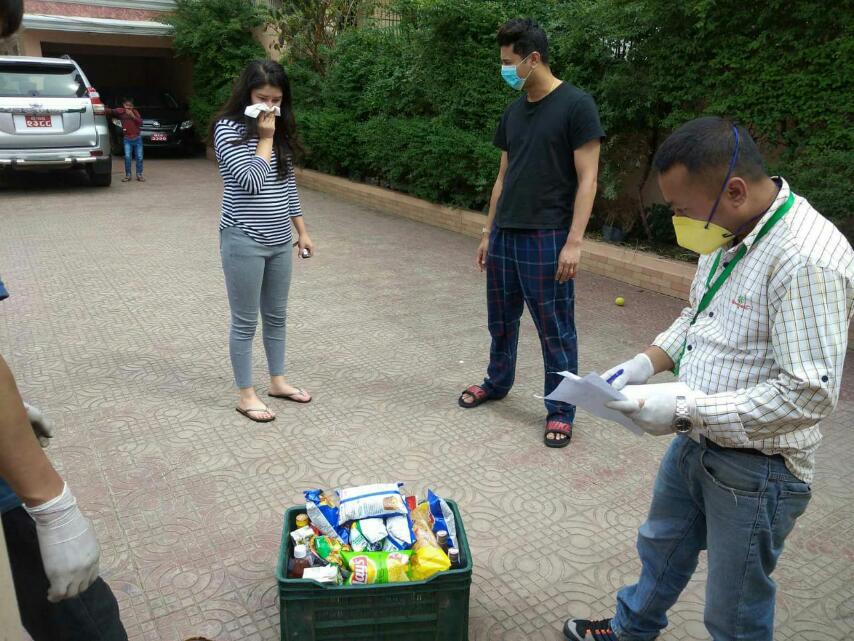 Other problems
But the new mode of transaction is not the only problem that these companies have faced. There are a lot of other problems, of different natures.
Despite the announcement of Prime Minister KP Sharma Oli about suspending long-haul public transport and international flights, the announcement for lockdown came rather quickly. Hence, the transition from pre-lockdown to lockdown was a bit bumpy.
"The biggest challenge we faced was in the beginning days [of the lockdown]. All our lower level staffers were already on leave for three days. But farmers from our network already had the stock and we decided to continue. We asked more than 30 staff from Pokhara and Kathmandu to be in their homes while the management team took over. The first week was very difficult as we were working with only 10 people. We got volunteers to meet the need," shares Giri.
While the delivery companies are struggling to manage human resources, a few customers seem ignorant of the crisis. Poudel informs, "There are people who still order liquor and cigarettes, which we are cancelling. Other than that, we are meeting 90 per cent of the orders." Several other problems for such platforms include not being able to deliver outside Kathmandu and their own dependence on the farmers outside the city.
Meanwhile, these companies say they are not getting sufficient permits for the vehicles to ply even during the lockdown ferry the goods. "To get the permit, we had to wait in long queues. The government agencies were easy to work with to get the permit; but being stopped and questioned in every point by police, demanding explanations from us was a hassle," Giri says, "What is tougher is that every week, the government is extending the lockdown and we have to renew permits too. It means we have to go through the whole process again and halt our services in the process. The second extension halted our service for 36 hours and we faced lots of quality issues." Adding to this, Tuladhar expresses early notice from the government could have been helpful to avoid such situations.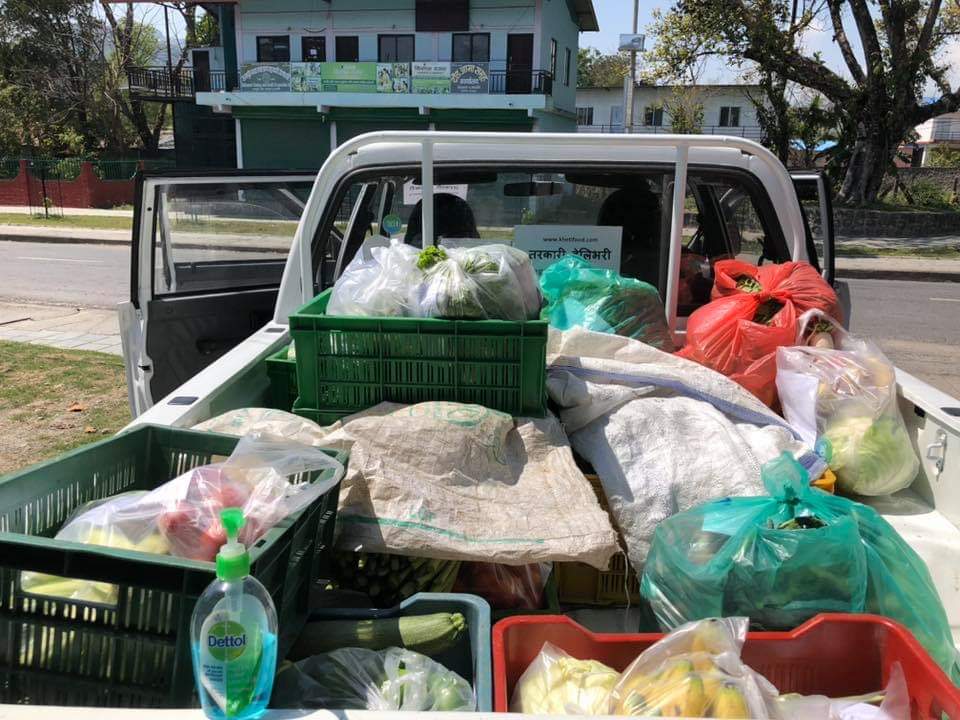 The problem is shared by other companies also. Foodmandu is today using three delivery vans with two delivery persons per vehicle. But, initially, it got only one pass, which was not enough for it to fulfill the demands. It expects to receive more permits for bikes in the coming days.
As Nepal has entered the second phase of coronavirus transmission, all the platforms have the same message to avoid any aggravation. They request all to stay home, stay safe and strongly urge people to use e-commerce platforms to purchase their daily essentials. "Furthermore, I would like to request you to buy only what you need, so the supply is enough for everyone," adds Mali. Similarly, Agrawal urges other e-commerce and technological platforms to come together and work to ease the flow, in this challenging time.
Meanwhile, Giri believes that local food systems are the way to go forward towards meeting the supply and smoothening the food value chain (i.e. from production to consumption).