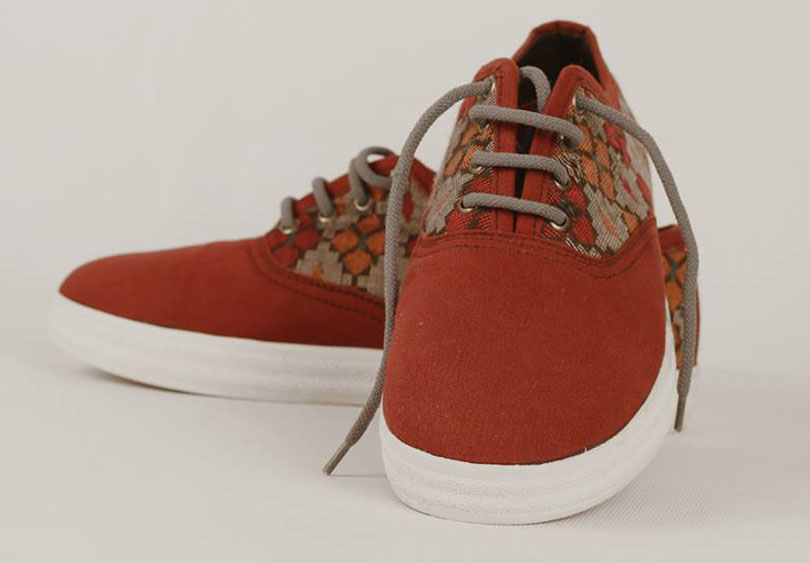 Our feet and our shoes have a distinct position in our culture. Your feet are not to come in contact with things you have to respect. Perhaps that is why people do not think of shoes as an important part of our intangible heritage, and manifesting something important on shoes is a taboo.
But, three youngsters living in Kathmandu have been experimenting with this taboo for the past one year. Their modus operandi of connecting shoes and culture is also as subtle as the cultural significance of shoes and the feet they fit in.
The shoe fanatics' fun
Watsal Rajbhandari, Amuda Mishra and Dikesh Prajapati were working for an organisation in Kathmandu when the magnitude-7.6 earthquake rattled Nepal on April 25, 2015. The earthquake made them realise an important thing. "We realised the significance of native culture and art as many temples and historical monuments of Kathmandu were destroyed in the disaster," says Rajbhandari.
Besides big buildings and temples, there are intangible aspects of culture too, and their loss is alarming. "Our traditional clothes like daura suruwal and dhaka topi are dying—people just wear them during wedding parties and some other special occasions," Rajbhandari shares. As many people were trying to conserve various dimensions of their culture by combining them with clothing stuff like t-shirts, Rajbhandari's group also thought of replicating the model.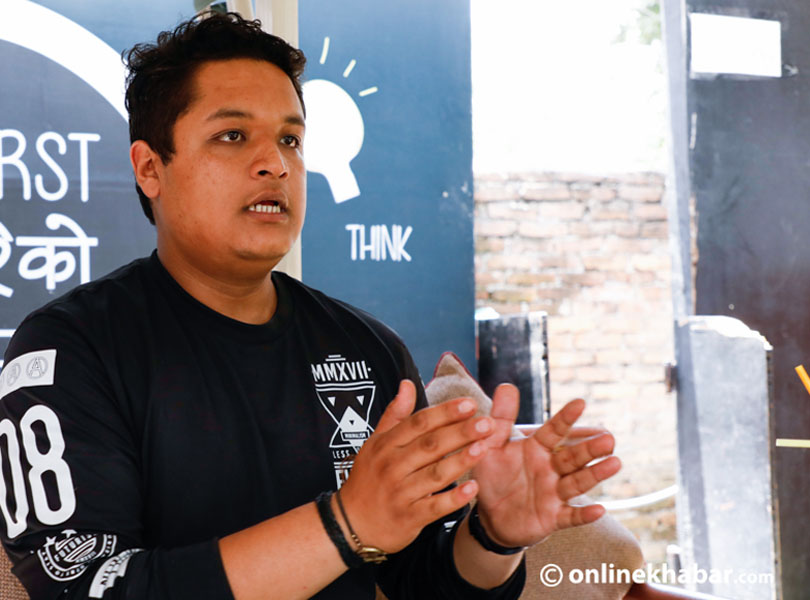 "All three of us are shoe fanatics. Therefore, an idea of using shoes, instead of t-shirts or bags, clicked."
This is how Dochaa, a handmade shoe company based in Kathmandu, was born. The birth month was May 2017 when the first pair was produced. The company's birth certificate came the month after that as it registered with the government as a business entity.
The company defines itself as "a manifestation of Nepali art, cultures, colours and vibes…packed in shoes, Dochaa is the ultimate representation and inclusivity of art, artisans and you."
As life returned to normal after the earthquake, the three co-founders of the company carried out an extensive research for over a year about how companies design and produce different kinds of shoes across the world. "We took many online courses and learned useful insights," Rajbhandari informs, adding, "We also decided how we wanted to portray and promote our art and culture through shoes."
Each member of the group invested Rs 200,000 to kickstart the business.
Interesting mimesis
Dochaa is unique in many ways. "Except for pressing and stitching, every other step in the manufacturing process is carried out by skilled workers," Rajbhandari says, "Therefore, our shoes are quite expensive compared to that of Nepali or foreign competitors." (A pair of Dochaa costs Rs 2,500).
What the company does to protect and promote culture is related to the materials it uses for production. Everything that goes into a Dochaa, except for the sole, is made in Nepal. "In the beginning, we also tried to use Nepali soles, but these PVC and TPR soles proved less durable; therefore we were forced to import rubber soles from China."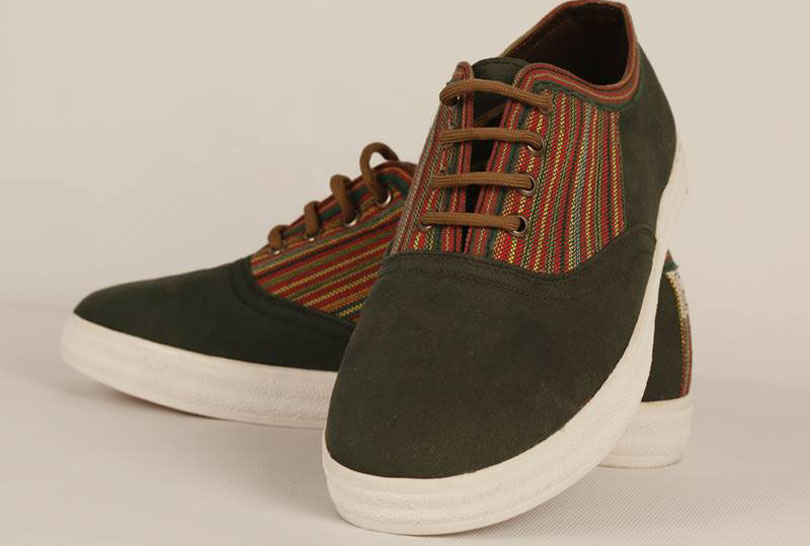 Rajbhandari informs that other material used in the production are representative of art and culture of different ethnic communities. Purbeli and Palpali dhakas, mostly used in traditional Nepali caps (dhaka topis), are two most popular types, well known for their quality and artistic design. Likewise, they use syama to produce packaging for the shoes. Syama is a type of fabric produced by Tamang communities. Two other major fabrics used are lawa of Newars and Pangden of the Sherpas and Thakalis.
Broadly, the name 'Dochaa' itself refers to a particular type of shoe worn by people living in hills and the mountains, including Sherpas. Therefore, in the use of other materials too, the company does not go beyond their original localities as far as possible.
"Such materials are easily available in Kathmandu itself, but we always try to bring them from their native communities so that local people at the grassroots will benefit from our business," Rajbhandari adds.
Community empowerment
The young entrepreneur says that the company's choice of raw material is related to the third 'C' of the company's core values: community empowerment (the two others are: customer satisfaction and culture essence).
The company states that it does not want to limit itself to selling shoes as there are already many companies that do so. Rajbhandari and his friends want to do business that leaves a powerful impact on the community. "We can do that in basically two ways," Rajbhandari explains, "The conservation and promotion of intangible culture in the form is also a service to particular communities like Sherpas and Newars. Similarly, communities directly benefit by working with us as we buy their traditional products."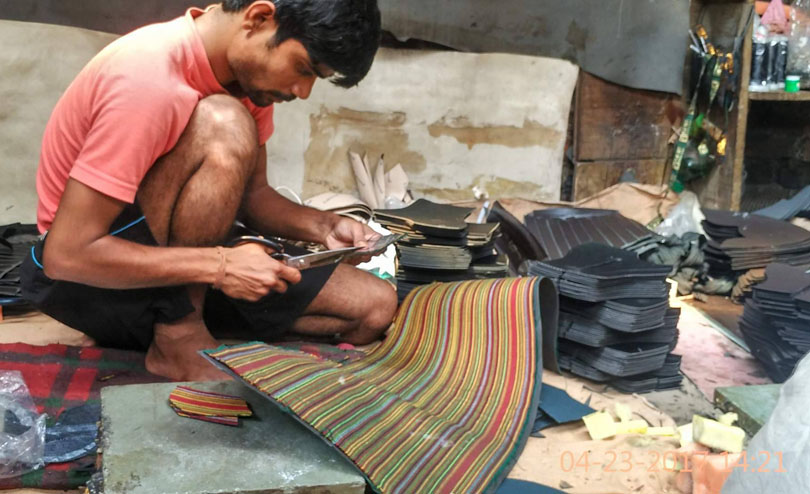 Dochaa recruitment policy also reflects its core values. As the company is in its nascent stage, the scale of production is quite small and there are just five people working at the factory. "The number is really small, but we have made positive impacts on the life of these five workers," he says, "We fully comply with existing labour laws. We give them a fair wage, and it translates to more income for  them compared to their colleagues working for other companies."
Further, the company is currently exploring how women can benefit most from the enterprise as they have been historically deprived of employment opportunities.
"First, we will train women, and employ them so that they can end their dependence on men," Rajbhandari shares. He also adds that the company is in conversation with a couple of Nepali and international NGOs to launch a women empowerment project.
Market coverage and expansion
The current production capacity of the company is 400 to 500 pairs a month. However, the company has already reached break-even.
Dochaa comes in five designs. Each design has 10 size variants for both men and women. Rajbhandari says more designs, sizes, and types will be added to the list. Other items such as bags and t-shirts will also be produced soon."We are just a design studio now. By the end of 2019, we will be a full-fledged shoe manufacturer."
The enterprise has been selling its products through its website and social media mostly. In addition to this, there are three stores in Kathmandu Valley that sell Dochaa.
"We are limited to Nepal at the moment. But we sent around 300 pairs to London just last month and some Nepali organisations are selling them there," Rajbhandari informs, "If this experiment goes well, we will send our products to other countries like Australia, the United States, and New Zealand, where many young Nepalis live."
"Our social impacts are significant on their own. But, it is our market performance that will decide our longevity," the entrepreneur says.
However, market performance is not just about money. Proving that Nepali manufacturers are also capable of to producing quality shoes that can compete with international brands is also an achievement to be proud of.