When Dhiraj Karki found out that Lord of the Drinks (LOD), a popular nightclub in Kathmandu, was opening its doors from December 2, he was delighted. Karki, who used to visit LOD every weekend before it suspended operation in March due to the Covid-19 crisis, had lost hope that he would be able to go there again in 2020. But, when he heard the news of its opening, he did not even think twice.
"When I went in after eight months, I felt alive," he says, "The sound, the music and the lights, everything was perfect. There weren't many people, nor were we allowed on the dance floor, but it felt good."
It is not just the clubs that have opened its door. Restaurants in the valley have too. And most of them are full of people, especially during the weekends. There is little to no social distancing in any of these places and with most of them poorly ventilated. Perhaps, that is why many governments in Europe and America have not let restaurants and clubs to open citing the higher risk of coronavirus transmission.
However, partygoers, club/restaurant owners and operators argue that if people are being allowed to attend weddings and other functions and take part in protests, clubs and restaurants should be allowed to bring in people too. With public health experts, however, disagreeing and alarming the club and restaurant visitors could increase the risk, all eyes are on the government seeking its proactive role in monitoring the businesses.
(Mis)calculated risks
"I don't think a restaurant or a club has more people than a public bus or a wedding," said a restaurant owner who asked not to be named. "We suffered a lot when the country was put under lockdown. I firmly believe that restaurants are safe and should be running like before."
But public health experts say that the risk of people spreading the virus in restaurants and clubs is the same as in wedding parties or buses.
"Restaurants which have outdoor seating and have spread their seating according to safety standards are okay," says Dr Baburam Marasini, a former director at Epidemiology and Disease Control Division of the Department of Health Services. "But those that don't have proper ventilation and have not spread their seating are risking people's lives."
The restaurant owners say that they have tried to take measures to ensure that the places are safe. Temperature checks of customers and sanitisation of tables are regular at almost all restaurants while a few have also started to keep records of customers who come to dine in.
"We've even asked customers to book in advance so that we can control the flow of the people coming in. We've also closed the main door so that we can check temperatures and collect details of everyone who is coming in," says Pauline Driard, who owns Pauline's Rooftop.
She says that as professionals, they can control the flow and ensure more safety as compared to public buses and weddings.
"We have outdoor seating where tables are far from one another. We are trying to be as safe as possible as we regularly clean high touch surfaces as well. We've trained our staff well," she says.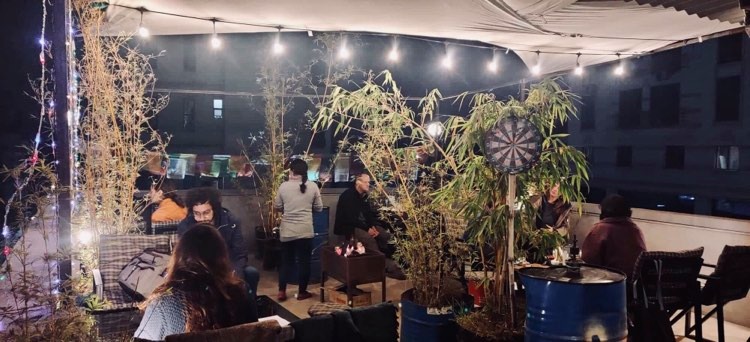 One of the directors at LOD, Rudeep Shrestha, says his club has opened "as a restaurant" for now.
"We have enough seating at the club. We saw all the restaurants opening in Thamel and felt we could open as well. As a club, we also have enough space to socially distance people and host live music and we started it," says Shrestha.
Shrestha says that LOD, however, has not opened its dance floor as it is still figuring out how to properly manage that.
"We tried opening it this Friday, but we've realised that social distancing isn't possible. So for now, we've shut it completely and asked our guests dance around their respective tables," he says.
Workers at the receiving end
Another reason the hospitality industry wanted to reopen was for their staff. The shutting down directly affected many who work for them.
Shyam Aryal, who worked at a restaurant in Kathmandu, says he lost a well-paying job at one of the top restaurants in the valley. But, with the pandemic affecting business, he, like many others were let go.
"I used to earn Rs 25 to 30,000 easily. That was enough for me and my small family, but as I lost the job, I had to figure something out quickly which is why I have applied to go abroad," says Aryal. "I know that it's not going be normal anytime soon, but I have a family to take care of."
Shrestha of LOD says many of his staff have gone abroad too while many are applying. Even though they did keep paying them a certain amount during the start of the lockdown, it was not sustainable to do so anymore.
"We opened for these guys as well. They were making decent money, but I don't blame the guys that have left. They have to feed their families," says Shrestha.
Where are monitors?
With the cinema halls announcing that they will open on December 25 and with more and more restaurants promoting dine-ins, Nepal seems to have moved on from the lockdown hangover.
That said, restaurants and clubs are trying to ensure that their properties are safe for the people coming in. In a bid to do that, Shrestha says, LOD is applying anti-microbial coating at the high-touch surface areas like railings, doorknobs, bar and tables.
"That's going to help us in the short term. After applying that coating, the virus won't last on these surfaces for at least six months," he says. "We hope the vaccine is made available soon and we can get on with our lives."
But Dr Marasini says that this will not stop the spread of the virus.
"The virus goes in through the nose. We need to understand that. Sure, doing this is going to help, but if you see past cases, it's due to direct contact that the virus is spreading," Dr Marasini says.
Both Dr Marasini and Shrestha say that the government should monitor the hospitality industry to ensure that they are following safety protocols.
"I feel we are doing a good job," he says. "I think the government needs to monitor clubs and restaurants. But for now, clubs opening in a small scale is the right way forward," says Shrestha.