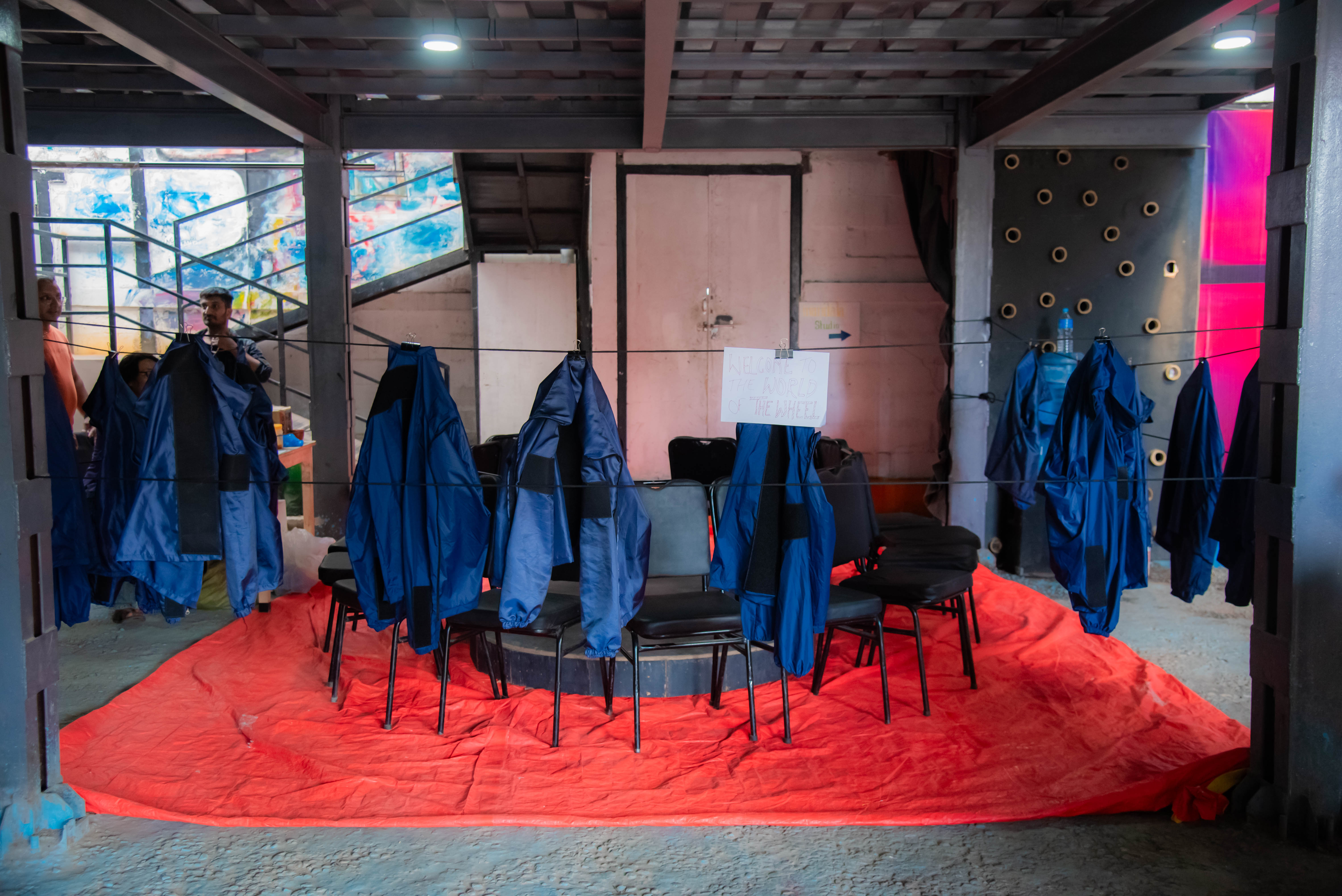 On July 19, as I approached Mandala Theatre in Kathmandu, I sensed a unique atmosphere. As I entered through the main gate of the theatre, my attention was drawn to a welcoming A4 sign hanging on a black rope that read 'Welcome To The World of The Wheel.' Additionally, blue jackets were suspended on the same rope, adding to the intriguing ambience.
As I proceeded towards the open space on the ground floor, I noticed a notable change. Instead of the familiar sight of a table tennis board and two-wheelers that typically occupied the area, I now saw an orange tarpaulin spread out on the floor. Neatly arranged on the tarpaulin were 15 chairs, setting the stage for a different kind of setup or event.
I realised that the space is being used as a setting for the play, Chakra The Wheel, conceptualised and directed by Ram Hari Dhakal.
Not a regular play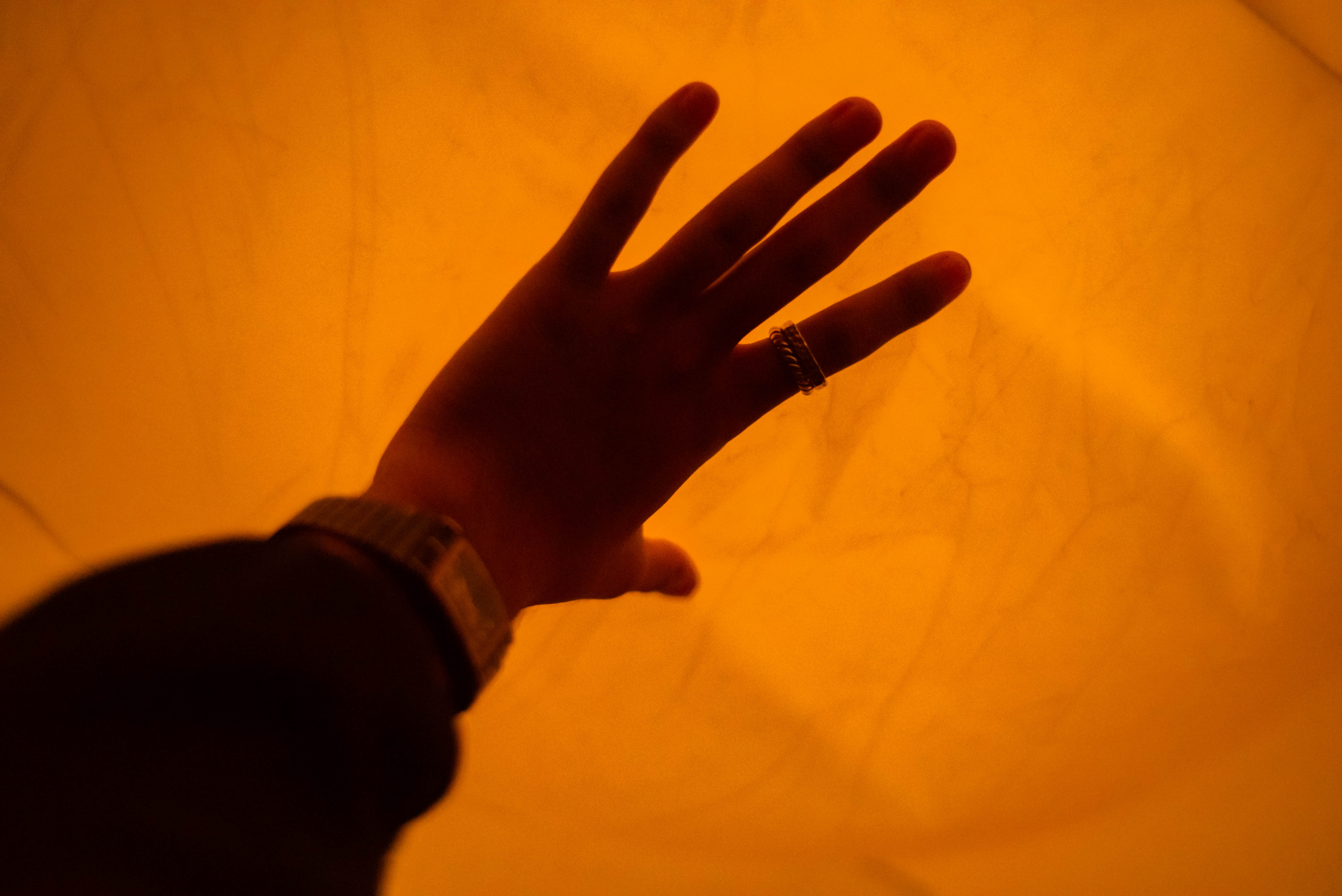 Unlike conventional plays, Chakra The Wheel does not involve rehearsed actors; in fact, there are no actors at all. Instead, the audience themselves become the actors in this one-of-a-kind play. Adding to its distinctive nature, the play is limited to just 15 spectators, who actively participate in the hour-long experience.
As the play begins, we are asked to sit down on the chair barefoot. We are also asked to set aside our glasses, caps, hats and mobile phones. Then, the theatre staff put glasses on us after which everything goes dark.
Following that, the organisers provided us with blue jackets and shoes to wear. Then, they gave us an unusual experience – tasting two different things using ice cream spoons. The first taste was unfamiliar, and I could not quite identify it. However, the second taste had a distinct flavour, reminiscent of a blend of ghee and honey. The whole experience was both intriguing and unconventional.
Next, they asked us to stand up from our seats and guided us into the auditorium. Once inside, even though I could not see anything, I could feel the change in my surroundings. In the auditorium, they asked me to wait in a specific area where my movements were limited.
Then the crew members playfully pushed, tickled, and even pulled my leg. I understood that their intention was not to harm me, but I could not help feeling a bit anxious and worried, possibly because I had never been in such a situation before. The combination of uncertainty and physical interaction added a sense of anticipation to the experience.
Now after a couple of minutes, they moved me ahead.
Sensing a feeling that was never felt before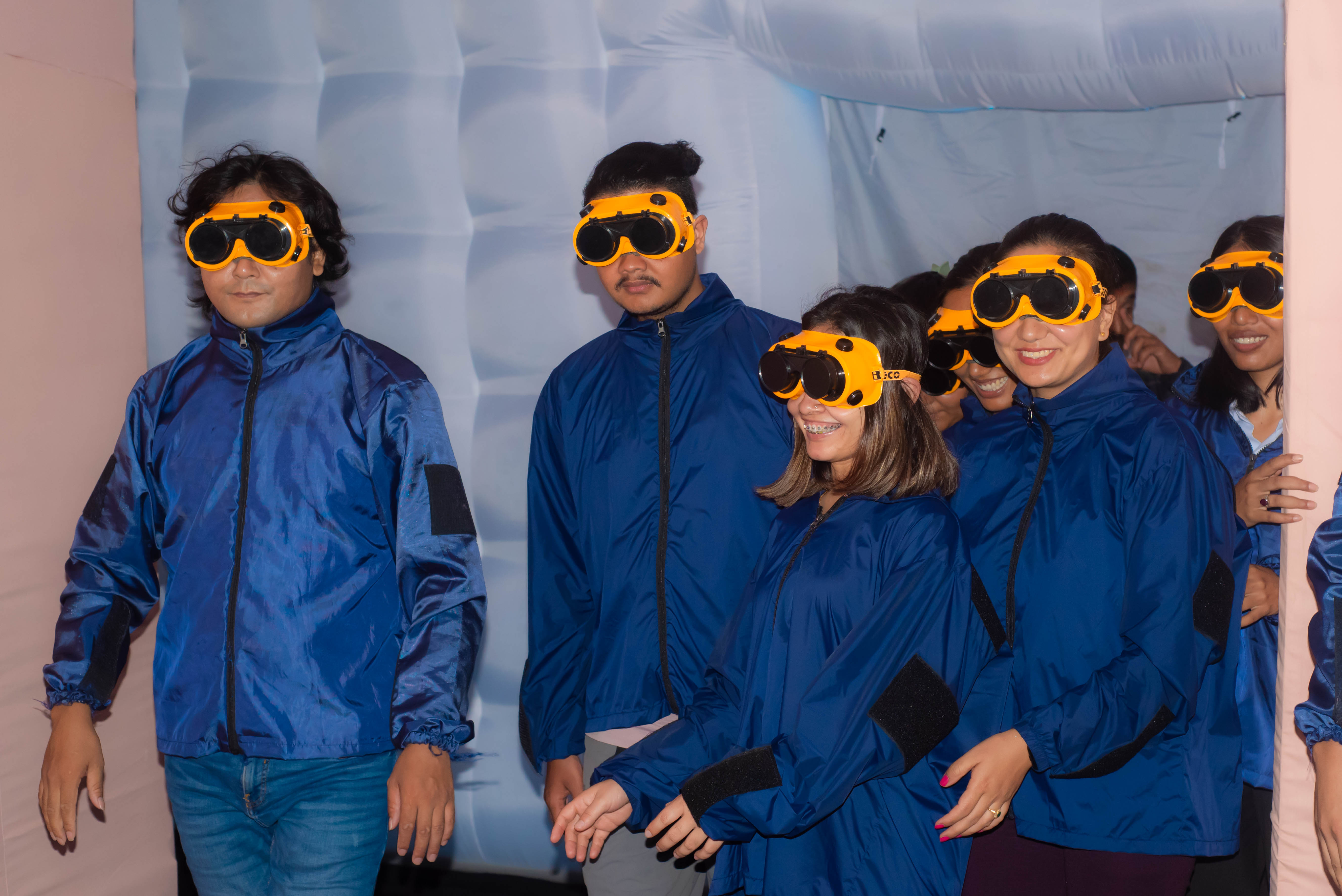 There I was not able to walk properly. The shoes were sticking on the floor and with every step it was making an annoying noise. I could sense that all the other participants in the play were also there in the auditorium. Nobody could see anything and I was afraid I would collide with others and get hurt or would hurt others.
As I carefully walked, attempting to be cautious in my movements, I still found myself unintentionally colliding with other participants in the dimly lit auditorium. Unfortunately, I could not recognise who they were due to the limited visibility. I felt concerned that I might have accidentally caused some discomfort or hurt to others during the interactions.
Colliding with different participants during the play, I noticed varied responses from them. Some responded gently and considerately by giving me space to move ahead, while others seemed less accommodating and pushed forcefully.
This incident served as a powerful reminder of the encounters I've had in my life with two distinct types of people—those who are decent and helpful, and those who exhibit arrogance and indifference. The nice people have been a source of support, assisting me in overcoming challenges and providing a positive impact on my life. Conversely, interactions with the arrogant ones have led to difficulties and trouble.
The play's portrayal of these contrasting behaviours resonated deeply with my real-life experiences, prompting me to reflect on the significance of kindness and understanding in shaping our interactions with others. That was what the makers of Chakra The Wheel were aiming for. They were utilising sensory theatre as a means to promote self-realisation. And they were successful too as they were able to encourage a deeper understanding of oneself and foster personal growth through introspection.
I could also hear music playing inside the auditorium which kept changing from happy to sad. The sad tunes stirred frustration within me, leaving me slightly annoyed, whereas the joyful numbers had a captivating effect, tempting me to dance for a while. And I did dance as I felt good.
As part of the sensory experience, a delightful fragrance permeated the air inside the auditorium, bringing a sense of freshness and beauty to the entire space.
The variations of music from sad to joyful indicated life and how things are not always constant. It highlighted how ups and downs are the natural phenomena of life and everyone has to go through it. One should not lose hope if they are going through any issue because every problem has a solution.
After spending more than 30 minutes in the auditorium, I began to feel increasingly uneasy. It was as if I was trapped in a place without any reason, akin to being dragged into an unwarranted prison. Desperate to find a way out, I searched for an exit, attempting repeatedly, but my efforts were in vain. Exhaustion set in, and I leaned against a wall for support, only to be denied even that respite.
Despite my persistent attempts to locate an exit, I was unable to find one. At this point, the only choice I had was to maintain patience and wait for the play to conclude, as no other option presented itself.
"Have some patience," I told myself.
Test of patience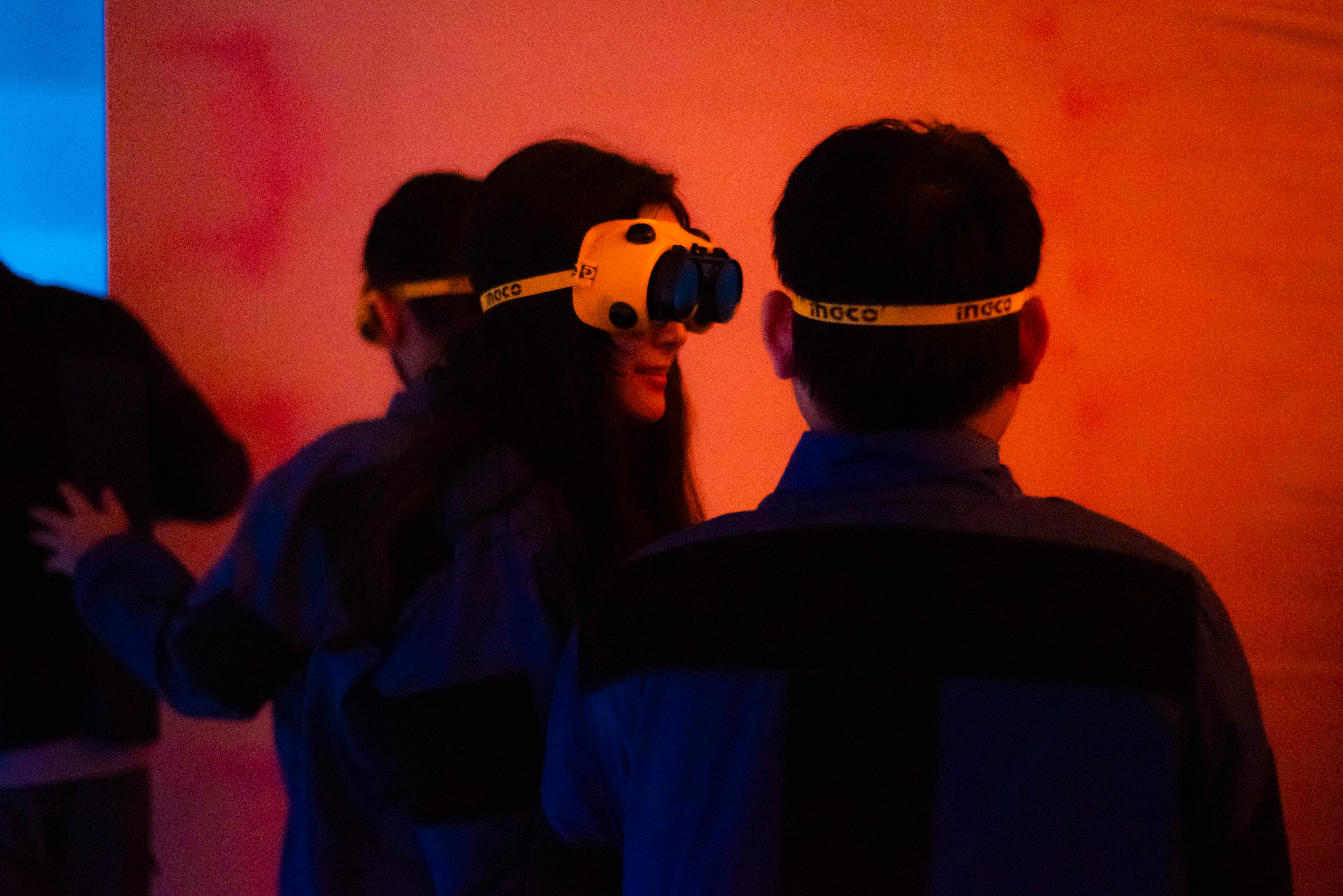 Finally, after almost an hour, a crew member approached me and removed my glasses, jacket, and shoes, allowing me to exit the auditorium. As I stepped outside, I took a long, deep breath, feeling a sense of relief and freedom. The experience I had during the play taught me a valuable lesson about the significance of patience.
Sometimes all you need is patience to overcome the obstacles, I told myself.
And this is what Chakra The Wheel taught me. It is a sensory theatre, which is a new genre in the Nepali theatre industry. This just did not provide me with an experience but also gave me an opportunity to review my life's ups and downs that I have gone through so far.
Chakra The Wheel will run through July 30 every day except Monday at 4:00 pm in Mandala Theatre. There will be an additional show on Saturday at 1:00 pm.