Every Thursday and Friday, thousands of people walked on the pavement near Bhugol Park of Kathmandu, hearing the jingle "Raktadan Gari Garau Jeevan Daan" (Blood donation is life donation) play in the background. But, in the hustling crowd, people rarely have time to listen to the jingle or even step into the park premises and volunteer for blood donation.
On the other hand is a person who has managed to do blood donation every three months, all his adult life. To date, Prem Sagar Karmacharya has donated blood 170 times and is ready for his next in July.
But amidst the people who rarely even turn their heads to the blood donation campaigns happening around them, how did Karmacharya manage to donate blood all 170 times?
Karmcharya shares he was self-motivated to do social work with a great influence from his father. "My father used to give first aid to labourers and field workers who got injured. When I was a kid, I used to tag along with him everywhere and I picked up a few things from him."
"But I started blood donation after a friend encouraged me to do so. I started donating blood early [at 16] and have not stopped since."
With over 12 years of work experience in the blood donation field, Karmacharya is apparently recognised as the person with the highest number of blood donations in Nepal. Also the central president of Nepal Voluntary Blood Donors' Society (NVBDS), Karmacharya is sought after by people from near and far struggling to fetch the blood for medical procedures. He says the trust he has won from the people for being able to provide the blood and convincing people to be regular blood donors are his biggest achievements. Nevertheless, he is unhappy with the present scenario of blood donation and its circulation, adding he is ambitious regarding his plans to correct them in the near future.
The bloody blood market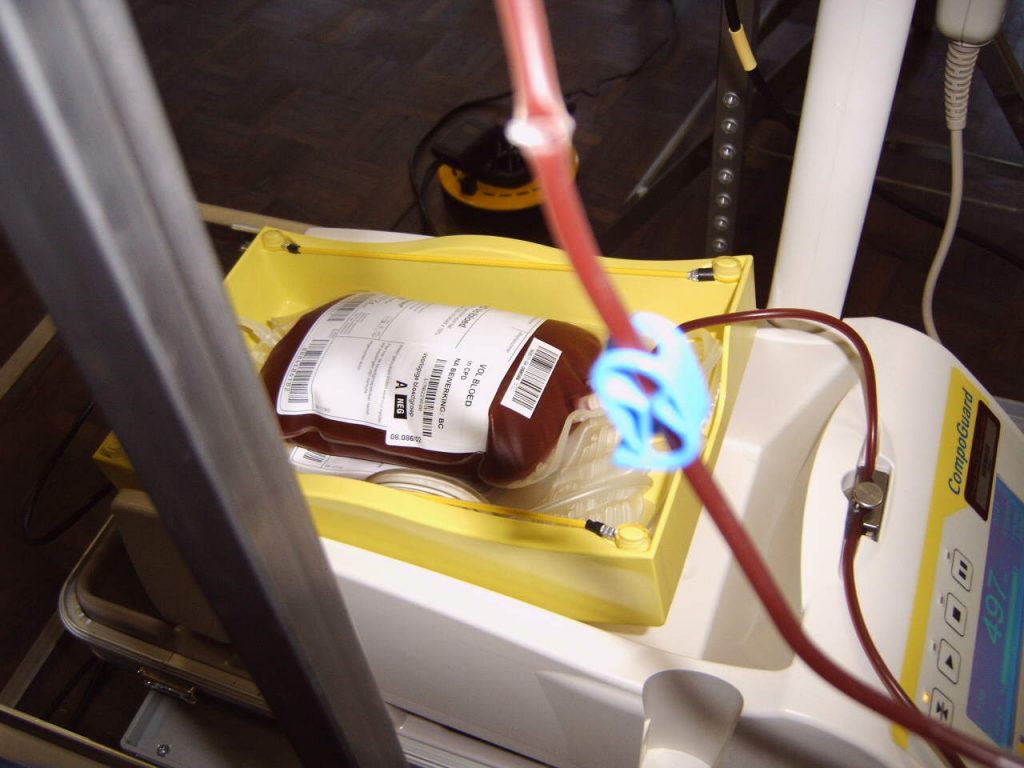 The Karmacharya family migrated to Bagbazaar in 1971 from Jaisidewal of Kathmandu. He remembers how times have changed and how he could see Tundikhel from his area clearly. But, what has not changed, he says, is the irregularity of blood donation and its circulation in the blood market.
"In the 1980s, near the Bir Hospital, where the National Trauma Centre is today, blood was sold by the Laxmi Blood Bank under the Red Cross, operated under the government. And even today, where the blood that should be given voluntarily and provided freely, it is being sold within a syndicate."
"There is the National Blood Transfusion Policy, but it is not implemented. The government has held Red Cross responsible, but it is driven by nepotism and favouritism. Red Cross is selling the blood that they get free of cost from the International Federation of Red Cross (IFRC). Can anything be more inhumane and more sadist than that?" he asks.
Meanwhile, he adds, the government is demotivating blood donors and exploiting patients by putting a higher price on the transfusable blood. "I was disheartened to see that Runa Jha who came in one of our programmes and pledged to address our concerns was the signatory in the decision." Additionally, the public is not bothered to track where their blood is going either, which is why the irregularities are being more rampant.
"Blood donation should be done with everyone's coordination. And, most importantly, it has to be voluntary. World Health Organization (WHO) is also working towards the same," says Karmacharya.
But, it is not the case in practice. "Forced or coerced blood donation is a crime and so is selling blood. It is unethical and inhumane yet they are still being practised rampantly. Some organisations are selling blood at a price whereas others doing it under the premise of replacement (where the blood bank demands blood in exchange for blood). At hospitals, they draw blood without permission and then sell that later in the market."
While he is full of complaints, he also has ideas to build a network where the current system can be corrected so that people get blood freely and as needed. "But, neither the government nor the authorities are extending their hand to collaborate and bring about the change."
His own attempt
Witnessing all the ongoing irregularities and tired of hearing that blood is "not available" when needed, Karmacharya decided to start his own organisation, Nepal Voluntary Blood Donors' Society in January of 2009. The organisation runs with a network of volunteers who collect and provide blood for people in need. So far, it has 33 chapters across Nepal already.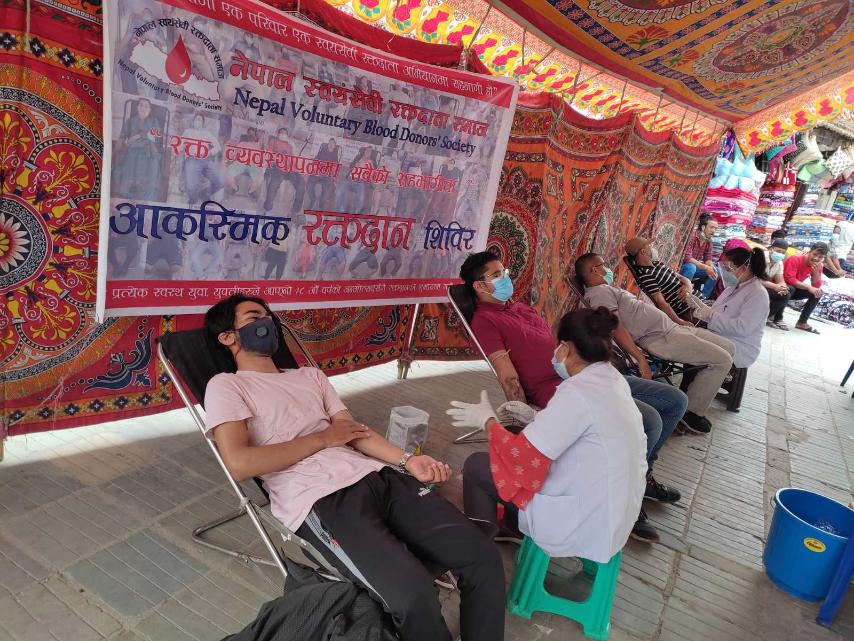 Anyone can join the movement with an individual or institutional (or lifetime) membership, he informs. The network has increased, yet convincing everyone has been a challenge. "But, those who understand have pledged to be a blood donor and are doing it regularly."
Through his organisation, Karmacharya is attempting to correct a few practices starting with the freedom for anyone to donate blood, even if they are under medications. "It has been said that those under medications are prohibited from donating blood. However, that is not exactly true. Today, almost everyone is under some medication. And if we wrongly exclude them, with time, there will be no blood donors left. We will face grave scarcity," he shares.
Another point of his advocacy is to reduce the number of days between two blood donation dates. "The minimum required gap currently is three months. However, new research has concluded it can be 56 days. So, we are pushing for that too so that we can have more readily available donors here."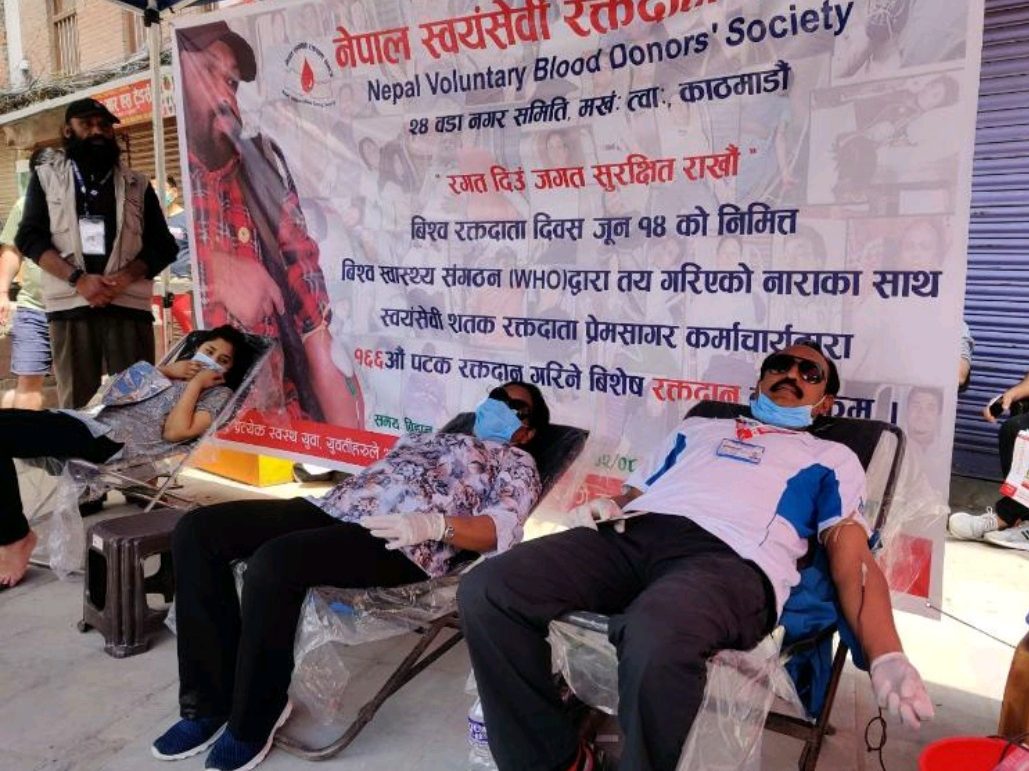 Today, his team is arranging blood with prior notice only, but it has plans to correct that. "As we do not have a blood bank as of now, we do not store the blood, we keep a few to spare, but a lot is done under a network where we connect the people and patients. But, if the irregularity and rampant blood market are under play, we will have to set it up."
"We are also working on integrating technology where donors can track. It will take some time, but once live, people can know their blood has been put to good use. However, we are strictly against making the details of the donors and patients public."
Blood donation is not blood loss
Karmacharya, at 58, is very much active even today not just in donating blood himself. But, he is also encouraging others to do so, in line with this year's World Blood Donor's Day theme "Donating blood is an act of solidarity. Join the effort and save lives".
"I ask that every individual 18-65 years of age, capable and healthy, should actively engage in blood donation and encourage their friends and family to do it too. They can donate every three months without any repercussions."
Though blood donation is clouded in speculations, he says, "I have no bodily problems whatsoever. I have not taken any medicines per se. But, when I get sick, I use home remedies to cure my fever or cold. Other than that, I would attest that blood donation can prevent cholesterol and cardio(vascular) diseases that otherwise people are very prone to, given their lifestyle and eating habits. I am the proof of it."
He adds, "Humans only need 50 ml/kg to function whereas (on average) men have 76 mil/kg and women have 66 ml/kg so we will only donate what is in access."
He further explains that one person donating blood can impact the lives of up to three people. "In the lab, the blood is centrifuged and separated into red cells, platelets, and plasma or we use the whole blood where the blood is used for transfusion as it is."
But, his request to all is that blood should not be wasted in any form. "Please use or demand blood only as needed. Having a backup is not a problem, but excessive drawing out of blood or demanding blood will result in wastage of blood that will take up to three months to recover. So, everyone needs to be mindful. We must aim to efficiently use even a single drop of blood."