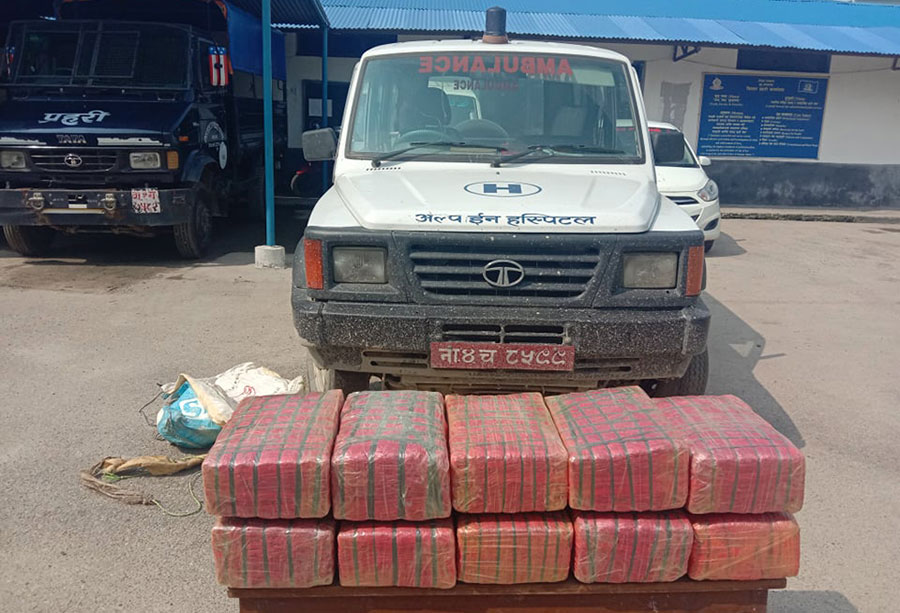 Birgunj, June 10
Police in the Birgunj city of Parsa, in southern Nepal, have confiscated 56 kilograms of marijuana being smuggled using an ambulance.
The production, trade and consumption of marijuana are illegal in Nepal.
Acting on a tip-off, a police team confiscated the contraband smuggling on the ambulance (Na 4 Cha 8599) belonging to Alpine Medical College Teaching Hospital, Simara, Bara. Three persons travelling on the vehicle have been arrested.
The suspects arrested at around 2:45 am have been paraded at the District Police Office this morning.
DSP Gautam Thapa said the DPO, of late, increased surveillance suspecting the smugglers were more active these days taking advantage of the lockdown.
It has been learned that the marijuana was being taken to Bauratar, Bahadurmai municipality-5, of Parsa.