Chairman of the Nepal Workers and Peasants Party Narayan Man Bijukchhe during an interview aired on Everest Online, a YouTube channel, on December 21 discussed the recent dissolution of the House of Representatives by Prime Minister KP Oli. In the course of the interview, he claimed that Indian Prime Minister Indira Gandhi had planned to annex Nepal by 2012-14 but the plan did not succeed then due to various reasons, but India still intends to make Nepal another Sikkim.
Bijukchhe said, "One Yadav of RAW [Research and Analysis Wing, Indian external intelligence agency] himself has written that [Indian Prime Minister] Indira Gandhi had plans to turn Nepal into a Sikkim within 2012-14. That plan could not take off then due to various reasons. But, what that means is India still hasn't given up its intention of making a Sikkim of Nepal." [Go to 12 mins 40 seconds into the video.]
Fact check
Bijukchhe was referring to former Indian intelligence officer RK Yadav's book "Mission R&AW" published in 2014, in which Yadav has revealed inside information about the workings of the Indian intelligence agency. 
On page 263 of the book, Yadav writes: "[Rameshwar Nath] Kao [founding chief of RAW] told me that after the merger of Sikkim, he had a plan to disintegrate the Tarai area of Nepal because of the increasing presence of China there much to the discomfiture of the Indian Prime Minister Indira Gandhi. He foresaw the Maoist menace to India in 1973 which is now posing a serious security threat to India. However, the merger of Tarai of Nepal was deferred in view of political turmoil in India when Indira Gandhi declared an emergency in India in 1975 just after the merger of Sikkim with the Indian Union….Unfortunately, when elections were held in 1977, Indira Gandhi was defeated and her party did not come to power and Kao's operation of merging Tarai and other assignments did not materialise."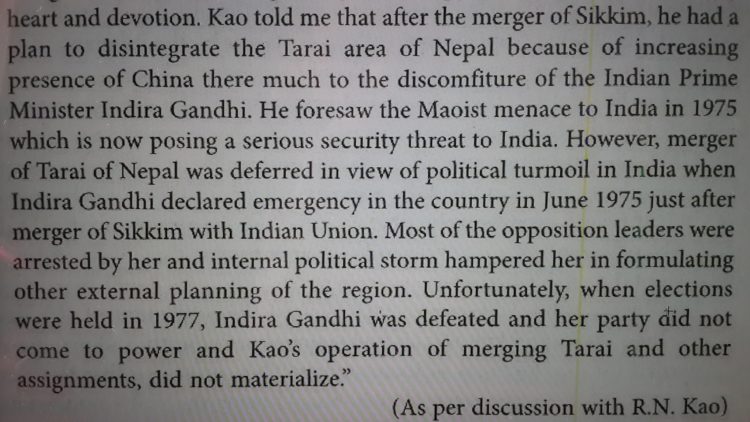 Although the book mentions an alleged Indian plan to disintegrate the Tarai from Nepal, it does not say by when India planned to do so. Therefore it is clear that Bijukchhe misquoted the book and his mention of a target date for annexation is just a projection.
This article first appeared on South Asia Check.