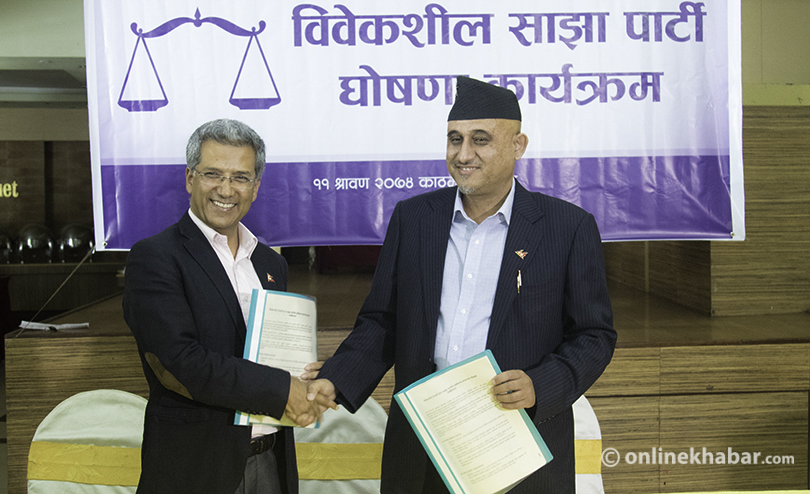 Kathmandu, July 26
Two fringe parties advocating for 'alternative politics' on Wednesday announced their merger into the unified Bibeksheel Sajha Party.
Chiefs of the erstwhile Sajha Party and Bibeksheel Nepali Party, Rabindra Mishra and Ujwal Thapa respectively, announced dissolution of their different parties and establishment of the unified party amid journalists in Kathmandu today.
They said the new party would be a new option in contemporary Nepali politics.
Both Mishra and Thapa will be called 'joint coordinators' of the new party and their status, rights and responsibilities will be equal. Mishra will chair Central Committee meeting of the party.
The unified party will demand scale/balance (taraju) as the election sysmbol from the Election Commission.
Meanwhile, an eight-member Coordination Committee has been formed as the supreme body of the party for interim period till a general convention. It includes four members from each party: Mishra, Surya Raj Acharya, Nirupama Yadav and Mumaram Khanal from Sajha; and Thapa, Anusha Thapa, Govinda Narayan and Ramesh Paudyal from Bibeksheel.
They also announced an interim Central Committee comprising 17 leaders each from both the sides. The Committee will be extended later by appointing more members.