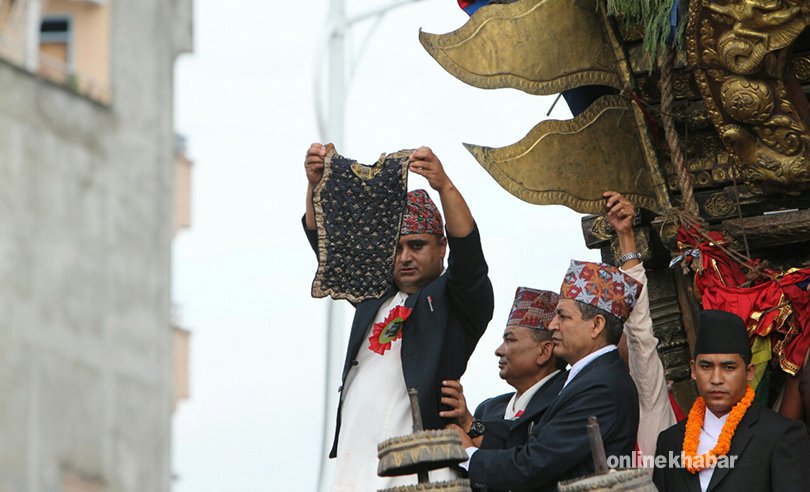 Every year before the monsoon arrives, residents of Patan are in full flow. They celebrate the onset of monsoon by paying homage to the God of Rain, Rato Machhindranath, by hosting a month-long festival.
The festival draws to a close on the day of Bhoto Dekhaune Jatra where an ornamented bhoto (vest) of Machhindranath is displayed before the public and other dignitaries which is believed to bring good luck to all.
The festival is being celebrated in the ancient city today.
The legend behind Bhoto Dekhaune Jatra comes from the story in which a farmer was gifted the bhoto in gratitude by the Karkotaka Nag for curing the eye ailment of his Queen. The farmer wore that bhoto everywhere he went, which caught the eyes of everybody in the Valley.
One day, a ghost saw the farmer wearing the bhoto and he began to turn green with envy. Secretly, the ghost began to follow him everywhere and his actions proved rewarding when one day, the farmer put aside his diamond encrusted vest to work on his farm. Seizing this opportunity, the ghost stole the bhoto and ran away.
The farmer tried to chase the ghost, but failed as the ghost was too quick and cleaver for the farmer who had all but given up. On his search for the bhoto, he stumbled across the Rato Machhindranath festival hoping the ghost would be there too.
Luckily he did find the ghost wearing the same vest among the crowd which resulted in a quarrel between the ghost and the farmer.
Coincidentally, King Guna Kamadev was also present there and he wanted to know why they were quarrelling. The guards of the king got hold of the arguing farmer and the ghost; and presented them before the king.
The King was fair and just; hence he wanted to know both sides of the story. The farmer and the ghost both told their version of the story. The King, hence confused about who's vest it was, made a decision that until someone brought proof of whose vest it was, it would be with the priests of Rato Machhindranath.
None of them could bring proof as to whose vest it was, which is why it has remained in the custody of the deity.
This is the reason why the bhoto is shown on the last day of Rato Machhindranath Jatra to the public in presence of Patan's Kumari and the President, the head of state (previously it used to be the King before abolition of monarchy system in Nepal) in a hope that the owner will come forward with the evidence to claim it.
On regular days, the bhoto is packed, sealed and kept along with Machhindranath's statue under the custody of the temple's priest.
The honour of displaying the sacred vest goes to the office head of the Guthi Sansthan of Patan Division.