After winning the House of Representatives election in 2017, lawmaker Rabindra Adhikari wanted to help his friend, Ananda Raj Batas of the Batas Organization and concocted a plan to run a hotel in dharamshala that would ideally house the pilgrims who reached Pashupatinath.
In an interview, Batas said he would not have considered the plan to run the hotel at the Pashupati dharamsala if Adhikari had not told him so.
Adhikari was shining in politics and Batas was striding forward in business; they always exuded a strong relationship to gain votes and notes. Along with Pushpa Jyoti Dhungana and Dhanraj Acharya, the duo also invested in a hydropower project.
On the seventh day of Adhikari's death in a helicopter crash in 2019, Ananda Raj Batas wrote, "My friend whom I have never voted for." That apparently meant he had supported Adhikari not with votes but with notes.
As a part of Prime Minister Sher Bahadur Deuba's 'kitchen cabinet', Batas maintained a strong relationship with the top leaders of CPN-UML including Yogesh Bhattarai. During the KP Sharma Oli-led government, the plan to turn Pashupati's dharamshala into a hotel became successful. By this time, it had been three months since Adhikari's death.
But now, the question is: was it just a coincidence that Bhattarai became the tourism minister when Batas was introduced in the heritage sector including Narayanhiti? An effort to find an answer reveals that you cannot blame Batas only for recent scandals. Rather, corrupt politicians and bureaucrats with a middleman mindset are more responsible than the trader.
Grabbing public property from Kathmandu to Pokhara
Some time ago, after Krishna Chandra Nepali Pokharel became the chief minister of Gandaki, the home province of Batas, Pokhara city's Chief Administrative Officer Mahesh Baral was walking in the front with a file in his hand while the businessman was following him.
The city was all set to block the Seti river at Ramghat in Pokhara and let the businessman extract stone pebbles from the river for 35 years even if it meant making favourable changes in the law.
The businessman had the full support of Baral and Pokhara Mayor Man Bahadur GC. The mayor, however, fell sick and could not reach the office due to health problems. But, Batas himself went back and forth to get the project in his pocket and completed all the procedures.
The rumours were that it was him who gave Baral his second tenure with the motive to take charge of Ramghat and Morekhare ghats. On the other hand, Baral wanted to conclude giving Batas the project before his second tenure. Baral made the process easier for the trader before he was transferred to the Ministry of Land Management, Cooperatives and Poverty Alleviation in Kathmandu.
Business leaders' seize of public property and their coalition with the political party leaders are common examples of how archaeological and cultural heritage sites are being handed over to private companies, by setting or amending business-friendly laws.
From an ordinary family of Tanahun to Pokhara, and from Pashupati's dharamsala to Narayanhiti and Patan Durbar, the success of Batas has been fast-paced. But, was it possible for him to become what he is today solely with his hard work?
The circle of corrupts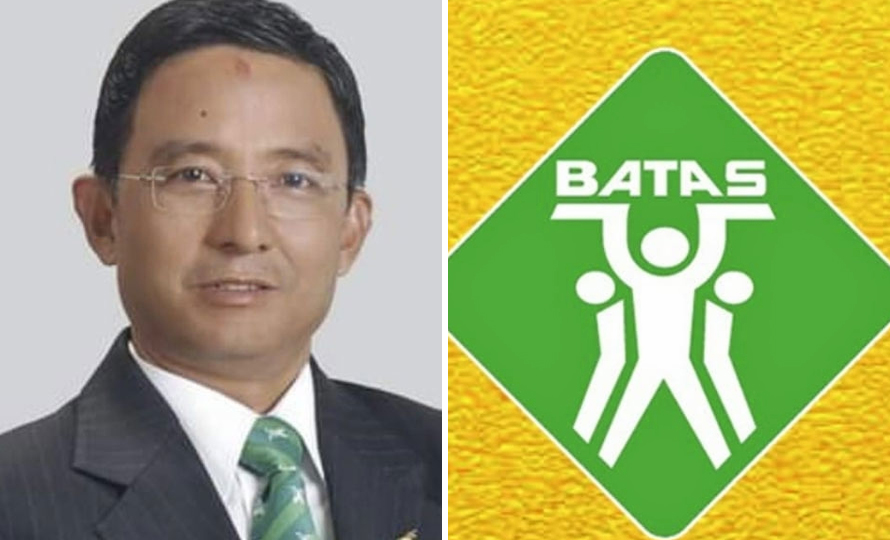 If not, who are feeding and producing traders like him? How can the government and its organs as well as political parties be so helpless while businesspersons are so powerful over them? Who is protecting them while they succeed in encroaching government property and assets?
According to Professor Pitamber Sharma, "Batas is nobody; it is a new version of Yeti and Omni groups. It is the result of the wrong practice and weak leadership of our political parties. The system we have created is such that we built such a tendency because that is the way they can survive."
After the news broke that Batas succeeded in seizing the heritage sites, it has been the centre of all discussions and criticisms. Yet, most of the major political parties are silent on the issue and turning deaf ears to any news related to him. Even Tourism Minister Prem Bahadur Ale's 'action' seems more propaganda-oriented than solution-oriented.
Meanwhile, Batas's closeness to incumbent Prime Minister Deuba and his family is also not a secret. Probably because the elections are nearing, Deuba has remained silent and not commented on the whole controversy. Discontentment among other Nepali Congress leaders has also not surfaced.
The opposition party, CPN-UML, led by former PM Oli, who oversaw the contract for projects from dharamshala to Narayanhiti, has also not made any comment on the issue. However, when Oli arrived in Jhapa a few days ago, he accuse the current government of renting Narayanhiti to a business. He further even said the current government is linking Batas to Oli, calling Batas his son-in-law, without a proper base to cover up its actions.
When Batas acquired the Manipal Teaching Hospital at an arguably cheaper price, Khaga Raj Adhikari, a CPN-UML member of the parliament from Kaski, spoke against the conglomerate.
But, when the Batas Foundation started a fundraiser for an impossible plan to have an oxygen plant, the people came forward and gave their financial support.
Fears about the future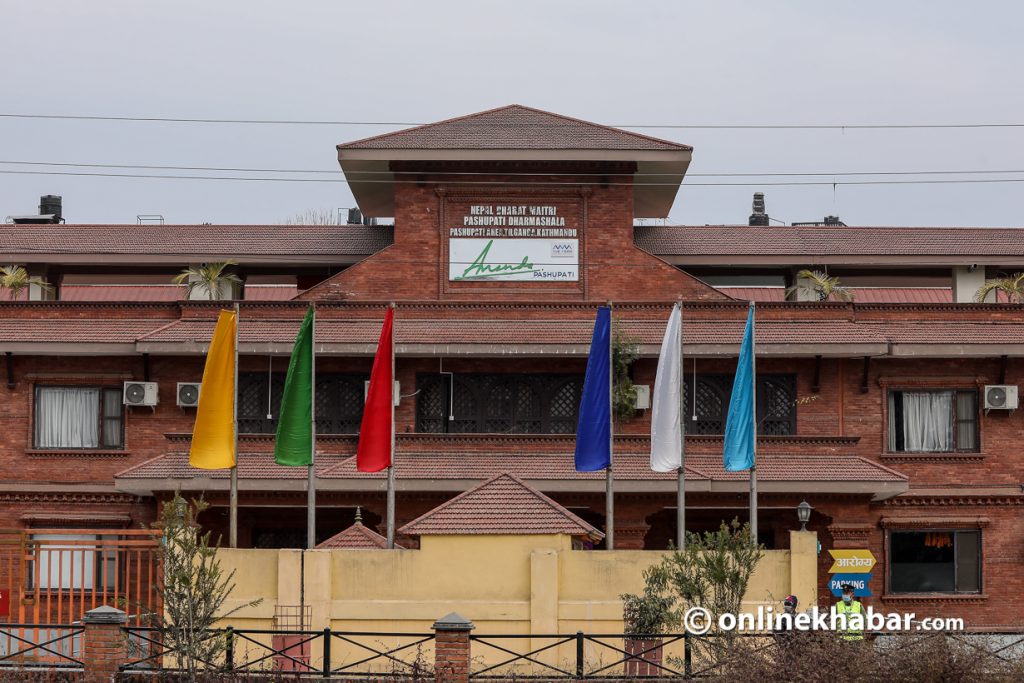 In Pokhara, leaders of any party, businesspersons, intellectuals and civil society leaders agree that the group seizing the public property is wrong, yet they do not want to create any hostility with the power centre.
Batas got protection and help to achieve his interests. He also collaborated with government officials connected to political parties and made an impact in the promotion and appointment of officials. He also learned how the judiciary was influenced and how even the Commission for the Investigation of Abuse of Authority has overlooked the problems, when convenient. Analysts say this is why the business group also got involved and succeeded in taking advantage of the situations.
"Lately, we have seen some groups coming forward in an alliance, in attempts of systematic looting the public property," says analyst and researcher Lok Ranjan Parajuli, adding, "The government body to investigate the abuse of power is participating in the game. The judiciary that is expected to check the reports is giving them a clean chit. Incidents related to Lok Man Singh Karki, Deep Basnyat, Raj Narayan Pathak, Cholendra Shamsher Rana and others involved in such scandals fuelled the fire."
Businesspersons like Binod Chaudhary, Umesh Shrestha, Moti Dugad, Rajendra Khetan, Durga Prasai, and Deepak Bhatta are interfering not only in the political system but also at the policy level, he adds. "Their involvement and influence have been worrisome."
"The way out, ideally, is general elections and the party's internal elections. However, those who do not have money are not allowed to participate in the general elections. Even if they do get in, their chances of winning will be very low. The recent general conventions of various parties and their results speak for themselves. So there is no room for improvement and I am hopeless regarding the change," says Parajuli.
Parajuli further says that even in a democracy, when no one is capable of speaking in front of the leaders, chances of change are slim. Sociologist Chaitanya Mishra adds it is further discouraging when there is no dialogue or discourse among the public.
"Who has been held responsible in the Baluwatar scam or the one related to the Phewa lake? There are many incidents like them and like that of Pashupati or Narayanhiti," says Mishra, "There should have been minute research and independent, unbiased report. But, the lack of it has affected the action and policy implementation."
"Batas is the talk of the town now. But, after 15 days, no one will speak about it; those writing will find new issues, and he will do what it is doing and wants to do. And people, tired and hopeless, will start siding themselves on the same side too. That is the most likely future," hints Mishra.