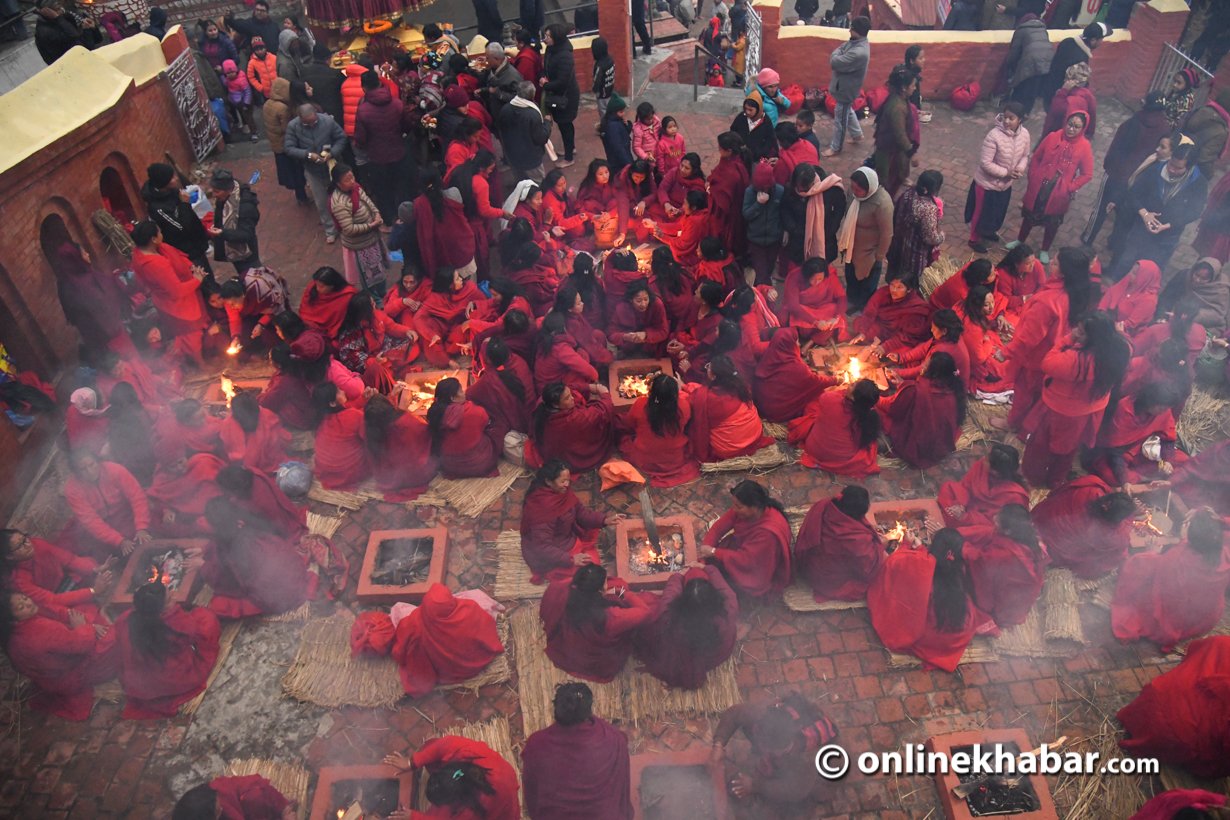 Whereas the monthlong Swasthani Brata, a religious ritual observed in the month of Magh (January-February), is a fun affair for many locals of Sankhu, an ancient town on the eastern side of Kathmandu, it means something different from Jeevan Shrestha. In the past two decades, he has been considered a living god himself every fourth Magh.
This Magh is also his turn to act as one among saptarshis, seven saints (saa: ba in the local Newari language) for the entire month. So it must be fun acting as a god? No, Shrestha shares it involves a lot of hardship.
Visiting the Shali Nadi area in Sankhu, you can find many other devotees who feel that the monthlong ritual involves a lot of challenges to their daily life. Yet, they do it–because they believe it helps them receive blessings from the goddess.
Too many restrictions
"It takes a lot of patience, endurance and a whole lot of faith in your belief to complete the brata successfully. For the whole month, we have to stay pure, avoid salt, avoid human touch, or any kind of luxury including the warmth of the bed, a roof over our heads, comfortable shoes, and even three-time food. It is very different from the fast we observe at home," he says.
For the specific part of the ritual involving Shrestha, the seven male members constituting the saptarshis come from seven different families. If a family has more than one men, they can share the responsibilities in turn. For example, there are three other men in Shrestha's family so his turn is every fourth year.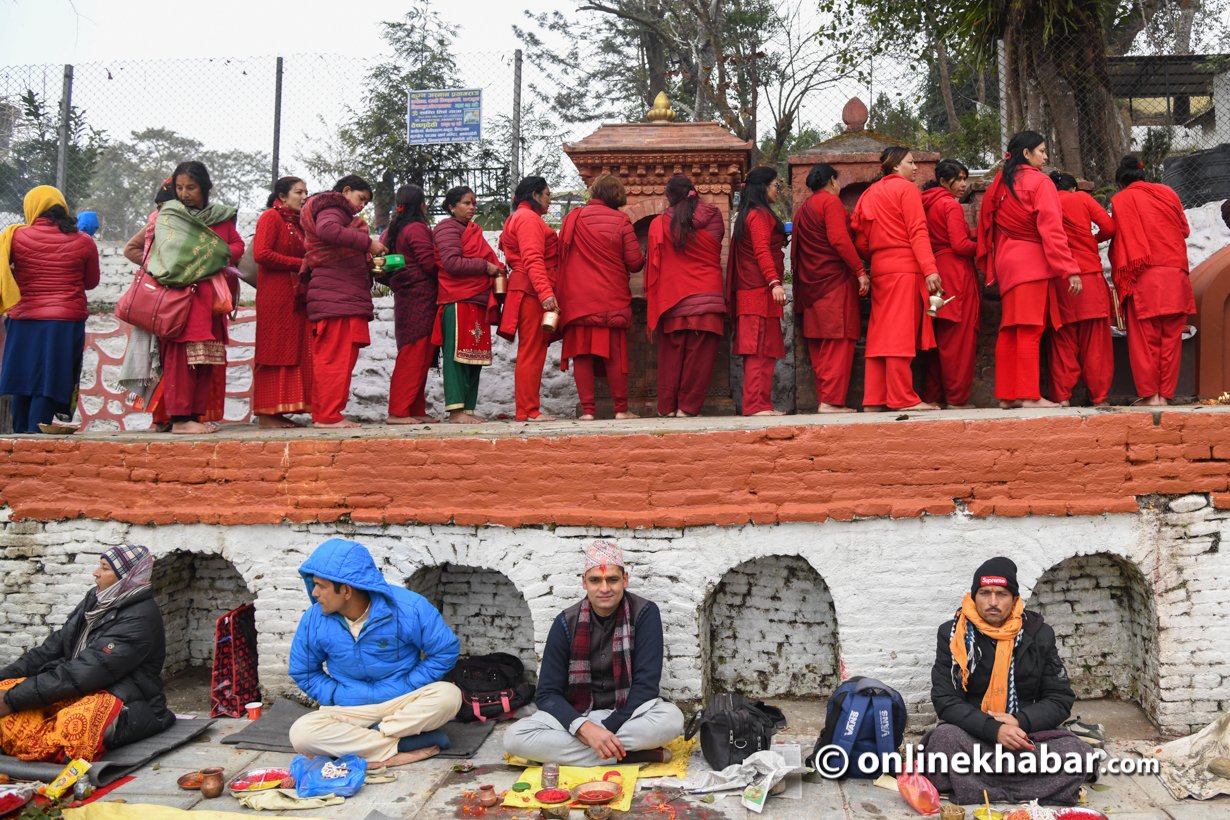 For the brata to begin on the full moon day in Poush, Shrestha has to shave his head, shower in cold water and complete a puja. "Along with that, we have to get up at 4 every morning, take a bath, perform pujas, and survive in a strict diet of rice, milk, molasses, ghee, Nepali red radish (daikon), oranges and apples, that we receive as offerings from the pilgrims," he adds.
Though the first days, the experience is really harsh. "We are used to living a comfortable life and coming here, following all the restrictions, takes time to adjust," he says, "But as the days pass, we get used to this and indulging in all the holy works gives us the strength to go on. And, in the end, we are blessed with what we wished for."
Risks and rewards
Whereas the brata is a part of a family tradition for Shrestha, there are hundreds who have left their home for the entire month, willingly, to observe the festival. Though they also share difficulties of the ritual, they say they do not have any qualms about continuing it in the next years.
Pabitra Basnet, a resident of Baneshwar in Kathmandu left her husband and two children, at home and came to the holy site to spend the entire month two weeks ago. The 37-year-old woman says  "I used to fast since eight every year, but it was under the comfort of my home and it was easy. I was under the impression that the fast here was the same, but it is very strict. The first two days were hard and it took time for me to adjust. But I have found a new strength to go on."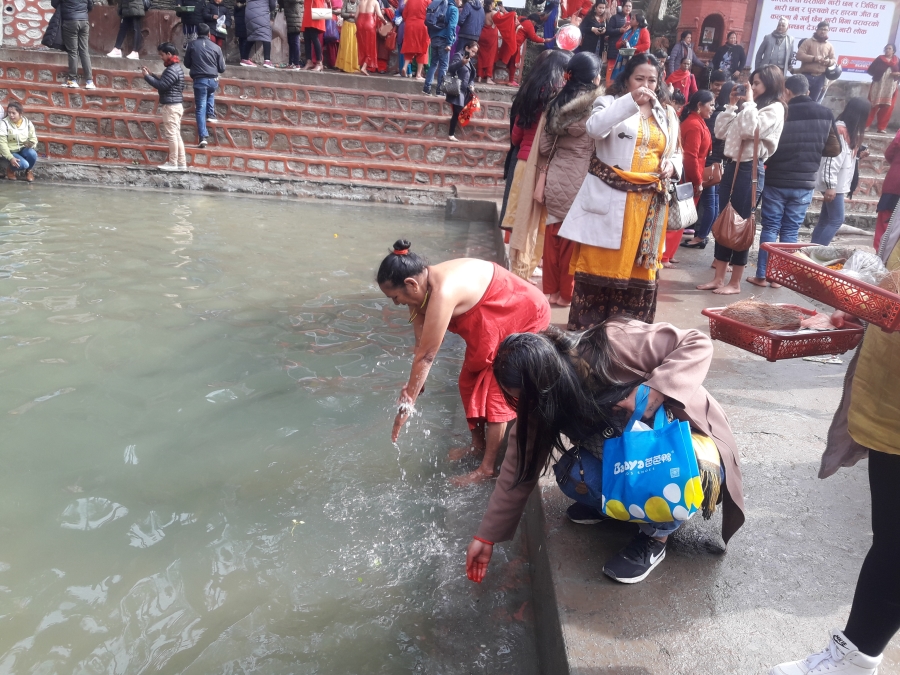 Yashodha Bhattarai, 41, from Biratnagar, has a different story. "I have diabetes. I used to take pills and follow a strict dietary plan to keep the sugar level under control. But ever since I came here, I have not had a single pill since it is not allowed."
However, the confident woman defends, "Yet, I have not experienced any discomfort in my body and I still have the strength to go on." She has a special reason that keeps her motivated, "Last year, I fasted and wished for my husband's promotions and my son's Australian visa. Both of my wishes got fulfilled. And this year, I am here to wish for my family's well-being, and I believe it will be fulfilled too."
The rituals of Swasthani
Swasthani brata is observed every year from the full moon day of Poush to the next full moon (of Magh). Hindu followers take a month-long fast this time of the year and read Swasthani Katha in their houses. From ancient times, the fast is supposed to be observed following strict rituals including taking bath every morning, eating once a day, reciting of Swasthani Katha, and indulging in other rituals.
Shali Nadi of Sankhu, which is mentioned in the mythological story, hosts thousands of people every year. There are a few hundred who stay there for the entire month and perform the rituals. They go to four religious sites during this month, on foot. On the 14th day, they reach Pashupatinath Temple in Kathmandu. The next day they reach Shesh Narayan Temple at Pharping. Similarly, they reach Tribeni Ghat, Panauti on the 19th day and Changunarayan on the 27th day. On each of the trips, everyone has to take a bath at each of the destinations, do puja, and come back to Sankhu to sleep.
On the 13th day, the men also go to the Bajrayogini Temple from Shali Nadi to offer their prayers. During this ritual called Dun Danegu, they cannot walk but have to lay flat on the ground with their hands stretched out front, and return in the same way.