Alcohol in Nepali culture is a controversial issue. In the multicultural country that Nepal is, there are many communities that accept alcohol whereas there are many that do not.
While some people consume alcohol in Nepal by choice others consume it for cultural and social reasons too. Therefore, based on the consumption, there are two types of people depending upon their alcohol consumption behaviours: Tagadhari and Matawali. Those wearing a janai on their shoulder (the Tagadharis) do not drink whereas others (the Matawalis) accept it as a part of their culture.
Alcohol is intoxicating and is usually associated with addiction and bad behaviour. Yet, globally, it has become a part of the culture. Similarly, alcohol in Nepal has an integral part in people's traditions and culture.
Here are a few communities that accept alcohol in Nepal as a part of their culture:
1. Kirat
In the Kirat community, mainly, alcohol is exchanged on three occasions. A marriage proposal within the community is not accepted by the girl's family unless the prospective groom sends them alcohol. Alcohol is culturally exchanged during other rituals such as sodhani, multheki and bhakah.
The community also uses alcohol for various rituals and to worship gods and goddesses.
Alcohol popular in the community is tongba. It is a traditional and indigenous home-brewed fermented beer.
2. Gurung
Similar to the Kirat culture, the Gurung communities also have a special place of alcohol in Nepal for marriage initiation. Marriage proposals start with the groom's family sending alcohol to the bride. Alcohol is also used as an offering to the deceased family members.
Gurungs of Mustang are popular for brewing marpha or apple brandy, a unique type of alcohol in Nepal. Mustang is famous for orchards of pear, apricot, and apple. It is brewed from fruits but has a strong taste that heats the body from the inside. The taste has reached urban drinkers today.
Jhaikhatte is another popular local alcoholic beverage common among the Gurung community. It is a kind of liquor coffee that is homemade and is coupled better with popcorn, spicy peanuts, or dried spicy meat.
3. Tamang
Apart from leisure drinking, the Tamang community also values alcohol in matrimonial proceedings. Here too, the groom's family needs to send 18 or 12 bottles of liquor to the bride's family. The ritual is known as Chukunlah Pong.
Even when someone dies, the community values alcohol the same. The community offers alcohol to the deceased.
4. Newa
The Newa community is probably one of the biggest communities that highly value alcohol in Nepal in their daily life as well as in social and cultural aspects.
The community is also popularly known to be brewers of alcohol at home. The Newa people make aila, a distilled alcohol that is strong in nature. Meanwhile, they also make thon, another sweet-tasting, home-brewed beer. It is a part of the popular Newa khaja set, samaybaji.
Apart from this, alcohol is also a big element during various pujas or rituals and festivals like during Indra Jatra, when devotees reach Swet Bhairav premises to consume the thon from the mouth of the masked deity. Paachahre is another festival when alcohol is strongly consumed.
Aila is commonly used when a person is given sagun, the auspicious blessing while praising them for their achievements. In social and cultural gatherings or feasts, aila is served as a social norm served by a woman, also by newlywed brides in feasts after marriage.
5. Sherpa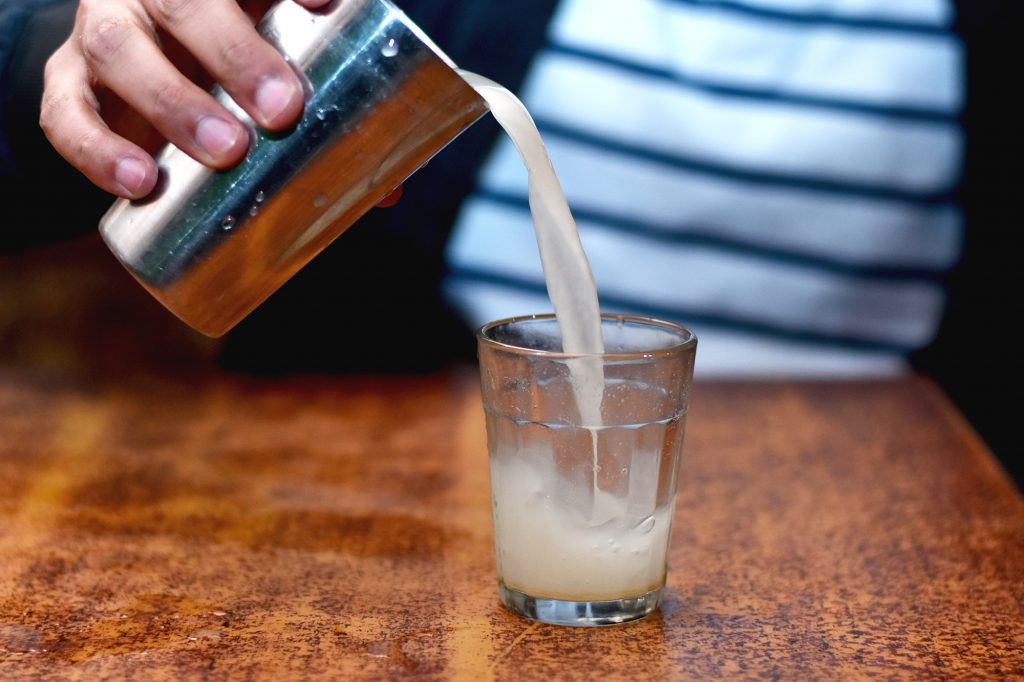 Sherpa is another community that uses alcohol in Nepal for various cultural purposes. They use it for wedding ceremonies and festivals extensively. It is also given to the new mothers, and it is called dejyang. Alcohol is also used as a business settlement, known as chhongjyang.
The Sherpa community also brew chhyang, a sweet-tasting beer.
6. Tharu
The Tharu community also uses alcohol during wedding ceremonies. Alcohol is offered to deities as deuryar and during the haircutting ceremony of a boy whereas alcohol is offered to deities to accept the ritual's starting.
Drinking and dancing are some of the core cultures of Tharus. The Tharu community is also one of those communities that brew alcohol at home called madh.
7. Magar
Different from other communities, in the Magar community, the newlywed couples are expected to go to the bride's home with a bottle of wine and a leg of goat. This ritual is called duran.