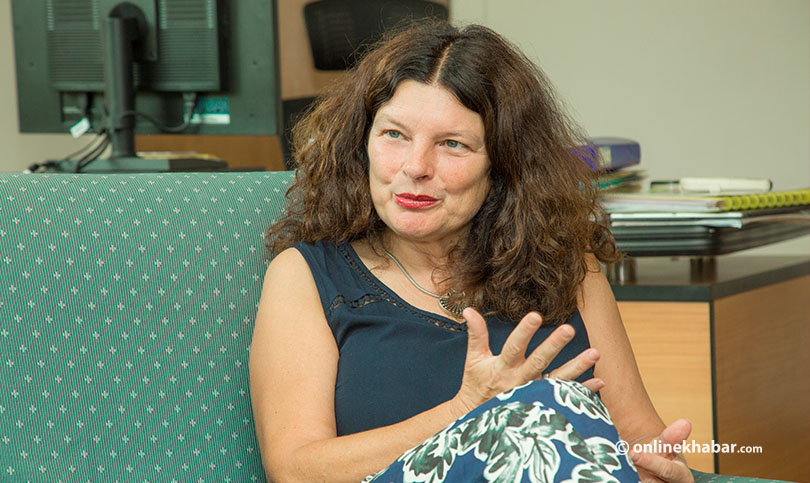 As thousands of devotees gathered in Basantapur to celebrate Indra Jatra in Kathmandu on Tuesday, the European Union's Ambassador to Nepal, Rensje Teerink, recounted to this journo her experience attending last year's festivities. She was invited to pull the Kumari Rath (chariot) and had felt quite privileged to do so.
"It was one of the happiest moments that I had in Nepal in the past four years," says Teerink, who was excited to take up her first ambassadorial assignment when the European External Action Service decided to send her to Nepal in September 2013. An anthropologist by training, she was working for the EEAS since 2004 and closely observing activities in Nepal, a country she had been to a few times.
"When I came to Nepal and started my job on September 17, 2013," Teerink shares, "I felt quite at ease as people here were very welcoming, friendly, open and fun. Later, it became quite uneasy though, first due to the earthquake, then with the blockade," she shares as she prepares to head to Dhaka for her new assignment as the head of EU mission in Bangladesh for the next four years.
"I am leaving Nepal with all good memories and a happy heart," the outgoing ambassador does not hesitate to express her 'impractical desire', "I wish I could have extended my tenure for four more years and stayed here, but that is not possible."
Well, there are some good reasons why the Dutch national is 'in love with Nepal'.
A 'fitting' term
Just two months after Teerink started working in Kathmandu, Nepal held the second Constituent Assembly elections in November 2013. There was a big contingent of observers from the EU and Teerink led it.
In 2014, Nepal's major donors helped the government establish Nepal Peace Trust Fund to ensure the implementation of 2006 Comprehensive Peace Accord and the EU Kathmandu mission assumed the Chair on behalf of the donors in the team.
Since then, Nepal has had some significant political achievements. "This country finally got the new constitution from the CA that was elected just after I came here," she reviews her Kathmandu stint exactly 11 days before she is to board the flight to Bangladesh, "Chronologically, my term is quite fitting as the country is completing the first round of all levels of elections as I am leaving."
"Nepal is on track of becoming a sustainable democratic country and I hope it will continue the journey more strongly. It will be nice for me to observe it from abroad."
However, she has some unfulfilled wishes. "I would have liked to see Nepal removed from the EU's civil aviation safety list, which unfortunately could not happen during my term."
"But, I can see the Civil Aviation Authority of Nepal has made some significant achievements and the International Civil Aviation Organisation has taken a notice of it," she hopes, "The European Aviation Safety Agency is holding a meeting in November and it may lift the ban on Nepali airline companies. It will be a significant step to promote tourism in Nepal."
Hope for regional connectivity
Undoubtedly, the European Union has been the strongest regional grouping in the 21st century world. As a representative of the organisation to Nepal, Teerink has kept an eye on Nepal's engagements with sub-regional, regional and international bodies.
The EU is an observer to SAARC and Teerink also acted as the official representative to South Asian regional body as the SAARC Secretariat has been placed in Kathmandu. "Regional integration helped the entire Europe develop," she says, "Now SAARC also needs to follow the EU model. We are happy that Nepal is actively participating in other regional groupings like BBIN and BIMSTEC."
However, she feels that political leadership of the SAARC member states does not have much will to take the movement ahead. The Secretariat has not been empowered to exercise executive rights including proposing and implementing legislation. It has just become a powerless administrative body.
She hopes if SAARC can develop systems like 'no visa' and 'same currency' as the EU has, it will be helpful for all members. Small countries such as Nepal can reap more benefits as such provisions significantly help regional and international trade and business.
"I am from Holland and we feel proud as a small country to have represented internationally through such an important regional organisation," she says, "Nepal can also achieve the same position if the systems are developed."
'Europe can learn many things from Nepal'
Teerink is not a career diplomat. Therefore, the anthropologist in her not only observed, but also engaged in Nepali society and culture.
"The Nepali society is still family-oriented. Here, you have an attachment with all members of your family; the family provides good care for elderly and children. These are the values which Europeans are tending to lose very slowly," she says, "And, it feels not good to me."
Of course, Nepali society also has some problems. Sometimes there are issue about inclusiveness as there is the age-old caste system and many social groups complain of being excluded and discriminated against. Teerink has noted these aspects too and wishes that Nepal would be more inclusive and democratic in the days to come.
"But still, there are many values that Europeans can learn from Nepal. Hospitality, generosity and friendliness in Nepalis are commendable. Likewise, we can learn many religious values including those associated with Buddhism."
That is why, it was not only last year's Indra Jatra; Teerink showed her curiosity and interests in most of the jatras of Kathmandu.
"These cultural festivals have always been my interests also because they are the occasions when everybody in the society feels included. People walk on the streets and all locals and bystanders welcome them."
Meanwhile, she remembers growing incidents of terrorist attacks in Europe in recent years as they create a sense of fear in people and deter them from public celebrations. "But, it is very nice that you are totally safe in Kathmandu jatras. There are crowds and mobs and you feel some congestion; but you need not worry."
On the other hand, rituals included in such festivals and stories behind them have also fascinated the anthropologist-turned-diplomat.
The undying spiritual connection
Teerink's mother died at the age of 90 in February this year, in Kathmandu. As the single child, the ambassador had brought her mother to Kathmandu when she got posted here in 2013.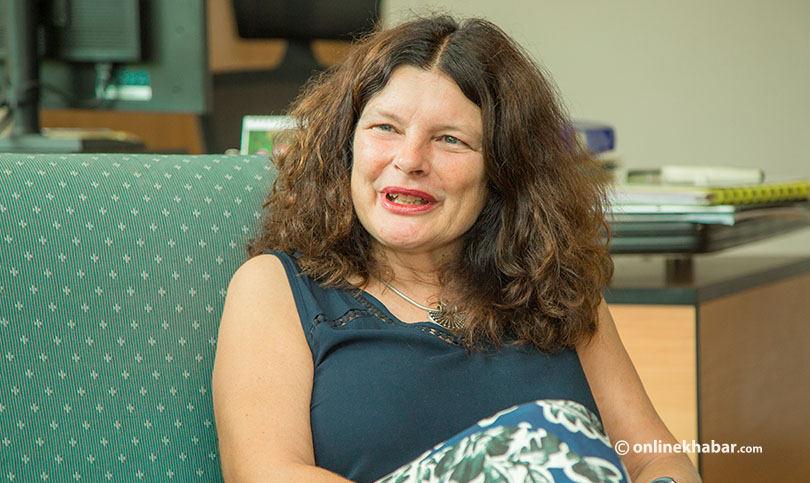 "My mother was cremated at Pashupati Aryaghat and I lit the funeral pyre as the single child of my mom, following Hindu rituals," a nostalgic diplomat shares, "Then, we also deposited some ashes in the Bagmati."
"Hence it always feels to me that my mother's soul is in Nepal and it will always be welcoming for me as my own home."
Cremation is in practice in some communities of Europe as well. "But, the rituals were completely different here. I feel very proud to have lit the funeral pyre, which generally only sons do here. The support and sympathy extended by my colleagues and friends in Kathmandu during the hard time is something that we cannot expect in Europe," she says, "When I told my friends back home about all the rituals, they were all shocked."
Before this also, she had participated in the weekly Bagmati Cleanup Campaign and developed an emotional connection with the revered river of Nepal. "I also made some good friends from Nepal during the cleanup campaign and they will be my friends for life."
During the stint, the ambassador managed some time to visit popular tourism attractions outside Kathmandu. She went to Solukhumbu, Mustang, Annapurna region and Bardiya. But, she is not satisfied with it.
"I wish I had some more time to explore Nepal firsthand," she says, "This is my selfish wish, but I feel the four years have not been enough for me to travel in Nepal."
"But again, I am just shifting to the next-door neighbour," Teerink consoles herself, "The one-way flight from Dhaka to Kathmandu is just an hour, and I hope I can come here once in a while and fulfill my incomplete wishes."