Canvasso Nepal is unique because it offers you pictures that you can hold within your palm.
A 21-year-old man's vision has surprised thousands of art lovers, mostly young people, in Nepal with mini-canvas artworks that they can get at a rate way cheaper than the price of general artworks and keep in their pockets whenever they want.
The foundational story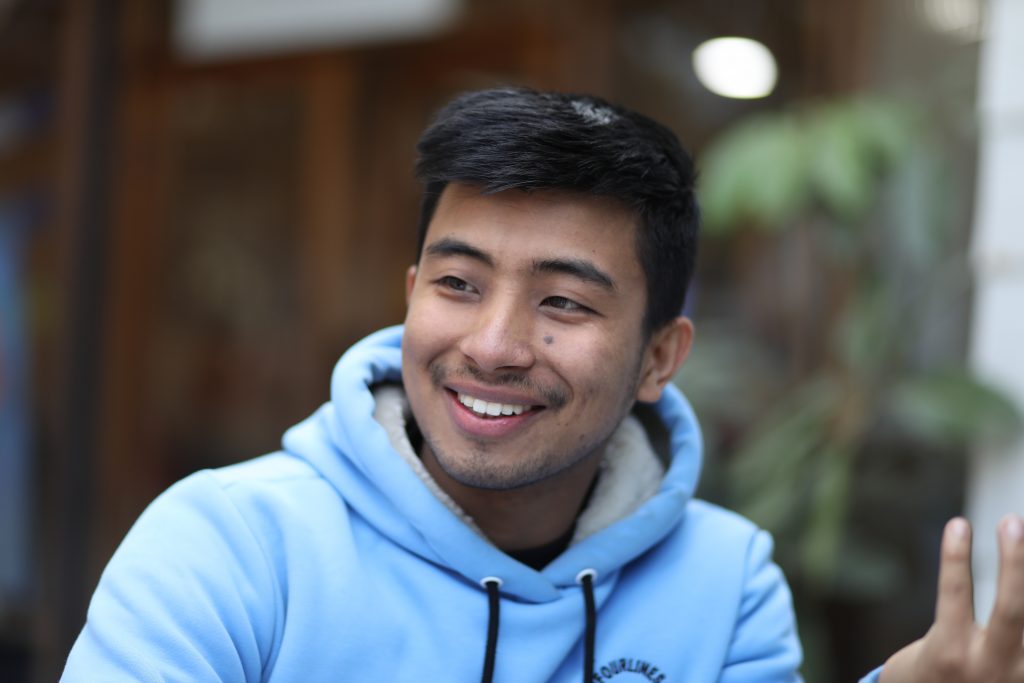 Aman Shakya, who is 22 now, is the man behind this startup launched in October 2020.
Shakya was 17 when he joined House of Palettes, a painting studio in Lalitpur, to work as an assistant to serve the customers and manage the paintings there.
"I had just joined 11th grade at that time. Yet, I decided to take the job to earn my pocket money," an exciting Shakya remembers, "But, gradually, my fascination with arts and paintings kept on growing while working there."
He then started learning painting while giving continuity to his work there and his study. Soon, he noticed that paintings are made, purchased and sold only on either big or medium-size canvas. "But, I always wondered if I could make paintings on mini canvas that one could hold in their hand."
After months of researching this idea, Shakya came up with Canvasso Nepal last year.
Making the art affordable
While working at the House of Palettes, Shakya found many people of his age consider personal portraits only as artwork. They usually want to give portraits as the most meaningful gifts to their friends, and families.
However, they cannot afford such paintings as the cost starts at least from Rs 5000, observes Shakya.
"I also used to feel the same. Although I wanted to give an art piece to my parents or friends, it would be so costly that a teenager like me could not afford it," says Shakya.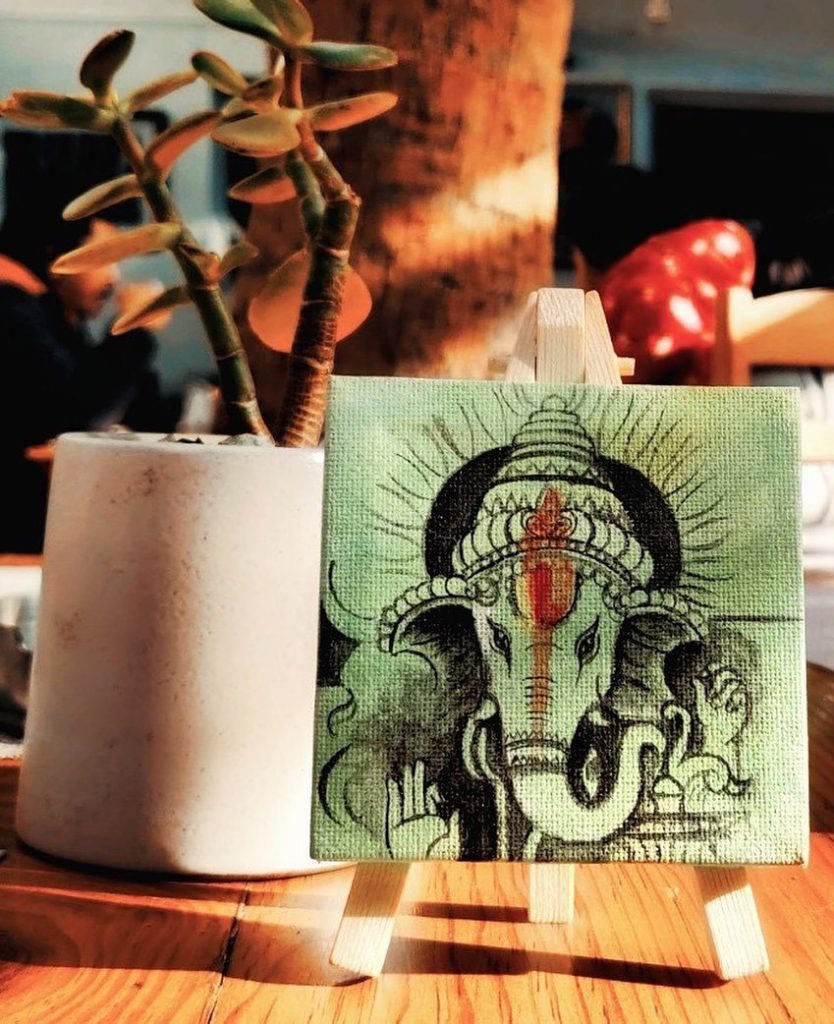 Hence, the world of fine arts and paintings attracted him closer day by day. "Everyone was making paintings on big and middle-size canvas. But, I was thinking how it could be done differently."
Shakya says, in the meantime, he saw miniatures bikes on social media platforms like Youtube and TikTok. That inspired him.
From there, the idea of making paintings on mini canvas struck his mind. Accordingly, he looked for the places from where he can source the mini canvases.
"I wandered around many places including Bhotahiti, Bhaktapur, and Patan. But, the people didn't show any interest in my idea," recalls Shakya.
Unexpected popularity
This continued for about six months. In the process, he knew that mini canvas was not readily available in Nepal. Then, he explored the Chinese market and ordered 10,000 mini canvases (3 inches X 3 inches) at the first lot, around six months before formally establishing Canvasso Nepal.
He then painted the canvas and gave about 10-15 such paintings to his aunt's souvenir store in Patan. But, as the sales scaled up in the store, the demand grew from other stores as well. "Although I received mixed responses initially, they were asking me to supply about 300 such art pieces at once," he shares.
He then thought of formally starting his venture, naming it Canvasso Nepal. Canvasso, as a word, Shakya says, is a blend of canvas and Picasso.
By this time, he had already sold out the first lot of mini canvases and was about to order the second lot.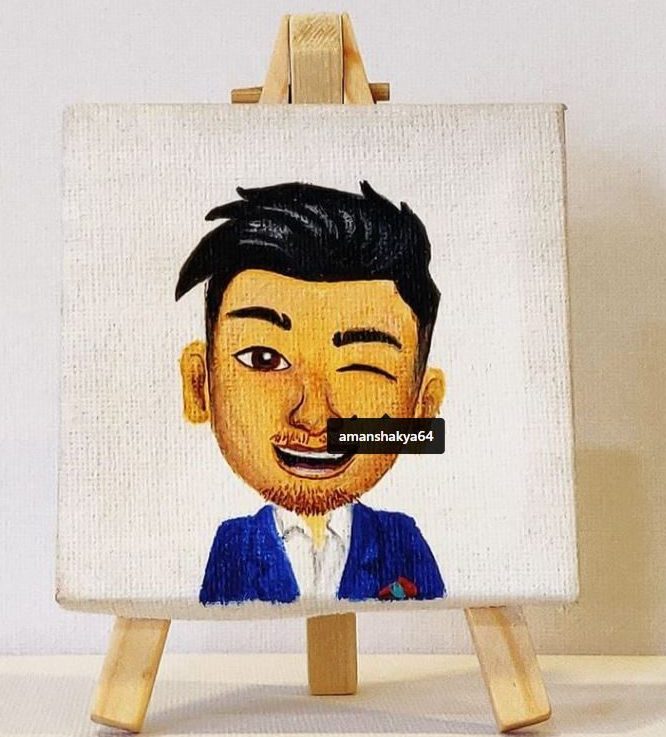 Shakya, who is currently pursuing a bachelor's degree in travel and tourism, then hired two students of fine arts in the team for handling the demand.
Shakya, initially, painted other pictures except for personal portraits. "But, one day, one of my brothers asked me if I could make a double-faced portrait of him and his girlfriend to give as a gift on their anniversary," he says, "I agreed and made one for them."
Following that, many similar orders came. He then made his own portrait in a cartoonish character and launched Canvasso Nepal's Instagram page uploading the very photo of that portrait.
"Now, we receive about 500-600 orders per month," he says, "Yet, it has been more of a family business as everything is based in my home. My mother makes boxes to pack the paintings and my sister handles social media pages."
As of now, there are eight artists working for Canvasso Nepal. And, the demand is so high that a customer has to wait for about two weeks to get their order delivered. His works have been exported to many countries including the USA, Australia, and Canada.
Shakya shares the monthly profit he earns from his startup is around Rs 100,000. One work from Canvasso Nepal costs Rs 800-Rs 1,000.
"Now, I want to combine travel and painting and am looking forward to starting Canvasso Nepal's studio and website. I want to form a team of great artists and explore different art forms."