Major Nepali and English newspapers published from Kathmandu on Monday had prioritised political issues among others. Prime Minister Sher Bahadur Deuba's decision to expand his Cabinet to make it 54-member has received the attention of all newspapers as this will be the biggest Cabinet in Nepal's history. Likewise, the endorsement of a bill on local level governance by the Development Committee in Parliament has also received significant attention.
As eight districts of Province 2 are waiting for the voting under local level elections scheduled for September 18, news reports about people's expectations from their representatives have also received prominence.
Important
Deuba expands Cabinet to reach record strength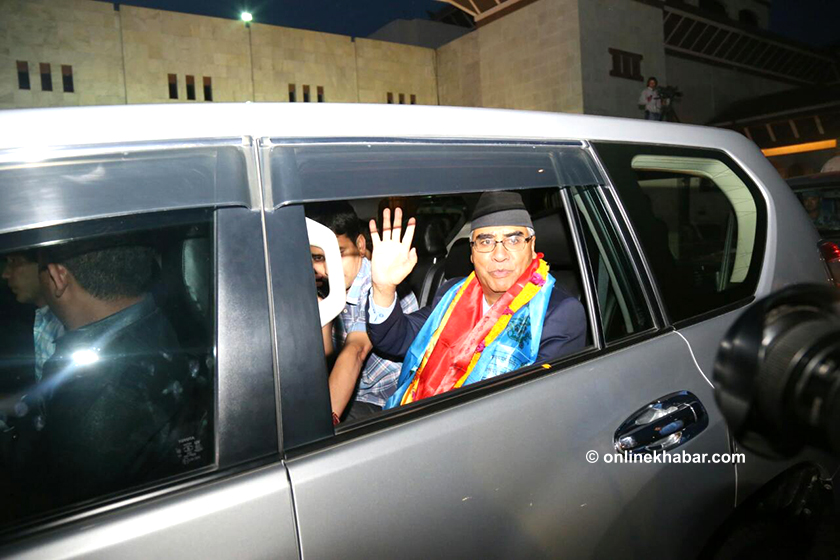 President Bidya Devi Bhandari is scheduled to administer the oath of office and secrecy to three new ministers who will join the Cabinet today. Likewise, Prime Minister Sher Bahadur Deuba will also induct one more state minister today itself. The induction of four new members into the Cabinet makes the Council of Ministers as strong as 54-member, which is the biggest in Nepal's history.
Rastriya Prajatantra Party-Democratic leaders Deepak Bohora, Bikram Pandey and Sunil Bahadur Thapa will join the jumbo Cabinet as ministers whereas the party leader Resham Bahadur Lama will be given the position of state minister, according to Republica lead story. Now, the Deuba Cabinet will have three deputy prime ministers, 27 ministers and 24 state ministers.
Earlier, the biggest Cabinet in Nepal's history was led by Deuba himself. He had 52 members in the Council of Ministers when he was the PM for the first time in 1990s, says Naya Patrika.
Meanwhile, the Election Commission has said the Cabinet expansion amounts to violation of the election code of conduct, according to Republica.
New local level governance law endorsed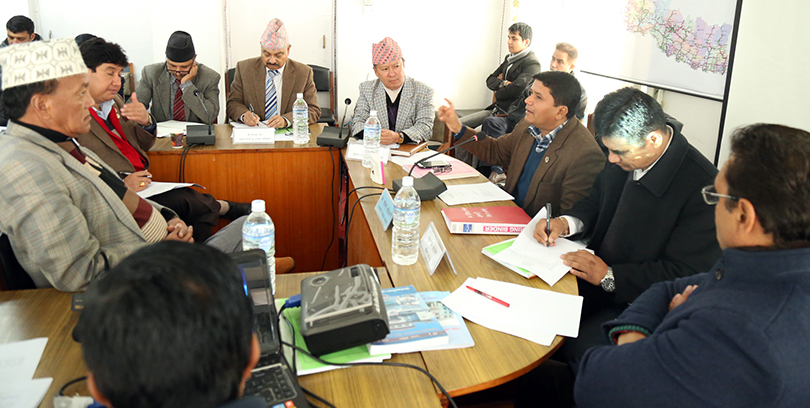 Parliament's Development Committee on Sunday endorsed a bill on functioning of local level governments on Sunday and many newspapers have covered the issue in the front page.
Though the local level elections have been over in six of seven provinces in the countries as earlier as May and June, newly elected people's representatives were in confusion as there was no law to guide them. Now, after the full House endorses the bill and the President enacts it, the law comes into effect, according to Kantipur lead story. The report says the bill will be tabled for decision in Parliament on September 19.
Besides explaining rights delegated to local governments by the constitution, the bill also has provisions for human resource management and fiscal management of local bodies.
According to The Himalayan Times lead story, the bill gives a right to the local governments to register land and issue land ownership certificates, call tender for sale of sand and clinkers, settle local level judicial cases and disputes and award licence for operation of FM radios.
Ignored
Suicide of Nepali migrant workers in foreign land on the rise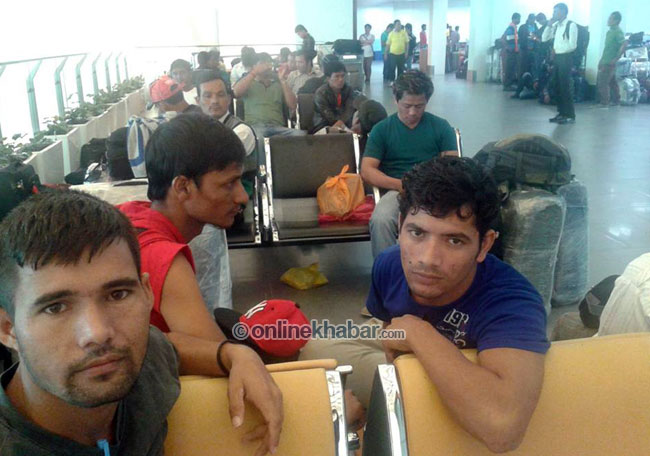 As the world marked the Suicide Prevention Day on Sunday, the cases of suicide increasing among Nepalis have also become an issue. In this context, Karobar has reported that the number of Nepali migrants committing suicide in the foreign land is also on the rise.
"Experts have suggested immediate prevention measures against increasing suicide cases in foreign employment," the report reads, adding at least 332 Nepalis working abroad have committed suicide in past few years. Of them, 27 are women.
However, stakeholders have said the number of suicides can be way bigger than the government record as many such cases go unreported.
It is interesting to know that more suicide cases happen in South Korea, Japan and Israel, which are known for better social security and labour laws than Gulf countries.
CIAA urges media, public not to question its probe
Nepal's anti-corruption watchdog, Commission for the Investigation of Abuse of Authority (CIAA) has urged media and members of the public not to raise any question against investigations it carries, reports Republica.
The report says the call from the constitutional body comes amidst growing public outrage over the sluggish investigations into high-profile cases and the mainstream media exposing a series of corruption scandals.
Complaints related to Nepal Oil Corporation's land purchase scam, embossed number plate system for automobiles, corruption involving Sajha Prakashan Chairman Dolindra Prasad Sharma and irregularities in granting affiliation to medical colleges have been registered at the CIAA, but it has not booked any of the accused as months have passed since the registration of complaints, the report reads.
The Commission issued the call through a public notice on Saturday, according to the report.
Interesting
Nepal Police alerted against entry of Ram Rahim's adopted daughter Honeypreet
The Himalayan Times anchor story says Indian police officials have alerted Nepal Police against likely entry of rape convict spiritual lead Ram Rahim's adopted daughter Honeypreet's into Nepal.
The report quotes 'security sources' that Indian police shared information, as well as photographs of Honeypreet, with Nepal Police along the bordering areas, including Kailali, Kanchanpur, Kapilvastu, Banke, Bardiya and Rupandehi.
Nepal Police Spokesperson DIG Manoj Neupane and Central Investigation Bureau Chief DIG Puskar Karki, however, said they did not have any information regarding the issue.
Meanwhile, Indian media have reported that police stations of Kapilvastu, Mohana, Shohratgarh, Debarua, Maharajganj, Lakhimpur and Bahraich districts bordering Nepal have been alerted.
---
Published on September 11th, Monday, 2017 10:09 AM
---
Download Onlinekhabar App. Android click here & IOS click here . Keep in touch with us on Facebook, Twitter & YouTube.