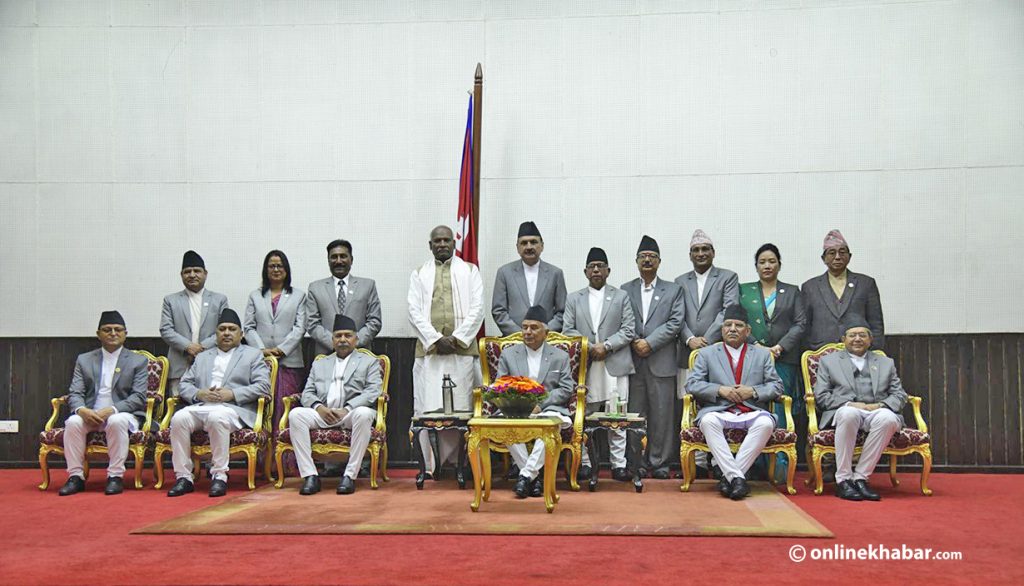 Kathmandu, March 31
Prime Minister Pushpa Kamal Dahal expanded his cabinet on Friday. But, with the latest cabinet expansion also, the Council of Ministers is incomplete.
The cabinet remained incomplete as the Nepali Congress did not send eight ministers as allocated thanks to a dispute between two factions in the party.
Likewise, the Rastriya Swatantra Party did not agree to join the government as it was not offered the portfolios it demanded.
On the day of Dahal's cabinet expansion, sitting Watter Supply Minister Abdul Khan resigned expressing his dissatisfaction over the portfolio.
Meanwhile, PM Pushpa Kamal Dahal managed to add one more minister from his party, Shakti Basnet, to the cabinet as the minister for energy.
The newly appointed ministers took their oath of office and secrecy from President Ram Chandra Paudel today.
Here is the full list of the Council of Ministers following the cabinet expansion as per the Office of the President.
SN
Name
Position
Portfolio
Party
1
Pushpa Kamal Dahal
Prime Minister
Law, Justice and Parliamentary Affairs
Foreign Affairs
Forests and Environment
Youth and Sports
Health and Population
Water Supply
Maoist Centre
2
Purna Bahadur Khadka
Deputy PM
Defence
Nepali Congress
3
Narayan Kaji Shrestha
Deputy PM
Home Affairs
Maoist Centre
4
Beduram Bhusal
Minister
Agriculture and Livestock Development
Unified Socialist
5
Ashok Kumar Rai
Minister
Education, Science and technology
JSPN
6
Sharad Singh Bhandari
Minister
Labour, Employment and Social Security
LSP
7
Prakash Sharan Mahat
Minister
Finance
Nepali Congress
8
Mahindra Raya Yadav
Minister
Women, Children and Senior Citizens
Nepal Samajbadi Party/Maoist Centre
9
Shakti Bahadur Basnet
Minister
Energy, Water Resources and Irrigation
Maoist Centre
10
Rekha Sharma
Minister
Communications and Information Technology
Maoist Centre
11
Sudan Kirati
Minister
Culture, Tourism and Civil Aviation
Maoist Centre
12
Aman Lal Modi
Minister
Federal Affairs and General Administration
Maoist Centre
13
Prakash Jwala
Minister
Physical Infrastructure and Transport
Unified Socialist
14
Ranjita Shrestha
Minister
Land Management, Cooperatives and Poverty Alleviation
Nagarik Unmukti
15
Ramesh Rijal
Minister
Industry, Commerce and Supplies
Nepali Congress
16
Sita Gurung
Minister
Urban Development
Nepali Congress
17
Sushila Sirpali Thakuri
Minister of State
Culture, Tourism and Civil Aviation
Maoist Centre