Saloni Shakya (21) and Saurav Mani Shakya (24) met through a Buddhist club in Patan. Saurav was on the executive committee of the club whereas Saloni was one among dozens of general members. Nonetheless, they do not know how they got closer to each other, but it was a different kind of closeness.
The duo used to only talk about business whenever they met. They say they always wanted to do something of their own. However, they did not have any business idea, which is why it used to be the most discussed issue between them.
However, following months of discussion, Saurav proposed establishing a chocolate brand as Saloni had done a diploma course in confectionery products after completing her school. Saloni also easily agreed.
After six long months of research as well as trials and errors, the duo finally decided to start a premium Nepali chocolate brand, named Yeju Chocolate Nepal, in November 2020. In the past year, the brand has been able to establish itself in a market dominated by foreign brands with a unique identity.
Luck during the lockdown
Saloni had just joined her bachelor's and Saurav was in the final semester of BBA when the first Covid-19 lockdown started in Nepal in March 2020. They say they actually had nothing to do at that time. Meanwhile, they participated in virtual sessions when several startup entrepreneurs of Nepal shared their experiences, thanks to a casual suggestion from Saloni's aunt, who is also an entrepreneur.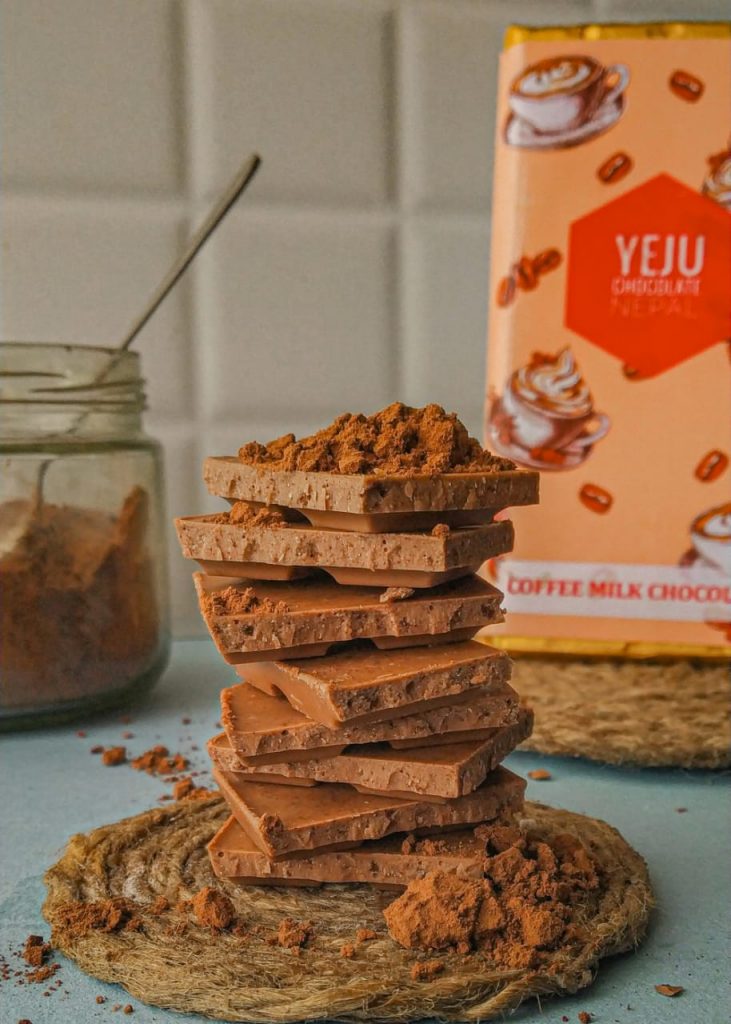 "Listening to them, we got exposed to the possibility of different business ideas in Nepal. It also motivated us to concretise our idea and execute it," shares Saurav.
After that, the duo researched different FMCG products (fast-moving consumer goods) that could be manufactured in Nepal. It is when Saurav proposed chocolates and they ended up with Yeju Chocolate Nepal.
They also thought of bringing some franchises of international chocolate brands but dropped it later deciding it was not easy. "We also realised if we can make quality chocolate here itself, there is no need to bring such a franchise," says Saurav.
Most Nepalis are used to the taste of limited chocolate brands like Dairy Milk and KitKat whereas they are still unaware of the multiple varieties of chocolates such as bonbons and truffles that the international market offers.
"We thought if we could offer a new taste to chocolate lovers of Nepal, it would work out. Also, there aren't any shops dedicated to chocolates in Nepal. There are shops for sweets, but not chocolates," Saurav says. "All of these showed us the scope of the chocolate business in Nepal. Hence, Yeju Chocolate Nepal is born."
They named it Yeju which means "loved ones" in the Newa language as people generally give chocolates to the people they love, according to Saloni.
Challenges galore
Nonetheless, the one-year journey of Yeju Chocolate Nepal did not become as sweet as its products. Saloni says it was quite difficult to make her family okay with her getting involved in her own business as all of them were in salary-paying jobs.
"Nonetheless, I had my mother's support from the beginning."
Saurav, whose family is in the jewellery business, shares, "Although my family did doubt our business idea a bit initially, they fully back us now."
"It was somehow difficult to make them come out of the 10-to-5 mentality. They didn't understand how much time and dedication operating a business required," expresses Saloni, "I faced some problems there. However, they are used to it now and are very supportive of what we do."
Although Saloni had a related diploma, Yeju Chocolate Nepal found it difficult to implement the right ideas about chocolate making, ingredients, and places to source the ingredients. "After researching for quite a while, we knew that we needed to import raw materials from India," says Saurav.
For this, they say they contacted one of their friends in India and imported them. "Still, we were not able to make quality chocolates; we wasted many chocolates and resources during that phase," he recalls, "As we didn't have a tempering machine, the texture of chocolates would not come smooth and perfect to match the quality of international chocolates."
The duo, in total, invested around Rs 50,000 initially into Yeju Chocolate Nepal. Later, they also reinvested the earnings into it. Within one year of operation, the company has just reached the breakeven point.
"By now, we have imported a tempering machine to perfect the texture of the chocolate. Meanwhile, we also perfected chocolate-making skills by learning from online videos and experimenting," says Saurav.
Slow and steady progress
Yeju Chocolate Nepal had started its operation with only three varieties, and today, it has over 20 types. The cost varies from Rs 30 to Rs 400.
"In the beginning, we gave it to our family, friends and relatives to try. They all liked it and supported our business through the word of mouth," informs Saloni.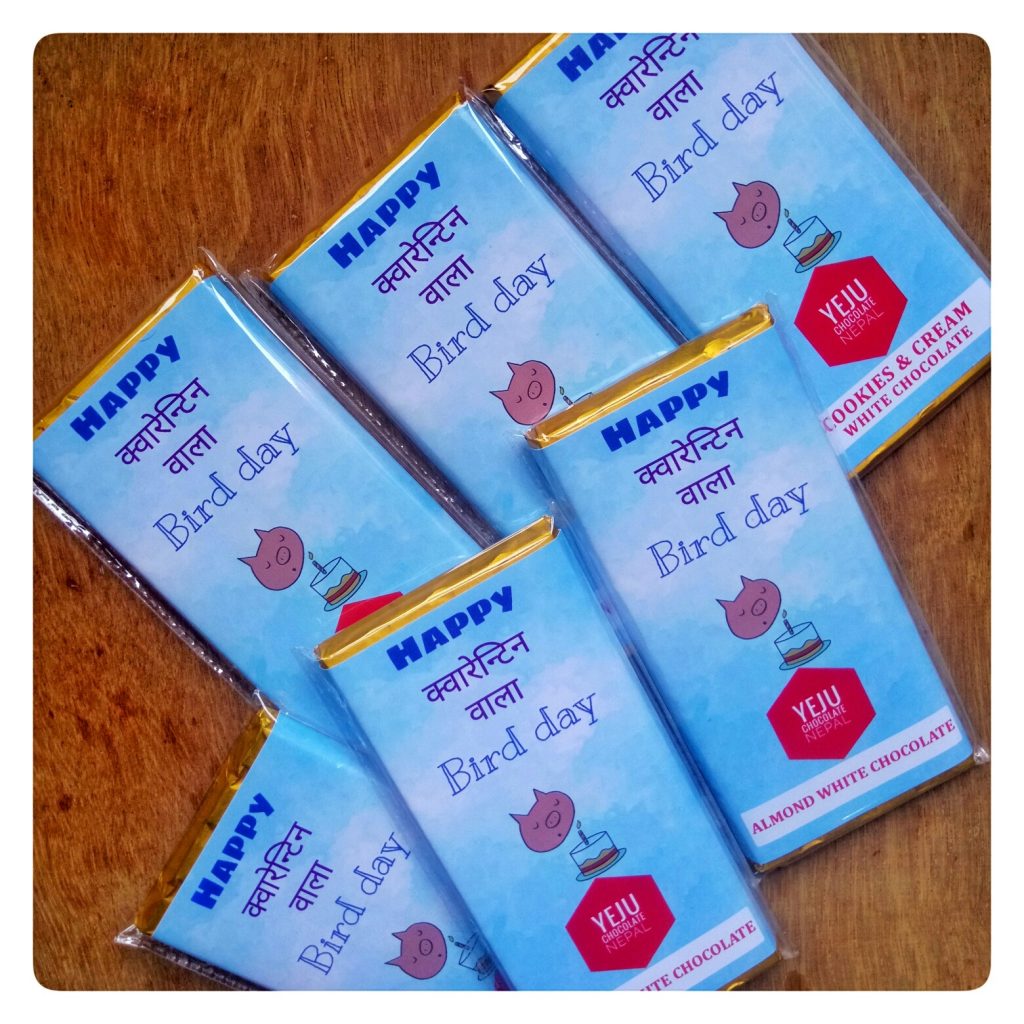 Saurav adds, " We also participated in events held at Labim Mall on different occasions. Since then, we feel our reach has broadened. After that, many people started coming to us for chocolates. We also got corporate orders."
In the meantime, Yeju Chocolate Nepal received an order on the occasion of Teacher's Day; the customers wanted it to do something special. "Then, we decided to customise wrappers," says Saurav. "We then printed the teacher's photo on it along with some written messages then."
Besides such occasions, the company has sold more chocolates in the wedding season also. Because it depends on the occasion, the sale, overall, regularly fluctuates.