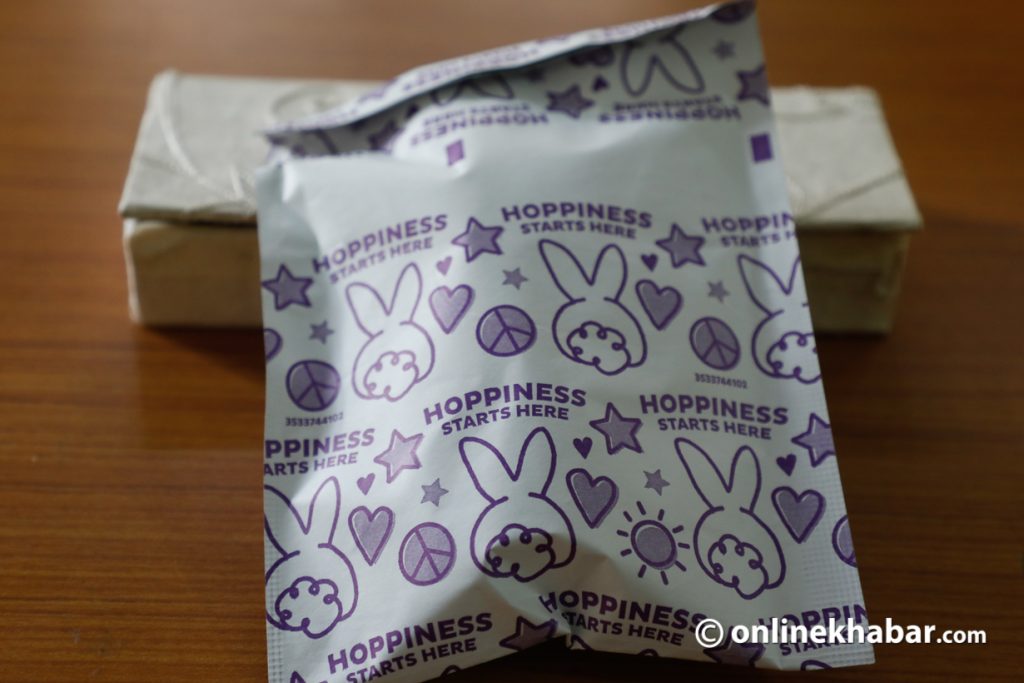 They say a person can change the destiny-not by wishing for it, but by working for it. Aareeka KC, the founder of Muon Chocolates, thinks she has already proved this adage in her life at a young age.
She recently changed her destiny by launching an enterprise while continuing her job somewhere else.
In 2019, Aareeka KC participated in a college event titled Entrepreneurship Development Programme while she was doing her MBA. There, the students were supposed to exhibit and sell their products.
KC chose to display self-made chocolates.
"I was not so confident about the sales of the homemade chocolates, but to my surprise, 200 pieces were sold out within a few minutes at Rs 15 per piece," KC shares, "It created a hullabaloo at the event. The response that I received there still makes me happy and proud."
Till then and many years after that, KC had not given a thought to making the chocolate commercial. Even for two years after that, homemade chocolates remained just a passion. She would occasionally make them.
In 2021, she decided to commercialise chocolate-making, giving birth to Muon Chocolates, which she wants to grow as a popular chocolate brand in the country.
Business opportunity within an existing employment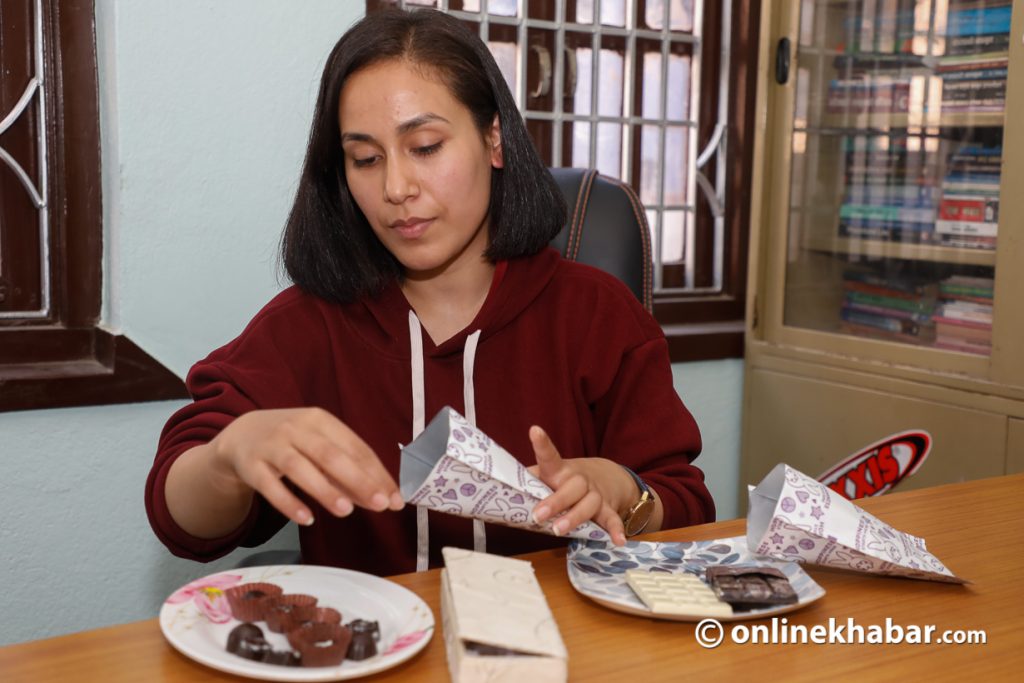 After completing her degree, KC began working for an insurance company.
"Some day, I asked my colleagues to taste some of my chocolates. They were really impressed with the taste of the chocolates and their response was amazing," says KC.
Thanks to her colleagues and the power of word-of-mouth marketing, the company asked her to make the chocolates in bigger volumes. "I accepted the deal. The company wanted my chocolates to give to the customers as a gift," says KC.
It was a win-win situation where KC was able to earn some extra cash and in doing so, the company even reduce the cost of small gifts for customers. Hence, she accepted the deal and then the rest, they say, is history as the deal worked as the piloting of Muon Chocolates.
The response from the insurance company did not just make her happy but it also boosted her confidence.
Moreover, KC is grateful to her father, Boni KC, as he has been a great support to the inception of Muon Chocolates. With the support of her father, she successfully completed the orders set by the insurance company. She says her business would not have come this far if she had not had her father's support.
"The insurance company became happy with our work and they again ordered the chocolate in bulk during Dashain," says KC.
Getting out and beyond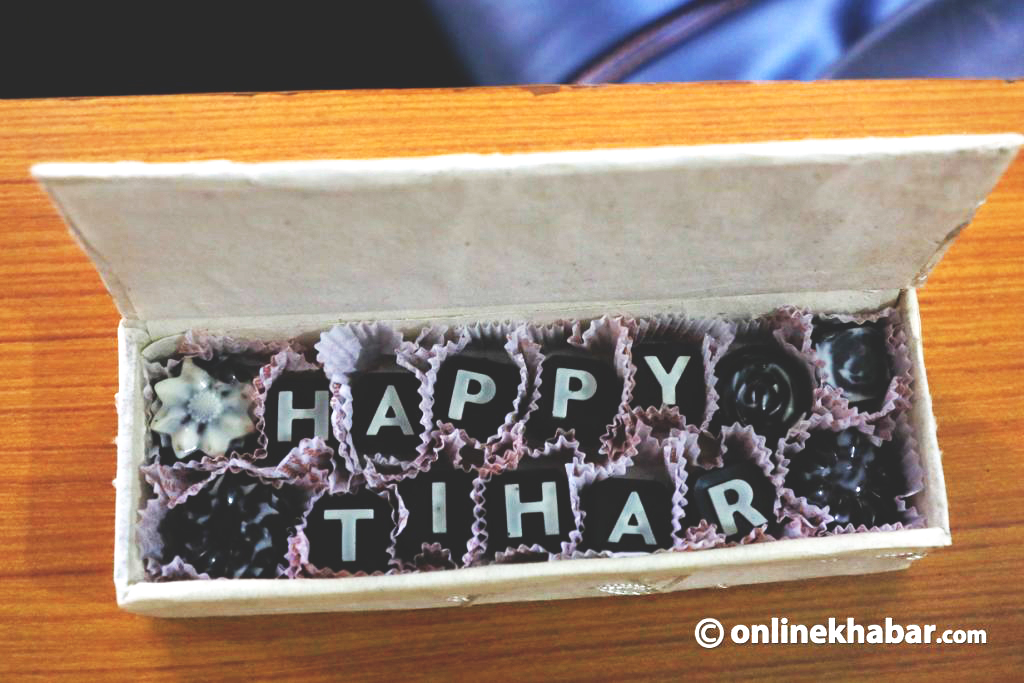 Gradually, she started getting orders from others as well.
To give the business a professional shape, she named her product Muon Chocolates, which she derived from two words — me on you. The term also has meaning in physics.
Lately, the number of local chocolate manufacturers is flourishing in Nepal, and almost all of them have their specialities as each of them stands out from the rest.
Along with the quality and taste, the other thing KC believes makes the Muon Chocolates different from others is its packaging. They are made up of Nepali paper featuring some stylish designs. The chocolate boxes are designed by her father.
"We try to use plastics as little as possible in our products," says KC.
According to her, the price of the chocolates ranges from Rs 200 to 350 per packet. It also produces customised chocolates in a wider price range.
Foreseeing the future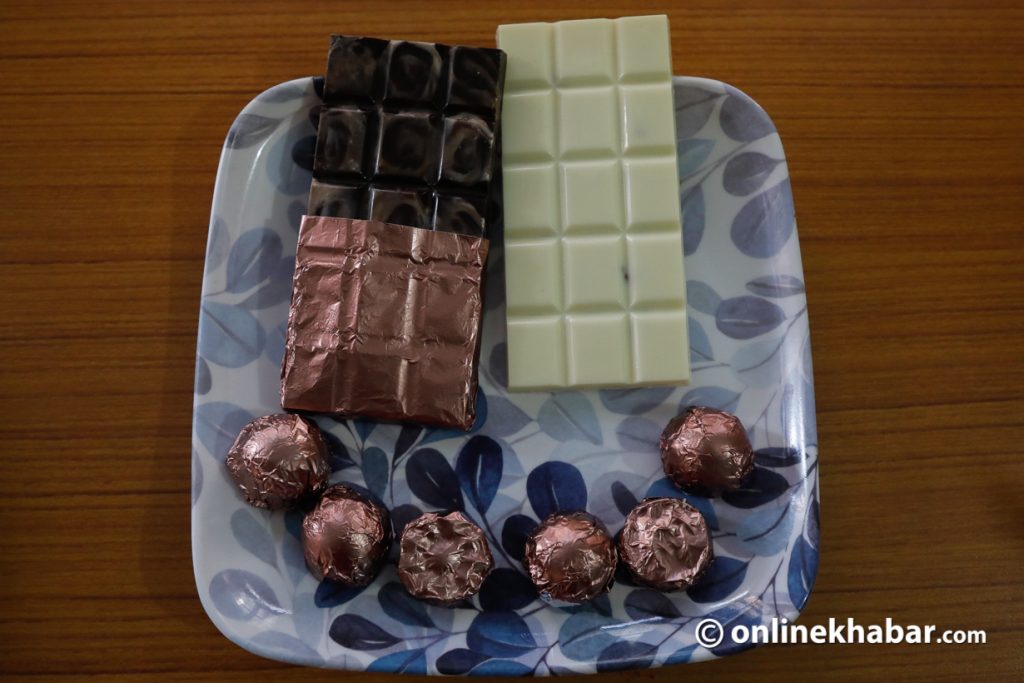 Muon Chocolates at present has its products in various flavours ranging from dark and semi-dark to white chocolates and many others. It also has oat chocolates, one of its unique offerings. The oat chocolate is very helpful for maintaining stamina, especially during trekking hours, says KC.
Similarly, the flavours can also be customised.
Currently, KC is running the chocolate business from her own residence in Bhaktapur. Most of the time, she receives the order from personal contacts or through Muon Chocolate's official Instagram account.
Although KC still has not been able to take the business into a larger market, she is happy with whatever responses she has been getting from the customers. Nevertheless, KC, who currently works in an IT company, wants to extend the business very soon. She is also planning to make the chocolates available in different physical outlets.
The brand also holds special prowess in customised chocolates. And as a result, it gets a notable volume of orders during festivals such as Dashain, Tihar, Teej and Valentine's Day as well as occasions such as birthdays and others.
KC now aspires to use more creativity in Muon Chocolates and make her products additionally worthy to eat. She says, "My friends and well-wishers have been continuously pushing me to do so."