>>After a crash in vulture populations in South Asia in the 1990s, several species are rebounding in Nepal thanks to a ban on the drug diclofenac along with community efforts.
>>"Vulture restaurants" have been opened to save the birds from extinction by providing them with safe food and building awareness of their imperilled status.
>>Conservationists say broader efforts, such as regular monitoring of the remaining population and conservation of their habitat, are needed to save vultures.
PITHAULI, Nepal — A quiet cattle grazing ground on the fringes of the Chitwan National Park in southern Nepal suddenly burst into life. Tall trees wearing shades of green after overnight rain were abuzz with around 150 vultures of various species. And within a matter of minutes, almost all of them darted towards the ground to pounce on food literally laid on a platter.
Around half a dozen tourists, university students and local researchers watched in awe as one of nature's most prolific 'cleaners' devoured a dead cow.
"The food we offer to them is free from diclofenac, and hence it is safe," says Ankit Bilash Joshi, a field biologist. The drug diclofenac began killing vultures during the late 1990s. This drug relieved old or sick cattle of their discomfort, but it poisoned vultures.
"Once a cow died," said ornithologist Hem Sagar Baral, who is now the Country Representative of ZSL in Nepal, "herders would dump them next to a river, and vultures would eat the carcass. Food was super-abundant for vultures back then."
The introduction of diclofenac changed that. When an animal full of the pain-killing drug died, vultures fed on the carcass, ingesting the medicine, which remained in the body of cattle for up to a week.
The drug spikes uric acid levels in the blood and develops visceral gout in vultures, which prevents the kidney from filtering uric acid and kills the bird. According to Bird Conservation Nepal (BCN), a contaminated carcass can kill around 350-800 individuals.
Until this period, vultures lacked protected status because they were relatively common. "Those days, we had a vulture crisis in South Asia, including Nepal," remembers Baral, who worked on campaigns to rid the region of the drug. Of the around 1-1.6 million vultures that roamed the sky in Nepal, only 20,000 survive at present, according to Bird Conservation Nepal.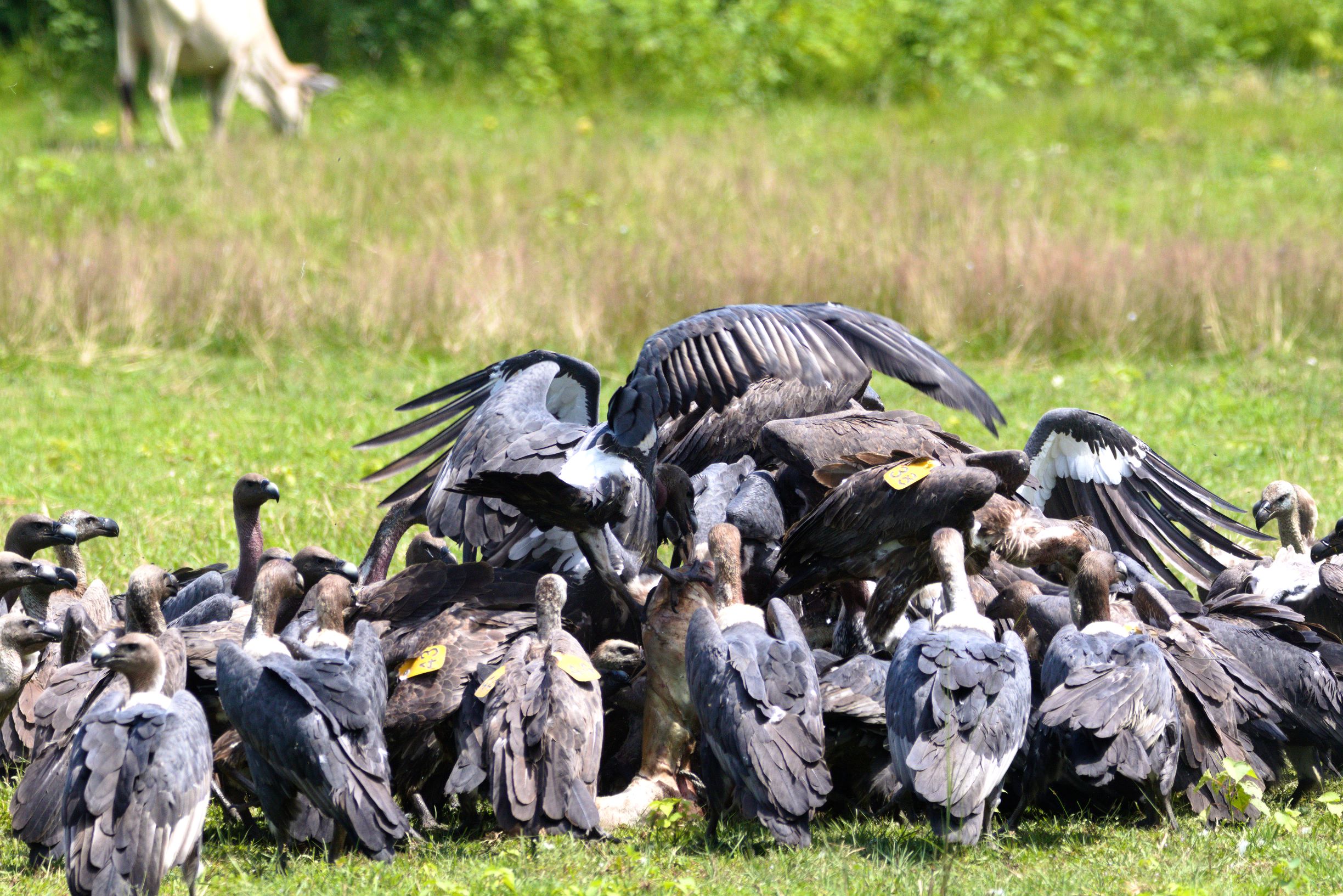 Vultures typically lay just one egg every year, so their populations could not keep up with the rapid loss of adults.  "The population of vultures (mainly the white-rumped [Gyps bengalensis] and slender-billed [Gyps tenuirostris], two species now categorized as critically endangered on the IUCN Red List) that remained was a decimated one," Baral told Mongabay.
While international scientists suggested that a ban on the killer drug could help the population recover (the government did ban the drug in 2006), Baral, who has been studying vultures in Nepal for two decades, had a hunch that changing cattle rearing practices in the sub-continent could have contributed to the crisis in many ways. "First, cows native to Nepal and other parts of South Asia are very unproductive. People had to raise a lot of cows, for a few litres of milk."
But as new hybrids were introduced, productivity shot up–one hybrid cow could produce more milk than 10 local cows. This led to a decline in the population of cattle, which had been a vital source of food for vultures, Baral explained. "To add to that, people started burying dead cattle because of changes in sanitary behaviour, which further decreased the vultures' food supply.
A local solution
Baral, then CEO of BCN, wanted to provide safe food for vultures. He and DB Chaudhary, a local resident of Pithauli who was also monitoring vultures, came up with an idea that unwittingly resembled the 'vulture restaurant' model developed in Africa in the mid-1960s.
But there was a caveat. "Vultures in India and Nepal are more reliant on dead livestock than their cousins in Africa that get plenty of dead wild ungulates to feed on," Baral said.
"The problem with cattle is that when they get old, they become a burden for farmers. They want to get rid of them, but due to religious reasons, they can't do so—Hindus revere cows," explained Chaudhary, who has been working in the field of conservation and biodiversity for over 25 years. "So we'd buy the old cattle from farmers and feed them to the vultures," he added.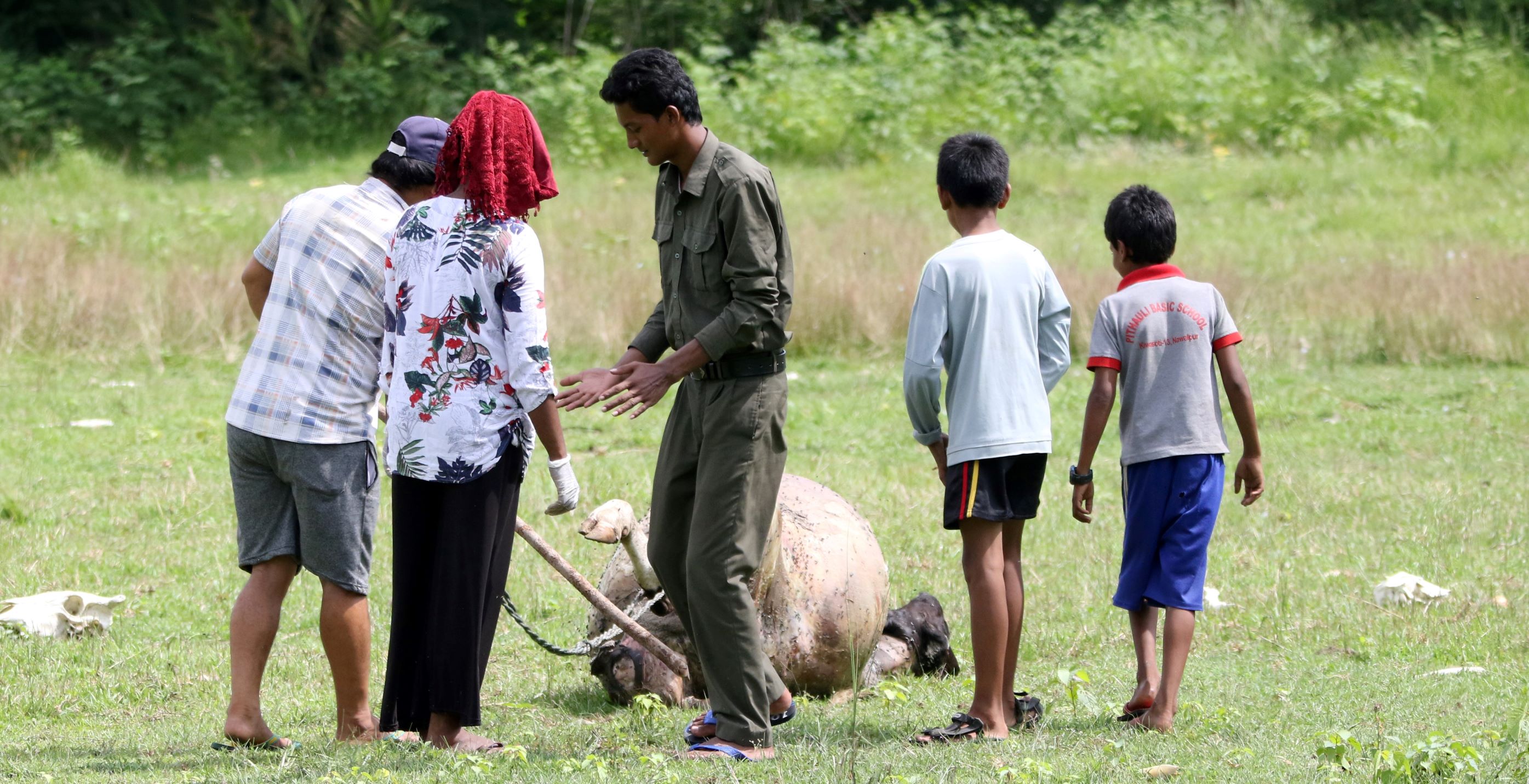 With support from BCN, the idea finally broke ground and a 'vulture feeding zone' was established in 2006. Some of their early challenges included local perception of the project.
Word soon spread that Chaudhary was killing cows and feeding them to vultures. "Rumors had it that I slaughtered cows—doing so is illegal in Nepal—and fed them to the vultures," Chaudhary said. "One day, top army and police officers from the area came to visit and asked me to explain what I was doing. Everyone in the community was certain that I would be arrested," he added. But the security officers loved his idea and asked him if he needed any support. "We don't kill cows, we look after them. We feed them well," said Chaudhary, a proud founder of the Jatayu Vulture Restaurant. "And when they die due to old age, we feed them to the vultures, who don't eat living beings," said Baral.
There were sceptics who said that the feeding program would make vultures lazy and they would lose skills to look for food in the wild. Others argued that if vultures got better food in India, they would migrate south of the border and all activities designed around the restaurant would fail. "Fortunately, none of that has happened," Chaudhary said. In fact, a satellite tagging project showed that vultures that 'dined' at the restaurant have travelled as far as Pakistan.
To start the restaurant, BCN teamed with the local community forest user group. "This helped the cause a lot as the local people took ownership of the project," Baral said. "When we came up with the idea, I didn't know that vulture restaurants were already popular in different parts of the world," said Chaudhary. "Vulture restaurants were already in operation in various parts of Africa and Europe when we started it in Nepal. But what sets our restaurant apart is that the local community, not a business, manages it."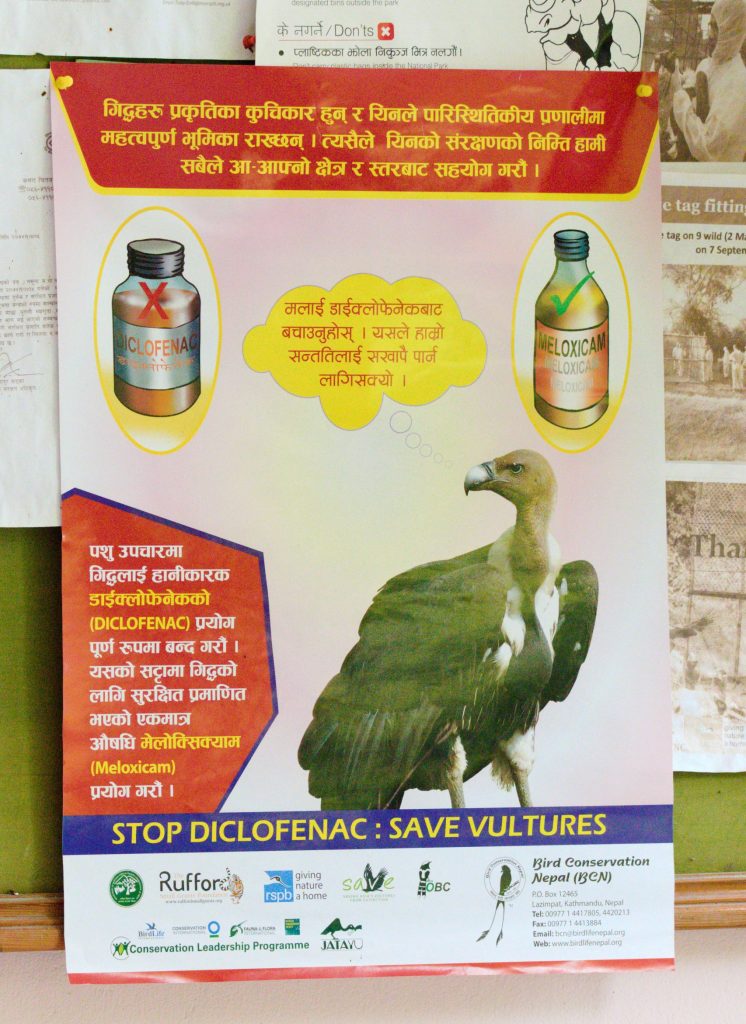 There were other factors that led BCN and Chaudhary to choose the village of Pithauli, Nawalparasi for the restaurant. "We decided to base the safe feeding zone, which we renamed as 'restaurant' because it sounded more trendy, because the area had a remnant colony that could be revived Baral said. "The bonus for us was that the area was close to Chitwan National Park, which welcomes thousands of tourists every year. We did not have to 'create' new tourists to come visit the restaurant."
Baral and Chaudhary, along with the local community, decided to brand it as 'Jatayu', the most famous vulture in Hindu mythology. They also decided to build a shed from which tourists could watch the vultures safely and an information center where people could come to learn about vultures. Preparing funding proposal for the UNDP small grants program in 2007 helped them refine their idea.
While the grant and support from other organizations such as the International Trust for Nature Conservation and the Royal Society for the Protection of Birds would help set up the basic infrastructure for the restaurant, the community would run the restaurant using revenue generated by various means, including selling cattle skin and excreta (for compost), and potentially, homestay units for tourists and scientists coming to the restaurant. The restaurant would be managed by a sub-committee of the local community forest user group.
Impacts of the program
Thirteen years after its establishment, the program exceeds expectations. While tourist numbers have been encouraging, selling of bones and hide has not yielded a lot of revenue as it takes time for the bones and the hide to pile up to a quantity that can be sold in bulk. A recent survey by BCN showed that 31 percent of the people in Pithauli agreed that ecotourism has brought changes to their economic status. Similarly, 83 percent of the respondents said their lives would be affected by a decline in vulture population. Around 97 percent agreed that use of chemical medicine for livestock treatment killed the vultures.
"We saw that the restaurant's location near the Chitwan National Park was critical, as it helped bring in tourists, who would not have otherwise gone there just for the restaurant," said Baral. "Our experience has been similar in Ghachok, where we have established another vulture restaurant near the resort town of Pokhara," he said. "Other vulture restaurants that lack the tourism angle have had limited success," he explained.
Nevertheless, there are now more than half a dozen vulture restaurants around Nepal that run on similar models. Around Pithauli, the number of vulture nests has increased exponentially. Recent vulture population estimates in Nepal are around 80 percent of the population recorded in 2002.
A Google search of the term 'vulture restaurant' throws up results from more than 10 different countries where the idea is either being discussed or is already implemented. For example, the South Asia Vulture Recovery Action Plan (2006) stressed using vulture restaurants to provide safe food and augment existing food sources. In Cambodia, where diclofenac was banned only in July 2019, the Vulture Action Plan (2016-2025), recognizes the contribution of six vulture restaurants, first of which was established in 2004, and calls for sustainable finance to support such feeding sites.
Challenges
Chaudhary and his community members face a host of challenges running the restaurant. "We wanted to run a homestay facility here, but that did not work out well" he said. "In addition to that, diclofenac is still in use in various parts of India, and vultures that get safe food in Nepal may die across the border." He added, "after the recent local elections in Nepal after more than two decades, new representatives have taken office, and it is difficult to explain to them why what we are doing is important."
But these are challenges that can be overcome with time, Chaudhary said. His advice for other projects looking to emulate the success of the restaurant: get the community on board. "The project would not have been this successful without community ownership," he said. Linking conservation with means of livelihood (such as tourism) is important, added Baral because it gives people the incentive to conserve the species in question.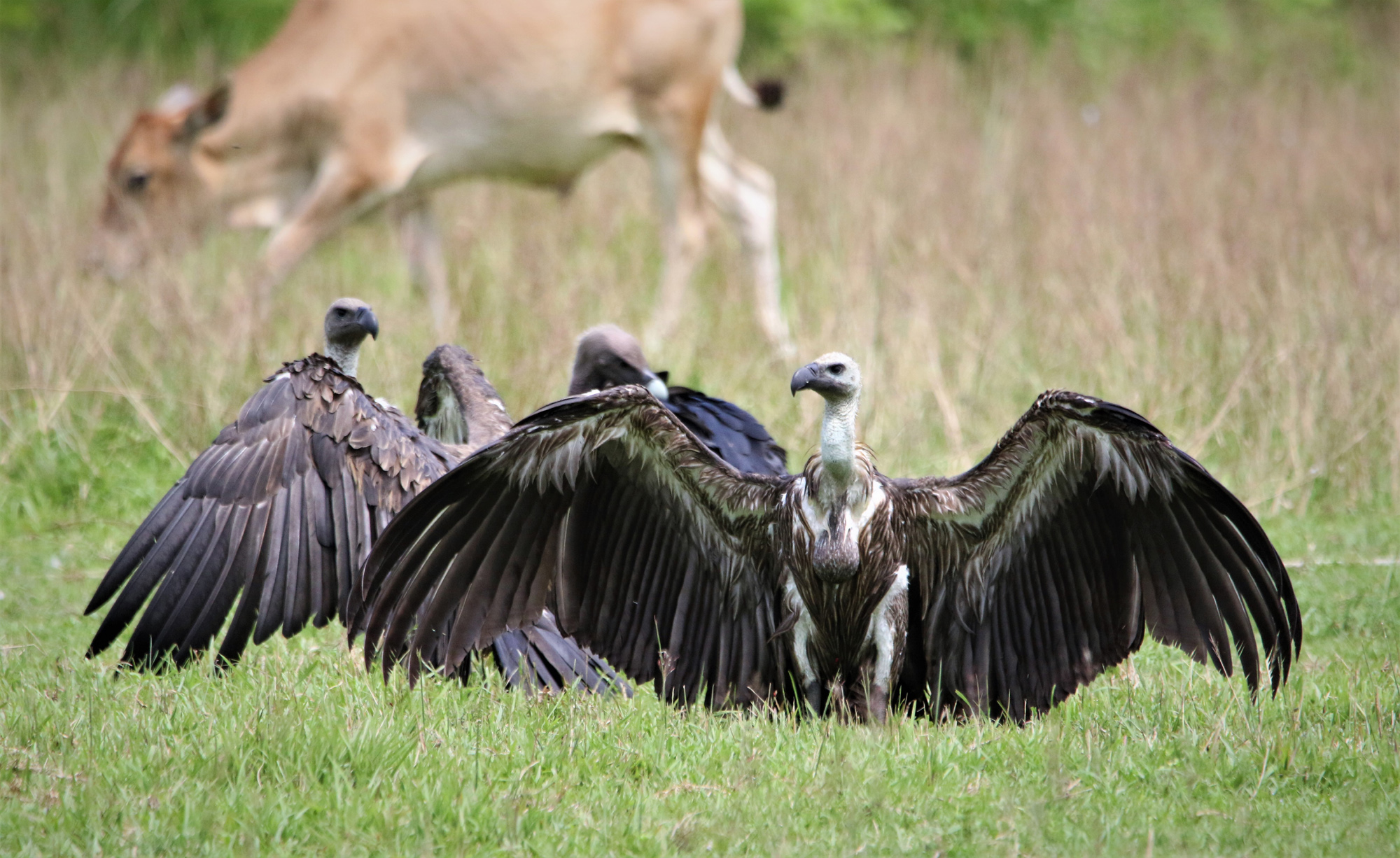 Meanwhile, the vultures finish their meal turn-by-turn. The ones that were satiated first return from a nearby lake, where they drink water and spread their wings in the sun. They don't have to worry about food for at least a week.
But for conservationists like Baral, the vultures are not out of the woods yet. "Measures such as vulture restaurants only provide a shot in the arm for conservation efforts, broader efforts are needed to save vultures from extinction." Monitoring of the population and detection of new threats (such as power transmission lines where they are electrocuted) along with conservation of their habitat is important, he adds.
This article was first posted on Mongabay.