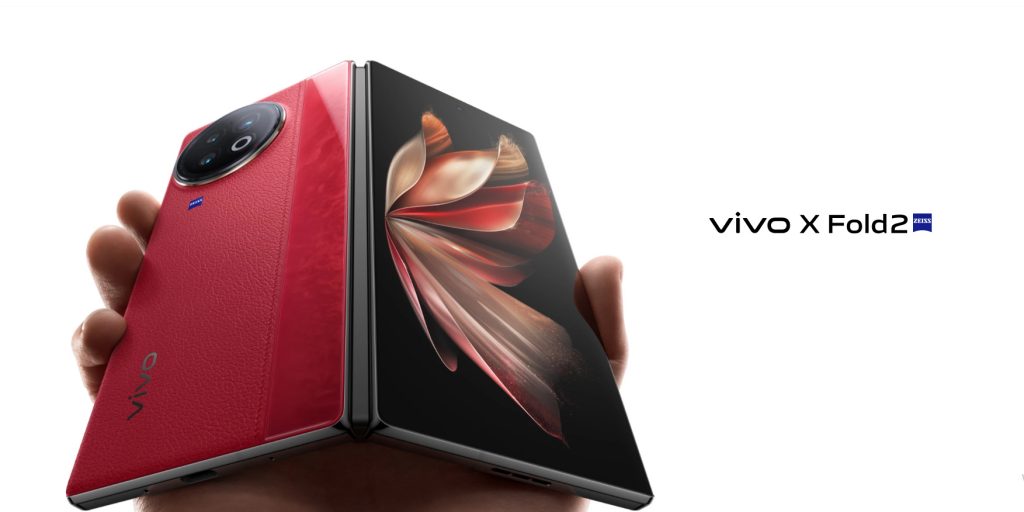 With the increased demand for foldable smartphones, companies are working to improve their products' quality and physical specifications. Vivo has released X Fold2 recently, learning a lot from its predecessor, X Fold released in 2021. As the phone is to arrive in Nepal soon, we review it here.
Specifications
Dimensions
Unfolded: 161.3 x 143.4 x 6 mm
Folded: 161.3 x 73.4 x 12.9 mm
Weight
279 grams
Display size
Inner screen: 8.03-inch
Outer screen: 6.53-inch
Display type
Inner screen: AMOLED, 120Hz, 1800 nits(peak)
Outer screen: AMOLED, 120Hz
Resolution
Internal screen: 2160×1916
External screen: 2520×1080
OS
OriginOS 3 based on Android 13.0
Chipset
Snapdragon 8 Gen2 (4 nm)
CPU
Octa-core (1×3.2 GHz Cortex-X3 & 2×2.8 GHz Cortex-A715 & 2×2.8 GHz Cortex-A710 & 3×2.0 GHz Cortex-A510)
GPU
Adreno 740
RAM
12GB
Storage
256GB | 512GB
Rear camera
50MP main camera
12MP ultra-wide-angle camera
12MP portrait lens
Selfie camera
16MP (one for each inside and outside screen)
Sim
Dual sims
Sensors

3D ultrasonic dual screen fingerprint
Accelerometer
Ambient light sensor
Gyro
Proximity
Compass
Battery
2400mAh (3.91V) double battery (equivalent to 4800mAh (3.91V) single battery)
Charging
120W flash charging & 50W wireless charging
Colours
China red | Azure blue | String black
Price (Expected)
12/256GB: Rs 200,000
12/512GB: Rs 220,000
Design and display
Vivo X Fold2 looks very similar to X Fold launched in 2021. The difference mainly can be seen in the rear camera placement; a black square box complementing the camera present in the old phone is not there in the new one.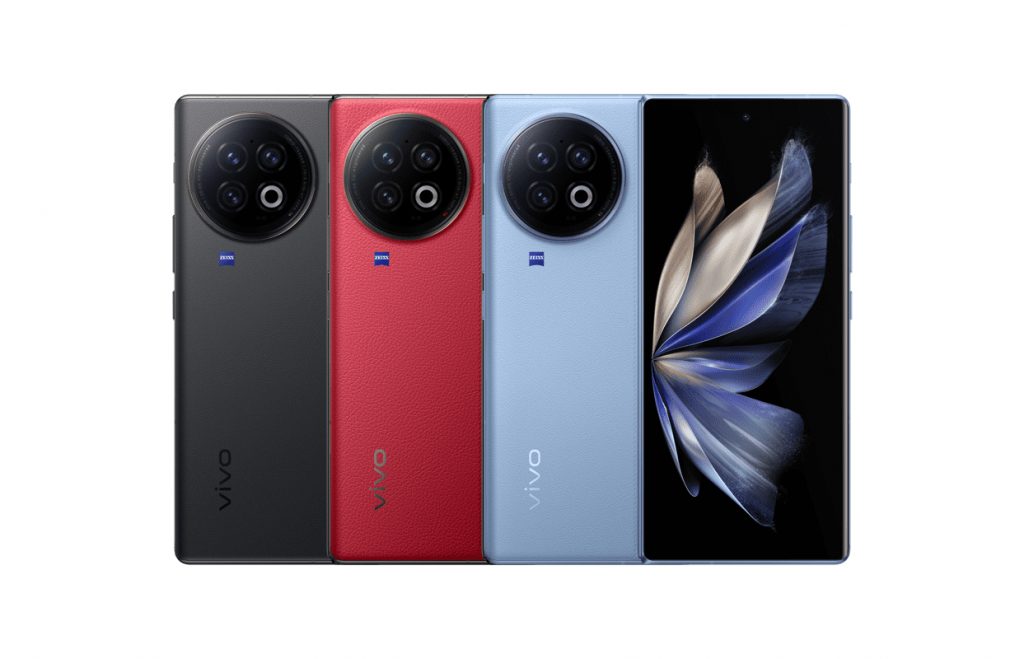 It is available in three colours: China red, azure blue and string black. It has a synthetic leather back with a rectangular box that is matte and adds up to the beauty of the phone. The hinge has been kept minimal and durable with the help of a Seiko-integrated hinge design. It has Aviation-grade FS54 high-strength carbon fibre hinge bracket with a 5mm diameter drop hinge.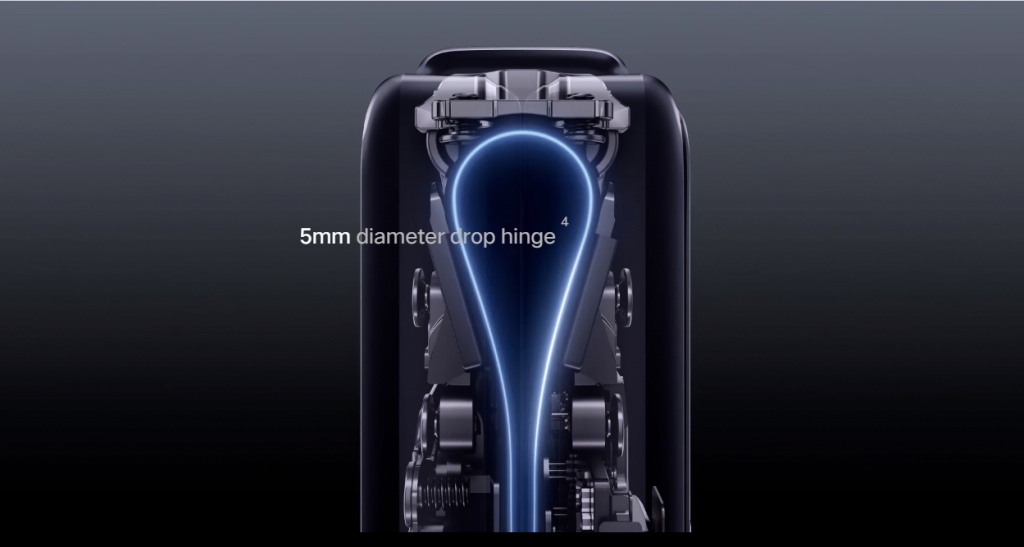 It weighs 279 grams, which is 32 grams less than X Fold. The inner screen is an 8.03-inch AMOLED panel with a resolution of 2160×1916 pixels. It also supports a 120Hz refresh rate and can reach a peak brightness of 1800 nits, making it bright and vibrant even in direct sunlight. The outer screen, on the other hand, is a 6.53-inch AMOLED panel with a resolution of 2520×1080 pixels and a 120Hz refresh rate.
The two screens have different aspect ratios and refresh rates. The inner screen has a 4:3.55 aspect ratio that is best for productivity tasks and a screen-to-body ratio of 90.17 per cent, which enhances the user experience. The outer screen, on the other hand, has a 21:9 aspect ratio that is ideal for media consumption. Vivo X Fold2's screen-to-body ratio is 89.56 per cent.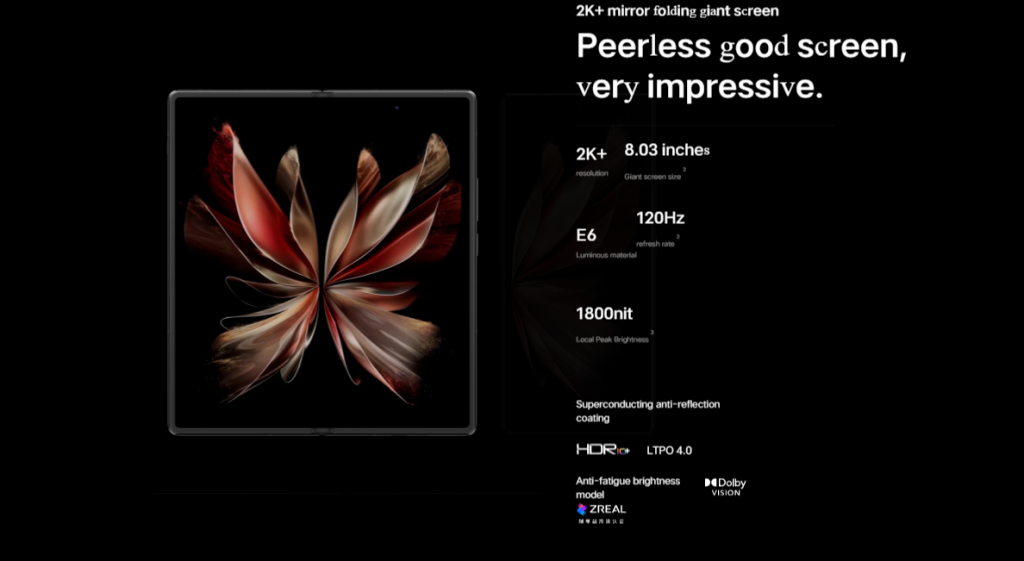 Performance and storage
Vivo X Fold2 is a high-performance smartphone, powered by a powerful hardware setup. The device runs on Snapdragon 8 Gen 2 with octa-core processors. It is enhanced by a CPU frequency of 3.2GHz for one core, 2.8GHz for four cores, and 2.0GHz for three cores. Additionally, the CPU architecture is a 64-bit and 4nm CPU process. The device's Adreno 740 GPU model is also a powerful component that enhances the user's visual experience by rendering graphics smoothly and seamlessly.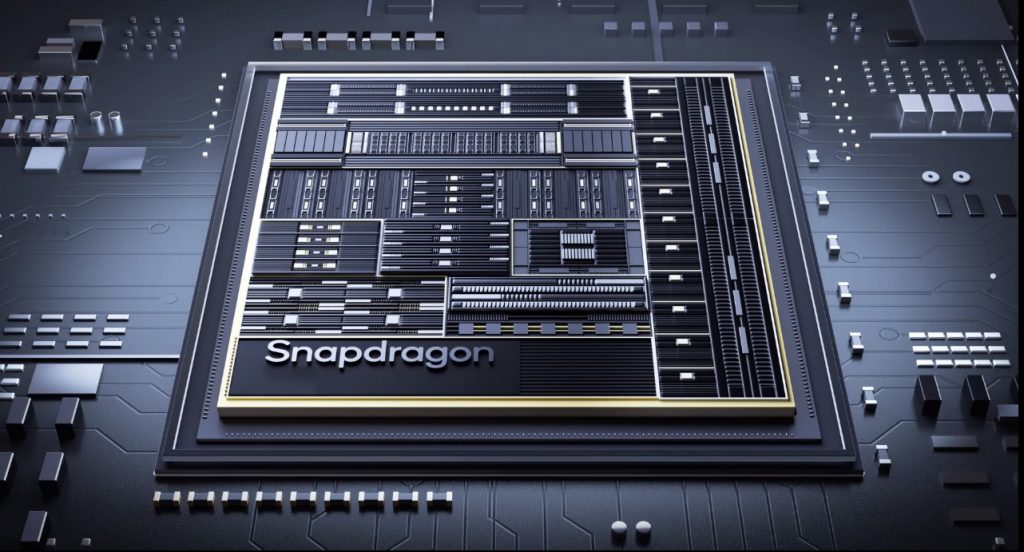 X Fold2 has a single RAM option which is 12GB paired with two storage options: 256GB and 512GB respectively.
Camera
Vivo X Fold2 is equipped with a powerful camera system that has been developed in partnership with Zeiss, which can be seen in most of Vivo's phones already. It also has its own dedicated image processing chip called V2 that helps with enhancing and processing images and videos furthermore.
On the back, X Fold2 features a triple-camera setup, consisting of a 50MP bionic spectrum outsole main camera, a 12MP ultra-wide-angle camera, and a 12MP professional portrait lens. The main camera has an aperture of f/1.75 and supports OIS anti-shake, which reduces blurring and improves image stabilisation. The ultra-wide-angle camera has an aperture of f/2.0 and the portrait lens has an aperture of f/1.98.
The rear cameras of the X Fold2 also feature a range of shooting modes, including sports, night scene, portrait, photo, video, micro movie, 50MP, panorama, ultra-clear document, slow motion, time-lapse photography, time slow door, super moon, starry sky, Zeiss landscape and architecture, professional, gourmet, Jovi scan, dual-view video, dynamic photo, and supergroup photo.
The camera system supports CMOS sensors and video anti-shake for all rear lenses. The front camera records videos in MP4 format and supports up to 8K high-definition video recording, providing high-quality and crisp video footage.
The rear main camera supports 20x digital zoom, the rear wide-angle supports 0.6x digital zoom, and the rear portrait supports 20x digital zoom, providing flexibility in capturing distant subjects or wide landscapes. You can also use the rear camera and the outer screen to click very high-res selfies and selfie videos.
Vivo X Fold2 has a 16MP front-facing camera both in the inner and the outer screen with an aperture of f/2.45 and supports 2x digital zoom. It can record 1080P videos at 30fps.
Battery and others
Vivo X Fold2 has an impressive battery capacity, featuring a 2400mAh (3.91V) double battery that is equivalent to a 4800mAh (3.91V) single battery. It also supports fast charging with 120W flash charging and 50W wireless charging. The phone is equipped with a range of sensors including a 3D ultrasonic dual-screen fingerprint sensor, accelerometer, ambient light sensor, gyro, proximity sensor, and compass.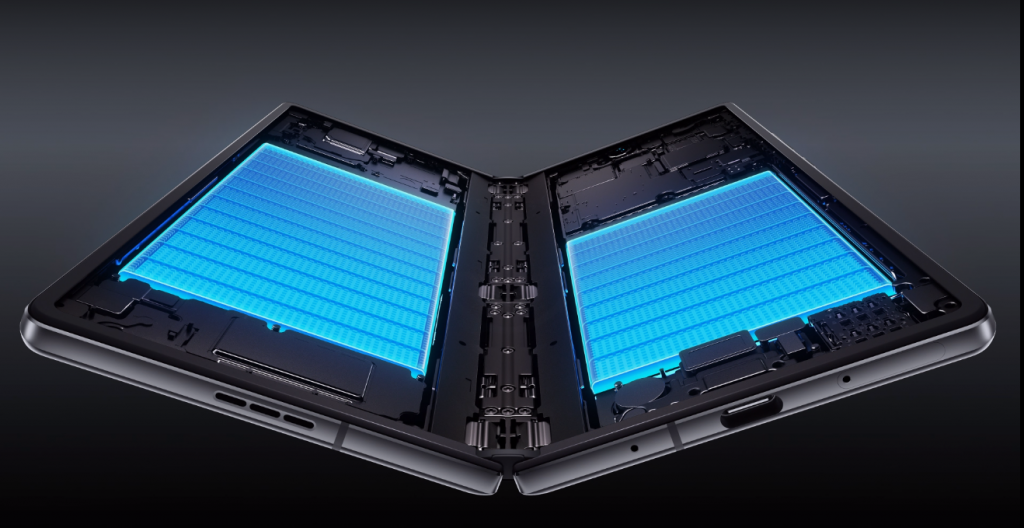 In addition to its impressive battery and sensors, X Fold2 also boasts advanced connectivity options, including Bluetooth 5.3, Wi-Fi 6, and Wi-Fi 7 and features a Type-C USB port for charging and data transfer.
Vivo XFold 2 is available in three colours: China red, azure blue and string black.
The expected prices of Vivo X Fold2 in Nepal are Rs 200,000 and Rs 220,000 for the 12/256GB and 12/512GB options respectively.
Verdict
The main question is — can it compete with popular brands like Samsung, whose foldable smartphones are already in demand? Maybe it can. If you take the global market sales, you might not get a positive result but, the main market is located in Vivo's home ground, China itself.
If you get it in Nepal too, it might do well due to its lower price range in comparison to other foldable smartphones available in the market.