The establishment of "user groups" in Nepal was seen as a good thing. When it started, it helped complete various projects in the communities. Projects that were left in limbo were carried out in a swift manner by these user groups and they were lauded by the communities too. But, lately, things have been different as these user groups that were formed to help out local communities have been working solely for the benefit of the groups and their members, embezzling funds and taking on projects that they do not have the capacity to undertake.
According to data provided by the Commission for the Investigation of Abuse of Authority, Office of the Auditor-General and National Vigilance Centre, user groups, going against the said rules, have spent in excess of Rs 15 billion a year on average recently. These groups, which had been created with pure intentions, now, have been poisoned by government officials, political cadres and even lawmakers.
Above the law and beyond their capacities
Public procurement expert Rajendra Prasad Adhikari says political parties and their cadres are controlling these user groups as they believe that these groups can be a good cash cow for people and the party.
"The Public Procurement Act has the provision of giving projects to user groups to create employment. It states clearly they are to be involved in manual labour and not be involved in projects that need heavy equipment and machinery," says Adhikari. "But, these groups have been involved in almost all types of projects: from making a small canal to the construction of a building which the law doesn't allow."
The law gives permission to be involved in projects like repairing and minor projects. To facilitate this, the government gives these user groups millions of rupees. But going against the act, some user groups have been wasting taxpayers' money.
Suresh Pradhan, another public procurement expert, says the Public Procurement Act does not allow for projects to be handed to user groups.
"The act promotes competition. It doesn't allow for projects to be handed over to someone," he says. "These user groups were allowed to carry out projects up to Rs 3.5 million at that start. Now, that amount has been increased to Rs 10 million. This has happened due to political interests."
Pradhan says some of these user groups are outsourcing the work to contractors to carry out projects as well. "We've seen bills being put forward by some user groups which proves that they've been using contractors. The law doesn't allow this," he says, adding that some user groups are acting like fake contractors and working against the law.
Pradhan says some groups are taking money from the government on a regular basis, something that is not allowed according to the law. Some have also been found giving work to contractors they are close with.
Experts say there are different types of irregularities taking place in user groups. From forming user groups disregarding all rules and regulations to spending money without following due procedure, the modality of user groups over the past year is being questioned.
"I heard that the government is spending almost Rs 2 million on the selection process. These groups have been infiltrated by political parties," says Adhikari.
Fake committees and fake bills
There are various incidents that happened in the fiscal year 2019-20 that shed light on this issue.
In 2019, disregarding various regulations, people formed fake user groups. A fake user group was created in Agnisair Krishna Sawaran rural municipality, Saptari, for a road gravel project. The group used photocopies of citizenship certificates of officials of the Mutani River Irrigation Project to get the project where around Rs 2.5 million was embezzled. Former lawmaker BP Yadav; the chief of Siraha Infrastructure Development Office Raj Kumar Goit and then central member of Rastriya Janata Party, Hari Narayan Mandal were involved in the case. The CIAA had filed a corruption case at the Special Court against them on January 15, 2020.
Another problem that is plaguing the government apart from fake user groups is fake bills brought by legitimate user groups. In 2019, a committee from Sambhunath municipality-1 in Saptari, put forward a bill after it completed a repair work at a field near Khand Khola. But, the bill was found to be fake.
The committee, without doing any work, received a payment of Rs 275,623. This came into public light after a complaint was filed at the CIAA, after which a corruption case has been filed against the District Technical Office's engineer Bikash Shrestha, the district's Sport Development Committee's vice-president Dhirendra Verma, then an administrative officer of the committee Mahendra Prasad Yadav, and the chairperson of the user group which was tasked with repairing the football ground, Buddhi Lal Yadav.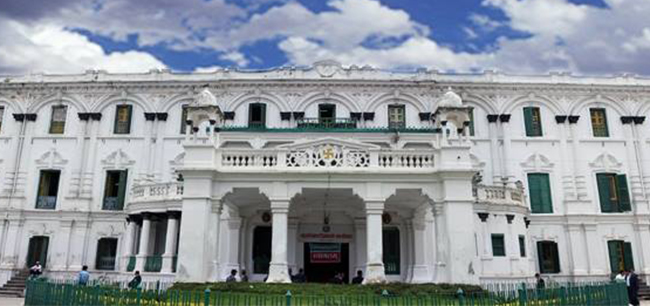 Disregarding regulations
According to the Public Procurement Regulations, user groups cannot use bulldozers, excavators, rollers, graders, bitumen distributors, bitumen boilers or any heavy machinery as the money is given to these groups to pay for manual labour of people involved in the project. But, in the fiscal year 2019-20, user groups used heavy machinery for around 2,288 projects from 246 local levels which cost the state around Rs 2.01 billion.
User groups are deemed ineligible for the use of machinery as the regulations state that they do not have the skill required to carry out the project. But, in the fiscal year 2019-20, 80 local units made around 1,280 user groups to carry out the construction of buildings, bridges, overhead tanks and rural electrification projects, spending Rs 3.94 billion in total. The regulations state that user committees can only work on projects up to Rs 10 million. But, in 2019-20, 62 local governments carried out projects exceeding the ceiling.
Divide and rule
Projects that could be carried out via the tender process are also being given to user groups. These projects are divided into separate parts in order for it to be eligible and given to separate user groups.
A work plan made after the 2015 earthquake stated that some construction work of local infrastructure of public importance could be done by user groups. But, a construction project was divided into eight parts and handed over to different user groups by the Bhaktapur municipality.
Kathmandu metropolitan city is no different as it has been dividing projects into parts and assigning them to people it chooses. In 2019-20, the city government assigned 970 projects to different user groups spending around Rs 859 million in the process.
Disregarding norms
The norms mentioned in the Public Procurement Act seem to be forgotten when projects are given to user groups. The Kamala River Control Project was given to a user group without following due norms about the district rate.
According to the rules on the District Rate Committee, one cubic metre stone was worth Rs 2,444 for Dhanusha and Rs 2,000 for Siraha. But, the rate committee approved a budget of Rs 3,010 per cubic metre for Dhanusha and Rs 5,156 per cubic metre for Siraha and mobilised the user group. The Kamala River Control Project in the fiscal year 2019-20 spent around Rs 110.76 million, using 47 user groups. This goes against all norms in the Public Procurement Act.
User groups take on complicated work
All three levels of the government have been working with user groups to carry out complicated projects. Experts say some of these projects have been done in a childish and unprofessional manner.
Hapur Drinking Water User Group was given a project to manage drinking water in Rupandehi. It got around Rs 1.14 million to complete the project that it carried out without proper study. The committee could not extract water and the money spent on the project was wasted. A similar example can be seen in Ilam, Morang and Kaski where complicated drinking water and sewage projects were assigned to user groups.
Tax rebate
There have been various cases in which the user groups have not paid tax after doing the work. According to the Income Tax Act, a user group which gets over Rs 5 million has to pay 1.5 per cent income tax. But, the Water Supply and Sewerage Management Office, Kaski, waived a tax of Rs 3.16 million.
The Rural Water Supply and Sanitation Fund Development Board worked with various user groups, spending around Rs 250 million. But, according to experts, most of the user groups do not even have PAN numbers. In some cases, the board does not even have proof of expenditure.
Suspicious spending
Over the past years, user groups have become a medium to finish the allotted budget. The Kathmandu Valley Development Authority's district commissioner office, Bhaktapur, on July 8, 2020, proposed to give projects worth Rs 300,000 to 6.5 million to 65 user groups. The authority's commissioner Bhai Kaji Tiwari approved the proposal immediately.
Within a week of the acceptance, over Rs 200 million was spent in Bhaktapur alone. When asked where such a huge amount went during the monsoon, the authority's officials refuse to answer.
In the fiscal year 2019-20, the district commissioners of Kathmandu, Lalitpur and Bhaktapur commissioned a total of Rs 535.06 million for projects carried out by 163 user groups. According to the KVDA, the money was used for the construction of roads, walls, sewage and the preservation of public spaces. But, a source says the KVDA did not provide any explanations regarding why the user groups were selected for the specific project. Consequently, the KVDA has been accused of nepotism.
Representation in user groups questionable
Rules state that work that requires the most amount of labour should be given to user groups. A group should make public the number of people it will use before it gets a project. But, that has not been happening.
Kalaiya sub-metropolitan city gave away projects where there was only 4 per cent labour force even though there was an agreement for 10 per cent. Various provincial projects have also had similar fates where the agreement was disregarded when carrying out projects. The Bagmati Province Tourism Development Project gave 95 user groups a total of Rs 115 million. What percentage of the labour force was used was not made public.
The main aim of user groups is to use locals to undertake a project in their locality. Even though the rules clearly say that user groups cannot be mobilised to purchase things, over the past few years, user groups have been created to procure products as well.
The drinking water and sanitation offices in Sarhali and Rupandehi have been used by user committees to buy things as well as the two offices tasked them with purchasing pipelines and other items worth Rs 440 million.
As mentioned above, user groups can only be offered projects worth up to Rs 10 million. But, Province 2 Development Office in 2019 gave 18 user groups over Rs 200 million to complete projects. Similar examples can be found in Bagmati and Lumbini provinces.
The quality of work done by user groups is questioned regularly. Along with that, most user groups do not complete works on time either. In Province 1, work worth up to Rs 420 million was spent on various projects. Even though these projects have been completed, their quality check is yet to be done.
User groups are given an advance without following due procedure. Rules state that user groups can get only one third of the total amount as advance. Disregarding this, various municipalities across the country have been giving as much as 60 per cent advance. The most recent annual report of the auditor general states it is yet to settle amounts worth Rs 590.1 million in 2019-20.