We were done with lunch at Kagbeni at around 1.00pm. We rested a bit–a useful rule of thumb for every mountain biker to follow after a meal (dal-bhat is reasonably a large meal). It was almost 2 pm when we hopped onto our bikes. The itinerary for the day was Chele. Since we had to ride 18km for the day, we only took a brief spin through the narrow lanes of Kagbeni.
As the "gateway to Upper Mustang," Kagbeni appeared busy. From this point on, foreign tourists are restricted to venture ahead unless they hold a special permit, which costs $500.00 for a 10-day trip, extra $50.00 a day after that.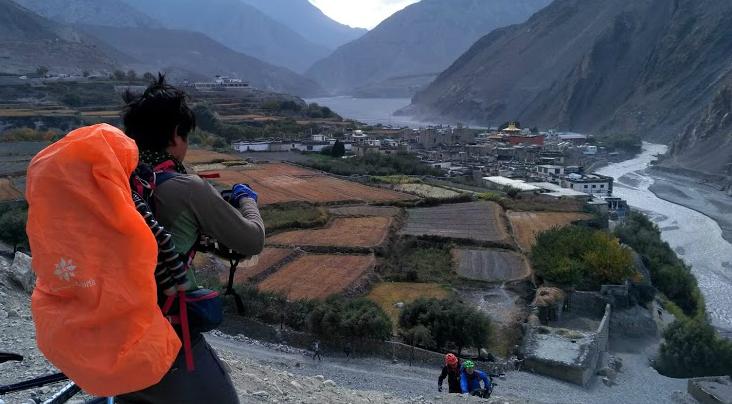 We saw tourists with their backpacks milling around in the flag-stoned alleys. Children were having a ball running and chasing each other while men and women went about their ways with rosary or prayer beads dangling from their fingers humming to themselves the recitation of the Tibetan mantra, Om mane padme hum.
I learned later that because of the staggering government levy, many of the tourists confine their visit to Kagbeni only.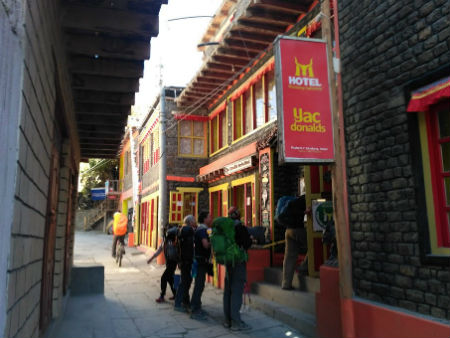 The maze of lanes seemed literally filled with hotels and cafes. Among a fleet of billboards, one large flaming red, in particular, caught my attention.
It read: Hotel Yac-Donald (like in McDonald's). Maybe, they served Yak-meat burgers, I thought and wondered what they tasted like. The name sounded very outlandish to me and I chuckled to myself as I pedaled past.
In stark contrast to the modern houses that marked the hub, we spun past narrow alleys in the old part of the town to find what looked like more than 100-years old houses, built with stone and mud–some painted white, others red. We spotted Manes (prayer wheels) lodged into the stone walls at street corners and ran into an occasional chorten. It felt like taking a step back into the medieval times.
Literally, Kagbeni translates to Kag, a crow and beni, a confluence. A prominent stopping point during the trans-Himalayan salt trade between Tibet and India, the confluence of Kali Gandaki and Dzong river at Kagbeni is also considered a sacred pilgrimage. Hindu devotees from as far away as Kathmandu pay homage to their deceased ones by performing shraddha (a ritual performed on each death anniversary of parents and grand-parents) at the river bank and take a dip in the icy water. Some even try their luck in the rocky banks foraging for Shaligram (an ammonoid fossil dating back to the Cretaceous period more than 60 million years ago). The jet-black stone is revered by the Hindus as the symbol of God Vishnu.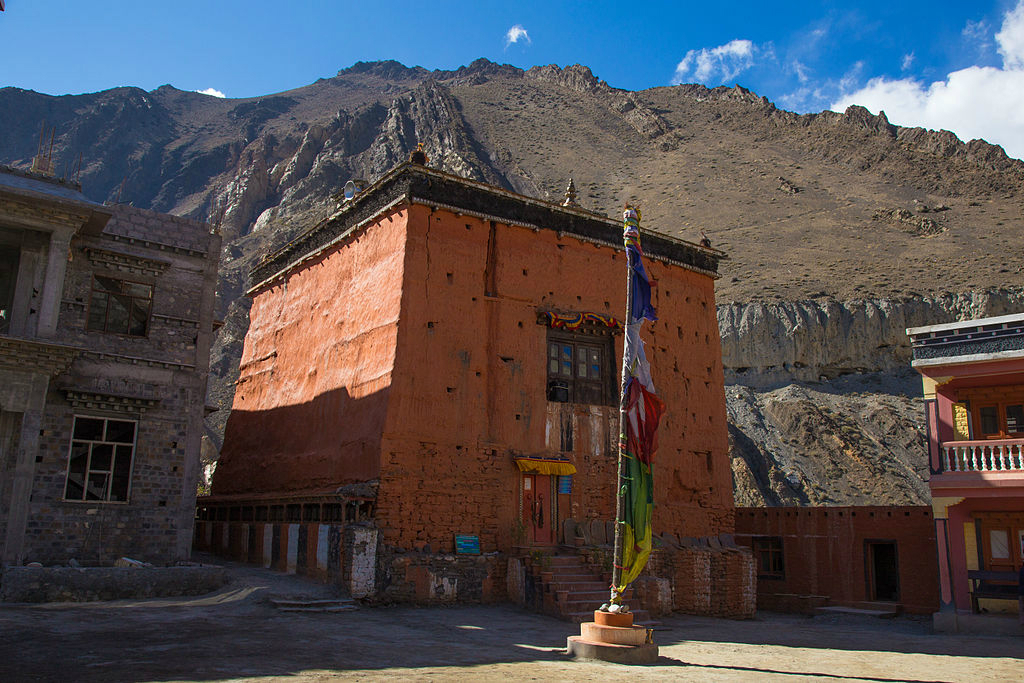 As we spun past the main town, we had a glimpse of the Red Monastery (founded in 1429) prominently occupying the centre of the town. Another impressive sight was the Red House Lodge said to be a part of fortress ruins. The old part of the town held fortress ruins and crumbling houses believed to be hundreds of years old. At the outskirts, we spotted enclosed plots of apple orchard and the wild willow trees, which appeared ready for the autumn to turn into a beautiful golden hue.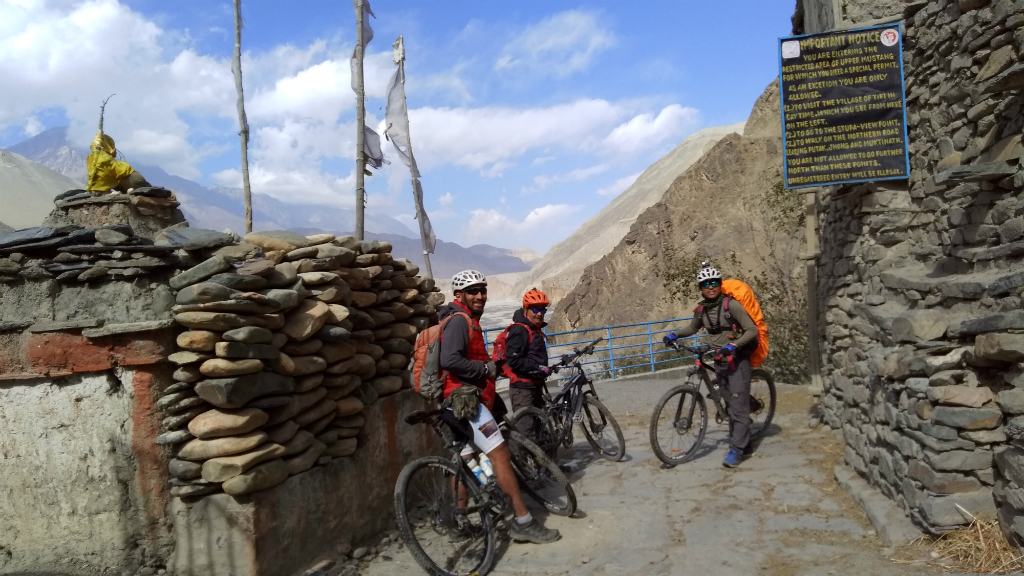 By the time we left Kagbeni and hit the trail, the wind, as I feared and expected, seemed at its peak intensity. The sun was up but the cold biting gust seemed to swallow the warmth up. The howl of the gust seemed deafening and the dust it brought blinding. Pedaling against the gale seemed impossible and I'd to frequently dismount to walk my bike. My young companions were not doing any better and soon followed suit.
The jeep track led through vast expanses of barren undulating steppe vegetation dotted with thick patches of dark spiny green stunted scrub (junipers and other thorny species). Almost 300m below the Kali Gandaki cut across a sweeping sand and rock bed bifurcating like the tentacles of an octopus. Absolutely unblemished! The sight was awesome.
The vista continued to amaze me as we fought our way against the wind on a scree-laden gradient both riding and walking the bike as the need arose. As the track took a left bend on an incline, Shayeet and I stopped and dismounted because what stood towering before our eyes instinctively made us halt. Dumbstruck, we both gaped at the sight.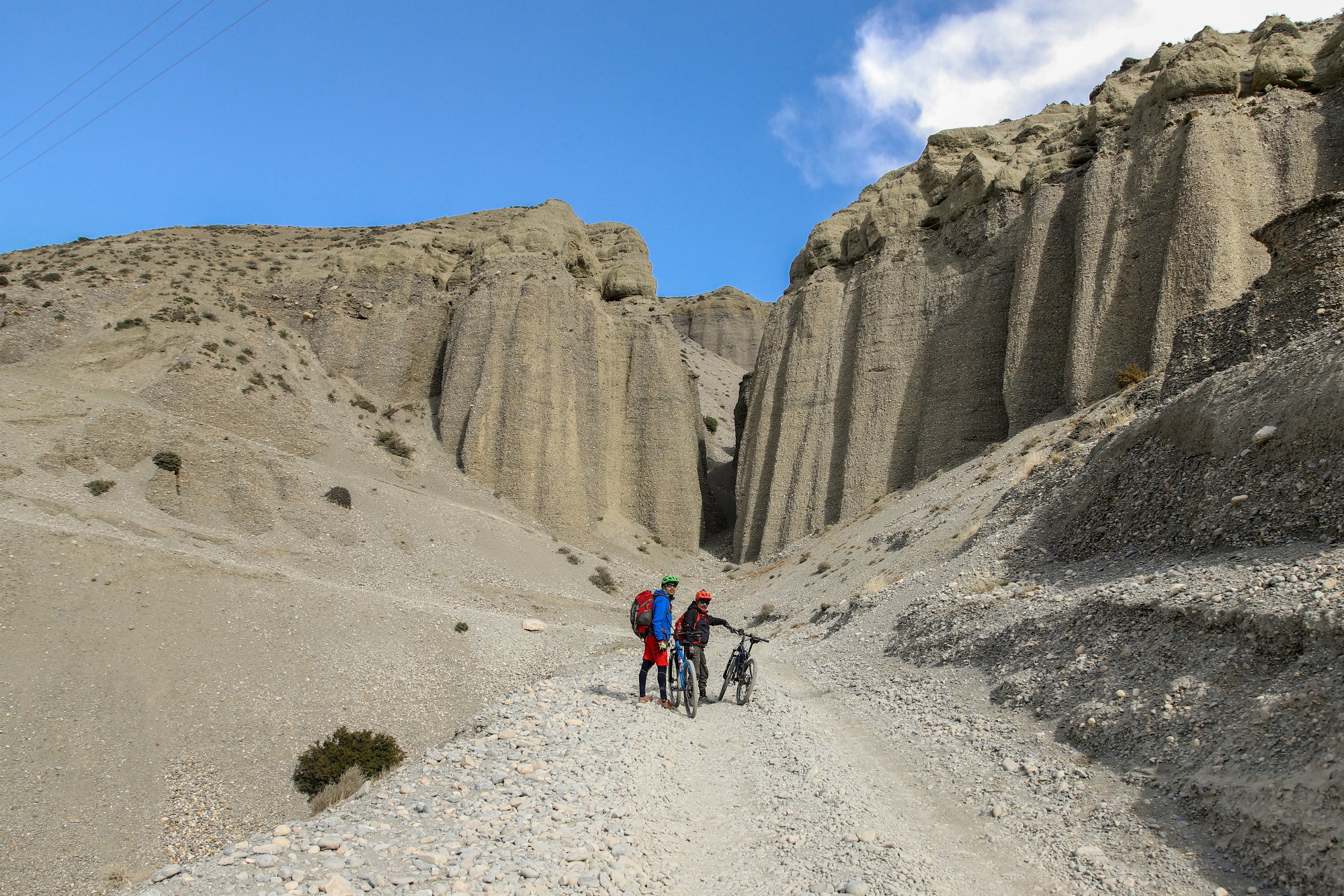 A row of sandstone cliffs with twisted folds flanked the right side of the road with a massive fissure in between. Khasing and Diwas joined us and after a brief respite we pushed on.
The landscape continued to be wild and awe-inspiring with rows and rows of fluted sandstone conglomerate cliffs as the track climbed up. The windswept Kali Gandaki valley kept us company all the way. After two hours, we did a stiff climb to what looked like a plateau. Then, the path dropped to the dry riverbed of Kali Gandaki and climbed again.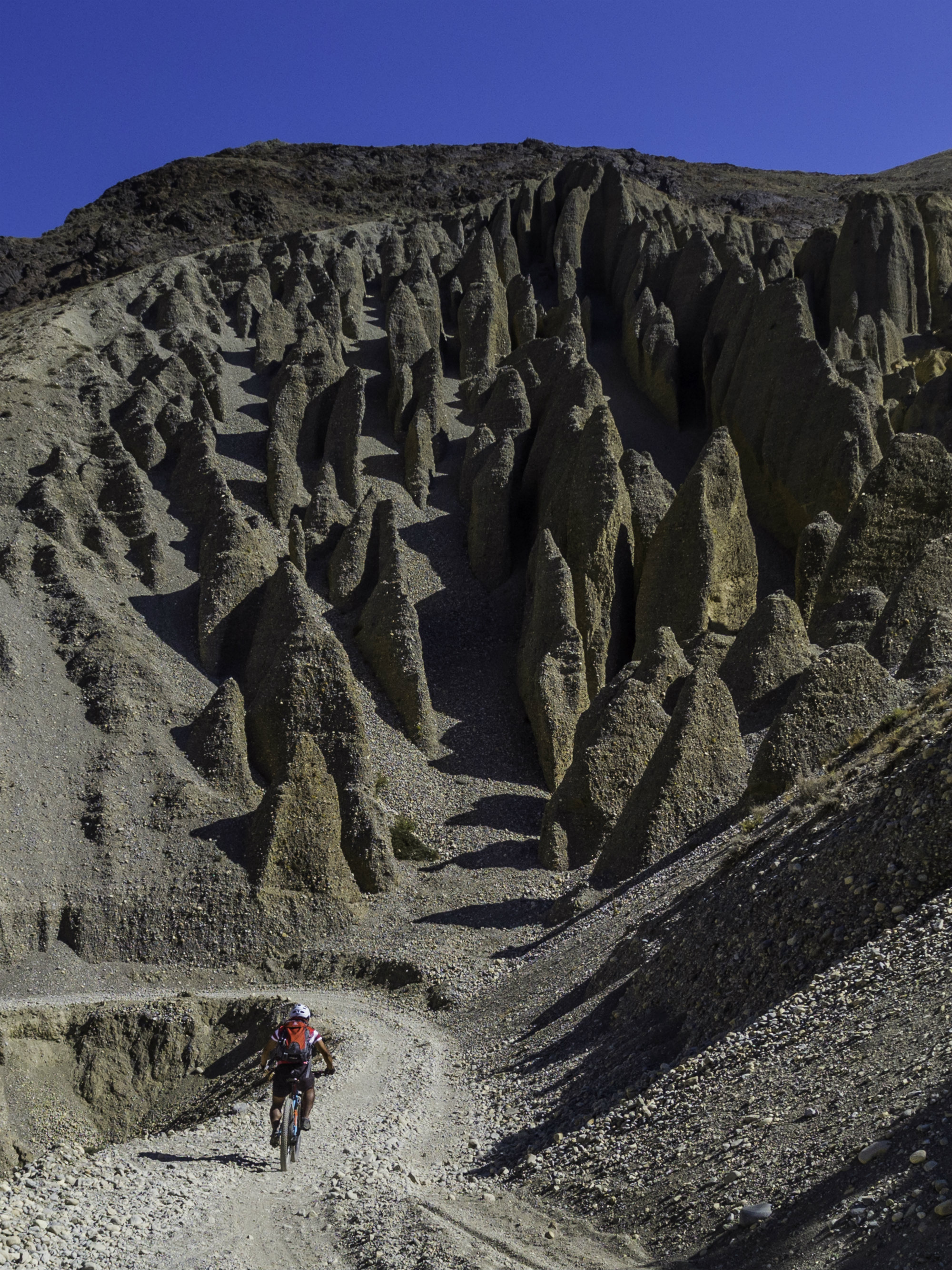 After a short climb, we arrived at Tangbe (3,060m) a small cluster of houses on a high ridge overlooking the Kali Gandaki gorge.
The wildly flapping colorful prayer flags called lungta in Tibetan dialect meaning "wind horse" strung at a ridge seemed to welcome us. I could see the barley fields, and poplar trees skirting the village. We pedaled past a large chorten colorfully painted in white and ochre supported by a roof. Some crumbling ones flanked it. The mud and sun-baked flat-roofed brick houses were in white and red. We also had fleeting glances of fort ruins.
It was already past four in the afternoon and we all realized we could not make it to Chele that day. "We spend the night at Chhusang today because it won't be wise to bicycle after dark," announced Khasing. We arrived at Chhuksang, in the fading light. Nestled in the confluence of Kali Gandaki and Narshing Khola (stream), the small village was situated at 2,980m. We checked into Braka Hotel.
I was exhausted as the day saw a lot of stiff climbs and a dusty whipping wind. It felt cold and I chose to huddle up near the fire stove that had a big kettle on. Surprisingly, the stove had only a few sticks of fire-wood for kindling. The main source of fuel was dried yak dung mixed with sheep droppings. They really worked up ample heat I noticed since the start of our ride that all the settlements on the entire trail had flat-roofed houses, painted mostly white with ochre brown, red or black borders or red sides and bore huge piles of split woods neatly stacked on the roof.
A young lady from a Tibetan origin seemed to be the boss and did all the work from cooking, serving food to showing us to the rooms.
An old lady and a girl gave her a helping hand.
We had egg and vegetable thukpa for supper but before that, I tried a glass of local alcohol distilled from uwa (naked barley), a staple crop of Mustang. From that day on it became my favorite. While my young companions chatted over their glasses (not Shayeet, he does not drink), I curled up in my bed. Brrr! It was cold.
Day II
We prepared to leave Chhuksang after a hearty breakfast of Tsampa porridge laced with shu-chya (Tibetan butter tea) and eggs. Having dusted down our bikes and the chains lubricated, we hopped onto our saddles. The path led through stone-laid narrow alleyways that zigzagged in between whitewashed mud and stone house walls and entered gate-like openings, where we had to duck our heads. Most doorways held above them sheep horns and skulls, a Tibetan religious practice, which is said to ward off demons and evils from harming the village.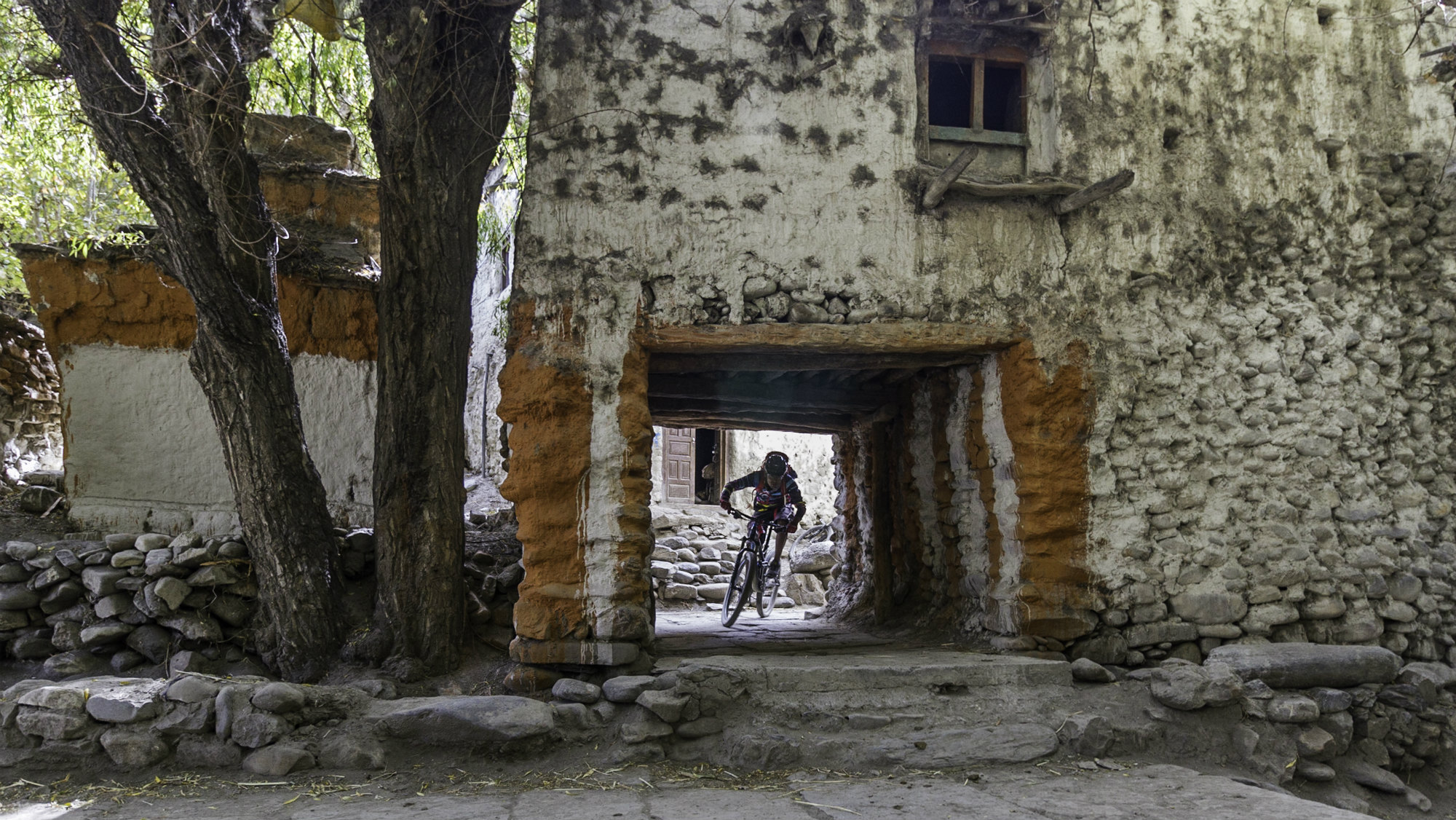 We soon hit the motor-track as we left Chhuksang behind. The weather at around nine in the morning had a chill but the sun was up and there was no wind. The high precipices and sandstone eroded cliffs towering over the vast Kali Gandaki riverbed seemed to be painted red, orange and silver gray. The track virtually cut across the dry riverbed of Kali Gandaki sentinel on both flanks.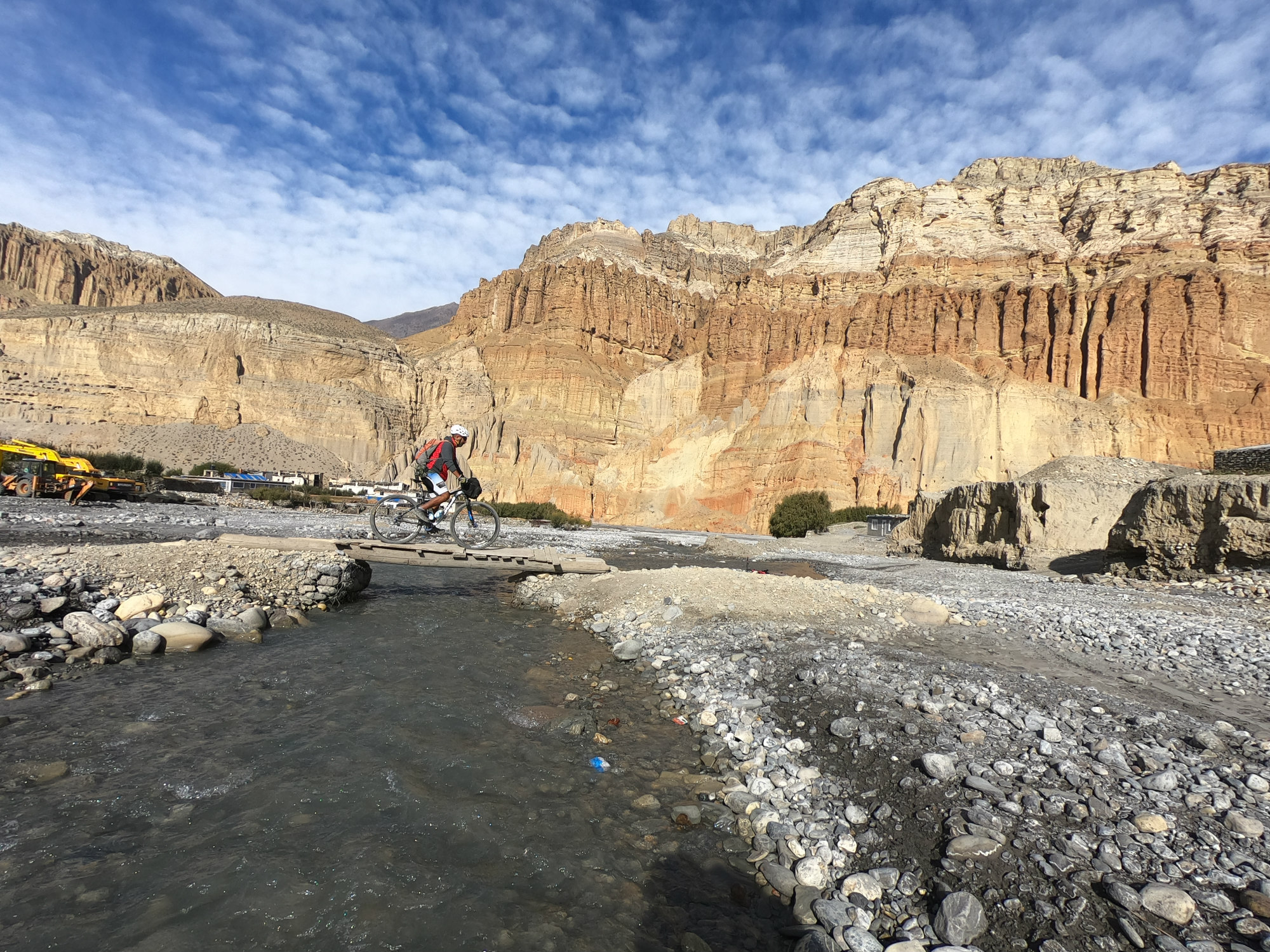 I could make out the ancient dug-out cave dwellings on the sheer cliffs, which appeared inaccessible. The cobalt blue sky appeared fleeced with wooly white cloud as we crossed a plank bridge over the
The jeep track led to more stunning sights of eroded ant-hill like cliffs, a real geological enigma.
After a short uphill climb on the desolate treeless terrain, the road dropped gradually to the riverbed with another of nature's wonderful creation. The Kali Gandaki rushed here through a natural red rock tunnel formation as a massive rock the size of a building held a metal footbridge across. The rock held window-like hollows presumably caves the early settlers used as their dwellings.
After crossing the river and the gravelly bank of the Kali Gandaki, the jeep track then climbed upwards passing through a rocky gully towards Chele (3,050m). After a little past noon, the wind started gathering momentum. Pedaling up a steep climb for nearly an hour, we spotted a small settlement on a hillside that sported patches of barley fields and a little greenery. We had arrived at Chele. We stopped for tea, filled up our water bottles and took a brief rest. We decided to have lunch at Samar, some two and a half hours away.
From Chele the road switch-backed all the way up along the side of a steep canyon and seemed to continue with no sign of the crest in view. We stopped frequently to regain our breath and sip water. The grueling climb on that wind-swept incline seemed to tell upon me and I fell way behind my young partners. Then I realized that I was hungry.
Suddenly, things took a nasty turn. A massive dust storm hit us. It became impossible to pedal against it. I dismounted and started walking my bike but the wind was so strong and the dust so blinding that I took shelter under a big rock and huddled up against it. Visibility was reduced to less than five feet. A couple of bullet bikes zoomed past but stopped a little further up and took cover by the side of the dusty jeep track.
The gale continued in full intensity but the dust seemed to settle down after half an hour. The motorbikes roared to a start but as the track held almost six inches of powdery dust, skidded and could make it up the incline only after being pushed by the pillion riders. I walked my bike up the incline with no sign of my companions. I suddenly felt very weak and dizzy; my stomach groaned. Being a diabetic I had to replenish myself. I had to have something to eat but Shayeet carried the special multigrain snack-food I'd prepared myself for the trip.
Just when I thought and feared I was going to 'hit the wall' or 'bonk' (a condition when the body is exhausted of its glycogen stores, leaving you with abnormally low blood glucose levels) or lapse into hypoglycemia, Shayeet appeared. He came back to check on me while Khasing and Diwas waited at the crest. It took two small energy bars, three to four gulps of my multigrain powder, a liberal amount of electrolyte drink and a half hour rest before I felt strong enough to drag myself and my bike up to the crest of the hill. My two and a half kilos backpack weighed like a ton!
The ridge was marked by a rock cairn as it descended gently into a valley. A village called Ghyakar lay across the canyon to the west. Moments later as we left, Khasing told me that it was the Dajori La pass (3735m). The trail then descended into a gentle slope as we slid down a canyon into a side valley. After a long moderate downhill, we arrived at Samar (3,635m). The wind was still at its fiercest and its howl sounded like a banshee.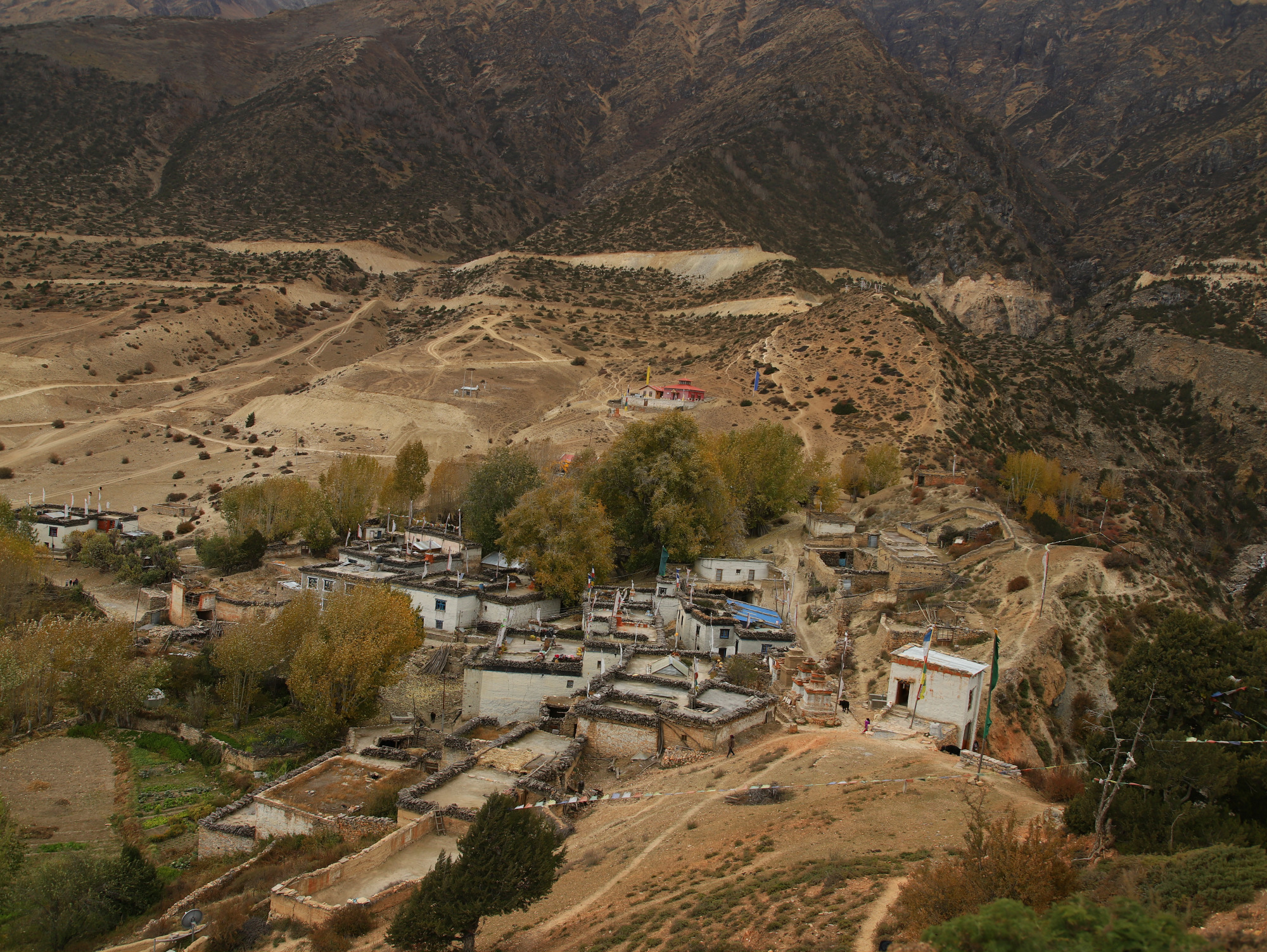 It was already 3.30 in the afternoon and we were pretty late for lunch. Still reeling under the horrible experience I'd at the pass, I ducked into the warmth of the New Himali Hotel located by the side of a small stream and a row of poplar grove.
Fortunately, the hostess at the hotel smiled broadly and said she could provide dal-bhat for four although the belated hour. By the time we were done with lunch, it was past four in the afternoon. Considering the harrowing experience I'd that day and already late to make it to the next habitation, Gheling, some 12km away, we unanimously decided to call it a day and spend the night at Samar.
End of Part II
Photos: Khasing Rai, Rakesh Manandhar and Diwas Pradhan.
[email protected]
Also read:
Lo Manthang: Cycling to the lost kingdom on the other side of the Himalayas