As Nepal is in the grip of a deadly second wave of the Covid-19 pandemic, social media users have been sharing posts containing various Ayurvedic medicines.
Among such posts is a video clip that shows a man named Prem Gautam, who identifies himself as an expert on natural medicine, claiming that consuming a herb called "Narahari buti" boosts the human immune system.
Likewise, Prem Kaidi, who identifies himself as a disciple of the late historian and writer Yogi Naraharinath (1915-2003), has posted video clips about the herb on Facebook. In the video clips, both Gautam and Kaidi have explained how the plant should be collected and consumed and announced that if any Covid-19 patient wanted their medicine, they would deliver the medicine to their doors.
A post shared on Facebook on May 12 has been shared around 4,400 times until May 25. Another video clip has been watched over 76,000 times on Facebook and shared by over 2,000 people.
A few other video clips of the two have been shared over 100 times. The two have claimed that they have fed the herb to their family members' relatives.
Similarly, a year ago, Kaidi in an interview with journalist Jibram Bhandari on Yoho Television had claimed that the plant could be used for treating Covid-19. The interview is still available on Yoho television's official Facebook page.
Also, video clips containing similar claims can be watched on the YouTube channels of PNP TV and Everest Nepal. In those videos that have been watched thousands of times, Kaidi has claimed that the plant can cure 1,008 types of diseases. South Asia Check talked to botanists and Ayurveda experts and prepared this article to inform readers about the plant.
What kind of herb is 'Narahari buti'?
The individuals who claimed the herb has medicinal properties showed us the herb growing on the banks of the Bagmati in Kathmandu.
We brought the herb and contacted botanists.
In the process, we sent pictures of the herb to the Godavari-based National Herbarium and Plant Laboratories. The chief of the lab, Suvash Khatri, said the herb was Chenopodium ambrosionides and it is in the lab's collection. "Chenopodium ambrosionides is related to the bethe leaves (Chenopodium album), which are used as a vegetable. The herb can be classified more narrowly on the basis of its seeds and flowers."
The plant is also called Dysphania ambrosionides, according to Kamal Maden, another botanist. "This indeed is a medicinal plant," he said. According to Maden, the book titled 'Plants and People of Nepal' has detailed its medicinal uses. Maden quoting the book said the seed of the herb is ground to powder and four teaspoons of the powder are taken at bedtime for four days as a deworming medicine. "This herb is also regarded useful for treating stomach ulcers. It is also consumed as a tonic," Maden said.
Prem Kaidi, who has long been promoting the herb as Narahari buti claimed that he heard about the herb from Yogi Naraharinath. But, he also said he does not have any document about the herb. He said he learnt about the importance of the herb after using it.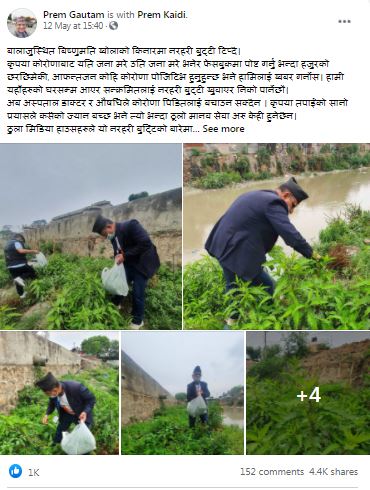 What do the Ayurveda doctors say?
Ayurveda doctor Prakash Gyawali said he has not found any Ayurveda book mentioning the herb as a medicine against Covid-19.
"There has not been any official study. Some people might have benefitted from its use, but we don't use it as medicine because Ayurveda has not described the herb as medicine," he said.
Similarly, Dr Shyam Mani Adhikari, a former chief of the Central Ayurveda Campus of the Nepal Sanskrit University, said he does not have any information on the herb, so he cannot say anything. He said if the herb had other names, he could identify it. "In Ayurveda, one plant species has various names. Everyone has heard about gurjo (Tinospora cordifolia), but it has several names. But, Ayurveda has not yet developed a remedy to cure Covid with one single medicine," he said.
"Some individuals might have experienced some relief from some particular herbs. But, using unproven remedies can prove fatal," Dr Adhikari added.
What happens if herbs are taken randomly?
The effects of reckless consumption of herbs may not be seen immediately, but it can cause harm in the long run, according to experts.
Dr Gyawali said, "People are not aware of the harm caused by herbs because they do not have immediate side effects unlike other [allopathic] medicines." He said, for example, people with high uric acid levels should not consume amala in higher amounts. If people with chronic illnesses take herbs in incorrect doses, it could prove fatal, according to experts.
"We prescribe various medicines to control blood pressure and blood sugar. But, if someone takes the medicines in incorrect proportions, that could turn fatal," Gyawali said. It is said excessive consumption of pepper and ginger by people suffering from piles can cause bleeding problems. Some people suffering from Covid-19 try steam therapy, but Ayurveda experts say excessive inhalation of steam can cause nosebleed among other problems. Dr Adhikari said, "Even Ayurvedic medicines can cause adverse effects if they are substandard. For example, adulterated turmeric, honey, etc may not give the desired effect."
What has been done to prevent the misuse?
The government's Department of Ayurveda and Alternative Medicine has issued the Ayurveda and Alternative Medicine Guidelines in an attempt 'to prevent and manage Covid-19' through Ayurveda and alternative medicine. On April 25, the department issued a circular to the social development ministries in all seven provinces to follow the guidelines. The guidelines include the names of various medicines and their recommended doses.
How to use Ayurvedic medicines?
One should consult Ayurvedic doctors or experts before taking Ayurvedic medicines, according to experts.
"In Ayurveda also, the medicines given to patients with mild symptoms and serious patients are different," Dr Gyawali said, adding, "Medicines for pregnant women, children and elderly are all different. The Ayurvedic Hospital administers different medicines in different doses to Covid-19 patients with mild symptoms and severe symptoms." Likewise, depending upon the health of an individual and the condition of the disease, only the medicines used as per the doctors' recommendation give desired results, both the Ayurveda experts told South Asia Check.
The article first appeared on South Asia Check.