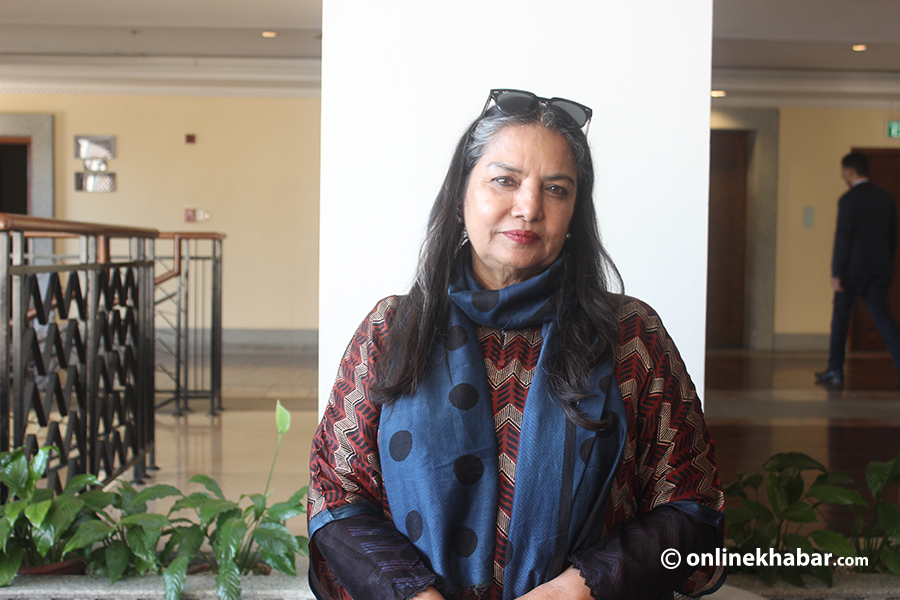 Veteran Indian actor Shabana Azmi has been to Nepal many times; she cannot remember the number although she remembers that she first travelled to Nepal in 1974 for the film, Ishk Ishk Ishk. Nevertheless, she says visiting Nepal has always been a warmful experience.
This time, she is in Nepal for a masterclass as a part of the second edition of the Nepal International Theatre Festival (NITFest), which kicked off at Mandala Theatre, Kathmandu, on November 25.
"I was very intrigued when I heard about NITFest and 21 international plays being performed under one roof," says Shabana Azmi, adding she loves the Nepali theatre and film industries and wants them to grow professionally.
Experiencing theatrical performance in Nepal
During the inauguration of the festival, Shabana Azmi watched the play, Katha Kasturi, an adaptation of Nayan Raj Pandey's fiction directed by Deeya Maskey and performed by students of Actors' Studio. "It amazed me," she says. "I couldn't believe it was done by students trained for just three months."
She says it was an ambitious play for the students but it was done very well.
Azmi, however, has not watched any Nepali films yet; she feels ashamed about it. But, the play she watched at the inauguration impressed her and she now wants to watch more Nepali plays and films in the near future.
On Saturday (November 26) night, Shabana Azmi gave her masterclass, in which she said she was very inspired by the theatre scene in Nepal. "Here [Nepal] the theatre actors are making their own space and group to perform. But in India, the actors are just actors. We just act."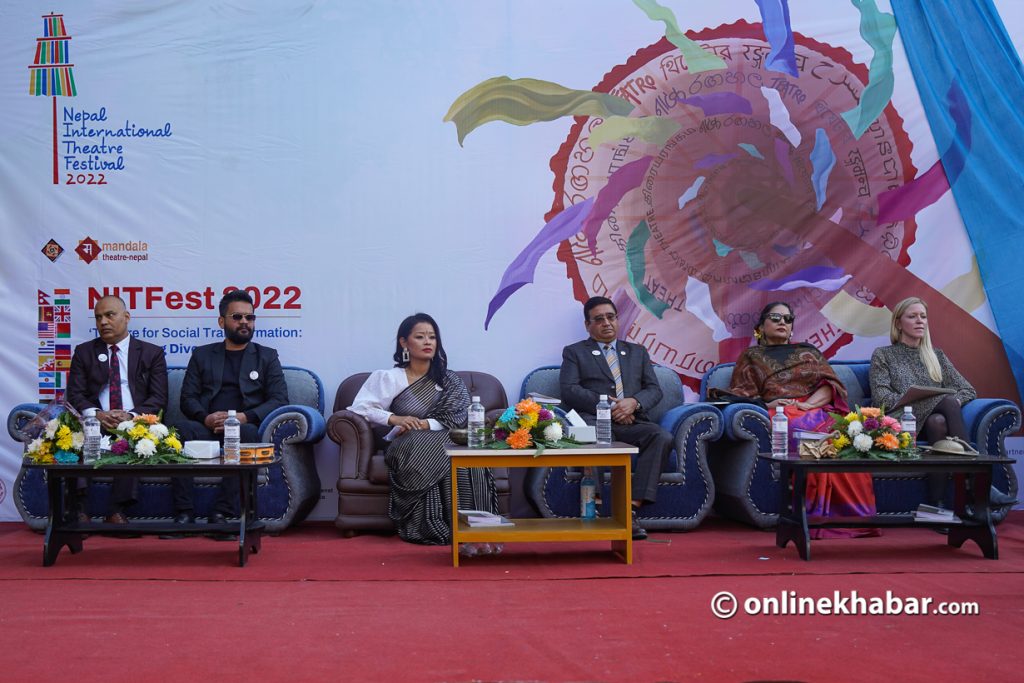 Yet, she says many things are happening in Indian theatres. For instance, there is a new cultural space in India, called the G5A Foundation of Contemporary Culture in Mumbai.
"Basically, it's a black box and this space is in the middle of a fishing community," she says.
The G5A team also brought a fishing community to work with so as to make them aware of their relationship with the sea and others. "Instead of being isolated, they have started integrating the community, which is the real purpose of the theatre. Isn't it? That is something interesting happening in the Indian theatre scene," she says.
Pros and cons of theatre
Shabana Azmi believes that theatre is a very strong part of personality development, hence encouraging youngsters to engage in performances.
Similarly, there are also many small spaces for the performers where independent voices can thrive. But, she is worried that the theatres sometimes do well only when they feature stars. "It's big pity," she says.
"For instance, if you have a play featuring Naseeruddin Shah and Shabana Azmi, it will be successful," she explains, "That's sad because there are so many theatre actors who are good, and such a trend is putting them in the shadows."
While the pros and cons were still there, the Covid pandemic shattered the theatre industry, she comments.
However, Shabana Azmi has also thought about its solutions too. She believes if corporate houses support theatres as a part of their corporate social responsibility (CSR), it can be a big help. "It is not easy to collect adequate money for theatre from ticket sales," she says.
She stresses theatres as a medium must establish themselves as a completely different medium to attract viewers.
"If you reproduce the real work as you see in movies, people will not show interest in theatre," says Azmi. "People can only get fascinated by the theatre if the practitioner can convince them that a man standing on the stage is actually a tree."
Her love for art and more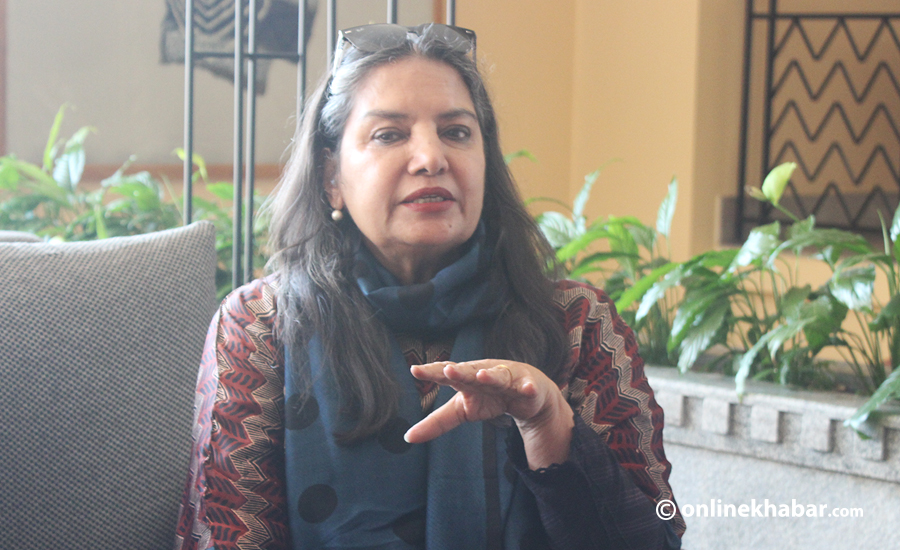 Shabana Azmi has a very strong attachment to the theatre. She grew up in the theatre; she was just four months old when her mother Shaukat Kaifi used to carry her on her back and take her to the rehearsal at Prithvi Theatre. She used to go along with her mother on tours with the Prithvi Theatre team when she was three.
"Theatre has always been a home for me," she says.
Interestingly, Azmi also possesses a decent knowledge of Nepali art and culture. She says Nepal has a very long history of art and culture. Azmi believes that art and culture are intrinsic to Nepal.
"Everywhere there is art in Nepal," she says, showing a traditionally designed box nearby her.
At the end of the conversation with Onlinekhabar, the five-time national award winner drops a tip for all aspiring actors.
People have an idea of what acting is, therefore they admire a specific actor and want to emulate them. That is the most wrong thing they do, Shabana Azmi believes that acting must come from within.
The septuagenarian actor advises young aspirant actors, "Drop all notions about what acting is and start feeling it. Be in the moment, that is the most important thing."
"Don't make it an external exercise; make it an internal exercise. Don't act unless you feel you will die if you don't act."