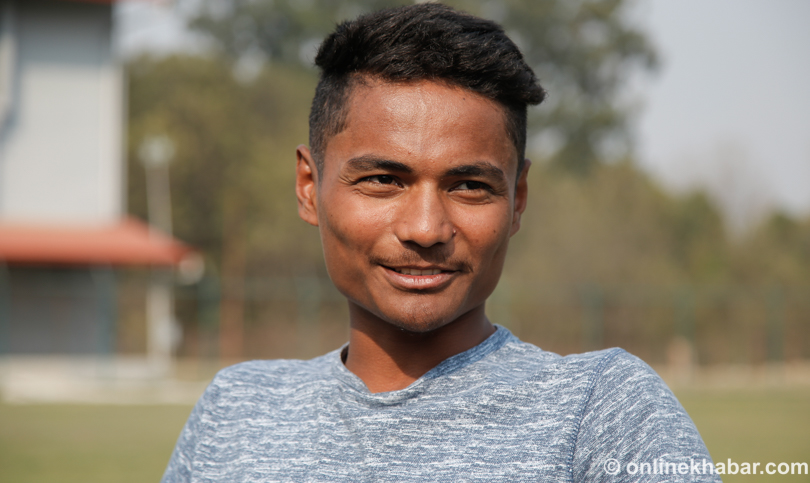 Four years ago, an eleven-year-old boy from Nawalparasi came to Kathmandu to peruse his dream of becoming a cricketer. The same boy recently played a match-winning innings against Hong Kong to keep Nepal's hopes of achieving ODI status alive.
Rohit Kumar Paudel at a tender age of 15 is aware of the pressure cricketers face when they take on the field so much that he says he feels comfortable batting in difficult situations. "It's part of the game," he says with a smile on his face. "I'm starting to enjoy the pressure. Yes, it's a bit difficult to do it every match, but if you pace your innings well, nothing is difficult."
Paudel grew up in Nawalparasi watching his elder brother and others play tennis ball cricket. Even though he tried his hand at other sports, from an early age cricket was what made him happy. "I wanted to become a cricketer after I saw Nepal play in the World T20 in Bangladesh. Watching Paras Khadka and others play the World T20 gave me the motivation."
Paudel says Khadka is his idol and he has been impressed by the way the captain motivates the team. "He is amazing and always leads from the front. During the past two tournaments, I've learned a lot from him, he is truly an inspiration," he adds.
Like Khadka, Paudel had a similar route to the national team. He came to Kathmandu and joined Balwatar Cricket Club where he learned the techniques of the game and was groomed into an all-rounder just like Khadka. Rikesh Lama, a coach at Balwatar Cricket Club, felt he could easily make it into the team even as a 'pure' batsman.
As competition was tough in Kathmandu, Lama suggested that Paudel to go to Bhairawa for the U-19 trials. "I knew I had to perform well if I had any chance of getting selected. Coach Jagat Tamatta along with Binod Das and Raman Siwakoti were there and luckily I got selected and was called to Kathmandu for a training camp."
When he came to Kathmandu, there were 52 other boys of his age waiting for a spot on the junior side. After performing well, he was selected in the 15 that would represent Nepal in the 2016 U-19 Asia Cup in Sri Lanka. The tournament didn't go as well as Paudel had wanted it to, but he remembers the unbeaten 68 he made against India. His contribution with the bat had helped Nepal post a respectable score against a strong Indian squad.
The innings he played under pressure caught the eye of the selectors and he was chosen by the Kathmandu franchise in the inaugural Dhangadhi Premier League. Paudel had a lot of hopes from the tournament, but he had a tournament he would want to forget. "But I worked hard and was later picked by Bhairawa in the inaugural EPL."
The tournament proved to be a turning point in the youngster's career as he was named the man of the match in one of the encounters and the most valuable player of the tournament. A solid performance in the tournament earned him a call-up from the senior team. "I was called for the month-long camp at the TU ground. That was the moment when I felt I would play for the national team."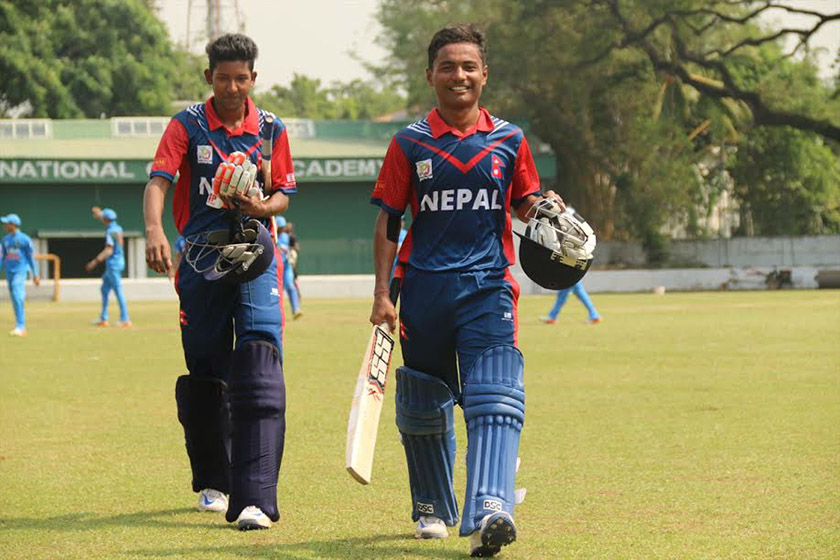 After good performances in the camp, Paudel was selected in the team that would take part in World Cricket League Division 2 in Namibia. "I didn't know that I had been selected. It was my elder brother who called me and told me," he says, "Everyone in my family was happy that my dream of playing for Nepal was now becoming a reality."
His debut game came against Namibia. He became the youngest player ever to play for Nepal, a record previously held by teammate Sandeep Lamichhane. "It was a tough game, I came to the crease when we were five down and I had to play sensible cricket and not throw my wicket away."
Even though Paudel got out and couldn't see the team through, the coaches and captain Khadka told Paudel that he played a mature innings taking the conditions into consideration. Another game that comes to mind when talking about Paudel is the one against Kenya. He came to the pitch when Nepal were five down again. He played a match-winning innings alongside Aarif Sheikh. The duo put on an 87 run stand which helped Nepal win the match.
But Paudel was unhappy that he couldn't finish the job as he was run out.
"If I had been there until the end, a separate confidence would have crept in but we won that match and I am really happy," he says.
Nepal qualified for the world cup qualifiers but Paudel wasn't fazed by it. He also mentions that he isn't bothered by pressure. "You feel pressure every time you get in the middle. But after you play 10-15 balls your nerves settle down."
Paude,l like every other player had one thing in mind, to get an ODI status and reach the super six. Nepal didn't have the best of starts as they lost three games on the trot. The last match in the group stage became a must-win for them to play ODI cricket.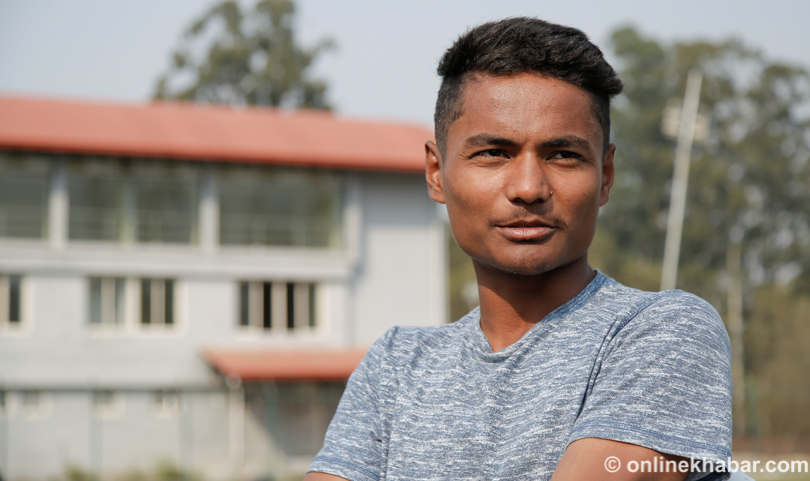 Nepal bowled well and packed Hong Kong for 153 which they had to chase by the 45th over to get ahead of Hong Kong. But Nepal got off to a dreadful start as they were 5/66 in the 20th over and with talisman Khadka out cheaply, the side was staring at defeat.
"Looking back it was a tough situation. But the captain and the coach told me to play my game and not throw away my wicket. My game plan was simple – win the game by the 40th over and build a partnership with Sompal Kami. Kami played a great-run-a-ball inning which helped us win the match."
Paudel's unbeaten 48 earned him the man of the match award and also a bat from the Afghanistan captain Asghar Stanikzai 'for helping his side get the super six.'
The rest of the tournament wasn't as good but Paudel has taken a lot of positives from his time with the national team. At 15, he has done what many can only dream of achieving. He says playing against international teams has made him a better cricketer and one day hopes to follow in the footsteps of Lamichhane to play the IPL alongside his namesake Rohit Sharma.
But for now, he has his feet planted on the ground. He wants to work on his techniques and especially work on his ability to play spin. At such a young age he is mature and believes in himself. "The welcome we got at the airport was amazing. I want that every time."