June, when the world marks World Environment Day, is now over, and with that, many discussions over afforestation, plantation and environment have also subsided. But, for Rashil Palanchoke, his efforts are just starting. Every year, around June/July, Palanchoke's three-month plantation drive begins. And, this year too, he is all set to start.
What began with his inquisitive nature turned into a passion and now with his persistence, he is starting to make a mark in society.
Starting out
Palanchoke shares he started his project some 10 years ago when he shifted back to Banepa (a town in Kavre, some 25 km east of Kathmandu) from Kathmandu. Then, the Araniko Highway was being repaired, and the contractors had also planned a green belt with trees and plants along the highway. "I was curious and started asking around if plants would really be planted as promised, but I didn't get an answer, not even from the authorities."
"So, with the help of my close friends, we collected some money and planted younger trees along the lane, about 250 of them on both sides of a two-km stretch. And, we just gave continuity to what we started, year after year."
To date, under the Banepa Green Initiatives, the Palanchoke-led team has planted 5,000+ trees in Banepa alone. Further, it has a target to add some 600 more to the town, this year.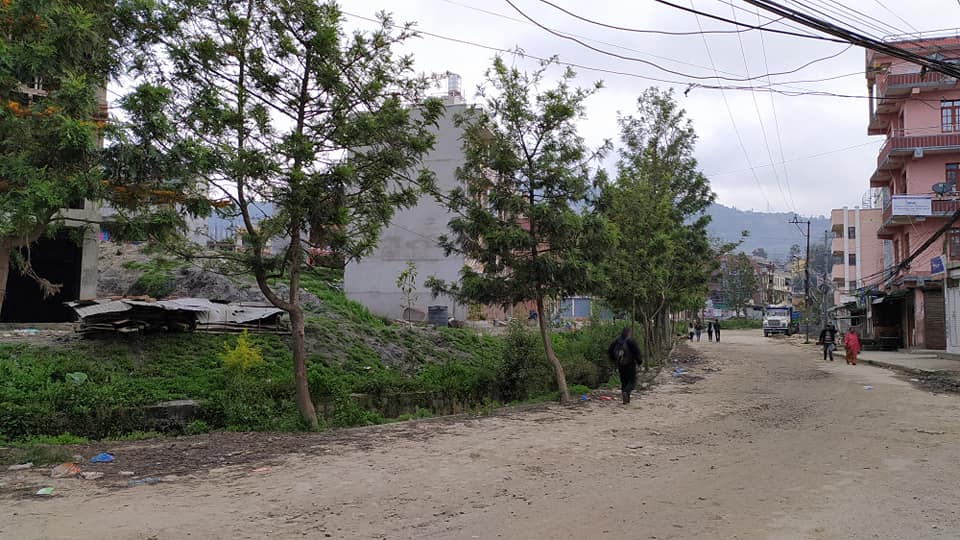 Standing out
Plantation drives in and around June are common. But, what makes Palanchoke and his initiative different?
First of all, it is a passion project and is funded by people. They collaborate with local members and volunteers.
And, it is different from the other plantation drive both in terms of time and place as well as sustainability. "We always wanted this to be a project where people invest. It takes time to raise a plant, and it is as delicate as raising an infant."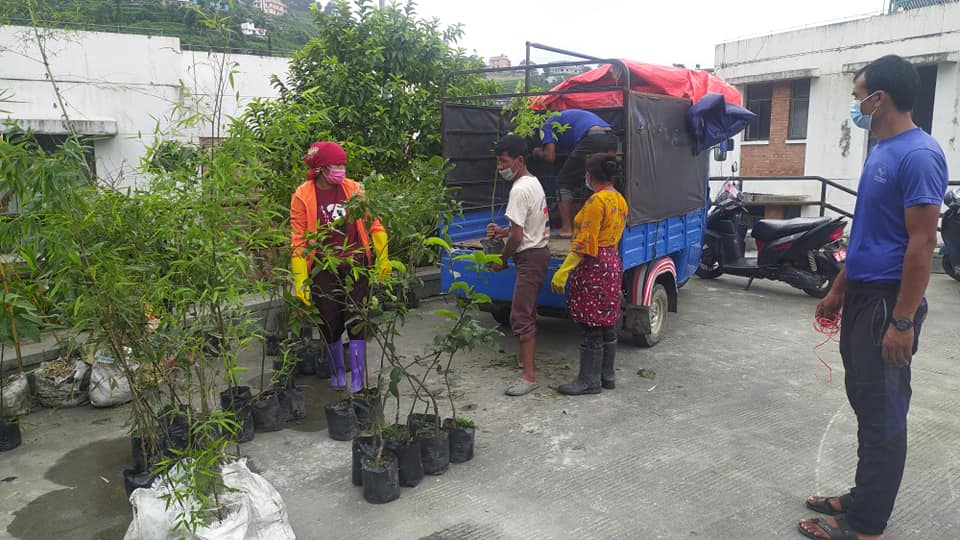 Whereas other plantation drives run just one day regardless of the reason, Palanchoke spends at least three months a year, every year, on his project. "These three months are most precious; we get enough water, and it is the right time for plants to spread their roots and grow."
To let the roots grow, the plants need space. This is why Palanchoke's drive makes sure the plants are at least 15-16 feet apart and has a 3×3 hole on the ground for each before they transplant the trees.
And, the campaigners also make sure to never plant in the same spots, year after year.
Another big difference is the plants he chooses for the drive. "We make sure that the plants are at least five to seven feet in height, about three to four years old. The government has also set the same standard for the public plantation."
"More than the oxygen and shade, we also want people to enjoy the fruits, which is why we choose fruit-bearing trees, like pomegranates, plums, and avocados, and flower-bearing trees like jacaranda and mountain ebony, just not common ones."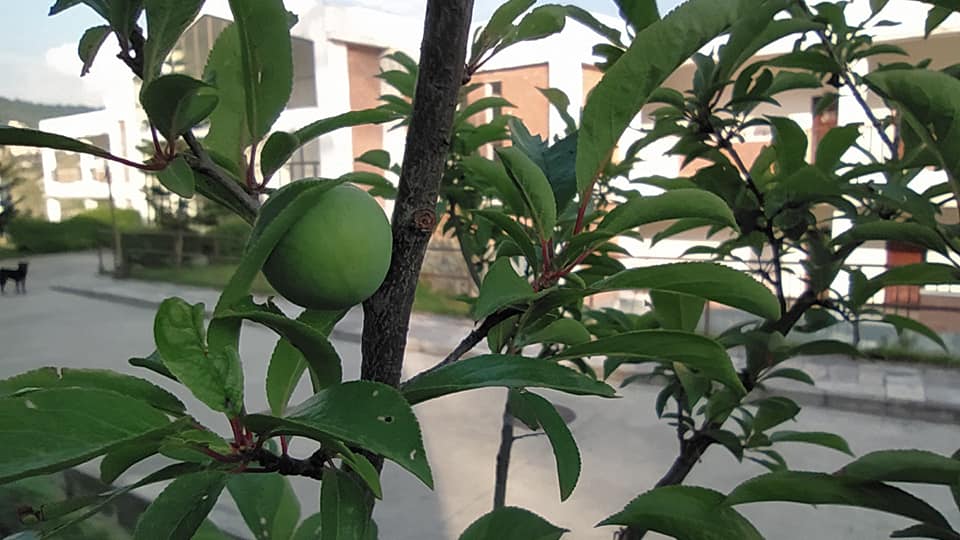 And, not just in planting, they also prioritise beautifying the space either by planting in a pattern or alternatively. "It is not random. We try to stress on design and aesthetics as well." For this, they begin planning some one and a half months ahead.
Past and future
Because of his plantation campaigns, some call Palanchoke the 'Tree Man' today. He does not care for such titles, but his love for trees has been undeniable. A humble Palanchoke says, "It was never my intention to get that title nor do I entertain it. And also, I believe, I am yet to do a lot more to deserve that title."
But, he rather finds himself as a jack of all. "I am a musician, and a former member of Kutumba band. I taught myself and now I do some interior and landscape design. Then, I lend hands to those close to me. I am also a hotelier, running my homestay in Banepa itself."
Interestingly enough, he started his plantation drive not 10, but 20 years ago. "I had probably blocked that memory. But after the plantation drive picked up, I was reminded that I, at the age of 15/16, had done my first plantation drive. I collected some students that I used to tutor and then went to the Matatirtha forest where we planted some trees."
While in Kathmandu, he recalls being in his rooftop garden growing plants and fruits. And even today, one can find him immersed in his garden at his residence in Banepa.
Maybe because he drives his motivation to work from his early days, he says he wants to work with the younger population and aspiring students of the environment. "We have worked with students a few times. Students from Kathmandu University and other enthusiasts have joined us, sporadically."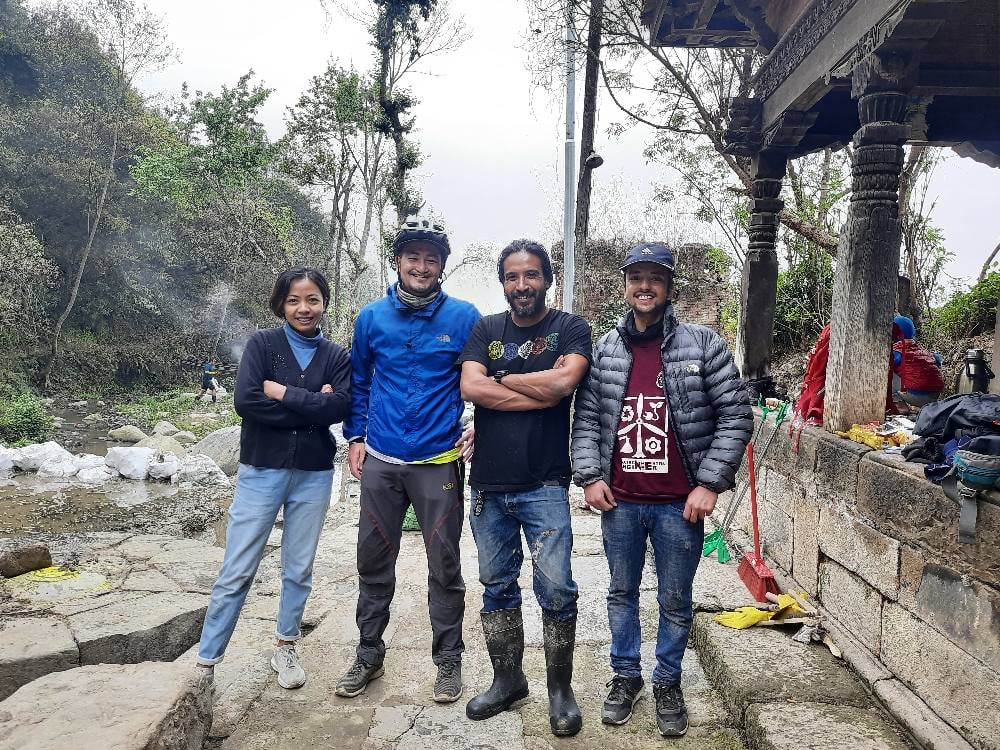 "Such sessions are a great way to build the network and share knowledge. I share my experiences and learnings over the years. And they put their views too," he says.
But now, he wants to dream bigger. He wants to give training to the new students who would carry on his vision. But, for now, he wants to continue and work at least 15 more years in order to leave a stronger mark.
Doing it right
Every year, Palanchoke and his friends plant about 300 to 600 trees, with only a slight drop in 2015 due to the mega earthquake. But, he says planting a tree does not mean anything unless you do it rightly.
"A few months after the planting are crucial. The plants tend to die if not cared for properly. With enough space, we make sure to add fertilisers, give support and try to alleviate the external factors that hinder the progress," he explains. Those who died are replaced next year, he adds.
Of the plants they have planted, 3,500+ trees are still intact.
In his pursuit, he also believes that the place they choose is as crucial as the process afterwards.
The drive's plantation aims to find free school compounds, unused land around temples, riversides, other open public spaces, better inside the compound walls. "Some extra research is necessary to make sure no construction is scheduled in near time, else, the efforts all go in vain."
To do this right, he hires some three to four professional diggers, the manual workers who have been doing it for years.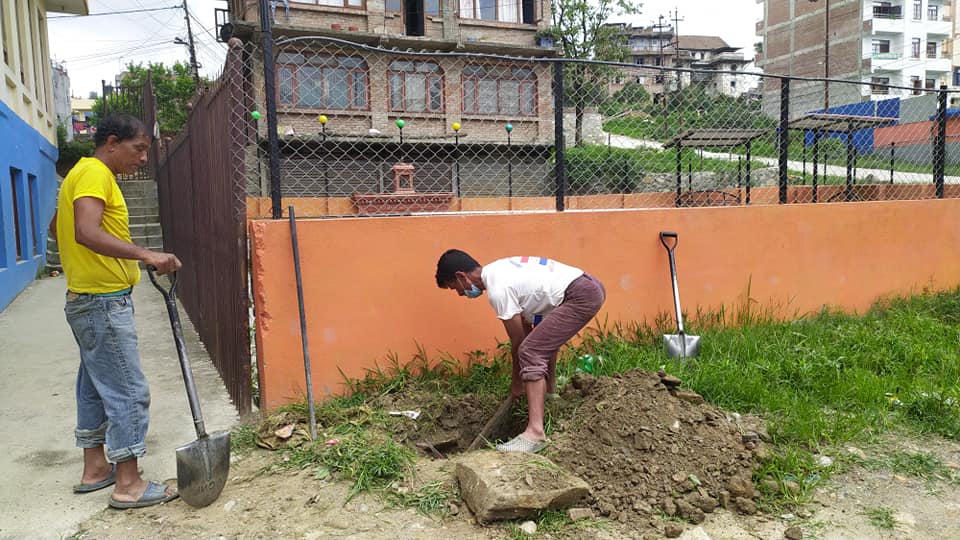 For this year, they are already done digging for some 200 trees and has now been planted.
There are not enough open and public spaces now as they were in the past. The concept of parks is booming, but his vision is to make the whole town like a park. "Deforestation is larger, and the ratio of afforestation to deforestation is unbalanced. People are being more aware; they call me when people see plants that are being encroached."
Going beyond Banepa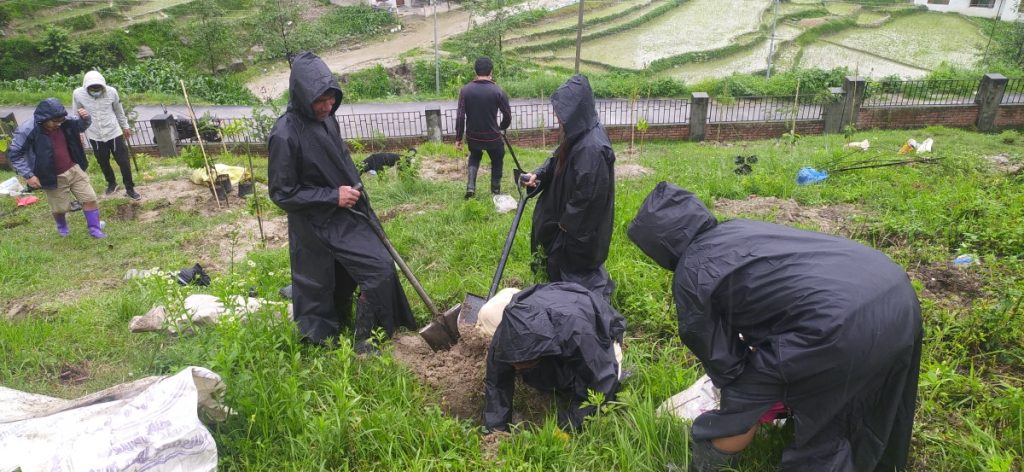 Although he might be right in thinking that people in Banepa have become more aware, his initiative is limited to this town only.
Nonetheless, he says, "It is not that I do not want to go outside Banepa. But, I have not got the right opportunity. So, for now, I am just busy doing what we can around us."
But, he has given it a try a few times. "Once in 2019, locals from Panauti (another town in the district) invited me, and we planted some 20 trees. But, when I went back, I saw only one tree left. That felt like the efforts, time and money were wasted. People need to take ownership after the plantation."
To avoid the same, he says that his team takes care of the trees it has planted and visits them weekly to monitor them.
Palanchoke furthers confirms he is open to collaboration with others and shares that he would love to share his experiences and knowledge. "Even if two or three people get involved and carry on the drive, I will be happy."
But, even before that, Palanchoke wants to get the Banepa Green Initiatives registered. "I feel now is the right time, to get registered, be organised and expand the drive. We already have a plan, and soon that will be put into action."