Rangeli, January 21
United Democratic Madheshi Front cadres tried to take four CPN-UML activists under their control while they were heading towards the venue of a UML gathering, in Rangeli, on Thursday. Police arrived at the scene and rescued them all before any untoward incident. The UDMF activists chased the four UML cadres,  including the party's Rangeli town committee chief Dinesh Thakur, while they were on the way to the venue. "We hid ourselves at the house of Anil Maheshwori to save ourselves from UDMF cadres, who were chasing us. Police rescued us later," Thakur told Onlinekhabar.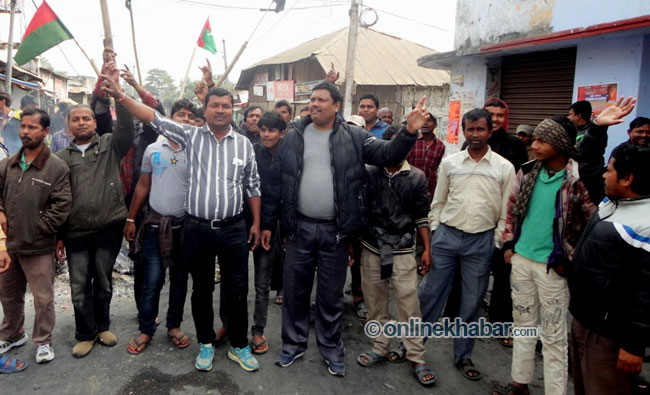 Thakur said they have sustained minor injuries as UDMF cadres pelted them with stones. UDMF activists tried to disrupt the gathering in which UML General Secretary Ishwor Pokharel was taking part.
When police tried to stop UDMF cadres, the latter clashed with police, who teargassed protesters and fired in the air to bring the situation under control. The UDMF had started its protest after it got information that Prime Minister KP Sharma Oli was taking part in the gathering.
Instead of Oli, Pokharel attended the gathering. But this did not stop UDMF cadres. Rangeli is tense following the clashes.