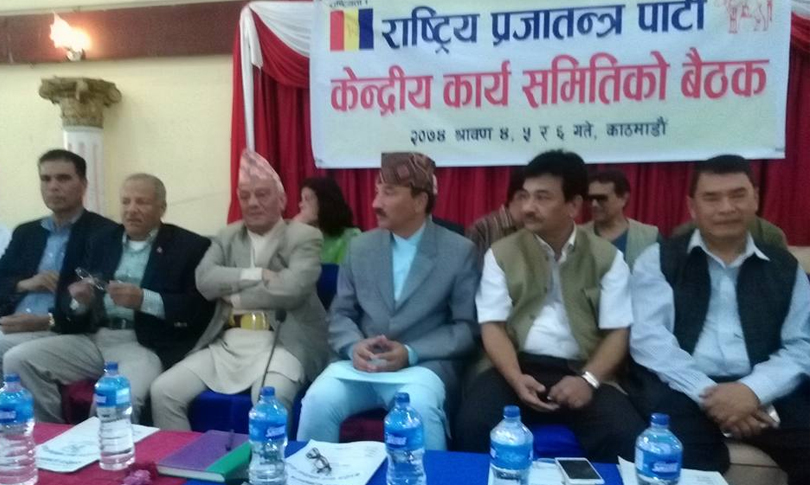 Kathmandu, July 19
Rastriya Prajatantra Party senior leader Pashupati Shamsher Rana did not attend the party's Central Committee meeting that began in Kathmandu on Wednesday.
Earlier, on Tuesday, he had not shown up in the party's powerful Executive Committee meeting in an apparent show of his dissatisfaction over party Chairman Kamal Tjapa's decision to appoint 42 new people to the Central Committee.
Earlier last week, Rana had issued a statement against the appointments saying the party was not the Chairman's personal property.
Rana had said Thapa took the decision unilaterally without consulting anyone in the party.
Another senior leader, Lokendra Bahadur Chand, who was absent in the meeting yesterday, is present today.
Meanwhile, party Chairman Thapa presented a political paper at the meeting analysing the party's position in the current political situation.
In the paper, he has said some forces have launched an organised and well-planned campaign with a mission to destroy the party.
Accepting that, the party could not perform well in recent local level elections, he has said, "The elections have revealed our strengths and weaknesses."
He has clarified that the party should support the constitution amendment bill as Madhesh-centric parties should be convinced to take part in the elections.
Thapa, however, has said the party is yet to decide whether to join the new government. He has suggested that the meeting discuss the issue and make an appropriate decision.
The meeting is scheduled to discuss contemporary political issues including the constitution amendment.