Prime Minister Pushpa Kamal Dahal has made headlines with a controversial statement he made on July 2.
During the launch of a book by Pritam Singh in Kathmandu, Dahal mentioned Singh's efforts to make him the prime minister of the country.
"He went to Delhi to justify why I should be made prime minister," he said during the launch.
That statement did not go down well. The main opposition, the UML, obstructed the house proceedings calling for Dahal to resign as the premier of the country.
Pushpa Kamal Dahal apologised for his statement on Monday following his meeting with Nepali Congress President Sher Bahadur Deuba and UML Chair KP Sharma Oli. During his address to the house, he acknowledged his emotional side and expressed guilt for his earlier remarks.
"There are times I speak from my heart. That is my nature. What can I do," he said.
But as he spoke, he said inadvertently mentioned something that he had avoided discussing since his tenure as the prime minister began. He mentioned how long he will be in office as the premier of the country.
Ever since becoming the prime minister, Dahal has expressed confidence that his government would create history by completing its full five-year term, implying stability and continuity. However, during his recent address, he made a remark suggesting uncertainty about the duration of his tenure as the prime minister.
This change in tone indicates a shift in perspective or circumstances that have led to a more uncertain outlook regarding the duration of his leadership.
"I have never believed I will stay prime minister for a long time," he said. "But as long as I am in the office, I will always work for the better of the country and stay alert."
Dahal even pointed out instances where world leaders had served as prime ministers for very short durations, often just 12 to 13 days. He also mentioned past examples of Nepali leaders who had held office for as little as six months.
"All I can do is work for the betterment of the country. And I will do that," he said.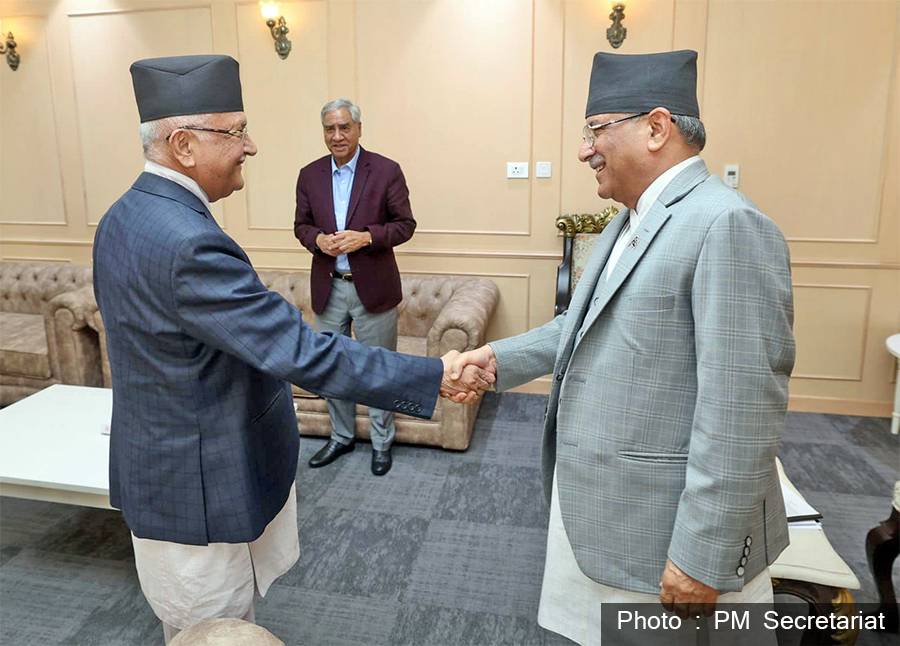 This is odd. Pushpa Kamal Dahal has been quite confident. Until a week ago, he confidently stated how his government would stay in power for its entirety. On July 1, at an event in Pokhara, he mentioned how strong the foundations of this government were.
"We won't be shaken. People need to note this. I will lead this government for the next five years."
This was just echoing what he has said time and again.
This confidence was shared by fellow leaders of his party, the Maoist Center, and other leaders of the coalition who time and made similar statements about how strong the government was.
Chair of Unified Socialists, Madhav Kumar Nepal, while talking to the editors a few weeks ago, also claimed this Dahal-led government would last five years.
"This will bring stability and development to the country," Nepal said.
Nepali Congress leaders too have shown support for Dahal. Bimalendra Nidhi at a program said how it was important to support Dahal as it meant supporting the constitution.
"He's been good so far. And I believe we will carry on supporting him," he said.
Following the dissolution of the alliance with UML, Dahal formed a new coalition with Nepali Congress, JSPN, and Unified Socialists. During this time, there were reports suggesting that he would continue as the prime minister for a minimum of one and a half years and a maximum of three years.
Despite potential adversities, there was a prevailing belief that Pushpa Kamal Dahal would unquestionably hold the position for a minimum of two years. His own confidence further reinforced this notion.
During his address in the House of Representatives on July 10, Prachanda expressed his emotions in his characteristic manner and stated, "I do not anticipate being the prime minister for an extended period."
This remark indicated a shift in his earlier confidence regarding the duration of Pushpa Kamal Dahal's tenure.