Bhaktapur boasts numerous ancient and traditional ponds, each with its unique history and significance. Some of these most well-known ponds in Bhaktapur were established centuries ago and were once central to the environmental and social life of the people.
With time, many of these ponds were encroached upon or dried up. But in recent years, the city has revived many of these ponds, attracting many local and international tourists alike. Some of these have become important cultural and social landmarks.
Here are a few ponds in Bhaktapur that are worth a visit next time you are in the city.
Siddhapokhari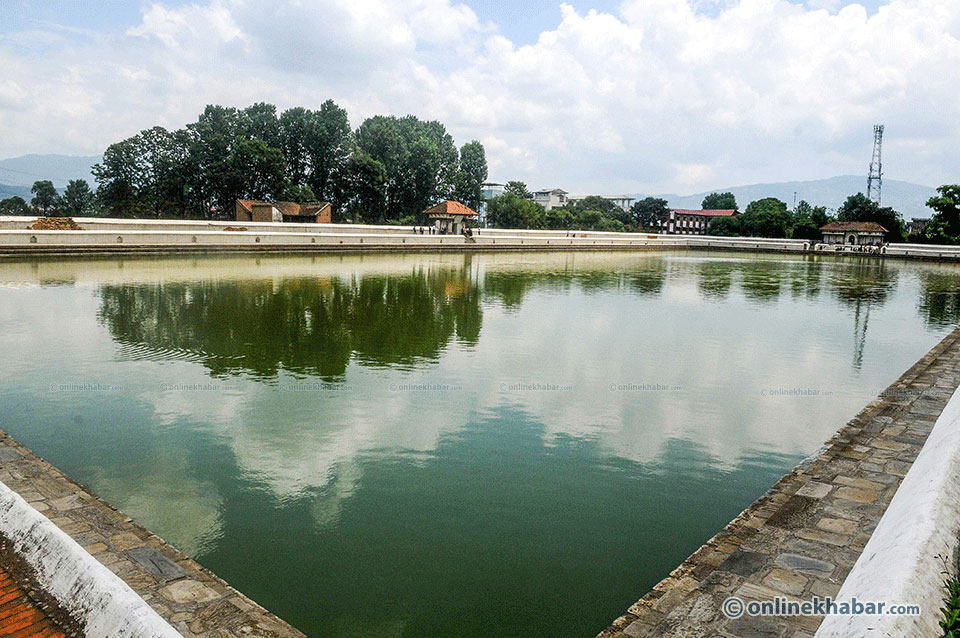 Among all the ponds in Bhaktapur, Siddhapokhari is a historic pond with rich cultural significance. Arguably one of the largest human-made ponds and most famous landmarks in the city, it was constructed during the reign of King Yaksha Malla in the 15th century. It is believed to have been used for various religious and ceremonial purposes. Siddhapokhari is known for its intricate stone carvings and traditional architecture surrounding the pond. Among all the landmarks and ponds in Bhaktapur, It attracts tourists and locals alike who visit to appreciate its beauty and historical importance.
Kamalpokhari
Kamalpokhari, meaning the lotus pond, is a well-known artificial pond situated in the heart of Bhaktapur, near the Kamal Binayak temple. It is one among the many ponds in Bhaktapur with a long history dating back to the 16th century when it was built during the reign of King Kamal Narsingh Malla and has cultural importance. It is popular for its serene atmosphere and the beautiful lotus flowers that bloom in abundance during the summer months. It has become a popular spot for locals and tourists alike to relax and unwind amidst the bustling city.
Bhajyapokhari/Bhajupokhari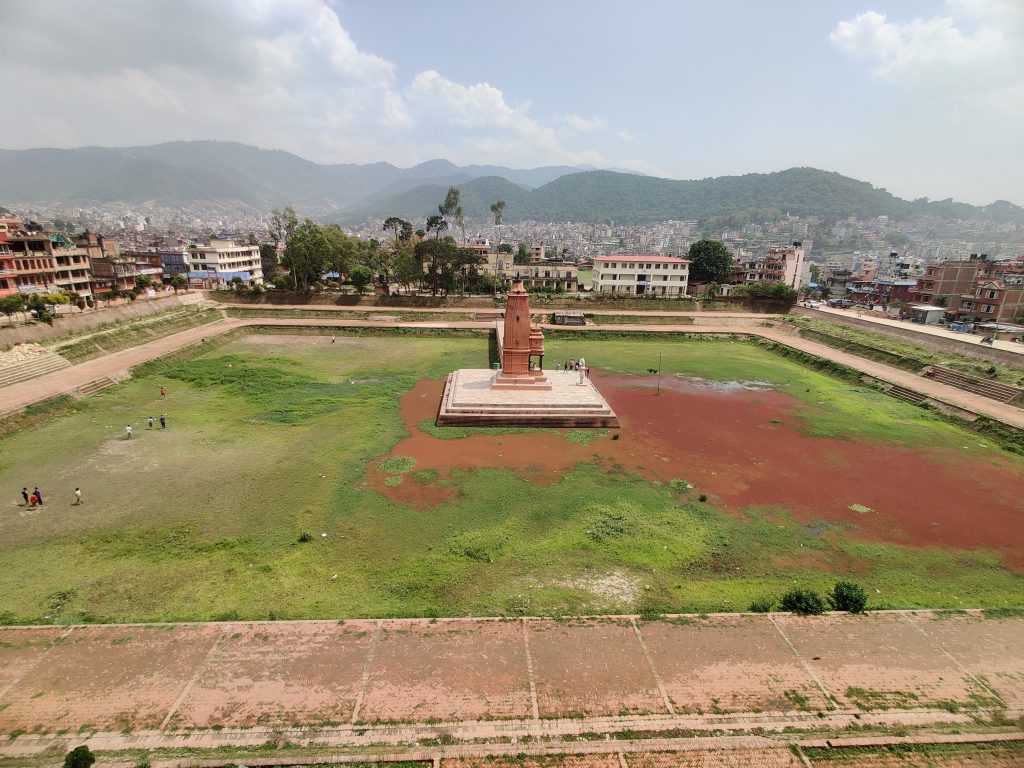 Siddhapokhari is famous in the area, but, an alley away, opposite this very pond is another pond, Bhajya or Bhajupokhari. This is a historic pond that holds cultural and religious significance built by Jitamitra Malla in the 12th century, 500 years before Ranipokhari of Kathmandu was built. There is a temple in the middle of Bhajyapokhari built in the Shikhara style. Though the pond is under construction as of now, it is still a landmark famous among the locals and known for its beauty and rich cultural heritage of Bhaktapur.
Nagpokhari
Nagpokhari, also known as the snake pond, is a fascinating water body located near Dattatreya Square in Bhaktapur. As its name suggests, Nagpokhari is associated with local legends and folklore about snakes–including a mythical serpent–that were once said to have resided in the pond. The natural spring was built in the 17th century by Jitamitra Malla as a royal bath for the then-royal family. Among the many ponds in Bhaktapur, this pond also has a serene and picturesque spot, surrounded by old temples and traditional Newa architecture. Nagpokhari is not only a place of natural beauty but also a cultural landmark that offers visitors a glimpse into the spiritual beliefs and traditions of the local community.
Napukhu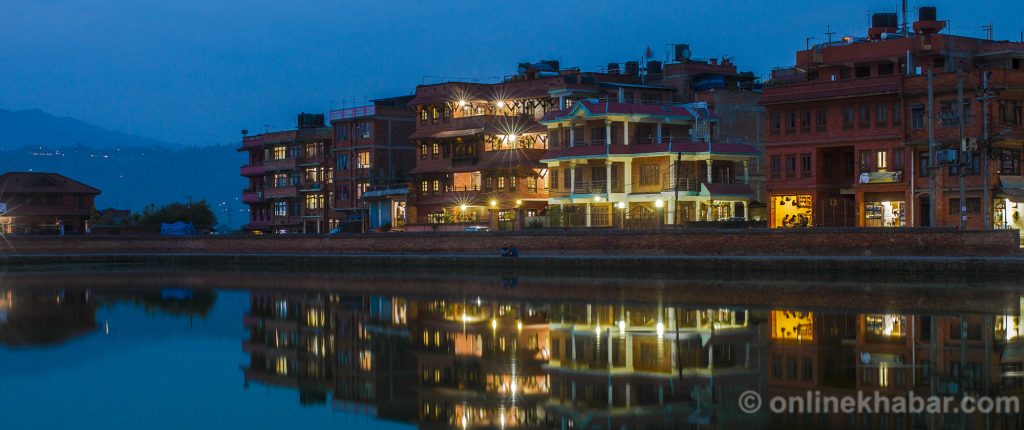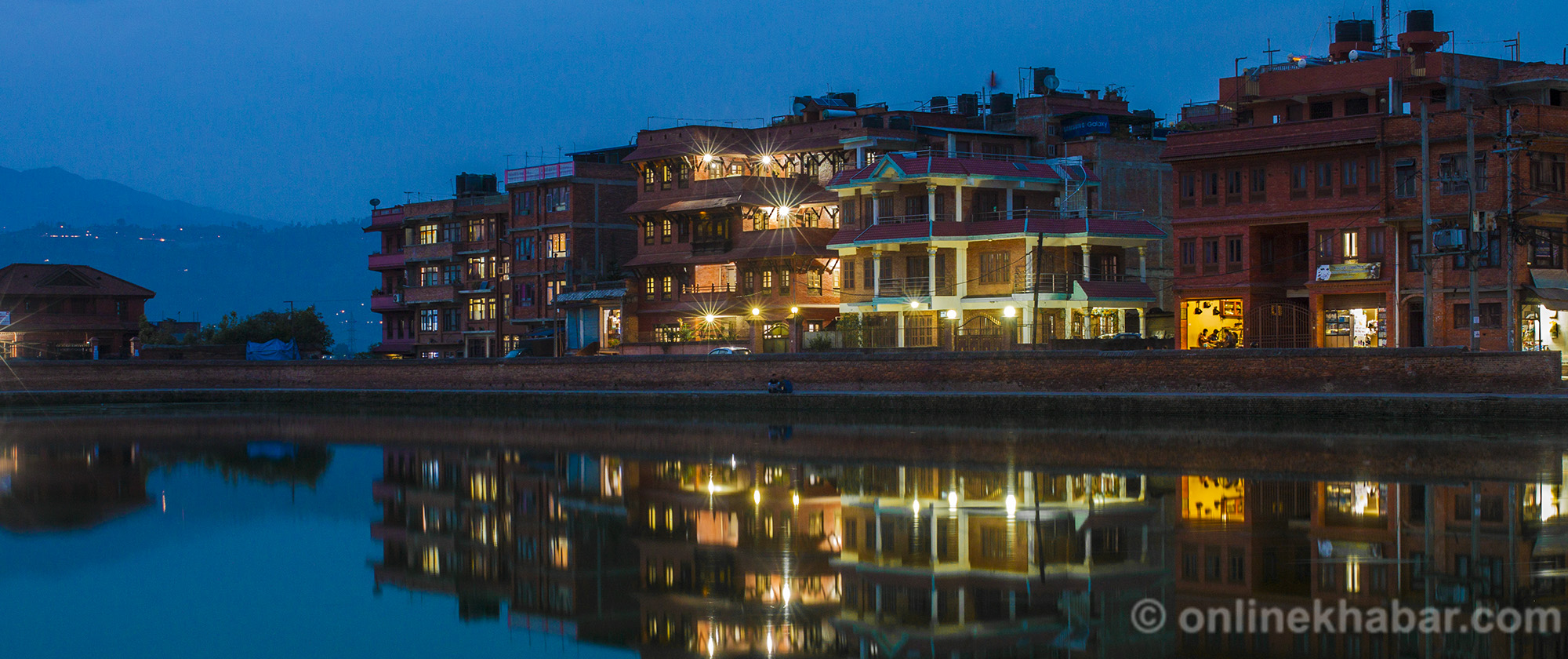 Just some steps away from Siddhapokhari is another pond, Napukhu or Guhyepokhari. It is considered one of the important ponds in Bhaktapur with stories of its origin in the epic Mahabharat. Napukhu is said to be dug by the Pandava brothers overnight and they ate their meals nearby the pond. This pond is surrounded by ancient temples made of ancient Newa architecture, creating a serene and sacred ambience that draws both locals and tourists seeking solace and spiritual reflection. The pond was also reconstructed a few years ago to get the outlook that it has today.
Kwathandau Pond
This pond is situated near Bhaktapur's famous Kwathandau Tole. It is small yet among the many water bodies that contribute to the city's charm. The pond is surrounded by ancient brick structures providing a glimpse into Bhaktapur's architectural heritage. Kwathandau Pond is a place where locals often gather to relax, chat and enjoy the peaceful ambience. Like other ponds in Bhaktapur, visitors can also sit on the premises and soak in the tranquillity or explore the nearby streets to experience the vibrant culture and heritage of Bhaktapur.
Ranipokhari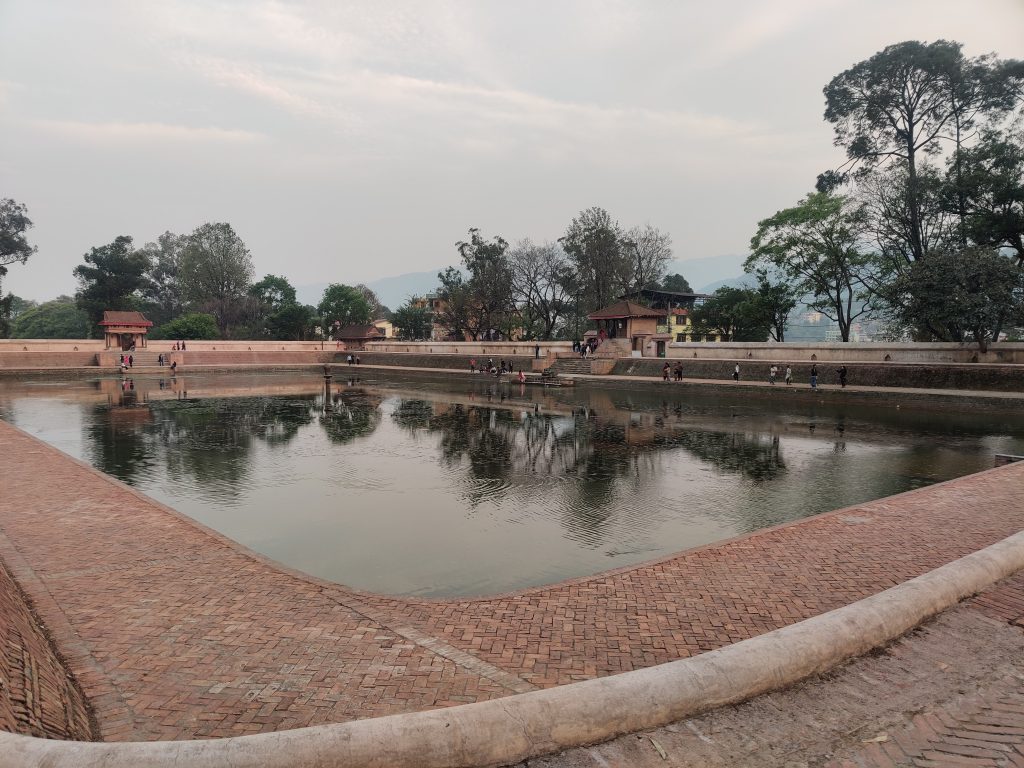 Ranipokhari or the queen's pond is one of the most prominent ponds in Bhaktapur. This pond is said to have been built some 40 years ago than the Ranipokhari in Kathmandu. This water body was built by King Jagat Jyoti Malla of Bhaktapur for his Queen Rajlaxmi. Ranipokhari is surrounded by intricately carved stone sculptures, creating a visual spectacle that reflects the city's rich artistic heritage. It was recently reconstructed and made open to the public. Almost next to Siddhapokhari, this pond is getting popular as a new favourite destination for locals and tourists to relax, enjoy the scenic beauty, and appreciate the rich history of the area.