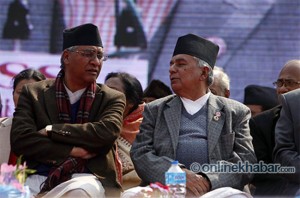 Kathmandu, April 6
The Nepali Congress election for parliamentary party leader's position is taking place on Wednesday. Party leader Ramchandra Paudel and President Sher Bahadur Deuba are contesting the crucial race that reminds one of the contest for the post of party President in which Deuba won in the second round, defeating Paudel and another leader Krishna Prasad Sitaula.
As per the election committee's time-table, the election will take place from 11 am till 2 pm.
This time, the party is conducting the election using electronic voting machines.
Team Paudel's strategy
There are 206 voters in this election, according to a Congress source. There are claims that 125 lawmakers are supporting Deuba, 74 are supporting Paudel, whereas seven lawmakers are undecided, a leader said.
A leader from Team Poudel told Onlinekhabar: It's almost certain that Ramchandra Paudel will lose the race. We are focusing only on securing a respectable defeat.