Kathmandu, March 21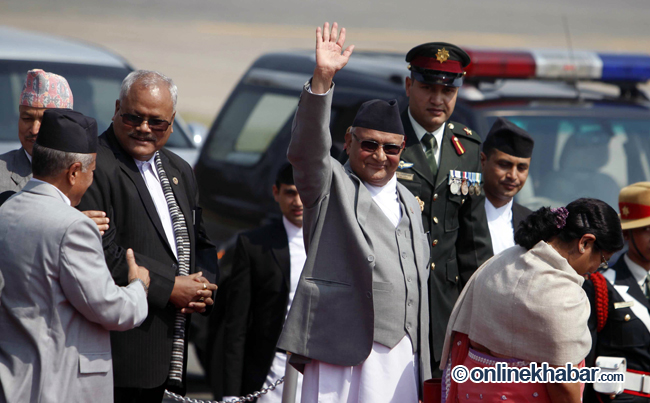 Prime Minister KP Oli is in China's capital Beijing as part of his eight-day official visit to the northern neighbour.
PM Oli is visiting China on the invitation of his Chinese counterpart Li Kequiang.
Upon arrival at the airport, Chinese officials and Nepal's Ambassador to China Mahesh Kumar Maskey and other officials received PM Oli. The prime ministerial entourage includes, among others, his wife Radhika Shakya, Deputy Prime Minister Kamal Thapa, Finance Minister Bishnu Poudel, Education Minister Giri Raj Mani Pokhrel, Commerce Minister Deepak Bohara,  lawmakers and representatives from the business-industry community.
On Monday, Prime Minister Oli will call on China's President Xi Jinping. And he will attend the reception to be organised in his honour at the Great Hall of the People. With Chinese Premier Li, he will hold talks on matters of mutual interest and concerns, Nepal's Foreign Ministry informed.
On the occasion, PM Oli will also meet Yu Zhengsheng, chief of the Chinese People's Political Consultative Conference. He will also address a programme at Renmin University.