It was 3 pm on February 11. Though the sun was moving towards the west, soon to set, two Nepali bikers were preparing to set off on their journey, towards their dream city, filled with new hopes.
Aawashish Prasad Ojha and Bijay Raj Kasaju packed their luggage on their motorbikes and starting from Kathmandu, they embarked on a 15-day journey to Kanyakumari in Tamil Nadu, South India. It was the K2K trip as they named it.
It was their first time riding their bikes for so long. They were also the first Nepali bikers to go from Kathmandu to Kanyakumari on bikes. They decided to reach Kanyakumari via Bhairahawa and then Uttar Pradesh.
It was certainly not an easy journey. But as per the popular saying in India, dar ke aage jeet hai' (there is victory ahead of fear), they set out on a long journey with a little bit of excitement, a little fear and a lot of curiosity.
They wanted to make memories that would last a lifetime. Rider Ojha says, "We enjoyed the journey, not the destination."
Challenging the challenges
"Some people questioned us why we, as Nepali bikers, did not travel inside Nepal first, but we had to do something different, nobody had done before," says Ojha.
After he convinced his family, Kasaju joined Ojha's extravagant plan. But, even though they had a plan, they did not have bikes. So, they bought the bikes and started practising riding from Kathmandu to Bardibas via Sindhuli. Although Ojha bought a KTM, Kasaju bought an MT bike. But, riding for long caused Ojha to have a sore throat. Still, they did not have a camera and that's when Ojha's brother provided them with a camera.
"Kathmandu to Kanyakumari has become a super journey. It would be very tiring to ride the bike all day. But, for the sake of our dreams, we did not let the fatigue win."
At times, the Nepali bikers were riding their bikes even without good food and proper sleep. Ojha says he had health problems when he had to ride a bike for a long time.
"To ride a bike over a long distance requires physical as well as mental fitness. The challenges are different when it comes to travel," he says.
"We heard that the police administration would investigate, strictly, so we carried all the necessary documents," he adds. Police elsewhere did not pay much attention, but the security personnel in Goa and Indore stopped them seeing the red number plates.
Upon seeing bikes with red number plates, Ojha shares, they would ask the Nepali bikers: Where did you come from? We have heard of Uttar Pradesh or Madhya Pradesh, where is Bagmati Pradesh?
Riding in the foreign land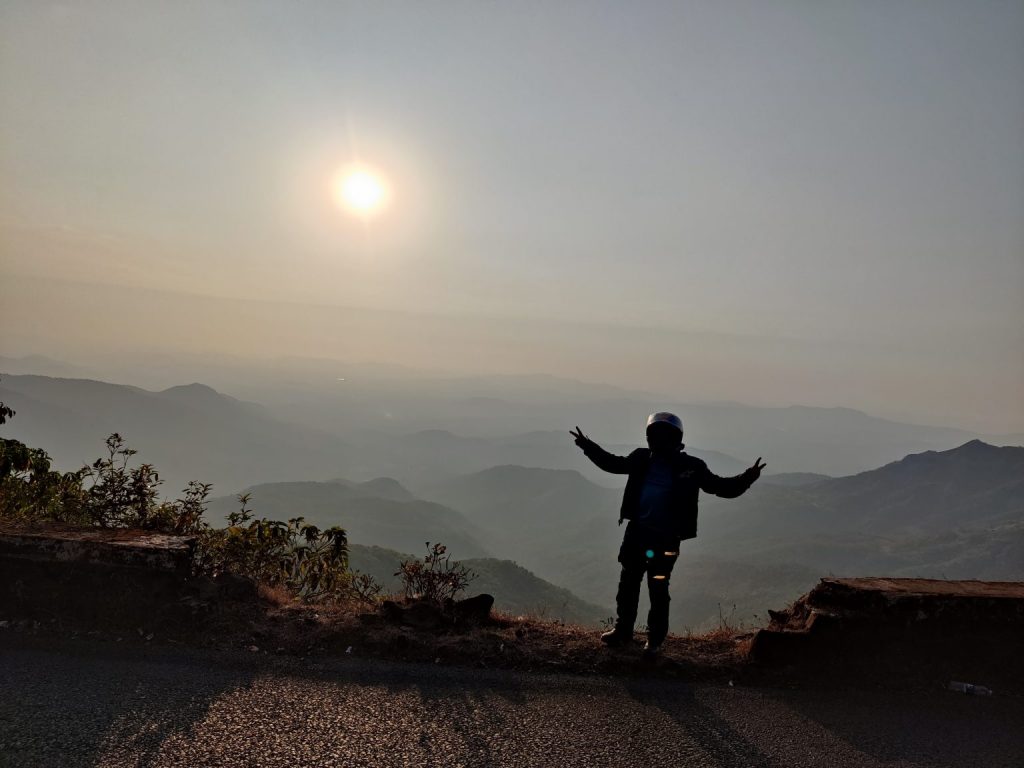 Many also reacted in amusement when they found out about the Nepali bikers' journey. Others, who could not reach there by themselves said they were very brave to travel all the way from Nepal on bikes.
They travelled 720 km in one day. They were fascinated by the wide roads of India. "We were thrilled to be able to ride a bike on the roads of South India," Kasaju says.
Many on the way also would inquire about the price of KTM bikes in Nepal. "They would be surprised that the bike costs Rs 750,000 and a helmet costs Rs 22,000. In India, one could purchase a good car for the same price."
Upon reaching Indore, Ojha's bike had some problems. But, the day the Nepali bikers reached Indore, it was a holiday so they had to wait until 10 am the next day to have their bikes repaired. They had collaborated with KTM Nepal, and it then collaborated further with KTM India, to service their bikes if and when they break down on the way. Meanwhile, they went around Indore, Kerala and Goa.
In Hyderabad, they had a hard time finding their way. But, even when they asked people the way, some told them to go one way while others told them the opposite. Yet the Nepali bikers reached dead ends or kept roaming the city endlessly. Finally, a driver helped them and they continued their journey.
"Outside Hyderabad, we reached a scary, deserted forest with no settlement areas. It was pretty scary," says Kasaju.
One day, it was already 10:30 pm but they did not have accommodation. Without any hotel, they made up their minds to ride their bikes even during the night and navigated with the help of Google Maps. Only past midnight, they found the hotel and slept there.
Next trips on the cards
The Nepali bikers covered a distance of about 6,800 km from Kathmandu to Kanyakumari. But, when they were leaving, the family told them to go on a flight if they really wanted to. "No one believed that we would reach Kanyakumari on bikes. But we had to do it, to do something different from others."
In their journey, they found that people in South India were more educated, civilised and humble than in North India. The environment and society were very good.
As Ojha studied in South India from class seven, he knew Tamil and Malayalam. So they did not have any communication problems in South India.
In the movies, Kasaju had seen people eating various dishes on banana leaves, and he also ate food on banana leaves himself. But being a tourist, the Nepali bikers had to pay a higher price for food in some parts of India.
"Reaching Kanyakumari is a great achievement and a memory for me."
Meanwhile, both Ojha and Kasaju plan to ride their bikes even within Nepal. And, they have plans to go to Rara via Manang and Mustang after some time.
Ojha is now again wishing to go to Kolkata from Kathmandu and is even convincing his family for this.